Crispy Gypsy chicken in an amazing roasted red pepper sauce made in a cast-iron skillet – a chicken recipe to die for!
This recipe for Gypsy chicken will certainly make it into my Top 10 this year – it is that good! If you like chicken and garlic, you will soooo love this dish! But you really must like garlic, you need about half a large garlic bulb for this dish, an uncooked half a garlic bulb, so really really garlicky, vampire killing, hardcore stuff. I love it!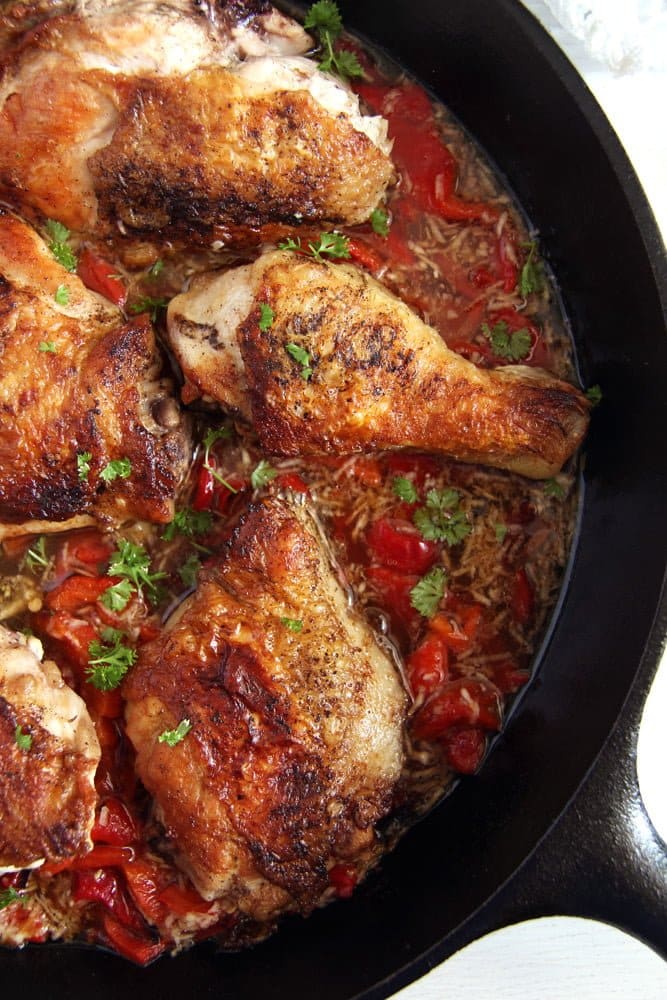 Just like in the case of the other Gypsy recipes I posted this week: Gypsy Stew – Sah Hai Mas and Gypsy Potatoes, I didn't find a real recipe for this dish.
It was mentioned in several places, the ingredients were listed (by the way – the original dish uses 2 bulbs of garlic!!!) and I know that the peppers and the chicken should actually be grilled on the fire, but otherwise no real recipe.
So this is my own interpretation of the Gypsy Chicken or Pui pe sar a la Lulica.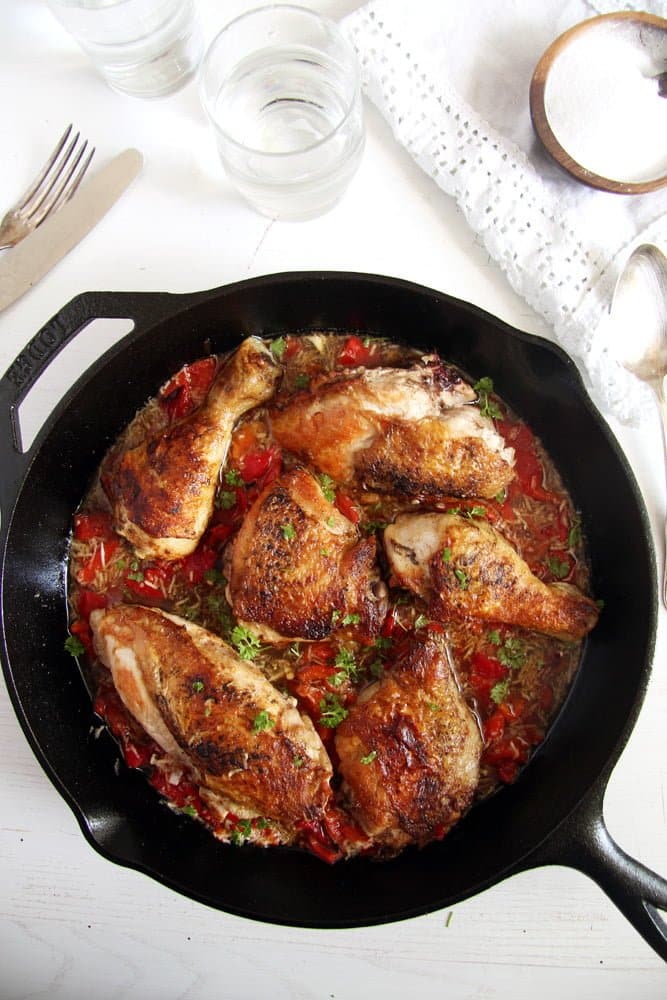 What do you need?
This cast-iron chicken with garlic and red peppers is a very simple dish, using few ingredients, but so full of taste, it will leave you breathless. Literally! 🙂
Chicken:
Either a whole bird or just parts, preferably thighs and/or drumsticks. If using breast, buy bone-in, skin-on breasts.
I used a whole bird for this recipe, cut into 6 parts: thighs, drumsticks, and breasts.
From the rest (wings, backbone, neck, and various scraps) I always make this chicken stock. However, only legs or breasts with skin and bones are equally delicious.
Garlic: as mentioned above, the original recipe requires 2 whole bulbs. I settled for ½ a large one and the dish was really garlicky.
Red peppers: pointed red peppers or red bell peppers.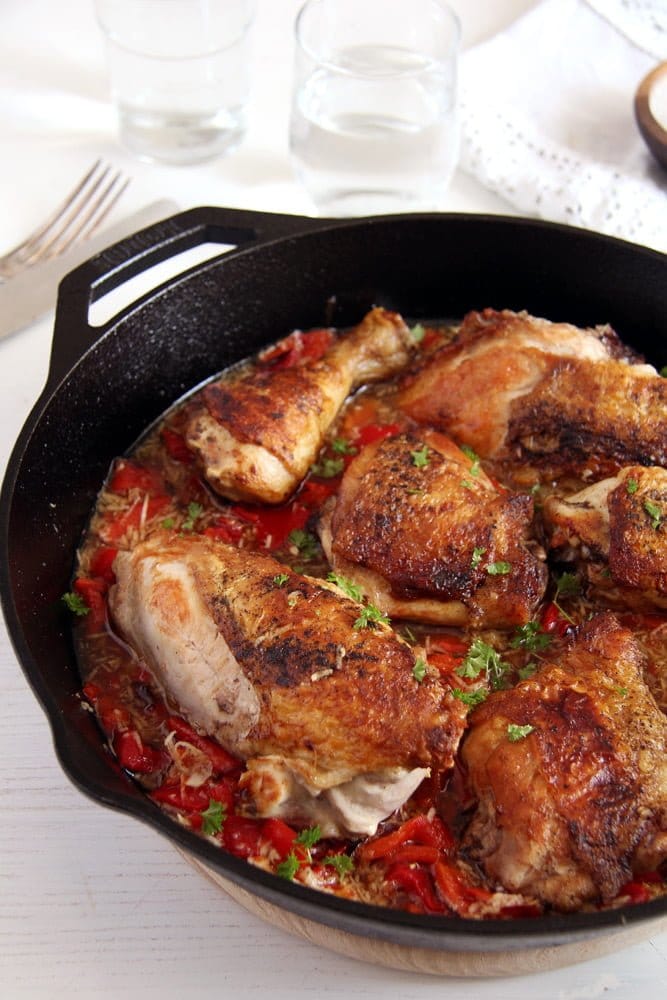 Tips for making Gypsy chicken
Normally, you should have to grill the red peppers and the meat needed for this dish on the fire. I am sure that that roasted, wooden fire flavor would make this dish even better, however, that would be too much of a trouble, to tell you the truth.
So, I make this dish entirely in the house, in the oven, and on the hob in the cast-iron pan. And the result is soooo delicious.
I use this method for cooking chicken in the skillet not only for this recipe but for many other recipes as well.
It is simple, the meat looks gorgeous after being cooked and they taste so good: the flesh is tender and the skin crispy and savory.
Don't move the meat pieces during the first 10 minutes of the cooking time. You will place them in the skillet skin side down and leave them for 10 minutes unmoved. I noticed that if I try to move them any earlier the skin would stick to the pan and break. After 10 minutes you will be able to turn them and the skin will remain intact.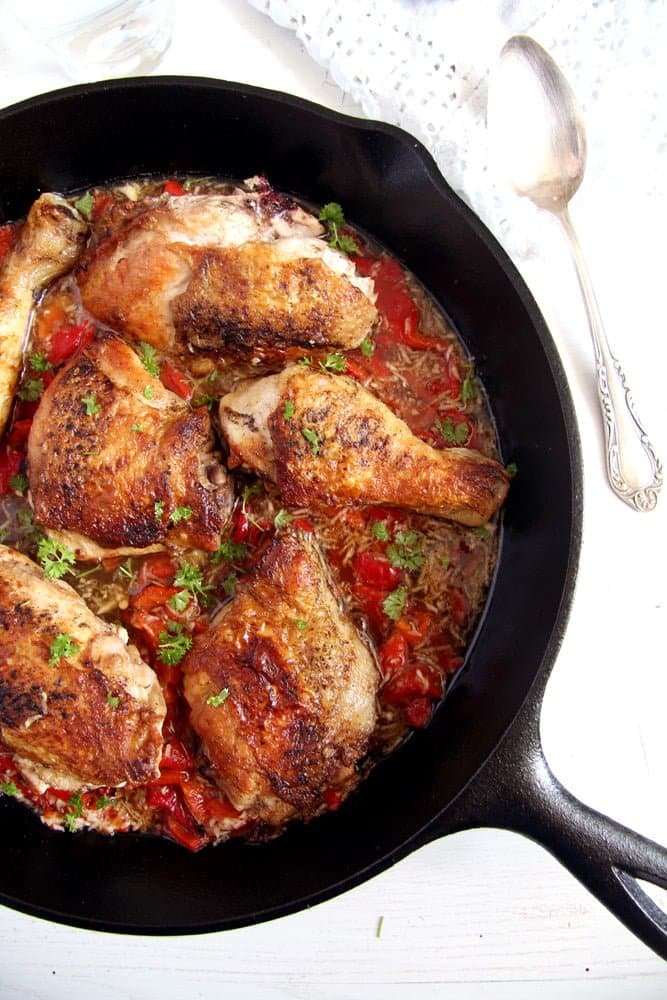 Make sure that the meat is cooked through, no pink juices should come out when you pierce it, BUT you should not overcook it either.
If you use a whole bird, keep in mind that the breast parts (unless very large) will need slightly less time than thighs.
Just check, it is easy: pierce the parts where they are thickest, the juices should run clear. If they are still pink leave them cook for a few more minutes then check again.
So, if you are a garlic enthusiast, make sure to try this dish, you will love it!
How to serve?
The Gypsy chicken is best served immediately.
Serve over polenta - mamaliga or with white bread.
I love it with a simple white cabbage salad or a green salad.
More cast-iron recipes: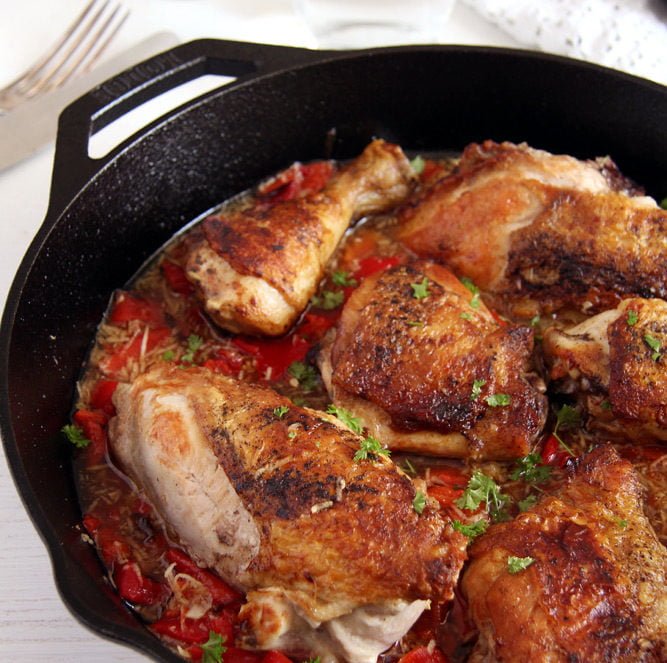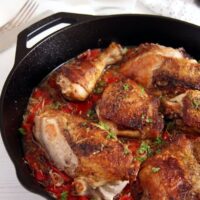 Gypsy Chicken (in Cast-Iron Skillet)
Crispy Gypsy chicken in an amazing roasted red pepper sauce made in a cast-iron skillet – a chicken recipe to die for!
Print
Pin
Share
Grow
Saved!
Rate
Ingredients
4

large red bell peppers

Note 1

1

chicken

about 3.3 lbs/ 1,5 kg (Note 2)

1

tablespoon

vegetable oil

½

large garlic bulb

Note 3

sweet paprika powder

fine sea salt and freshly ground black pepper

some parsley
Instructions
Roast peppers: Preheat the oven to 200 degrees Celsius/ 400 degrees Fahrenheit. Half and deseed the peppers. Place them on a tray lined with baking paper and roast them in the oven for about 20-30 minutes until the skin blackens. Remove from the oven and carefully transfer the peppers to a freezer bag. That will make the peeling easier. Leave them there until they are cool enough to handle.

In the meantime, start cooking the chicken. Alternatively, you can grill the whole peppers and the chicken parts on the grill.

Divide the chicken into parts: chicken thighs, chicken drumsticks, and the breasts. Use the rests (wings, backbone, neck, and various scraps) to make chicken stock.

Season: Generously sprinkle the chicken parts on both sides with salt, pepper, and sweet paprika powder.

Cook: Heat the skillet. Add the chicken parts, skin side down, and let cook, unmoved, on medium heat for 10 minutes.

Flip: Carefully flip the chicken pieces and turn the heat down to medium-low. Continue cooking for about 20-30 minutes. Check if the chicken is cooked through by piercing it at its thickest part. The juices should run clear. If the juices are still pink, continue cooking and recheck every 5 minutes (Note 4).

Prepare sauce: While the chicken is cooking, peel the roasted peppers and slice them into thin slices. Finely grate or press the garlic cloves. Place the garlic into a bowl, add some salt and pepper. Stir very well. Add 250 ml/ 1 cup cold water and stir. Add the pepper slices and stir.

Finish: When the chicken is cooked through, pour the garlic pepper sauce into the skillet. Sprinkle with the chopped parsley and serve with white bread or polenta.
Notes
Or about 5 pointed red peppers; they are usually smaller.
Or the same amount of chicken legs or chicken breasts with bones.
Or 1 small bulb or to taste but not too little of it.
Smaller pieces like the drumsticks or boneless chicken parts will need a shorter cooking time, so check the time and do not overcook the chicken. Larger parts, like the thighs or whole breasts with the bone in, might need some extra minutes.
Nutrition
Serving:
1
/6 of the dish
|
Calories:
592
kcal
|
Carbohydrates:
5
g
|
Protein:
61
g
|
Fat:
35
g
|
Saturated Fat:
9
g
|
Polyunsaturated Fat:
22
g
|
Cholesterol:
235
mg
|
Sodium:
376
mg
|
Fiber:
1
g
|
Sugar:
3
g