Filling Gypsy stew with pork, cabbage, and rice – this is one of the best-known Gypsy recipes – Sah Hai Mas.
A super hearty Gypsy stew recipe like you've never had before. Different cuts of pork, cabbage and rice all mixed in one pot.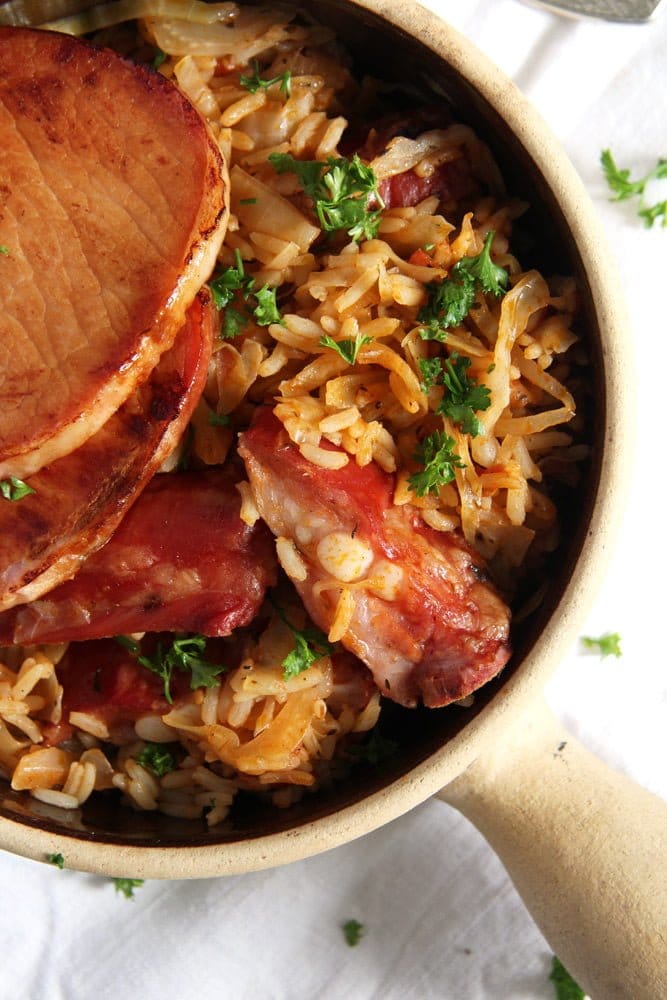 Autumn also brings back the appetite for hearty, loaded stews, with or without meat, it doesn't really matter, the main thing the plate if full with hot, flavorful food, that warms you from inside out, things like this delicious and Romanian Stewed Cabbage, this Red Wine Beef Stew or this Butternut Squash and Sausage Stew. And many many more, I have a large stew collection on my blog, just have a look and get inspired.
Autumn also brings a new series on Where Is My Spoon, a larger series featuring recipes originating from the main minorities living in Romania: the Gypsies or Romani, the Hungarians, and the Germans.
I will start with the Rroma/ Romani population as they are the largest group living in Romania, officially only about 600.000, but unofficially over 2.000.000. They live not only in Romania but in many other countries in this area like Bulgaria, Hungary, Macedonia, Greece, and so on.
There are several theories regarding their origins. One of them states that they are an ethnic group originating from Asia - North-East of India and Pakistan and that they were part of the Ksatrya caste of the Rajputs.
They apparently left this region after a lost war in the 12th century, spreading first in the Arabian and Turkish territories and later on in Europe. Other theories claim that there were several migration waves of these Indian ancestors, some as early as the 5th century.
The similarities in language to some dialects spoken in India seem to be even more of a proof of the Indian origin and the abundance of Persian and Armenian words in their language seems to be a proof of their passing through these territories on their way to Europe.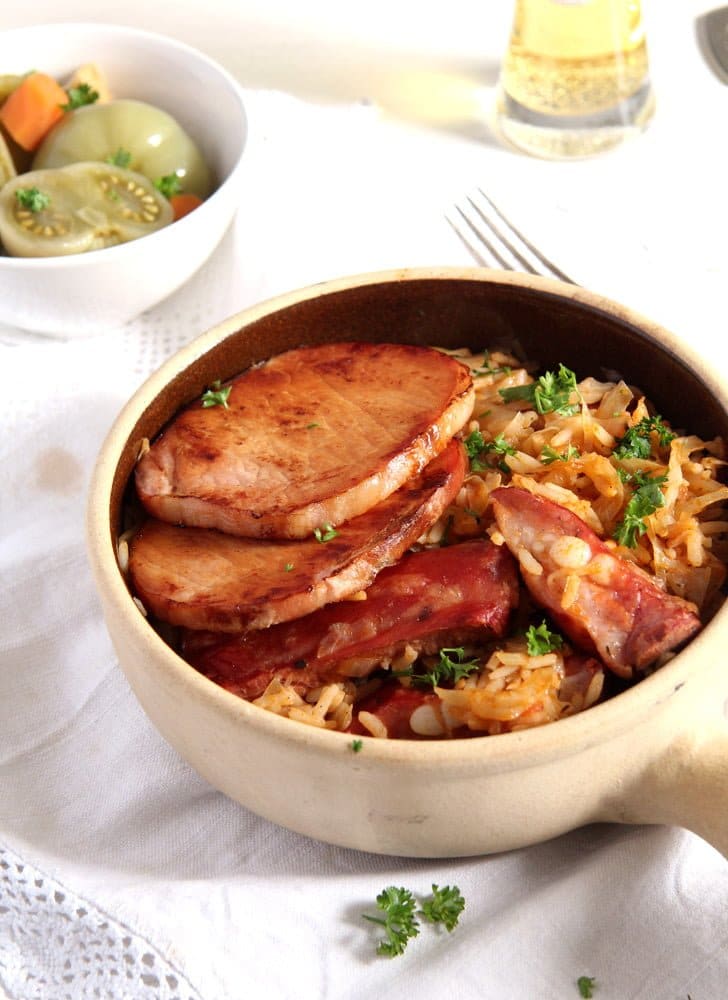 It is a fascinating history if you ask me, I have always had a passion for history (I was the weird teenager who would read Great Britain's or France's history instead of going out when I was 17) and I have dealt with the Gypsy history and fate more extensively in my youth when I had spent more than three years working in or for the Gypsy community living around my birth town of Sibiu and writing my degree dissertation on the theme of the Gypsy/Roma integration in Romania.
But it is not their history that moves me the most, it is their fate, the amount of suffering, discrimination, blunt racism, cruelty and complete lack of any chance of integration or normal life they had to put up with over this long period of time.
They have been chased and killed for ransom all over Europe, sold as slaves in the Romanian territories until the middle of the 19th century, gassed in the Nazi concentration camps, blamed for anything that went wrong in any place they just happened to be, rejected and pushed to the edge of the society and then blamed for not wanting to integrate, for often making a living with cheating or stealing.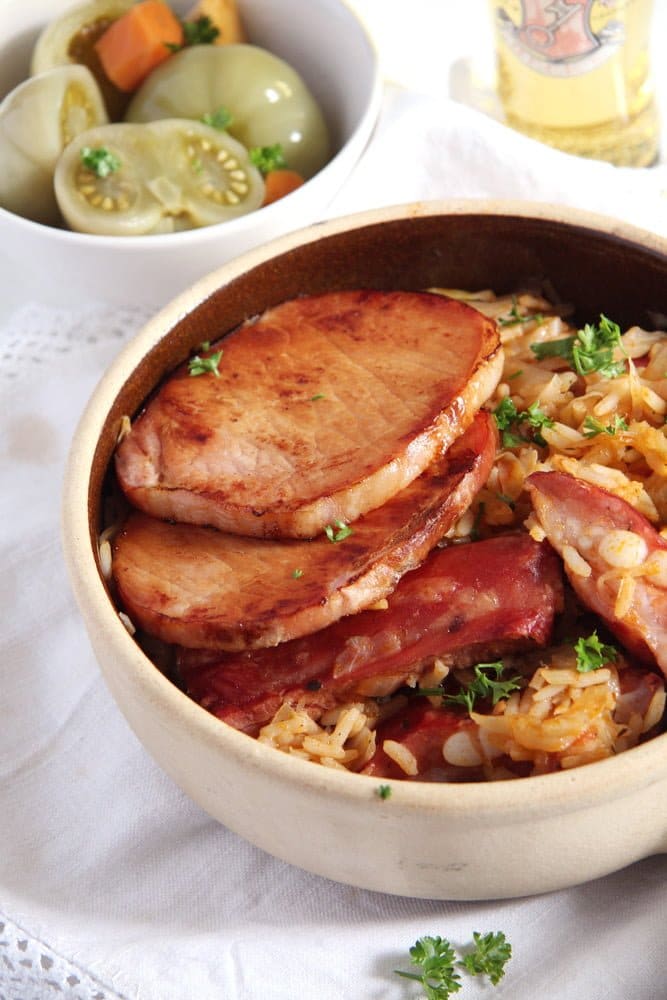 I might be very biased and passionate about this issue, I know, I have been told that before, but it is something I have been experiencing all my life and if there is one thing I cannot put up with at all in this world is racism and discrimination.
Just to give you a taste of it, my first experience with racism against the Gypsies: I must have been about 7 or 8 and had to accompany my mother to the dentist, she had some urgent issue that could not wait and we were there in the dentist's emergency room at a quite late hour in the evening. We had to wait for quite a while as there were many people waiting.
One of the persons waiting for their turn to see the dentist was a young man, he couldn't have been more than 17 or 18). He had a swollen cheek and was obviously in a lot of pain.
Finally, it was his turn to go into the consultation room. He went in and came out again 10 seconds later, followed by the yelling dentist woman, who was insulting him and telling him he must be crazy if he thinks that she would put her hand into his filthy Gypsy mouth. The boy started to cry and let himself fall down in the corner of the waiting room holding his swollen cheek. Nobody in the waiting room dared to say something... they were all just looking around... I get the goose bumps every time I remember it!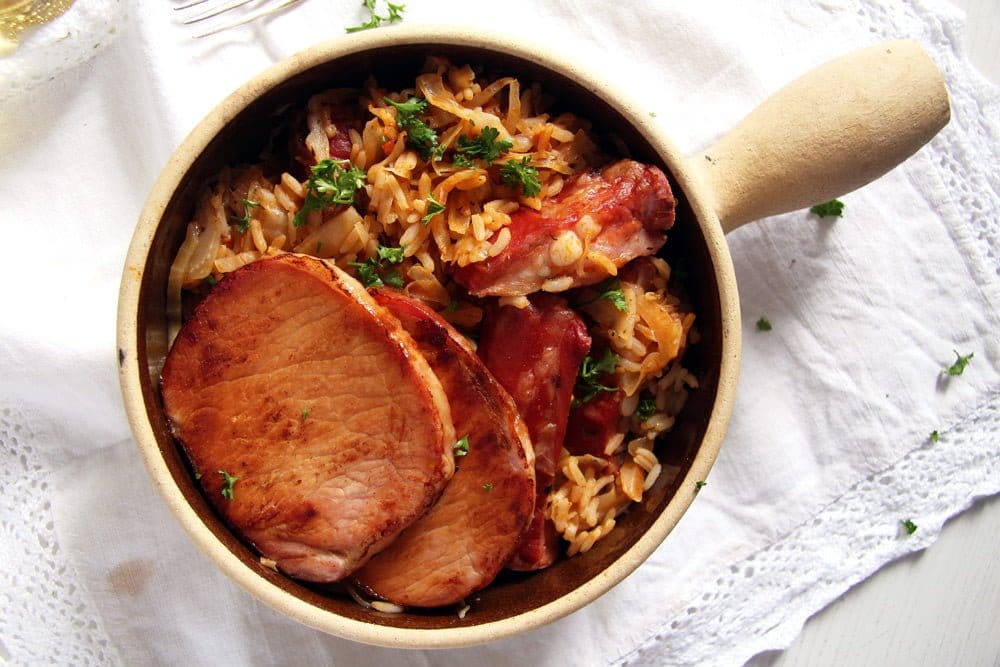 About the Gypsy stew
But coming back to food: this Gypsy stew or Sah Hai Mai is apparently one of the best-known Gypsy dishes. I must say that I have never heard of it before starting researching for this series and that it was quite impossible to find a proper recipe for it. It is mentioned in most articles I read about Gypsy cooking and the ingredients are always listed, but I was not able to find any detailed recipe. So, I wrote down the ingredients and started experimenting.
It is a very hearty dish with a very long tradition in the Gypsy community. It is said that it used to be cooked also during the times when the Gypsies still lived in tents and led a very nomadic life. As they were not always able to cook when on the road, they used to cook this very filling and nutritious dish during the periods when they were able to cook. It was their way of taking in enough nutrients and calories to last for longer periods of time.
I`ve tried to lighten up the dish a little bit by using way less oil than I imagine it is usually used for this dish, smoked pork ribs, and lean smoked pork chops instead of smoked pork knuckles and what I assume to be smoked pork neck steaks. We all loved the dish and I definitely can imagine making and eating it again one of these cold and dark autumn/winter evenings.
I hope you will like it and decide to give it a try. And stay tuned for more absolutely delicious Gypsy recipes during the next two weeks, they were all amazing, I am drooling only remembering them. 🙂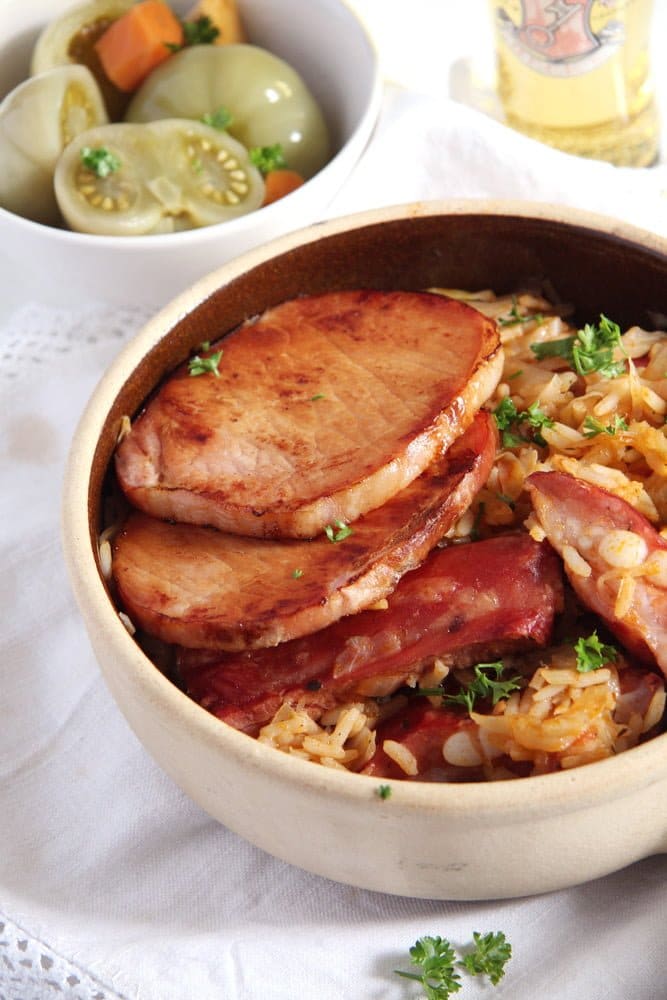 More Gypsy recipes:
Potatoes with Bacon and Vegetable Sauce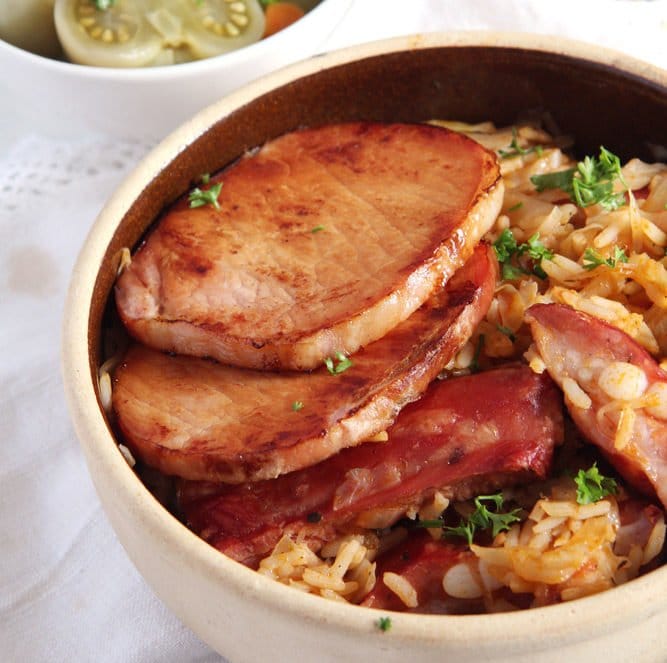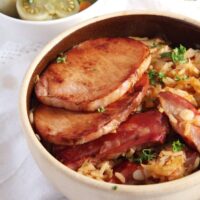 Gypsy Stew Recipe - Sah Hai Mas
Filling Gypsy stew with pork, cabbage, and rice – this is one of the best-known Gypsy recipes – Sah (Shah) Hai Mas.
Print
Pin
Share
Grow
Saved!
Rate
Ingredients
450

g/ 1 lbs white cabbage

1

large onion

3

tablespoons

vegetable oil

divided

200

g/ 7 oz/ 1 cup long-grain rice

350

g/ 12.3 oz smoked pork short ribs

200

g/ 7 oz canned tomatoes or very ripe fresh tomatoes

1

tablespoon

tomato paste

600

ml/ 21 fl.oz/ 2 ½ cups chicken stock

meat stock or vegetable broth

4-5

bay leaves

3

teaspoons

dried savory or thyme

4

slices

lean

smoked pork chops

fine sea salt and freshly ground black pepper

some parsley
Instructions
Shred the cabbage very finely. Chop the onion finely.

Heat 2 tablespoons of the oil in a large Dutch oven or thick-bottomed pot and cook the onion until translucent. Add the washed rice and stir for 1 or 2 minutes until the rice is shiny and coated with oil.

Add the cabbage and stir well. Add a small splash of water, about 50 ml/ 1.7 fl. oz/ a bit less than ¼ cup, cover well, and let cook for about 5 minutes or until the cabbage starts to soften slightly.

Divide the pork ribs into single ribs. Add them to the pot together with the stock. Add 1 teaspoon of fine sea salt and some pepper, chopped tomatoes and tomato paste, bay leaves, and dried herbs.

Stir well, cover, turn the heat down, and let simmer for about 20 to 30 minutes or until the rice is tender and most of the liquid has been absorbed. Check from time to time and add a bit more stock if the dish threatens to become too dry. Adjust the taste with salt and pepper.

In the meantime, heat another tablespoon of oil in a pan and fry the pork chops for a couple of minutes on each side until golden and cooked through. Place the chops on top of the rice and cabbage dish, sprinkle with parsley and serve hot with pickles.
Nutrition
Serving:
1
/6 of the recipe
|
Calories:
582
kcal
|
Carbohydrates:
27
g
|
Protein:
42
g
|
Fat:
34
g
|
Saturated Fat:
9
g
|
Polyunsaturated Fat:
19
g
|
Cholesterol:
138
mg
|
Sodium:
688
mg
|
Fiber:
3
g
|
Sugar:
10
g