Golden fried potatoes topped with a hearty bacon, ham and vegetable sauce.
Another winner in this Gypsy Recipes Series on Where Is My Spoon. I mean, my husband and I always love all the recipes from all the series on the blog, I would not publish any recipe I didn't like, but it must be the first series I have ever cooked where all the recipes were loved by our children.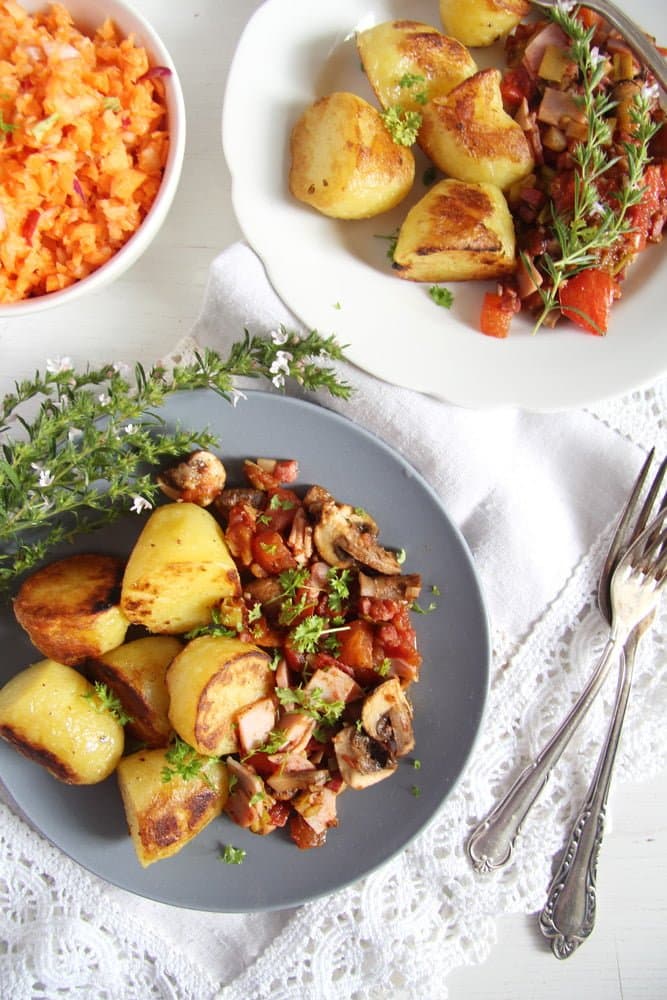 Either the Pork, Rice and Cabbage Stew or the Skillet Chicken with Garlic and Peppers Sauce or the Gypsy Pork Chop Burgers with Mustard and Onions – they were all a hit with our kids. Even today's Potatoes with Bacon, Ham and Vegetable Sauce won their approval, despite its containing some mushrooms. They carefully removed the mushrooms, which I sliced rather roughly to make this very predictable process easier and cleaned their plates afterward.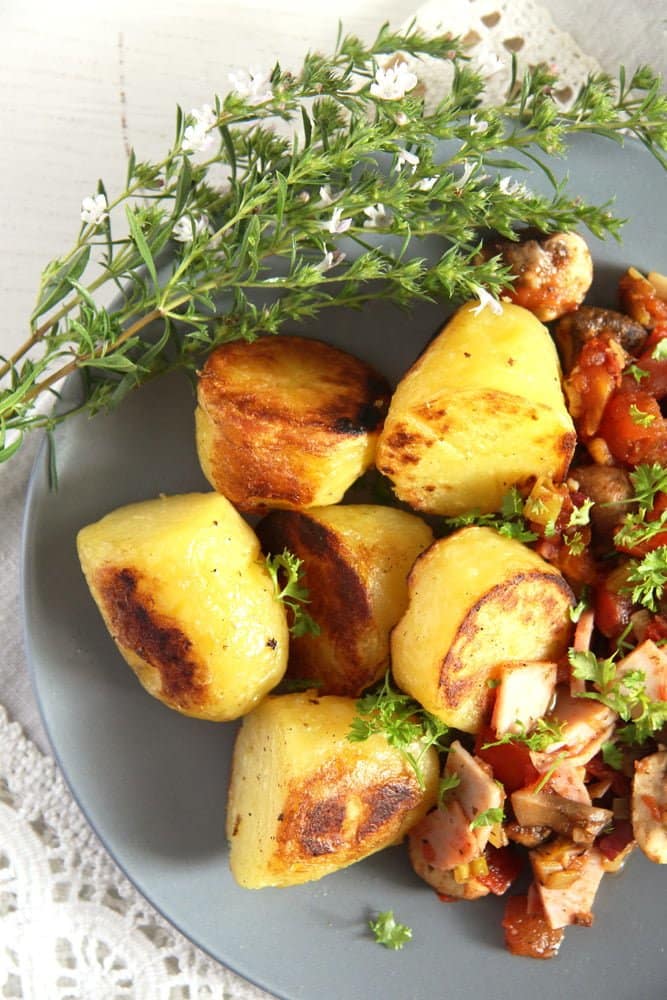 This is another very simple and very cheap, yet totally delicious recipe. There is not much I can say about it, it is so straightforward, there is not much room for mistakes. It is also quite adaptable, you can use both bacon and ham, but you could leave out the ham if you wish, or you could leave out both and turn this into an equally delicious vegetarian dish. In this case just use more mushrooms. You could use other veggies as well, I imagine red peppers would make a great addition or substitution for the meats.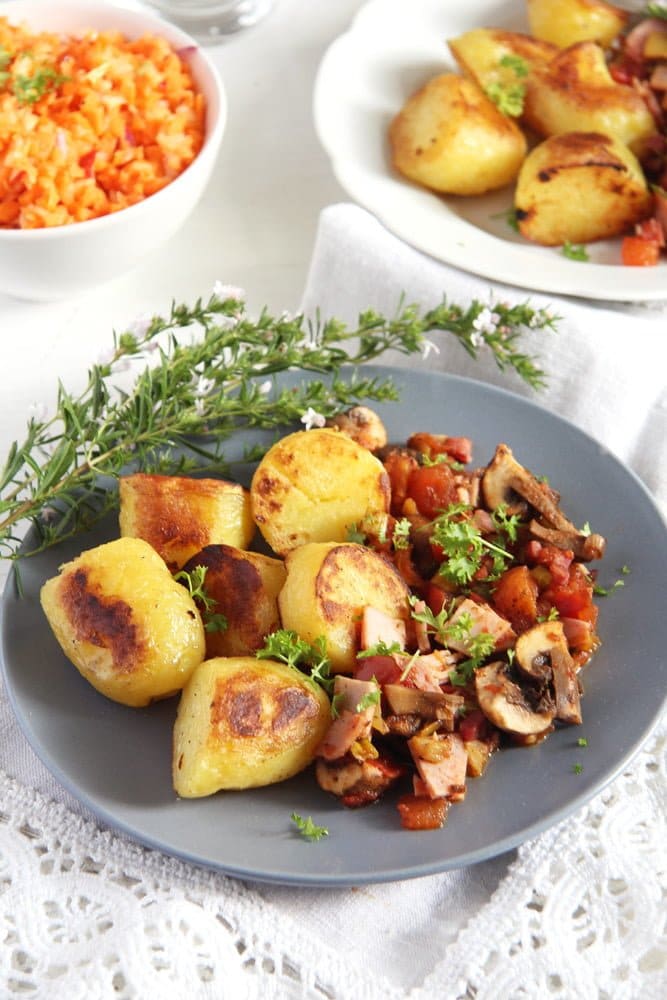 Otherwise, I am keeping it short this week. The kids have their Fall holidays and we are spending a week in Poland at the seaside.
The recipe is adapted from here. (in Romanian)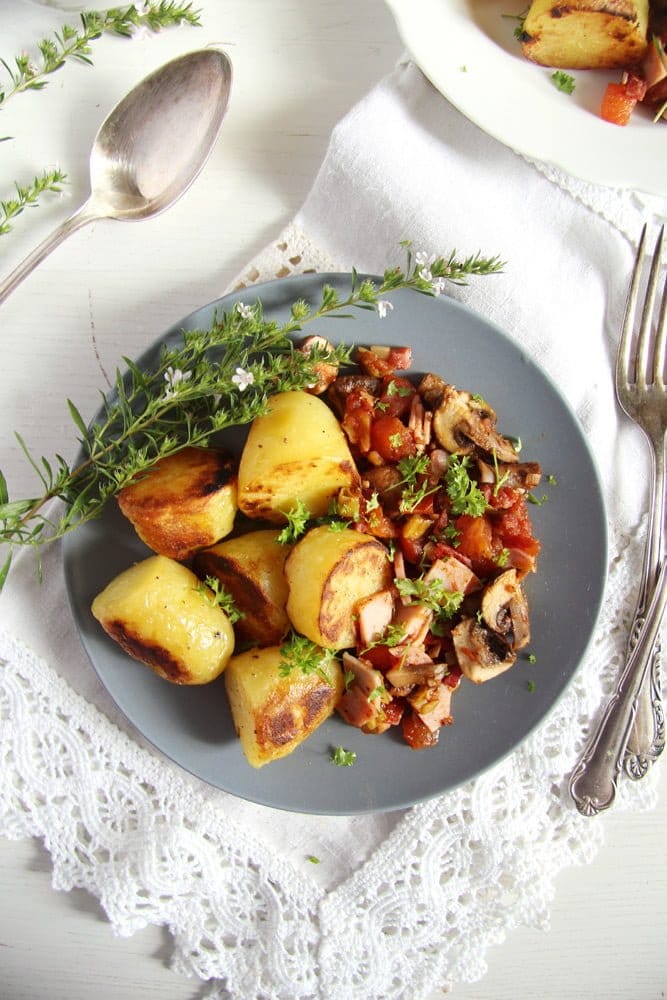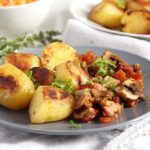 Ingredients
800 g/ 28.2 oz potatoes

3 thin bacon slices

1 ½ tablespoons vegetable oil, divided

6 thin green onions

2 garlic cloves

200 g/ 7 oz mushrooms

2 large tomatoes

100 ml/ 3.4 fl.oz/ a bit less than ½ cup white wine

3-4 sprigs fresh savory or thyme or ½ teaspoon dry

½ teaspoon sweet paprika powder

3 slices cooked ham

salt and pepper

a medium bunch of parsley
Instructions
Peel the potatoes and cook them in salted water. Drain well and let dry for a while. Halve or quarter the potatoes, depending on their size, the pieces should be rather large.
In the meantime fry the bacon slices in a skillet without any addition of oil. Fry until crispy, remove and place on kitchen paper.
Slice the green onions into fine rings and chop the garlic finely. Slice the mushrooms and chop the tomatoes into small cubes.
Add ½ tablespoon of the oil in the same skillet and fry the potatoes, turning them carefully on all sides, until golden with darker bits here and there.
In the meantime make the sauce.
Heat the remaining tablespoon of oil in another pan. Cook the green onions, garlic and mushrooms for 2 or 3 minutes. Add the tomatoes, white wine, herbs and ½ teaspoon paprika powder and cook on low for 7-8 minutes.
Chop the ham and add it to the pan. Continue cooking for about 2 or 3 minutes. Adjust the taste with salt and pepper.
Crumble the fried bacon on top and sprinkle with lots of chopped parsley.
Divide the potatoes on plates and top with the vegetable and ham sauce. Serve immediately with white cabbage salad or carrot salad, for instance.
This post contains affiliate links. The price you pay as a consumer does not change, but if you make a purchase we will receive a commission which helps support the blog.