A hearty and delicious cabbage and potato bake: sauteed savoy cabbage with bacon topped with cheesy mashed potatoes and baked in the oven.
SAVOY CABBAGE RECIPE
Real comfort food! This savoy baked cabbage and potatoes is one of my favorite savoy cabbage recipes, one of the first savoy cabbage recipes I have ever cooked.
A dish I especially like to cook during the cold months of the year, the cabbage and potato bake is a smooth, soft and comforting dish, just perfect in winter.
Well, it is not quite winter though, but it is coming. The days are getting darker and colder, what better time to cook cabbage in any form?
Either a cabbage and potato bake or simply sauteed savoy cabbage with bacon, white cabbage casserole with pork ribs, fried cabbage or sauerkraut stew. All hearty, winter dishes that I make on repeat.
INGREDIENTS FOR SAVOY CABBAGE CASSEROLE
Savoy cabbage:
This emerald green, curly cabbage is one of the most popular sorts of cabbage sold in Germany. It is a softer kind of cabbage, less crispy than white or red cabbage and we prefer to eat it cooked, I have never had it raw, actually.
I am sure you could make a salad out of it, but it never occurred to me until now. Maybe I should try it someday. This savoy cabbage salad with apples and walnuts sounds wonderful!
A very typical and traditional German way of eating savoy cabbage is in the form of stuffed savoy cabbage rolls. Pretty, green cabbage rolls stuffed with ground meat and served with potatoes and white sauce. Heaven!
You will need about 900 g – 1000 g/ 2 – 2.2 lbs savoy cabbage to make the sauteed cabbage with bacon. When shredded about 10 cups, a little more or less is not important.
Savoy cabbage comes in different sizes, so 1 kg/ 2.2 lbs can be anything from ½ a large cabbage to 1 whole smaller cabbage.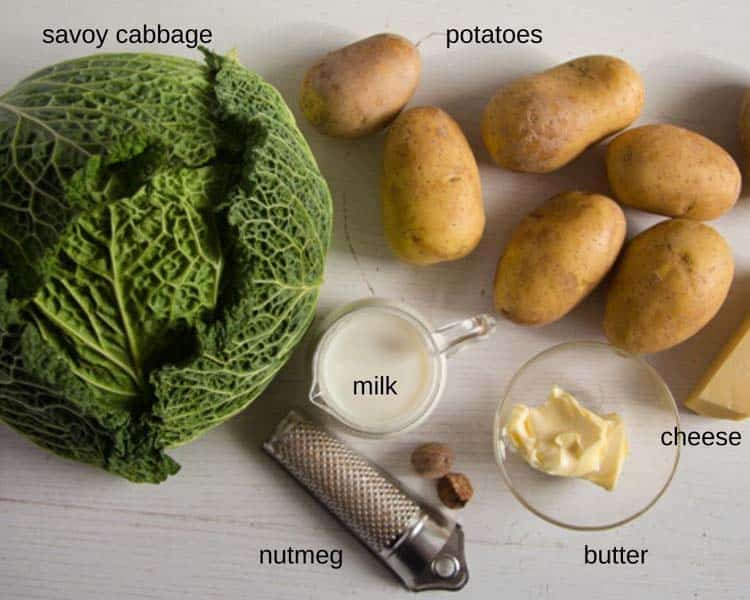 Bacon:
I prefer to buy a larger piece of bacon or bacon cubes to make the sauteed savoy cabbage for this casserole.
Thin bacon slices are not very suitable for this dish.
Cheese:
You will need a small amount of Parmesan for the mashed potatoes. It makes them cheesier and creamier.
BUT, if I don't have any Parmesan, I leave it out and the baked cabbage and potatoes are still delicious.
You will also need some grated cheese to sprinkle over the cabbage and potato bake.
I almost always use Gouda, it is very common in Germany.
Gouda can be replaced with Cheddar or another sort of cheese you would normally use for a bake.
You will also need:
Crème fraiche
Potatoes
Vegetable broth (from a cube is fine)
Olive oil
Butter
Milk
Nutmeg, fine sea salt and ground black pepper
HOW TO MAKE BAKED CABBAGE AND POTATOES?
Start with the sauteed savoy cabbage with bacon. You can read the recipe below or more information in this post.
Cabbage and potato bake:
Make the sauteed cabbage and place it in a casserole dish of about 25×20 cm/ 10×8 inches.
While the savoy cabbage cooks, prepare the mashed potatoes.
Peel and boil the potatoes in salted water.
Drain well and mash adding the butter, milk, grated Parmesan, nutmeg, salt and pepper to taste.
Cover the sauteed savoy cabbage with the mashed potatoes.
Sprinkle the cabbage and potato bake with grated Gouda or Cheddar.
Bake in the preheated oven for 20-25 minutes or until golden brown.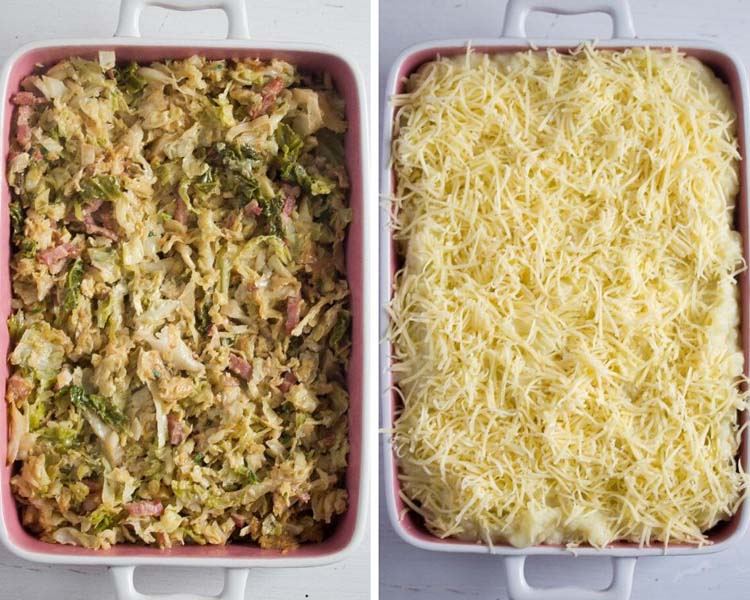 WHAT TO SERVE WITH SAVOY CABBAGE CASSEROLE?
The cabbage and potato bake makes a main meal on its own.
You can serve the baked cabbage and potatoes with pickled vegetables, like pickled green tomatoes, gherkins or zucchini pickles. Or any other pickles you like.
You can also serve the savoy cabbage casserole as a very rich side dish for meatballs, for instance. In this case, the cabbage casserole will serve 6 to 8 people.
MORE SAVOY CABBAGE RECIPES?
PIN IT FOR LATER!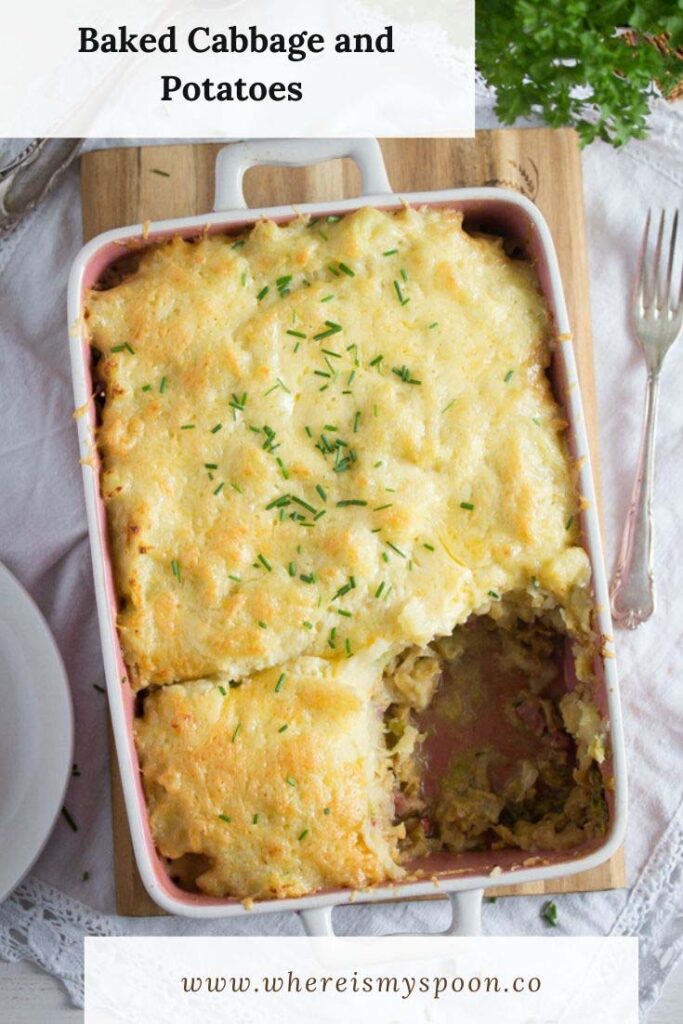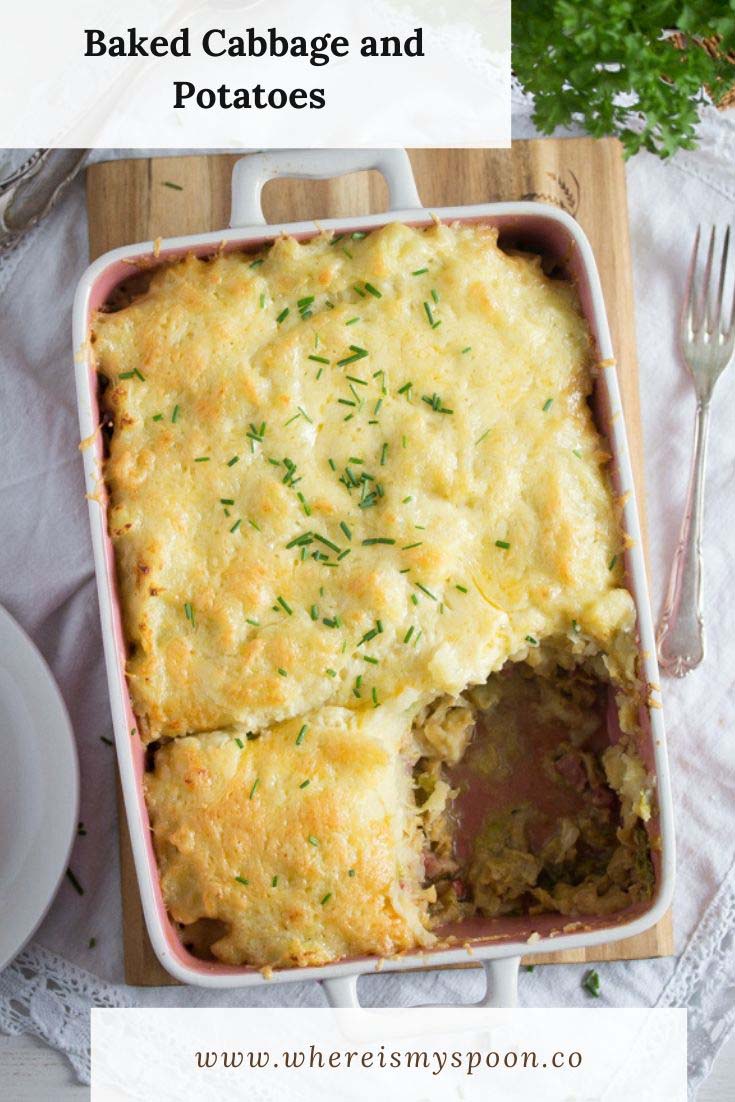 Baked Cabbage and Potatoes – Savoy Cabbage Recipes
Total Time:
1 hour
25 minutes
A hearty and delicious cabbage and potato bake: sauteed savoy cabbage with bacon topped with cheesy mashed potatoes and baked in the oven.
Ingredients
Sauteed savoy cabbage:
1 medium onion, about 100 g/ 3.5 oz
100 g/ 3.5 oz bacon
½ to 1 savoy cabbage (depending on size), about 900 g/ 2 lbs/ more or less 10 cups when shredded
1 garlic clove
3 tablespoons olive oil
125 ml/ 4.2 fl.oz/ ½ cup vegetable stock (from ½ a cube is fine)
2 heaped tablespoons crème fraiche
fine sea salt and pepper
grated nutmeg
Cabbage potato bake:
1 recipe sauteed savoy cabbage
500 g/ 1.1 lbs potatoes
1 tablespoon butter
125 ml/ 4.2 fl.oz/ ½ cup milk
30 g/ 1 oz/ heaped ¼ cup Parmesan
100 g/ 3.5 oz/ 1 cup Gouda or Cheddar cheese, grated
fine sea salt and ground nutmeg
Instructions
Sauteed savoy cabbage:
Chop the onion finely. Set aside.
Cube the bacon, if not already cubed.
Quarter the cabbage, remove the core, place a quarter on its flat side and shred the savoy cabbage into ribbons.
Heat the olive oil in a large skillet or Dutch oven on medium heat. Saute the onion until translucent, add the bacon and fry for a couple of minutes.
In the meantime, finely chop the garlic. Add it to the skillet. Saute for about 5 minutes, stirring often.
Pour the vegetable stock into the pot. Stir again, cover, and cook on low
heat for about 20 minutes until the liquid has evaporated and the savoy cabbage is cooked, but not mushy.
Remove from the heat and stir in the crème fraiche. Adjust the taste with salt, pepper, and freshly grated nutmeg.
Cabbage and potato bake:
Preheat the oven to 200 degrees Celsius/ 400 degrees Fahrenheit.
Peel and cut the potatoes into chunks, cook in salted water until soft. Drain and mash, adding one tablespoon butter, milk, and Parmesan. Adjust the taste with salt, pepper, and nutmeg.
Place the sauteed savoy cabbage in a casserole dish, of about 25x20 cm/ 10x8 inches.
Cover with the mashed potatoes and sprinkle with the grated cheese.
Bake for about 20 – 25 minutes until golden brown. Serve immediately.

Nutrition Information:
Yield:

4
Serving Size:

1/4 of the dish
Amount Per Serving:
Calories:

605
Total Fat:

37g
Saturated Fat:

15g
Trans Fat:

0g
Unsaturated Fat:

19g
Cholesterol:

84mg
Sodium:

1275mg
Carbohydrates:

47g
Fiber:

10g
Sugar:

4g
Protein:

26g
Nutrition information isn't always accurate.