Canning zucchini, peppers and onions couldn't be any easier! Delicious sweet-and-sour pickles to serve on bread or as a side dish.
ZUCCHINI PICKLES
I grew up on pickles. Lots of pickles. Should you have asked me when I was about eight if I'd rather have a chocolate or a pickled green tomato or gherkin, I would have chosen the pickles, always!
I remember the tones of pickles my grandmother used to make every autumn when I was a child, she kind of gave up on making them when she got older, but we ate plenty every winter, either from her relatives or bought pickles.
But, during the good years, she used to make gherkins, lots of green tomatoes preserved in the largest jars I have ever seen, some of them were as tall as my legs.
And then all sorts of peppers: gogosari, which are some kind of sweet, round and thick-fleshed red peppers or pointed peppers filled with other vegetables, like white cabbage or cauliflower. And the masterpiece: whole white cabbage heads pickled in a huge blue plastic barrel she kept in the cellar.
And what else did she make? Bulion – which is a delicious runny tomato sauce with celery, used mostly for soups and stews and tomato paste using those large, sweet and delicious Romanian tomatoes.
Or pickled beetroots, which I used to love. Pickled carrots and cauliflower, sometimes she would pickle the cauliflower together with the beetroot, so that the cauliflower would turn pink.
Then there were the green beans or zucchini jars, other jars filled with really hot peppers in vinegar to eat with soups, jars containing mixed vegetables salads. Or the preserved horseradish in vinegar and the hot pepper paste, which was actually a specialty of my aunt.
Not to forget the fruit compotes and the various sorts of jam: rose hip jam, which used to make my mouth itch, the plum, sour cherry or apricot jam or the really special ones like rose jam, green walnut jam and bitter cherry jam, which were mostly something my great-grandmother would make. How I used to love those jams!
We would seldom eat any fresh vegetables in winter during my childhood in the communist years of Romania. OK, there were the potatoes, onions, garlic, cabbage and carrots, which kept well all through the winter, but otherwise we mostly ate the pickles.
I remember my grandmother's delicious stewed sauerkraut, similar to this sauerkraut meatball stew, but made mostly with pork chunks instead of meatballs, her amazing sauerkraut sarmale, either with meat or vegetarian and sometimes made with pickled vine leaves instead of sauerkraut.
Or her tocana de cartofi – potato stew, which we always had with pickles, whatever we happened to have at them moment, everything sour was a perfect fit. I make that potato stew for my family as well and we also have it with pickles all the time. I cannot even imagine eating it without the pickles. 🙂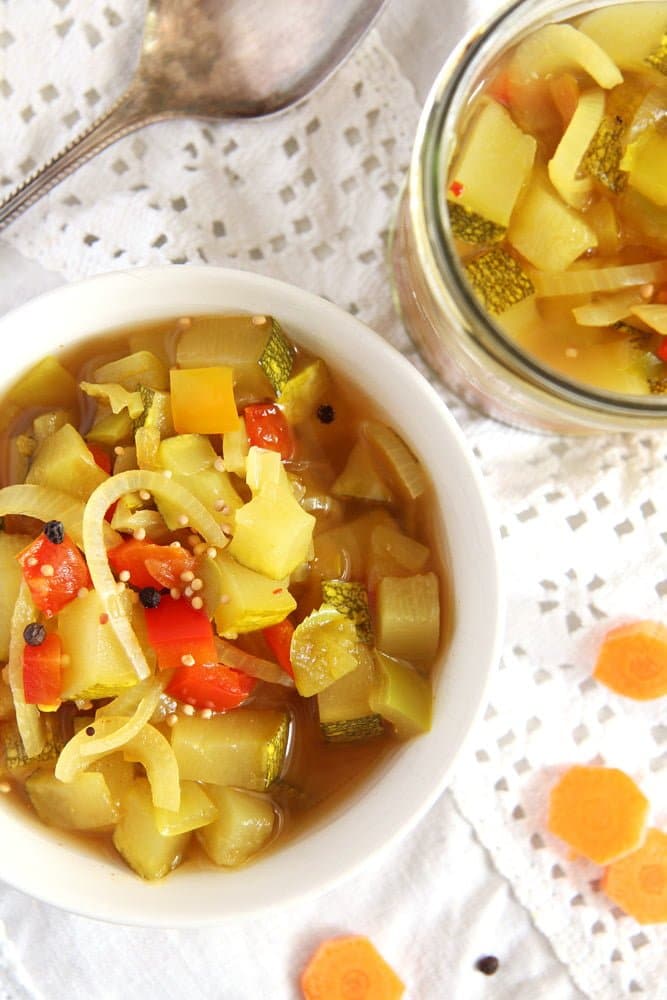 CANNING ZUCCHINI
I don't make as many pickles as my grandmother used to make in her time. We are able to buy any kind of fresh vegetables at almost any given moment, so we do not rely on pickles anymore during the winter time.
But I still eat them so happily and there isn't one summer or autumn gone by without me trying to preserve some of the summer produce in one way or another.
This year was the horseradish in vinegar, the green tomatoes and these sweet sour zucchini pickles. Or I should say, these were the savory preserves I have made this year. When it comes to sweet stuff like jam, syrup or compote I tend to make rather more.
HOW TO PRESERVE ZUCCHINI
Ingredients for pickled zucchini:
This recipe for canning zucchini doesn't only pickles zucchini, but also some peppers and onions. This way you will have a whole salad of pickled vegetables to serve as a side dish or as a bread topping.
I used regular green zucchini. You can also use yellow zucchini, if you find them, they are more typical in Romania, but harder to find in Germany.
I had a huge zucchini from a friend's garden, which I used to make the preserves and because it was so large I preferred to remove the seeds with a spoon, they tend to become floppy and I don't like that. Do remove them if your zucchini is extra large, but you can leave them if you use regular sized zucchini.
I also had about 3 large bell peppers, any color would do, except green maybe... I haven't tried them in these zucchini pickles, but I am usually not crazy about green peppers.
You can use regular white onions or red ones, they would make the jars look even prettier than they already do.
The zucchini are preserved in a mixture of regular white wine vinegar, water and sugar with spices like salt, black peppercorns, mustard seeds and curry powder.
Curry powder is not something my grandmother would have ever used for making pickled zucchini, she never even heard the word curry in her life, probably. However, I like adding it to this kind of preserves, it does give everything an extra kick. Use your favorite curry powder, it can be as hot or mild as you like it.
The jars I use for pickles have a capacity of about 500 ml/ 17 oz. Use what you have and make sure you sterilize them before using. Here you will find more information on sterilizing jars.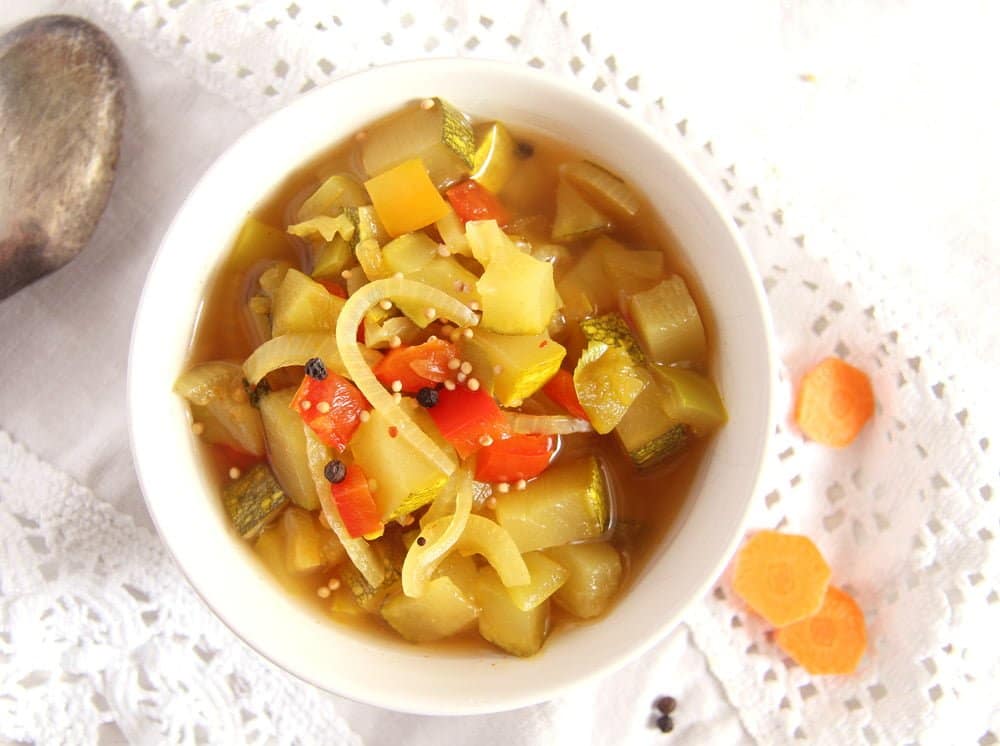 How to make zucchini pickles?
Clean the vegetables. If the zucchini is very large, remove the seeds using a spoon. Discard the seeds.
Chop the zucchini and the peppers into regular small cubes.
Halve the onion and slice the halves.
Give the vinegar, water, sugar, salt, peppercorns, mustard seeds and curry powder to a large pot.
Bring to a boil and add the chopped vegetables. Turn the heat down to medium, bring to a simmer and let cook gently for 5 minutes.
Use a slotted spoon to lift the vegetables from the liquid and divide them between several sterilized jars, the size of your choice. The jars I use for pickles have a capacity of about 500 ml/ 17 oz.
Pour the pickling liquid from the pot into the jars and seal the jars well.
HOW TO SERVE SWEET SOUR ZUCCHINI PICKLES
Leave the jars with the zucchini pickles for at least 1 week before eating them, this way the flavors will have time to develop.
The canned zucchini will keep well in the cellar for at least 6 months, probably longer. Once you open a jar, keep it in the fridge and consume within 2 weeks.
The pickled zucchini make a great side dish for stews, either made with meat or vegetarian stews
You can eat them on bread with cheese, with cold meats, they can be part of a cheese and cold meat platter.
The pickled zucchini jars also make great gifts for pickle lovers.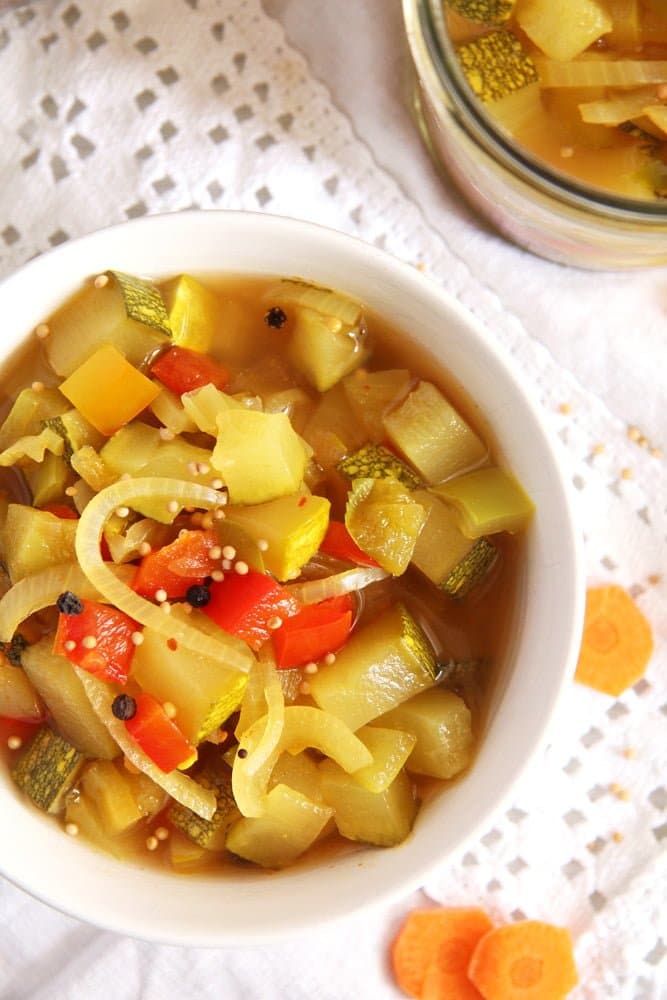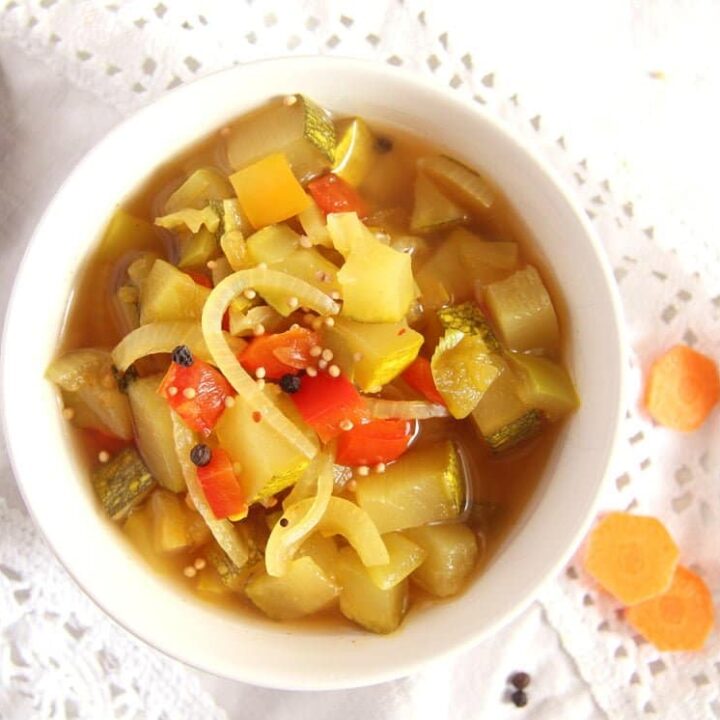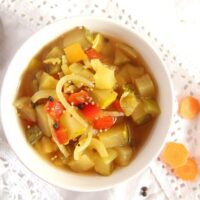 Zucchini Pickles – Canning Zucchini Sweet Sour
Canning zucchini, peppers and onions couldn't be any easier! How to make zucchini pickles, sweet sour to serve on bread or as a side dish.

Print
Pin
Share
Grow
Saved!
Rate
Ingredients
1

kg/ 2.2 lbs zucchini

500

g/ 1.1 lbs red/yellow/orange bell peppers

500

g/ 1.1 lbs onions

400

ml/ 13.5 fl.oz/ 1 ¾ cups white wine vinegar

350

ml/ 12 fl.oz/ 1 ½ cups water

130

g/ 4.6 oz/ ⅔ cup sugar

2

teaspoons

fine sea salt

2

teaspoons

whole black peppercorns

2

teaspoons

yellow mustard seeds

2

teaspoons

yellow curry powder
Instructions
Clean the zucchini, halve it and remove the seeds (with a spoon) if the zucchini is very large, you don't have to remove the seeds if the zucchini are of regular size. Chop into regular small cubes.


Remove the seeds from the peppers and cut them into cubes of the same size as the zucchini cubes. Peel the onion, halve it and cut it into half rings.


Pour the white wine vinegar and the water into a large pot. Add the sugar and all the spices and bring the mixture to a boil. When the liquid boils, turn the heat down to medium, add all the vegetables, bring to a simmer again and let cook for 5 minutes.


Divide the vegetables and the remaining liquid evenly among the sterilized jars. I had 4 ½ jars of 500 ml/ 17 oz capacity, but you can use whatever size of jars you prefer. Seal well.


I prefer to leave the vegetables for at least 1 week before starting to eat them. They keep well in the cellar (at least six months), but do keep any open jar in the refrigerator and consume it within two weeks.

Serve as suggested above.
Nutrition
Serving:
1
jar
|
Calories:
223
kcal
|
Carbohydrates:
49
g
|
Protein:
5
g
|
Fat:
1
g
|
Polyunsaturated Fat:
1
g
|
Sodium:
885
mg
|
Fiber:
5
g
|
Sugar:
37
g