Traditional Romanian recipe for vine leaves stuffed with ground meat and rice and served in a delicious smooth sauce.
I think these are the only other kind of stuffed leaves my grandmother ever made except Sarmale – Traditional Romanian Stuffed Cabbage Leaves with Pork and Rice. Sarmale were her specialty and she would make them very very often, probably at least once a month, but from time to time, she would make the Stuffed Vine Leaves with Ground Meat and Rice.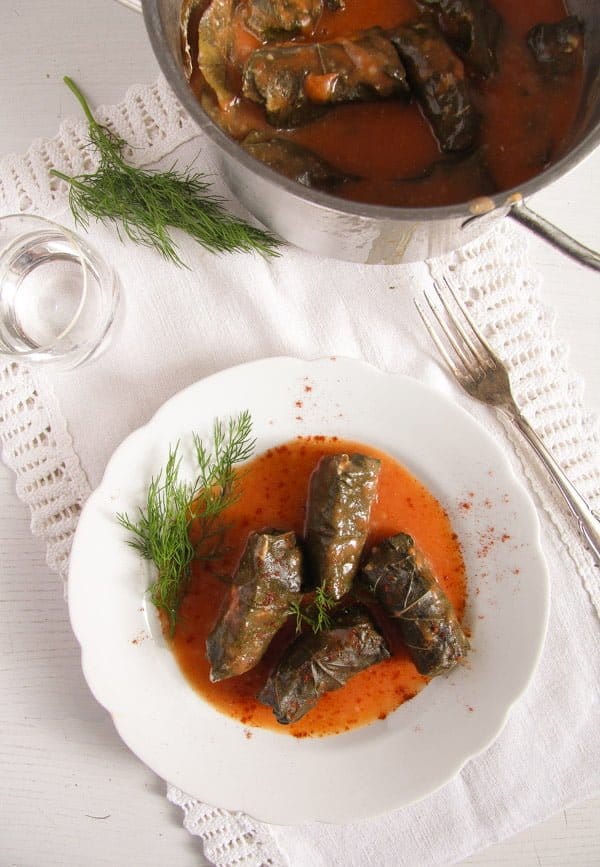 She would normally use the same filling she would use for sarmale. I have changed that a little bit and use a mixture of pork and beef and some other spices than I would use for sarmale, but these Stuffed Vine Leaves with Ground Meat and Rice still taste just as delicious as I remember them.
Nowadays, I make them with vine leaves from a jar, but my grandmother only made them with fresh vine leaves from the vine that was growing outside our flat window.
We lived in a flat on the first floor and years before, when my grandparents bought that flat, my grandfather planted this vine behind the building, vine which during my childhood had grown up to our bedroom windows.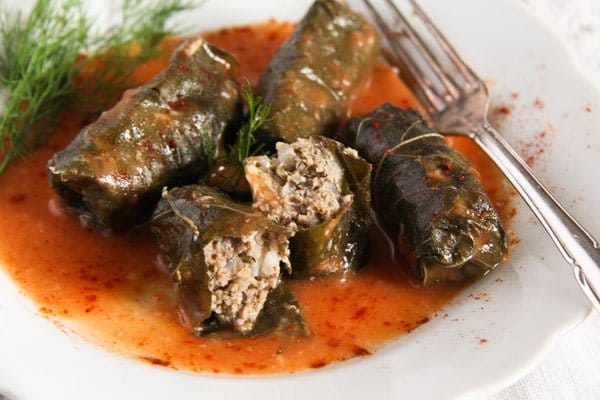 So, my grandmother would only make the Stuffed Vine Leaves with Ground Meat and Rice in early summer when the vine leaves had the right size and were not too old or too tough.
And sometimes, she would use the green unripe grapes in summer too. She would pick some and add them to her delicious vegetable stew, giving it a sour note. I used to hate that dish called Ghiveci as a small child but got to absolutely love it later, as a teenager. I should post it one day…
Back to today's Stuffed Vine Leaves with Ground Meat and Rice. The way of rolling the vine leaves with the filling is exactly the same as discussed in yesterday's post Stuffed Vine Leaves with Ricotta, Rice and Herb Filling. And it is actually, the same method used to make any kind of rolls, either with fresh cabbage or sauerkraut.
I was able to fill 32 vine leaves with the filling, but do prepare a few more just in case your leaves are smaller or some of them are broken.
We used to eat this with white bread in Romania, you could do that as well, but nowadays I prefer to serve this with boiled potatoes, I find them a much better fit.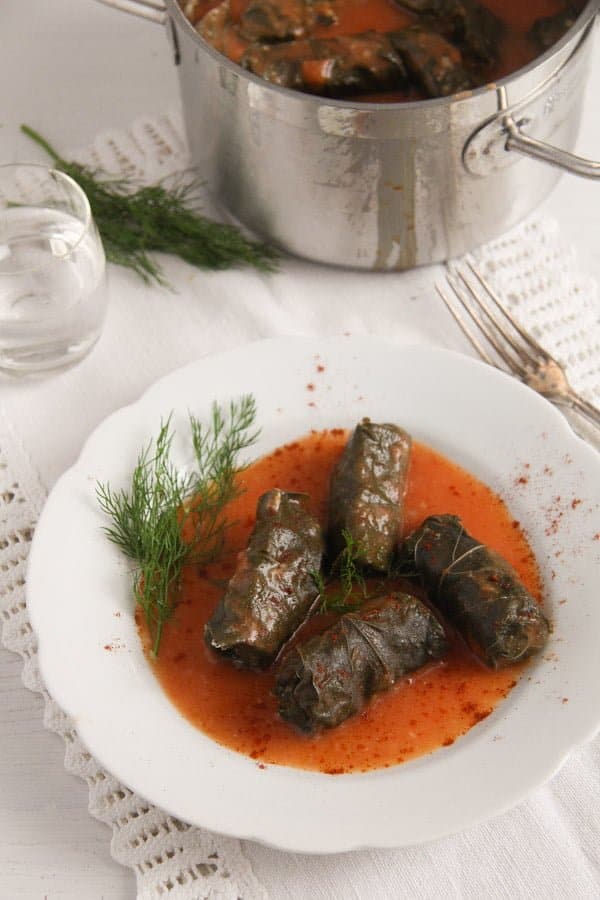 Other stuffed vegetables: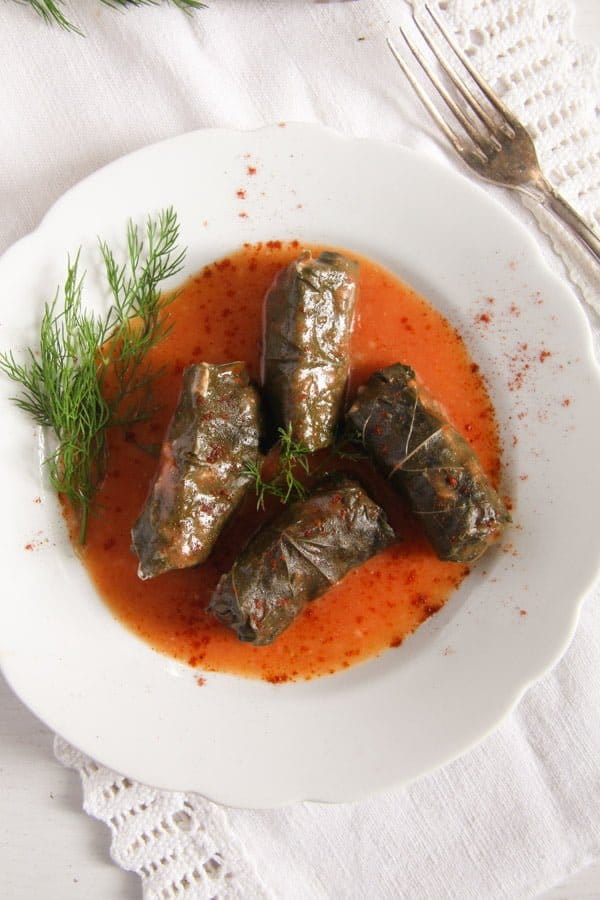 Ingredients
Rolls:

about 40 vine leaves from a jar (See note)

2 tablespoons short grain rice

1 onion

1 tablespoon vegetable oil

500 g/ 1.1 lbs ground meat (mixed pork and beef)

2 garlic cloves

1 tablespoon chopped dill

1 tablespoon chopped parsley

1 tablespoon ground sweet paprika

1 teaspoon salt

freshly ground black pepper

Sauce:

2 tablespoons butter

1 tablespoon all-purpose flour

1 teaspoon tomato paste

1 tablespoon lemon juice

2-3 tablespoons milk
Instructions
Prepare some more vine leaves than actually needed, some will break and some will be too small for filling. In such case, use two vine leaves to form one roll. Just place the two leaves over each other in order to cover the broken parts or enlarge the "leaf".
Bring a pot of water to a boil. Add the vine leaves and let them simmer gently for about 3 or 4 minutes. Drain well and leave until cool enough to handle.
Give the rice to a small pot, cover it with water, bring to a boil and cook for half of the time indicated by the packet's instructions. For instance, my rice needs to be cooked for 20 minutes, so I only cook it for 10 minutes. Drain the rice well and let it cool slightly.
To make the filling chop the onion very finely. Heat the oil in a small pan and cook the onion until softer, about 3-4 minutes. Let it cool slightly.
Give the meat to a bowl, add the cooled rice and onion, the grated garlic cloves, dill, parsley, sweet paprika, salt and pepper. Mix together very well.
Place a vine leaf on the working surface. Add about 2 teaspoons of the meat filling (depending on the size of your leaf) in the middle-lower part of the leaf. Fold the left and right sides of the leaf over the filling, then form a roll, starting to roll at the base of the parcel. Place the roll with the seam facing down in a cooking pot. Repeat until you have used all the filling, arranging the rolls nicely and tightly in the pot.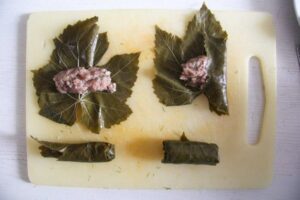 Boil some water in the kettle and pour it over the rolls, they should be barely covered with liquid. Cover well, bring to a boil, then lower the heat and simmer for 30-40 minutes. After about 30 minutes, try one roll to see if the rice is cooked through, if not, prolong the cooking time.
When the vine leaf rolls are cooked, carefully remove them from the pot. Place them on a deeper serving platter and keep warm. You will need their cooking liquid to make the sauce.
To make the sauce melt the butter in a small saucepan. Add the flour and stir well for 1 or 2 minutes. Add the tomato paste and stir well again. Slowly start adding the cooking liquid from the vine leaf rolls while whisking continuously. Add a little water or broth if you feel that you don't have enough cooking liquid.
Let simmer for 1 or 2 minutes stirring continuously. If the sauce is too thick, add a little milk. Adjust the taste with lemon juice, salt and pepper.
Pour the sauce over the stuffed vine leaves and serve immediately with boiled potatoes.
This post contains affiliate links. The price you pay as a consumer does not change, but if you make a purchase we will receive a commission which helps support the blog.