A comforting and warming Polish stew recipe – Bigos – with sauerkraut, white cabbage, pork and spicy sausages.
There are quite a few cabbage or sauerkraut stews on Where Is My Spoon, you might have noticed that. From the vegan Simple and Spicy Cabbage Turmeric Stew and the Healthy Romanian Stewed Cabbage to Pork, Rice and Cabbage Stew or Stewed Sauerkraut with Meat Dumplings.
Cabbage is one of my favorite vegetables and stewing it makes it so wonderful. I love that sweet yet hearty flavor which develops while the cabbage cooks, I like to slightly let it caramelize and catch at the bottom of the pan, so that it tastes even sweeter and more intensive, I like to add a bit of tomato paste to give it some fruitier note and I like it plain with nothing but some carrots in it or full with other delicious things like meat or sausages or both.
This Polish Bigos – Sauerkraut Stew with Pork and Sausages – is a deluxe version of the simple cabbage stew I grew up with and which I still cook most of the times when making cabbage stew. My grandmother did add some fattier pork pieces (for some reason I distinctly remember some large meat pieces full of white fat that I used to pick out of my cabbage and give to my grandfather, who used to collect and eat all the fatty bits that the rest of us would not eat), but not often, most of the time her stewed cabbage was meat free.
When we were served this Sauerkraut Stew with Pork and Sausages in the hotel where we stayed in Poland I was thrilled. Not only because I love cabbage, but also because I find it so great to be able to eat local dishes in a hotel in a foreign country, I cannot understand when people go on holiday and only want to eat the food they are used to.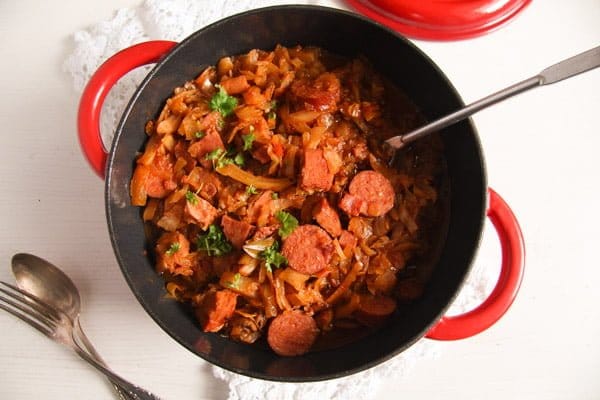 I understand that when it comes to children, they are like that and prefer the familiar taste (so my kids would be happier if we could eat pizza and schnitzel everywhere we travel), but when it comes to adults I lose all understanding. Why on Earth would I want to go to Poland or Spain or France to eat schnitzel, bratwurst and fries…
Oh well, when I told my mother-in-law that we were only served Polish food in the hotel, she asked me quite concerned: "And what did you eat then?" "Polish food, I've just said!" And her: "Oh! Really? Aha!" Too polite to say what she was actually thinking… but I know her well, when it comes to food, she sticks to what she knows, just like my grandmother. She is exactly the type who goes to Spain and eats schnitzel and bratwurst. And would probably feel nauseous if the people at the next table would be eating paella…
But back to the Sauerkraut Stew with Pork and Sausages, it is amazing, especially on a cold day like today, rainy and icy. A big bowl of this sauerkraut and sausage stew and you will not care about the weather anymore.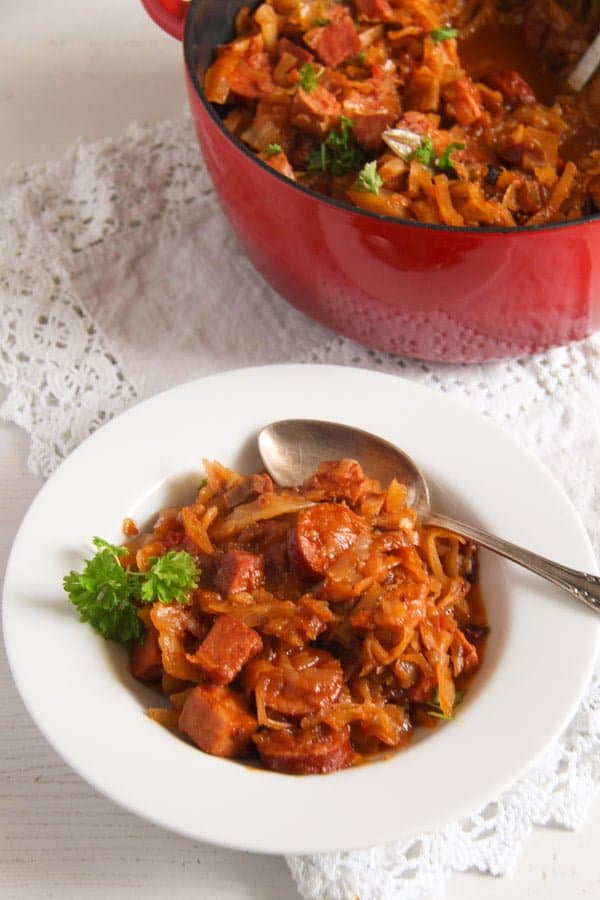 More hearty dishes with sausages?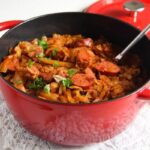 Ingredients
1 tablespoon lard or vegetable oil

75 g/ 2.7 oz smoked bacon cubes

1 onion

1 teaspoon juniper corns

½ teaspoon caraway seeds

450 g/ 1 lbs (smoked) pork stewing meat

375 g/ 13.2 oz sauerkraut

750 g/ 26.5 oz white cabbage

350 g/ 12.3 oz tomatoes

75 g/ 2.7 oz tomato paste

500 ml/ 2 cups chicken or beef stock

10 g/ 0.35 oz dried porcini

300 g/ 10.5 oz Polish sausage (cabanossi or Krakauer)

2-4 teaspoons plum butter or jam, to taste (plum butter is less sweet than jam, so use to taste)

salt and pepper
Instructions
Do the chopping first:
Cube the bacon, if necessary. Chop the onion finely. Cut the pork into cubes. Rinse the sauerkraut and let it drain in a sieve. Chop the white cabbage. Chop the tomatoes. Slice the cabanossi.
Heat the lard or oil in a Dutch oven or another heavy bottomed pot. Fry the bacon for a few minutes. Add the finely chopped onion, the crushed juniper seeds and the caraway seeds. Fry for a few minutes more, stirring often.
Add the pork pieces to the pot and fry until well browned, about 2 or 3 minutes on high heat.
Add the sauerkraut, cabbage, tomatoes, tomato paste and stock to the pot. Stir well, bring to a boil, turn the heat down, cover and simmer for 30 minutes.
In the meantime soak the porcini in 200 ml/ about ¾ cup warm water. Drain, but reserve the soaking liquid. Chop the porcini and give them to the pot together with their soaking liquid. Add the sausage slices as well. Add two teaspoons plum butter or jam, cover and continue simmering for one hour.
Adjust the taste with salt, pepper and more plum butter or jam, if necessary. Serve hot or reheat when needed, it tastes even better the next day. Actually, I would recommend cooking the stew one day in advance and let it develop the flavors overnight.
This post contains affiliate links. The price you pay as a consumer does not change, but if you make a purchase we will receive a commission which helps support the blog.