Warming sauerkraut stew or bigos with pork and spicy sausages, one of the most popular Polish recipes.
This Polish sauerkraut stew is everything that a winter stew should be: hearty and comforting, it warms you up from the inside and leaves you full and satisfied.
There are quite a few cabbage or sauerkraut stew recipes on the blog; you might have noticed that. From the vegan Cabbage Turmeric Stew and the Romanian Stewed Cabbage to Pork, Rice and Cabbage Stew or Stewed Sauerkraut with Meat Dumplings.
Cabbage is one of my favorite vegetables, and stewing it makes it so wonderful. I love that sweet yet hearty flavor that develops while the cabbage cooks; I like to slightly let it caramelize and catch at the bottom of the pan so that it tastes even sweeter and more intensive.
I like to add a bit of tomato paste to give it a fruitier note, and I like it plain with nothing but some carrots in it or full of other delicious things like meat or sausages. Or both.
This Polish bigos is a deluxe version of the simple cabbage stew I grew up with. My grandmother did add some fattier pork pieces (for some reason, I distinctly remember some large meat pieces full of white fat that I used to pick out of my cabbage and give to my grandfather), but not often; most of the time, her stewed cabbage was meat-free.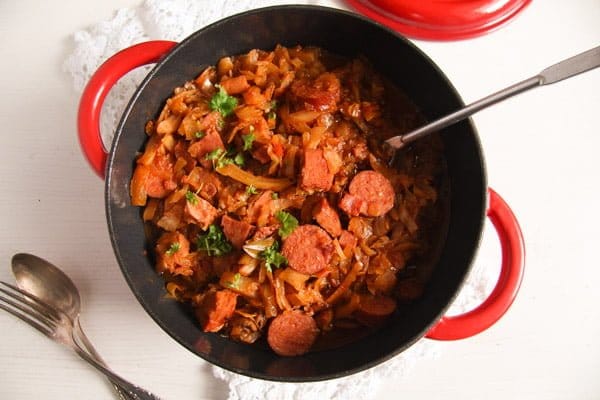 Ingredients
Sauerkraut from a can or vacuum-packed. The best sort is the fresh one bought at the butcher's (in Germany), but that might not be available anywhere. Canned sauerkraut is fine, but ensure you buy German Sauerkraut cans; the American version tastes different.
Pork: Ideally, you would use a piece of smoked pork. But regular stewing pork meat is fine as well. I always use a pork butt, also known as pork shoulder. It is not very lean, but that makes it perfect for stewing.
Sausages: Polish cabanossi or Krakauer, Kielbasa, or whatever they are called where you are.
Bacon: already chopped bacon cubes, preferably smoked. Don't use the thin bacon slices which you would fry for breakfast; you need rough, sturdy cubes.
Plum jam: an important ingredient when making bigos. It adds a kind of smoky, gamey flavor you would not want to miss.
Spices: typical stew spices used in Eastern and Central Europe, like juniper berries and caraway seeds.
Dried porcini: use them together with their soaking liquid; they really add a lot of flavor.
Other ingredients: white or green cabbage, tomatoes, tomato paste (not tomato sauce or puree), and chicken stock.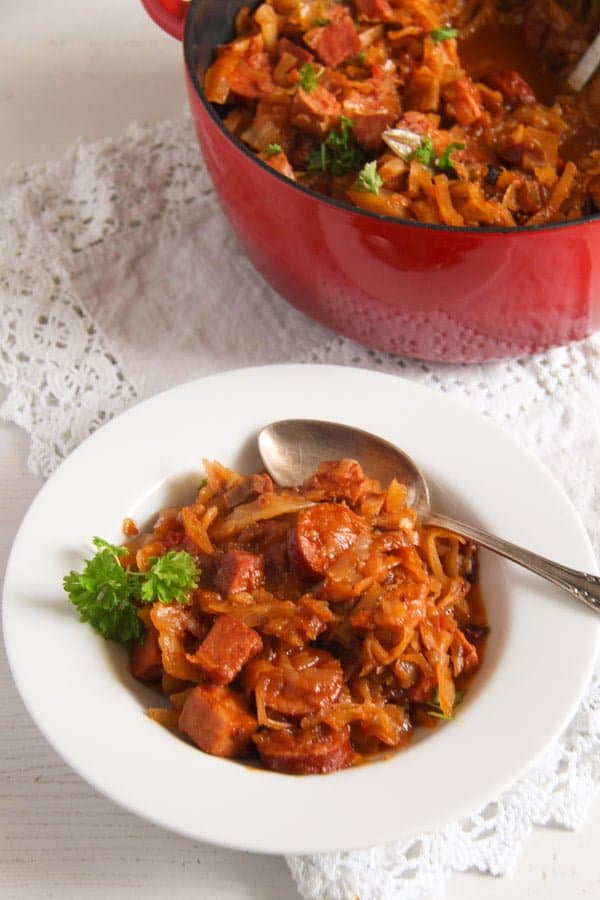 How to make sauerkraut stew?
Chop everything, but keep the ingredients separated.
Fry the bacon in a Dutch oven.
Add the onion and the spices and stir for a few minutes.
Brown the pork pieces on high heat.
Add sauerkraut, cabbage, tomatoes, tomato paste, and stock to the pot.
Simmer, covered, for 30 minutes.
Add the soaked and sliced mushrooms and their soaking water.
Add sausages and plum jam and simmer for one hour.
Adjust the taste.
Tips for making bigos
Plan ahead and make it one day in advance; it tastes better each time you reheat it.
Try to get at least one sort of smoked meat, either bacon or pork. If both are smoked, it is even better.
Start by chopping everything, this dish requires quite a bit of chopping, but it is otherwise super simple to make.
More Polish dishes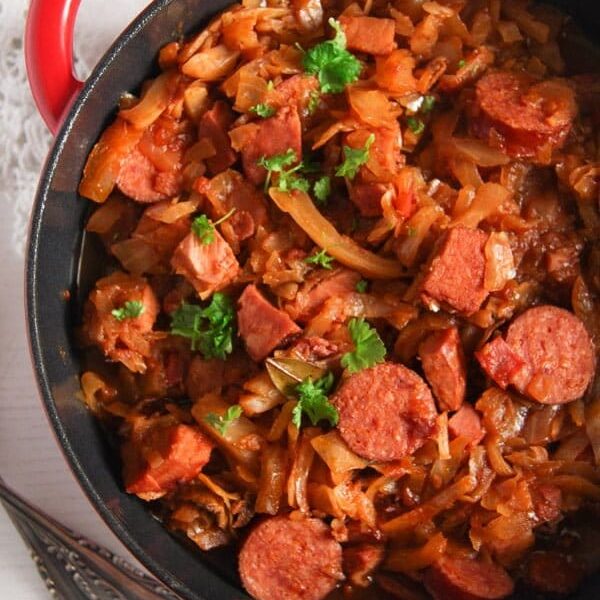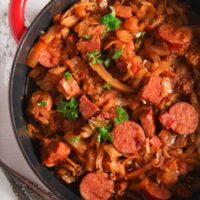 Sauerkraut Stew – Polish Bigos Recipe
Warming sauerkraut stew or bigos with pork and spicy sausages, one of the most popular Polish recipes.
Print
Pin
Share
Grow
Saved!
Rate
Ingredients
1

tablespoon

lard or vegetable oil

3

oz

smoked bacon cubes

75 g

1

onion

1

teaspoon

juniper corns

½

teaspoon

caraway seeds

1

lb

pork stewing meat

450 g, smoked if available

13

oz

cups sauerkraut

about 2 ½ cups/ 350 g

1.6

lb

white cabbage

about 10 cups/ 750 g

12

oz

tomatoes

about 2 cups/ 350

3

oz

tomato paste

75 g

2

cups

chicken or beef stock

500 ml

0.35

oz

dried porcini

10 g

10.5

oz

Polish sausage

cabanossi or Krakauer 300 g

2-4

teaspoons

plum butter or jam

to taste (plum butter is less sweet than jam, so use to taste)

fine sea salt and pepper
Instructions
Prepare ingredients: Cube the bacon, if necessary. Chop the onion finely. Cut the pork into cubes. Rinse the sauerkraut and let it drain in a sieve. Chop the white cabbage. Chop the tomatoes. Slice the cabanossi.

Saute: Heat the lard or oil in a Dutch oven or another heavy-bottomed pot. Fry the bacon for a few minutes. Add the finely chopped onion, the crushed juniper seeds, and the caraway seeds and stir for a few more minutes.

Add the pork pieces to the pot and cook until well browned, about 2 or 3 minutes on high heat.

Add sauerkraut, cabbage, tomatoes, tomato paste, and stock to the pot. Stir well, bring to a boil, turn the heat down, cover and simmer for 30 minutes.

Porcini: In the meantime, soak the porcini in 200 ml/ about ¾ cup of warm water. Drain, but reserve the soaking liquid. Chop the porcini and add them to the pot together with their soaking liquid.

Add the sausage slices as well. Add two teaspoons plum butter or jam, cover, and continue simmering for one hour.

Adjust the taste with salt, pepper, and more plum butter or jam, if necessary. Serve hot or reheat when needed; it tastes even better the next day.
Notes
I recommend cooking the stew one day in advance and let it develop the flavors overnight.
Nutrition
Serving:
1
/6 of the dish
|
Calories:
327
kcal
|
Carbohydrates:
22
g
|
Protein:
21
g
|
Fat:
18
g
|
Saturated Fat:
6
g
|
Polyunsaturated Fat:
11
g
|
Cholesterol:
65
mg
|
Sodium:
1623
mg
|
Fiber:
6
g
|
Sugar:
11
g