Glorious and decadent Polish meringue cake – Tort bezowy – with a mascarpone and rose water filling.
A cake with meringue on top is a beautiful and delicious thing. I have made many of them, cakes like the Rhubarb Meringue Cake or the German Cheesecake with Low-Fat Quark and Meringue Topping. Meringue is overly sweet, yet somehow so comforting and satisfying, that I can hardly imagine anyone not loving it, at least I don't know anybody who doesn't like meringue. Although I think I have rarely sat with anyone eating a cake made with meringue, who did not feel "obligated" to tell me that meringue is actually way tooo sweet for them, yet the particular cake we were just eating was so great! 🙂
It is almost like people feel they have to be apologetic for liking something that contains so much sugar, when most of them eat chocolate and candy bars that contain just as much sugar without the feeling they have to explain anything. It must be the fact that everybody knows that meringue is made with only two main ingredients, one of them being sugar… while all the other sweets usually contain a few other things more that distract us from the fact that their main ingredient is sugar as well…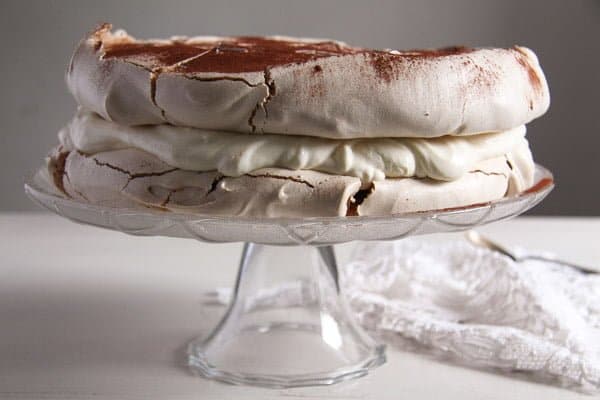 However, I got distracted again, now back to our Meringue Cake with Mascarpone Filling – Polish Bezowy Torte. You so definitely have to try this cake! We had it for the first time on the first day of our holiday in Poland in a little cafe in the little town we where staying. After driving all night to get there, we spent the early morning sleeping in our hotel room, however, as we were only supposed to arrive at about midday we were not registered for breakfast. So, when we woke up at about 10 o'clock, we went out to take a walk and to look for something to eat. As it was not lunch time yet, we could not find any restaurant already serving lunch, so we entered this little cafe thinking about coffee and some rolls or something. Well, the kids spotted the gofry or waffles and had that for breakfast and I spotted this huge and amazing looking meringue cake or bezowy tart. Great breakfast, isn't it?
I wrote down the name of the cake and as soon as we got back to the hotel I started looking for a recipe. Well, I was not very lucky there, I could not find one recipe in English, Romanian or German that would look anything like the cake I had just eaten.
So I had to recreate that myself. Well, it was not that difficult, it was pretty easy to recognize the meringue, I just had some difficulties with the filling. A Polish friend helped me with the translation of some Polish recipes for the bezowy cake, so I knew that the main ingredients for the filling were mascarpone and smetana (or a stiffer crème fraiche, if you cannot find smetana). I added some rose water because I love the Polish rose petal jam and it was a perfect fit, I must say, that light rose flavor compliments so well the sweetness and crispiness of the meringue and the freshness and creaminess of the filling! The perfect cake, I am telling you!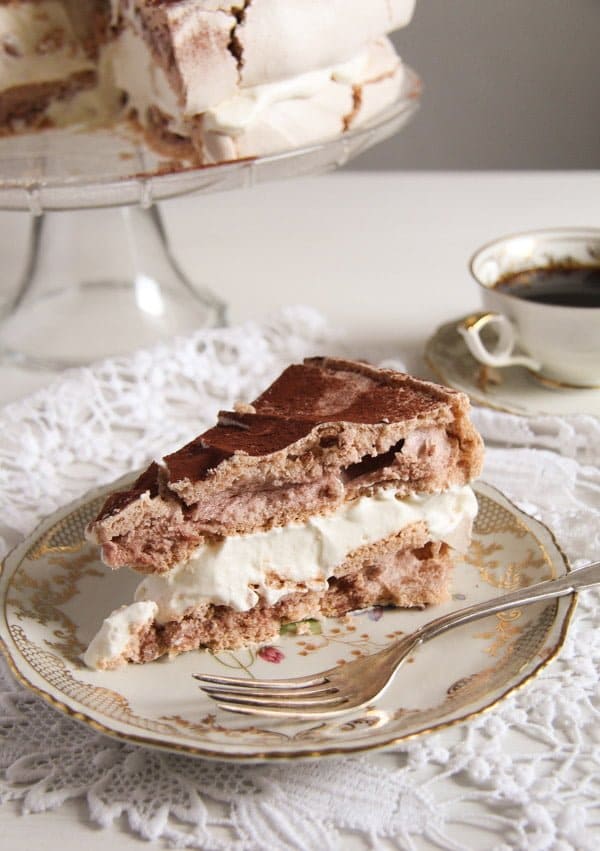 How to make basic meringue?
Well, it could not be any easier! And what a delicious way of dealing with all those leftover egg whites that I always seem to have in my fridge and freezer. By the way, egg whites keep in a closed jar in the fridge for up to two weeks and I think that I have egg whites in my freezer that are more than one year old. I used them for meringues often enough and the meringues came out well every time.
Step one:
Make sure that the bowl and the mixing whiskers you are using are very clean. And also that the egg whites are totally free of egg yolk residues as well. If there is any trace of fat on the bowl or of egg yolk in the egg whites, you will not be able to get any meringue at all.
Step two:
Making meringue takes a bit of time, so do yourself a favor and make the meringue in a kitchen machine. You could do it with a hand held mixer as well, but it will take forever… A strong kitchen machine is almost a must!
Step three:
Add some stabilizer to the egg white mixture. Some people use cream of tartar, but I have had very good results with cornflour, so I am using that now all the time, instead of buying cream of tartar just for this purpose. Also, add a bit of apple or white wine vinegar. It also helps stabilize the meringue and used in such small quantities will not influence the taste. The stabilizers will help the meringue hold its shape better, so it will have nicer edges and peaks when baked.
Step four:
There are a few methods out there on making meringue, most differences regard the baking temperature and time. I have tried a few of these methods, some were complete failures, some were better.
For today's Meringue Cake with Mascarpone Filling – Polish Bezowy Torte I used a method I found in Nigella Lawson's cookbook How to Eat. The method is simple and it always yealds great results, giving you a meringue that is crispy on the outside and slightly soft on the inside, just the way it was in Poland.
So, preheat the oven to 180 degrees Celsius/ 360 degrees Fahrenheit. Make the meringue, give it onto the lined baking tray, place it in the oven and immediately turn the heat down to 150 degrees Celsius/ 300 degrees Fahrenheit. Bake the meringue for 1 ¼ hours, turn off the oven and leave the meringue inside until cooled completely. That is why I make the meringue one day in advance, so I don't have to stress about it being cool in time.
And one more word: this recipe makes quite a large cake, the meringue expands while it bakes, so the cake will probably be larger than you expect it to be. If baking for a smaller party, you could halve the recipe.
So, now that you know how easy it is to make meringue, do give this Meringue Cake with Mascarpone Filling – Polish Bezowy Torte a try, you will love it!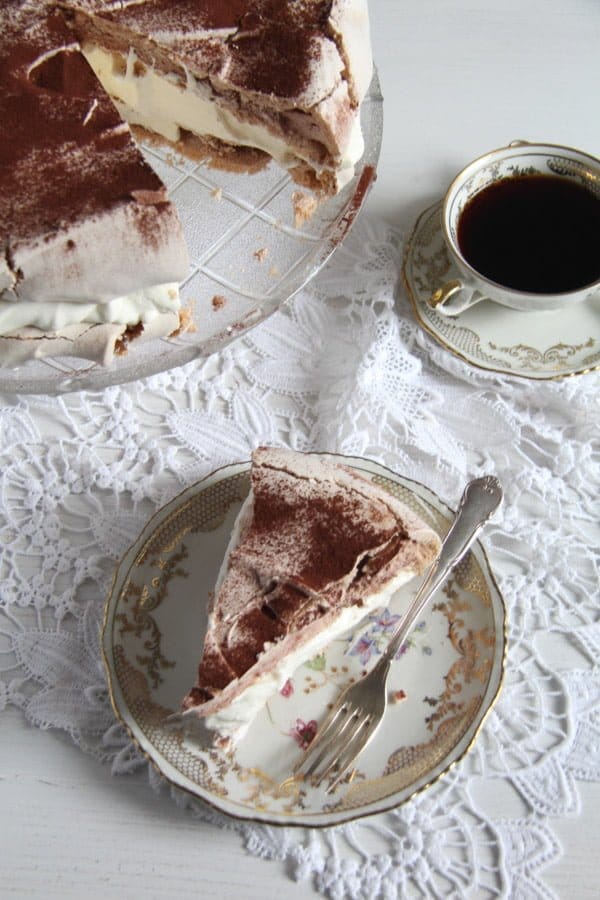 More meringue cakes: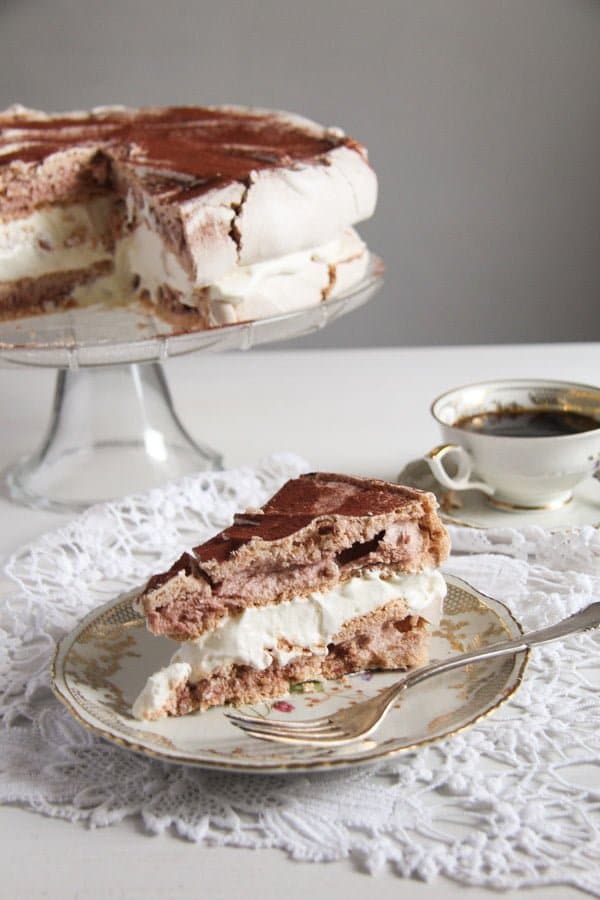 This post contains affiliate links. The price you pay as a consumer does not change, but if you make a purchase we will receive a commission which helps support the blog.