Glorious and decadent Polish cake with layers of meringue and mascarpone – Tort bezowy, this is one of the best cakes I have ever had!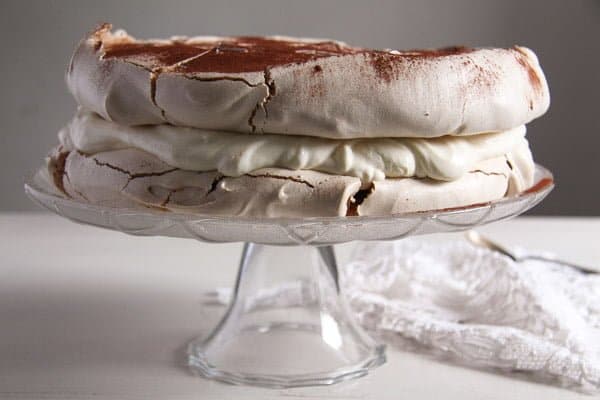 A meringue cake is a beautiful and delicious thing. I have made many of them, cakes like the rhubarb meringue pie, the stacked pavlova with raspberries or the German cheesecake. Any many others!
Meringue is overly sweet, yet somehow so comforting and satisfying, that I can hardly imagine anyone not loving it, at least I don't know anybody who doesn't like meringue.
Although I think I have rarely sat with anyone eating a cake made with meringue, who did not feel "obligated" to tell me that meringue is actually way too sweet for them, yet the particular cake we were just eating was so great! 🙂
It is almost like people feel they have to be apologetic for liking something that contains so much sugar when most of them eat chocolate and candy bars that contain just as much sugar without the feeling they have to explain anything.
It must be the fact that everybody knows that meringue is made with only two main ingredients, one of them being sugar... while all the other sweets usually contain a few other things more that distract us from the fact that their main ingredient is sugar as well...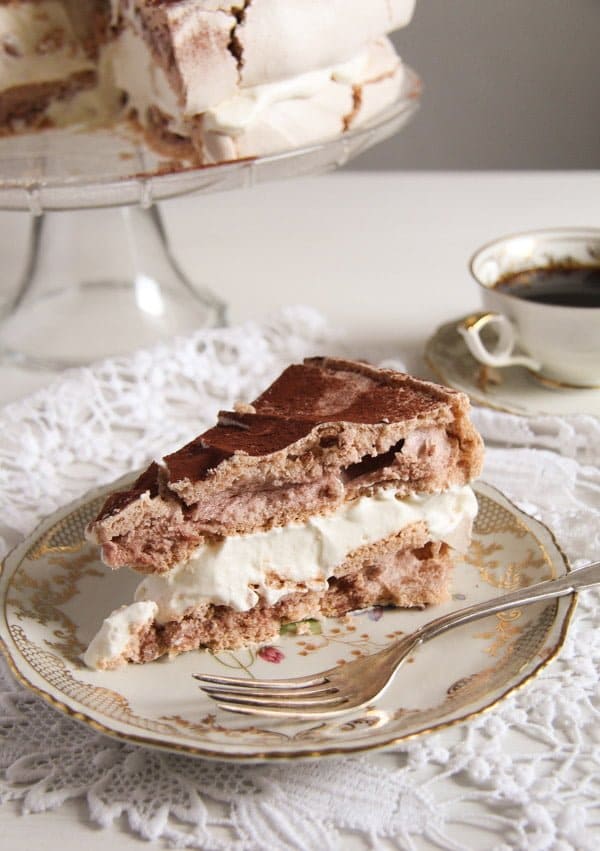 This particular meringue cake is a Polish cake, a very well-known one (in Poland), called Tort Bezowy. To tell you the truth, one of the best cakes I have ever had!
We had it for the first time on the first day of our holiday in Poland in a little cafe in the little town we were staying. For breakfast!
We had just arrived and we were rather hungry. So we entered this little cafe thinking about coffee and some rolls or something. Well, the kids spotted the gofry or waffles and had that for breakfast and I spotted this huge and amazing-looking meringue cake or bezowy tart. Great breakfast, isn't it?
I wrote down the name of the cake and as soon as we got back to the hotel I started looking for a recipe. Well, I was not very lucky there, I could not find one recipe in English, Romanian, or German that would look anything like the cake I had just eaten. A Polish friend helped me with the translation of some Polish recipes for the bezowy cake, so I knew that the main ingredients for the filling were mascarpone and smetana (or a stiffer crème Fraiche, if you cannot find smetana).
I added some rose water because I love the Polish rose petal jam and it was a perfect fit, I must say, that light rose flavor compliments so well the sweetness and crispiness of the meringue and the freshness and creaminess of the filling! The perfect cake, I am telling you! And if you would like to try a completely different Polish dessert, try the Polish Almond Cake.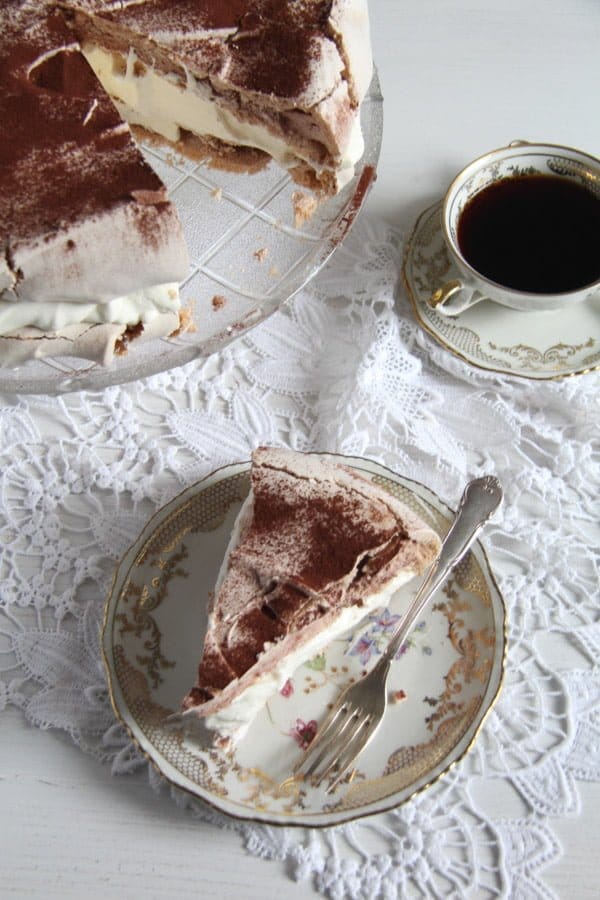 How to make meringue?
Well, it could not be any easier! And what a delicious way of dealing with all those leftover egg whites that I always seem to have in my fridge and freezer.
By the way, egg whites keep in a closed jar in the fridge for up to two weeks and I think that I have egg whites in my freezer that are more than one year old. I used them for meringues often enough and the meringues came out well every time.
Make sure that the bowl and the mixing whiskers you are using are very clean. And also that the egg whites are totally free of egg yolk residues as well. If there is any trace of fat on the bowl or of egg yolk in the egg whites, you will not be able to get any meringue at all.
Making meringue takes a bit of time, using a stand mixer is best. You could do it with a handheld mixer as well, but it will take forever... A strong kitchen machine is almost a must!
Add some stabilizer to the egg white mixture. Some people use cream of tartar, but I have had very good results with cornflour, so I am using that now all the time, instead of buying cream of tartar just for this purpose.
Apple cider vinegar or white wine vinegar also helps stabilize the meringue and used in such small quantities will not influence the taste. The stabilizers will help the meringue hold its shape better, so it will have nicer edges and peaks when baked.
Bake the meringue:
There are a few methods of making meringue, most differences regard the baking temperature and time. I have tried a few of these methods, some were complete failures, some were better.
For today's meringue cake I used a method I found in Nigella Lawson's cookbook. The method is simple and it always yields great results, giving you a meringue that is crispy on the outside and slightly soft on the inside, just the way it was in Poland.
Preheat the oven to 180 degrees Celsius/ 350 degrees Fahrenheit.
Make the meringue, place it on a baking tray lined with parchment paper, place it in the oven and immediately turn the heat down to 150 degrees Celsius/ 300 degrees Fahrenheit.
Bake the meringue for 1 ¼ hour, turn off the oven and leave the meringue inside until cooled completely.
That is why I make the meringue one day in advance, so I don't have to stress about it being cool in time.
Tip
This recipe makes quite a large cake, the meringue expands while it bakes, so the cake will probably be larger than you expect it to be. If baking for a smaller party, you could halve the recipe.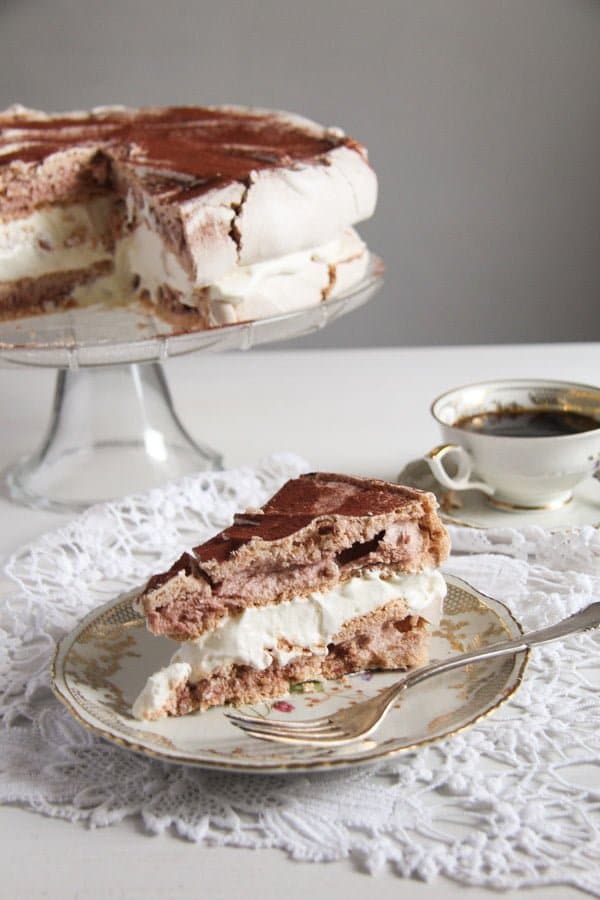 More meringue extravaganza?
Do you like this recipe?
Please leave a good rating in the recipe card below. Stay in touch through social media:
Pinterest
,
Facebook
, and Instagram. Don't forget to tag me #whereismyspoon when you try a recipe!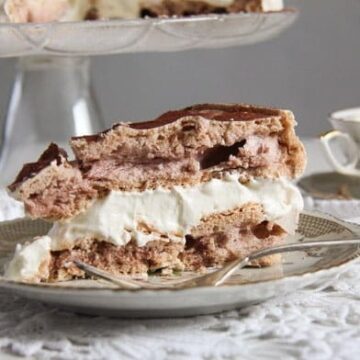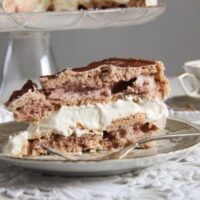 Polish Cake with Meringue – Tort Bezowy
Glorious and decadent Polish cake with layers of meringue and mascarpone – Tort bezowy, this is one of the best cakes I have ever had!
Print
Pin
Share
Grow
Saved!
Rate
Ingredients
8-10

egg whites

depending on size (300 ml/ 10.1 oz) (see note 1)

450

g/ 1 lb / 2 ¼ cups granulated sugar

a pinch of salt

2

teaspoons

cornflour

2

teaspoons

unsweetened cocoa powder

2

teaspoons

white wine/ apple vinegar

250

g/ 8.8 oz/ about 1 cup mascarpone

400

g/ 14 oz/ 1 ¾ cups smetana or crème fraiche

5

tablespoons

icing sugar

3

teaspoons

rose water

more or less to taste

400

g/14 oz/ 1 ¾ cups heavy cream

2-3

tablespoons

fresh lemon juice

to taste

2-3

packet's Dr. Oetker cream stabilizer

see note 2

more unsweetened cocoa powder to dust the top of the cake
Instructions
Meringue:
Always use a kitchen scale when baking, cup measuring is too unprecise.

Preheat the convection oven to 180 degrees Celsius/ 350 degrees Fahrenheit. I use the convection oven for making meringue because this allows me to bake both trays with meringue at the same time. Line two baking trays with baking paper.

Make sure that the mixing bowl and the mixing whiskers of the kitchen machine are very clean. Place the egg whites into the mixing bowl. Add the salt and start beating them until silky peaks form. Slowly, start beating in the sugar, about a third at a time, whisking very well in between, it will take about 10 minutes. It is easier to use a stand mixer.

Sprinkle the cornflour and unsweetened cocoa powder on top of the egg whites. Add the vinegar as well. Continue beating for another minute.

Divide the mixture in two and mound it onto the prepared baking trays. Form two circles of about 20 cm/ 8 inches and keep in mind that the meringues will expand in the oven, so the cake will be rather large.

Place the baking trays in the oven and IMMEDIATELY turn down the heat to 150 degrees Celsius/ 300 degrees Fahrenheit. Bake the meringues for 1 ¼ hour. Turn off the oven and leave the meringues inside the hot oven until they are completely cool. It is better to make them a day ahead so that you will not stress about them not being cool in time to serve.
Filling:
Place the mascarpone, smetana or crème fraiche, icing sugar, and rose water to taste into a bowl. Mix very shortly to get the mixture smooth, but do not over mix, I find that if I mix mascarpone too long it becomes runny.

Beat the heavy cream in another bowl. Add the cream stabilizer according to the packet's instructions, that is beat the heavy creamy shortly, then slowly add the stabilizer to the cream while beating all the time until the cream has the desired consistency. If the cream stabilizer is not available, see notes.

Carefully fold the heavy cream into the mascarpone mixture. Add 1 to 3 tablespoons of lemon juice to taste.

Place one meringue onto a serving cake platter. Cover with the filling, add the second meringue on top, press slightly and sprinkle some unsweetened cocoa powder.

Keep refrigerated until ready to serve. The bezowy cake has the best consistency when eaten on the day you assemble it, but the leftovers are still delicious the next day.

Notes
Keep in mind that the egg whites will expand in the oven, so the cake will be quite large. Halve the quantities if you wish to make a smaller cake.
When making the filling with smetana I would use 2 packets. Crème fraiche is sometimes less stiff than smetana, so I would use 2 ½ or 3 packets of Dr. Oetker's cream stabilizer.
The cream stabilizer can be replaced with a mixture of icing sugar and cornstarch in a 1:1 ratio. In this case, you will mix 5 teaspoons icing sugar with 5 teaspoons cornstarch and use exactly as described in the recipe.
Nutrition
Serving:
1
slice
|
Calories:
512
kcal
|
Carbohydrates:
44
g
|
Protein:
6
g
|
Fat:
36
g
|
Saturated Fat:
22
g
|
Polyunsaturated Fat:
11
g
|
Trans Fat:
1
g
|
Cholesterol:
108
mg
|
Sodium:
208
mg
|
Sugar:
43
g