Polish bean stew with cabanossi sausage or Fasolka po Bretonsku, a hearty and delicious meal for cold winter days.
I love beans! And sausages. And potatoes. This cabanossi sausage stew reunites them all in one pot. Quick to make, hearty and thoroughly delicious Polish stew.
Strangely enough, I know quite a few people who don't enjoy eating beans. I grew up eating lots of beans in Romania and I have quite a few recipes on the blog to prove it. 🙂
Have a look at these recipes that my grandmother used to cook all the time: the White Bean Soup, the Romanian White Bean Dip - Fasole batuta or Grandma's Bean and Vegetable Stew.
This is a Polish recipe, something we had for dinner in the hotel where we were staying during our holiday in Poland last year. Like I have mentioned above, I totally have a thing for beans, so unlike my kids, who could not see the point of having a bean stew in a hotel, I was particularly happy about it.
The recipe is very similar to a Romanian white bean stew recipe and maybe that was a reason for me to enjoy it even more, it reminded me of my childhood.
So, when we were back home, it didn't take long until I looked for a typical Polish bean stew recipe and cooked it myself. Actually, this was the first Polish recipe I have ever cooked, not a cake like this amazing Polish Bezowy Torte, but beans. Obvious to see where my priorities lie...
What do you need?
White beans:
Dried or canned. If you have the time to cook the beans yourself it's great, I do it myself when I manage to remember to soak them in time.
But as I am not always that organized, I do make this bean stew (or other bean recipes) with canned beans as well, and they are always delicious.
Using canned beans saves the soaking and the long cooking time, meaning that you will have this dish ready to be served in less than an hour.
Cabanossi sausage:
Also called kabanos or kabana, they are quite popular in Europe.
They are Polish pork sausages, usually quite thin (but not always).
The thinner sort are usually slightly drier, while the thicker are softer.
I used the thicker ones to make the stew.
Smoked ham or bacon:
You can use either ham or bacon, the only thing that's important for the flavor is that they are smoked.
Other ingredients: potatoes, carrots, onion, pureed tomatoes and tomato paste, spices.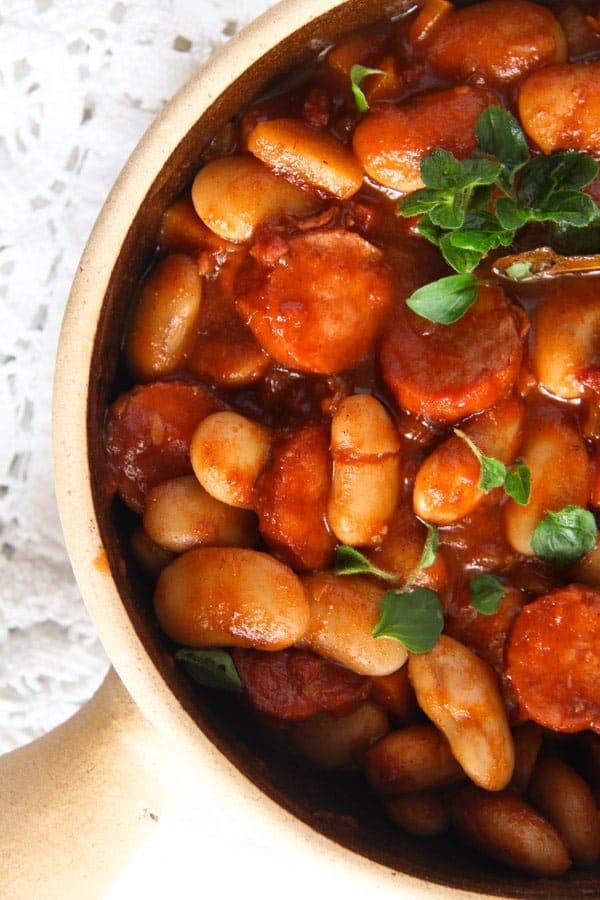 Tips for making a good stew
If using dried beans, remember to soak them overnight.
Cook them properly. Most package instructions will tell you to cook the beans between 30 and 60 minutes. That rarely works, as the cooking time greatly depends on the size and especially the age of the beans.
Start soon enough with the cooking process and check the beans regularly. They should be buttery soft, but not become mushy.
If cooking the beans yourself, use the cooking water to make the stew. In this case, add 1 or 2 beef or chicken stock cubes to the dish, the beans` water is not as flavorful as meat stock.
Most stews are best when reheated. If possible, cook the dish the day before you want to serve it. Keep it refrigerated and reheat before serving.
More warming stews?
Polish Bean Stew (with Cabanossi Sausage)
Polish bean stew with cabanossi sausage or Fasolka po Bretonsku, a hearty and delicious meal for cold winter days.
Print
Pin
Share
Grow
Saved!
Rate
Ingredients
450

g/ 16 oz canned beans

Note if using dried beans

1

tablespoon

sunflower oil

1

onion

2

medium carrots

125

g/ 4.4 oz smoked ham or smoked bacon

250

g/ 8.8 oz cabanossi sausage

2

tablespoons

tomato paste

250

g/ 8.8 oz pureed tomatoes

250

ml/ 8.5 fl.oz/ 1 cup beef or chicken stock

3

bay leaves

½

teaspoons

dried marjoram

1

teaspoon

sweet paprika powder

½

teaspoon

smoked paprika powder

optional

½

teaspoon

ground allspice

½

teaspoon

sugar

fine salt and pepper
Instructions
Chop the onion finely. Chop the carrots into cubes or slices. Cut the ham or bacon into cubes as well. Slice the sausages.

Heat the sunflower oil in a heavy-bottomed pan. Cook the finely chopped onion until translucent. Add the carrots, ham or bacon and continue cooking for about 5 minutes, stirring from time to time.

Add tomato paste, stir well to coat the vegetables and sausages, then add the pureed tomatoes and the stock (or beans' cooking liquid + a stock cube), bay leaves, marjoram, both paprikas, allspice, sugar, and some salt and pepper.

Bring to a boil, turn the heat down to low and simmer the stew, uncovered, for about 10 minutes.

Add the cooked beans and simmer gently for another 10 minutes.

Adjust the taste with salt and pepper and serve the stew with bread and pickled vegetables.
Notes
If cooking your own beans you will need one extra onion, another 2 bay leaves, some black peppercorns, and 3-4 allspice berries. If using already cooked beans, this dish will be ready in no time.
To cook the beans, place 200 g/ 7 oz dried beans into a large bowl. Cover with cold water and soak overnight. Drain, place into a pot, cover with plenty of water, add 1 halved onion, 2 bay leaves, some black peppercorns, and some allspice berries and cook the beans until soft, at least 1 hour or more, depending on the size and age of the beans. You can replace the broth or stock used to make the stew with some of the beans' cooking liquid and in this case, add a stock cube as well.
Nutrition
Serving:
1
/4 of the dish
|
Calories:
505
kcal
|
Carbohydrates:
26
g
|
Protein:
26
g
|
Fat:
33
g
|
Saturated Fat:
10
g
|
Polyunsaturated Fat:
20
g
|
Cholesterol:
71
mg
|
Sodium:
1455
mg
|
Fiber:
6
g
|
Sugar:
7
g