Last Updated on
A very easy, hearty and delicious recipe for a Polish white bean and sausage stew – Fasolka po Bretonsku.
Strangely enough, I know quite a few people who don't enjoy eating beans. All of them German people of course, I don't remember ever hearing a Romanian person saying that beans are not good. I grew up eating lots of beans in Romania and I have quite a few recipes on the blog to prove it. 🙂
Have a look at these recipes that my grandmother used to cook all the time: the White Bean Soup with Smoked Spare Ribs and Tarragon, the Romanian White Bean Dip with Caramelized Onions – Fasole batuta or Grandma's Perfect Bean and Vegetable Stew – Romanian Beans.
My husband and I love beans, my kids are starting to be OK with them, they are not particularly happy when I make something with beans, but they are eating them anyway. As far as I am concerned, I could eat beans at least once a week and I even found myself buying a can of baked beans from time to time, because I just happened to have a sudden craving for beans, but didn't have the time to cook a proper bean stew…
But those canned baked beans are nothing at all compared with the real deal: a hearty, spicy, comforting stew with buttery white beans and maybe some sausages, bacon or ham pieces inside, my mouth is watering just by thinking about it…
This Easy White Bean and Cabanossi Sausage Stew is a Polish recipe, something we had for dinner in the hotel where we were staying during our holiday in Poland last year. Like I have mentioned above, I totally have a thing for beans, so unlike my kids, who could not see the point of having a bean stew in a hotel, I was particularly happy about it. The recipe is very similar to a Romanian white bean stew recipe and maybe that was a reason for me to enjoy it even more, it reminded me of my childhood.
So, when we were back home, it didn't take long until I looked for a typical Polish bean stew recipe and cooked it myself. Actually, this was the first Polish recipe I have ever cooked, not a cake like this amazing Meringue Cake with Mascarpone Filling – Polish Bezowy Torte, but beans. Obvious to see where my priorities lie…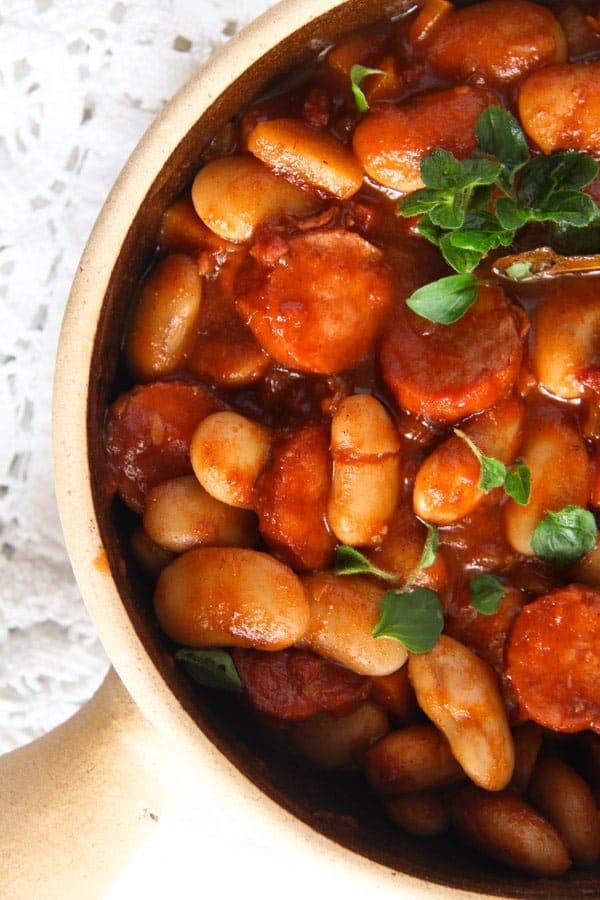 More warming stews?
Ingredients
200 g/ 7 oz dried white beans or 450 g/ 16 oz canned beans (see note)

1 tablespoon sunflower oil

1 onion

2 medium carrots

125 g/ 4.4 oz smoked ham or smoked bacon

250 g/ 8.8 oz cabanossi sausage

2 tablespoons tomato paste

250 g/ 8.8 oz pureed tomatoes

250 ml/ 1 cup vegetable broth/ beef or chicken stock

3 bay leaves

½ teaspoons dried marjoram

1 teaspoon sweet paprika powder

½ teaspoon smoked paprika powder, optional

½ teaspoon ground allspice

½ teaspoon sugar

salt and pepper
Instructions
You can use canned beans or you can cook you own beans. To cook your own beans, give about 200 g/ 7 oz dried beans to a large bowl. Cover with cold water and soak overnight. Drain, give to a pot, cover with plenty of water, add 1 halved onion, 2 bay leaves, some black peppercorns and some all spice corns and cook the beans until soft, at least 1 hour or more, depending on the size and age of the beans. You can replace the broth or stock used to make the stew with some of the beans' cooking liquid and in this case add a stock cube as well.
Chop the onion finely. Chop the carrots into cubes or slices. Cut the ham or bacon into cubes as well. Slice the sausages.
Heat the sunflower oil in a heavy bottomed pan. Cook the finely chopped onion until translucent. Add the carrots and the smoked ham or bacon and continue cooking for about 5 minutes, stirring from time to time.
Add the tomato paste, stir well to coat the vegetables and sausages, then add the pureed tomatoes as well, together with the broth or stock (or beans' cooking liquid + a stock cube), bay leaves, marjoram, both paprikas, ground allspice, sugar and some salt and pepper.
Bring to a boil, turn the heat down to low and simmer the stew, uncovered, for about 10 minutes. Add the cooked beans and simmer gently for another 10 minutes.
Adjust the taste with salt and pepper and serve the stew with bread and gherkins or other pickled vegetables.
Notes
If cooking your own beans you will need one extra onion, another 2 bay leaves, some black peppercorns and some allspice corns. If using already cooked beans, this dish will be ready in no time.
This post contains affiliate links. The price you pay as a consumer does not change, but if you make a purchase we will receive a commission which helps support the blog.