Last Updated on 19/08/2020 by Adina
A surprisingly delicious sheet pan dinner with roasted potatoes, sweet cinnamon pumpkin slices and sausages.
No time to spend a lot of time in the kitchen? Well, a sheet pan dinner is always a good way out of that situation. Just a bit of chopping, put the pan in the oven and you will have a wonderful, delicious and real dinner in about an hour, with only maybe 15 minutes of actual work. So much better than heating up some frozen stuff from the supermarket or spending money again on fatty, salty and sugary take-away food.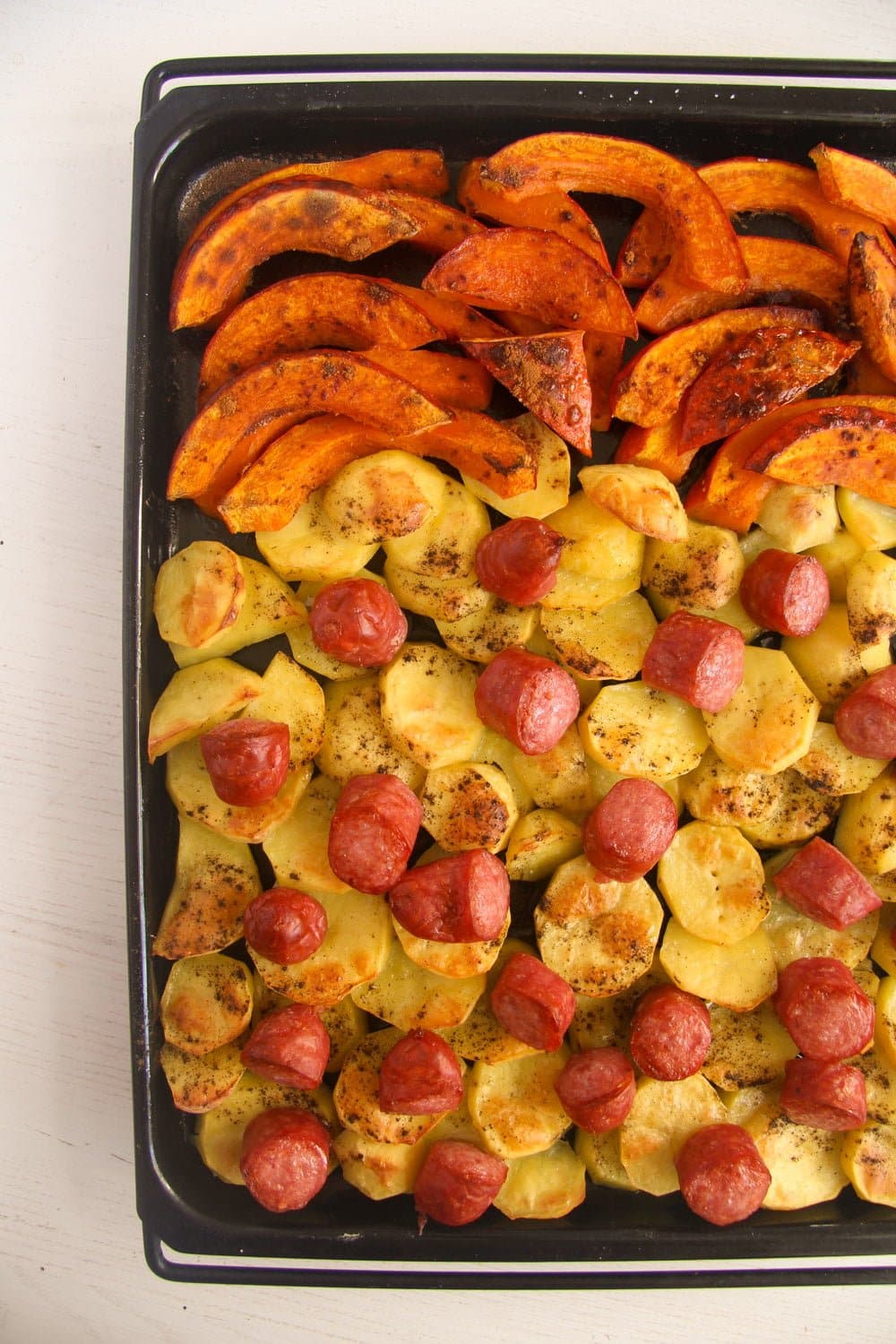 I do make sheet pan dinners from time to time, but I realize now that they mostly revolve around chicken, for instance these delicious Turmeric Chicken Legs with a Honey Garlic Glaze or Roasted Chicken Thighs with Potatoes and Vegetables or these Sticky Roasted Chicken Legs with Green Onions and Mango Chutney .
Well, this time I used sausages instead of chicken and what a delicious twist that was!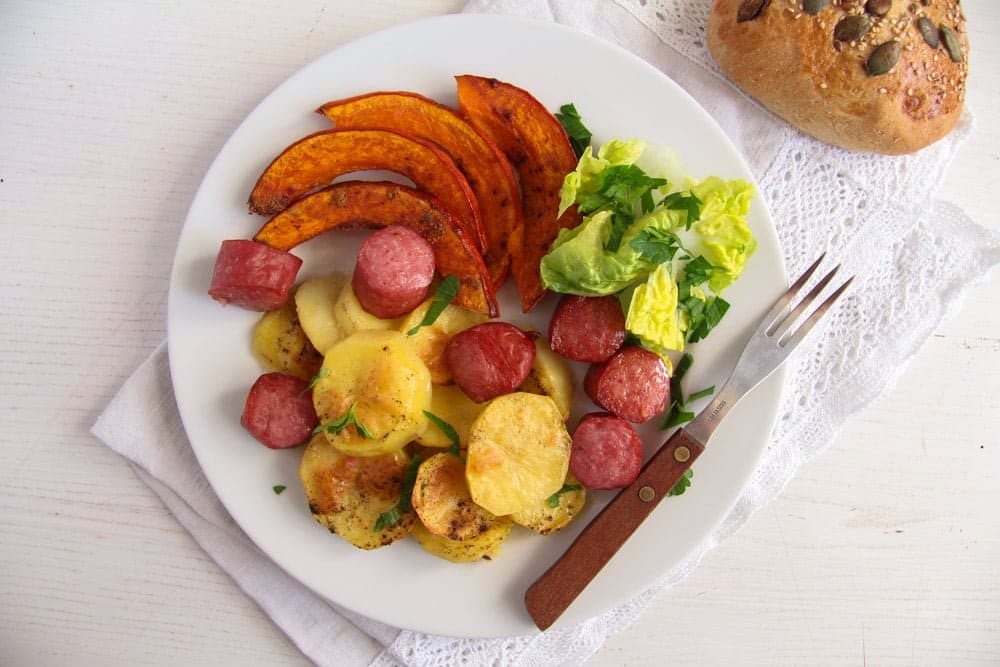 This recipe starts a new series on Where is My Spoon, a series dedicated to Saxon Recipes. Saxon or German inspired recipes.
The Transylvanian Saxons were one of the largest minority groups in Romania for centuries, unfortunately not so anymore, most of them left Romania in the early 1990s after the fall of communism. So, I actually got to know more Transylvanian Saxons here in Germany, than I ever got to know at home in Romania, although I grew up in Sibiu – Hermannstadt, the city with the largest Saxon population in Romania.
According to Wikipedia, the Saxons began colonizing Transylvania during the 12th century. Apparently they were brought there by the Hungarian king Geza the Second and their main purpose for a while was to protect the Southern border of Transylvania. During the centuries they spread all around Transylvania and built fortified cities, one of them being my hometown Sibiu, which is called Hermannstadt in the Saxon language.
They built several other fortified cities, such as Cluj – Klausenburg, Brasov – Kronstadt, Sighisoara – Schässburg, all wonderful medieval cities, which you should make a point in visiting if you ever get to Romania. I strongly recommend starting with Sibiu, which is the most beautiful of them all :), then Sighisoara, which is also amazing and so on, they are all worth it! Apparently it is those Saxon cities that gave the region its name of Siebenbürgen Sachsen – Seven Towns Saxony.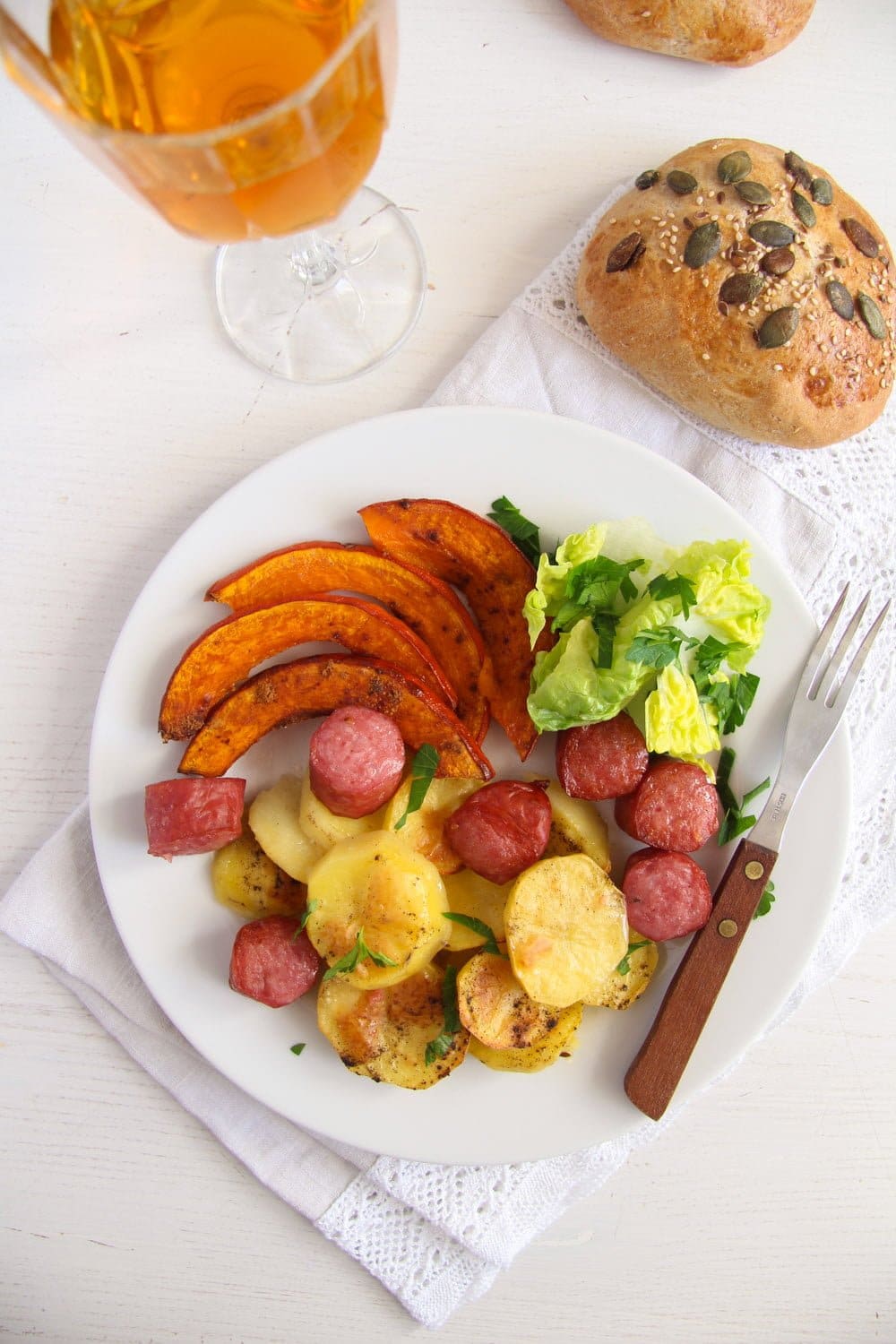 So, after this very short history lesson, lets get back to food. I adapted this recipe found in a wonderful cookbook my friend gave me, a Saxon cookbook Das Kochbuch der Siebenbürger Sachsen: Mit geschichtlichem Überblick including many typical Saxon recipes. It was made on a whim, I did not even plan to post it, but while perusing the book and getting to this recipe I realized I still had a piece of pumpkin in the fridge and, untypically for me, a rather large cabanossi sausage. The original recipe calls for bratwurst or bacon, but I ignored that and used what I had.
Also, another change: the recipe calls for sprinkling the pumpkin slice with 3 tablespoons sugar. Well, I did not dare to do that. Sprinkling sugar and cinnamon on pumpkin which is part of a savory sheet pan dinner was already a wild idea for me and I just could not bring myself to use so much. So I only sprinkled the pumpkin with 1 tablespoon sugar and ½ teaspoon cinnamon and that was just perfect for us. Much better than I thought it would be, the sweet cinnamon pumpkin was a perfect fit to those roasted potatoes and cabanossi, you should really give this dish a try, I think you would love it!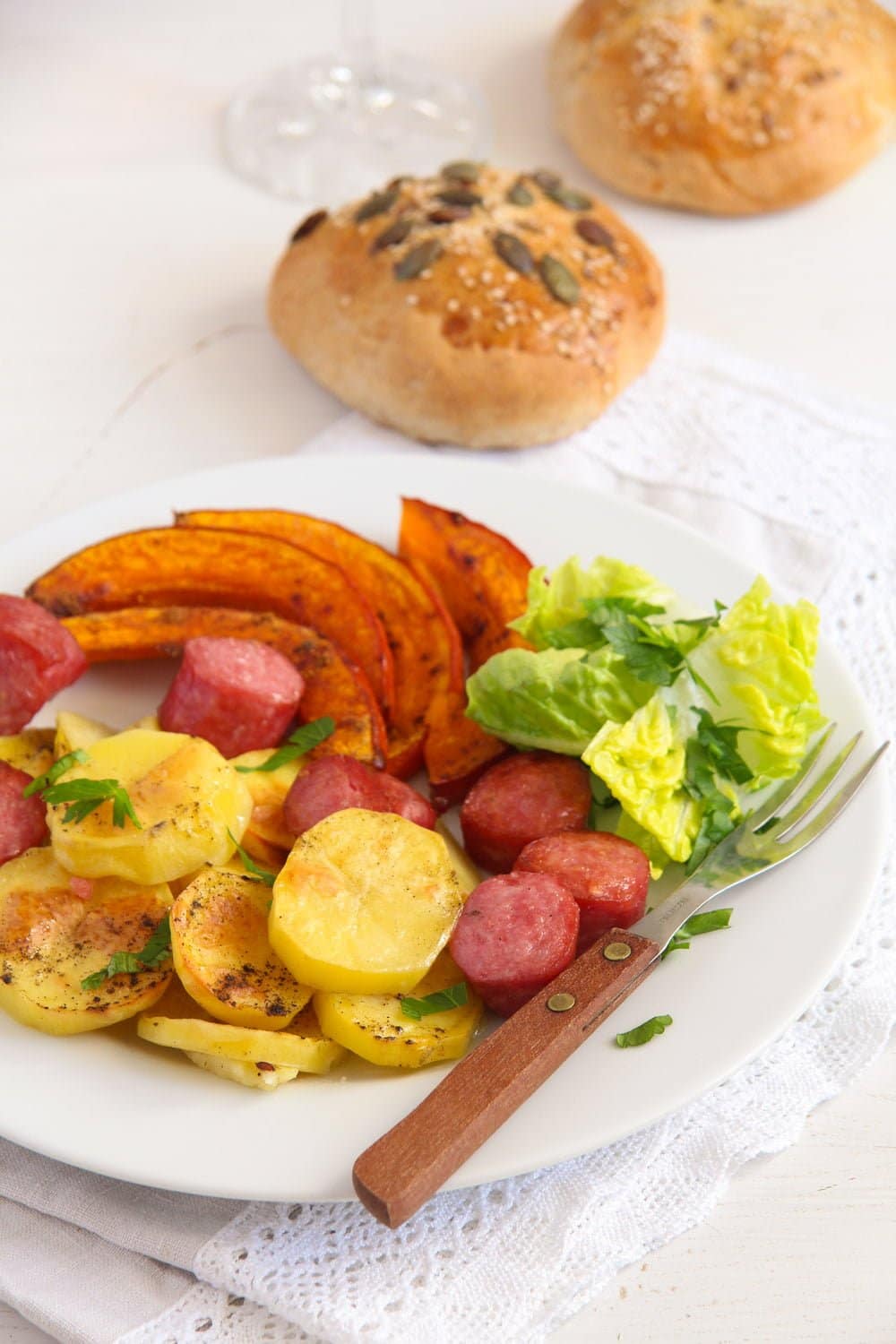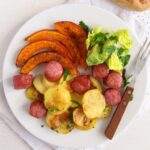 Ingredients
1 kg/ 2.2 lbs potatoes

1 tablespoon oil

450 g/ 1 lbs pumpkin (I had Hokkaido, but butternut squash would be fine as well)

1 tablespoon sugar

½ teaspoon cinnamon

250 ml/ 1 cup water

250 g/ 8.8 oz cabanossi

salt and pepper
Instructions
Preheat the oven to 200 degrees Celsius/ 400 degrees Fahrenheit.
Peel the potatoes and slice them. Give them to the baking tray. Rub them with the oil, arrange them on ¾ of the baking tray and sprinkle them with salt and pepper.
Slice the pumpkin into wedges. Arrange the wedges on the other side of the tray. Sprinkle them with sugar and cinnamon.
Carefully pour the water into the tray taking care not to wash off the spices or the oil on the vegetables.
Place in the hot oven and bake for 35-40 minutes or until almost done.
In the meantime slice the cabanossi into thick slices. Add them to the sheet pan on the potatoes and continuing roasting for another 10-15 minutes or so until the vegetables are soft and the sausages cooked through.
Serve with green salad.
This post contains affiliate links. The price you pay as a consumer does not change, but if you make a purchase we will receive a commission which helps support the blog.