Roasted chicken thighs and potatoes with vegetables like carrots or red peppers. The easiest way of roasting crispy chicken thighs in the oven.
CHICKEN AND POTATOES IN THE OVEN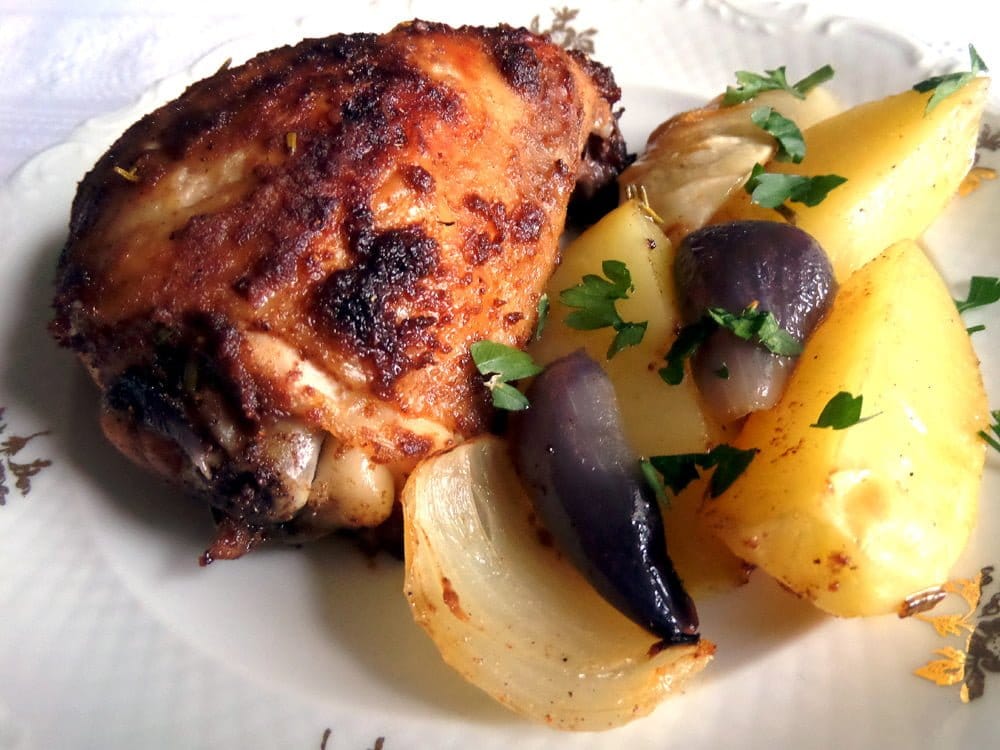 Crispy chicken thighs and chicken drumsticks roasted in the oven with potatoes and lots of vegetables. An easy meal, quick to make and always a hit with my family.
I mean, what is not to like? My kids go crazy for chicken and potatoes, I think I could cook this recipe every week and they will not get bored with it.
And I do cook one version or another of roasted chicken really often. How about trying these super basic baked chicken thighs or these other crispy chicken thighs with veggies?
Or something a little bit different like chicken thighs with green onions and mango chutney or a whole roasted chicken with oranges?
Chicken! Chicken! Chicken! We really love chicken!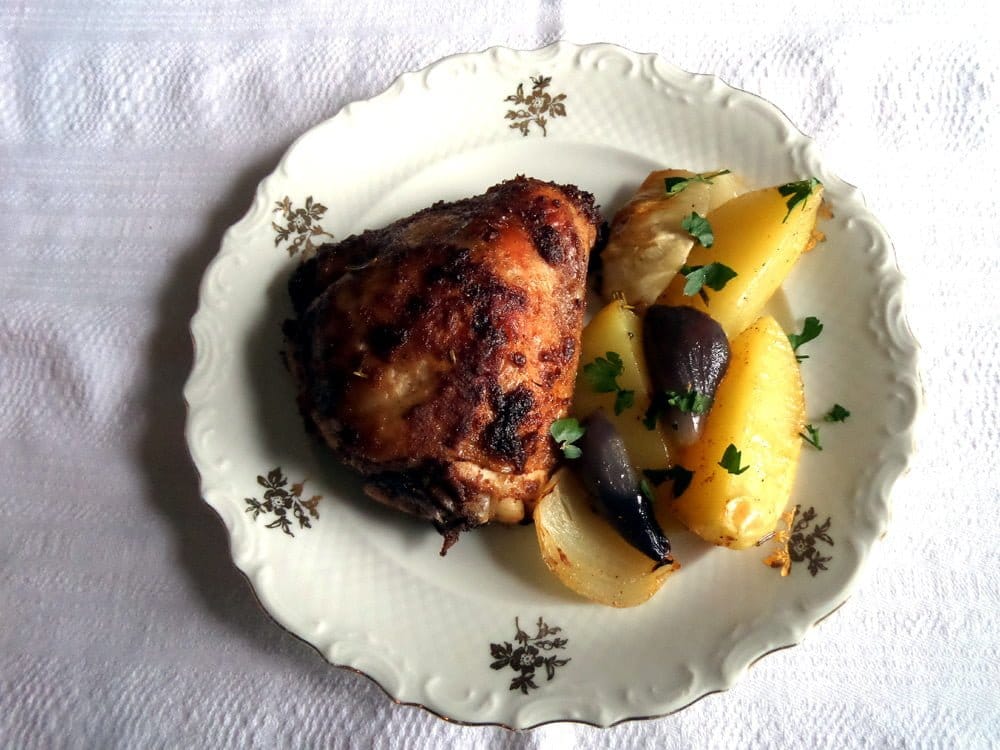 INGREDIENTS FOR ROASTED CHICKEN THIGHS
Chicken:
You will need 4 chicken legs or chicken quarters OR 4 chicken thighs and 4 chicken drumsticks.
Of course, if you only have chicken thighs or chicken drumsticks, you can use that as well. Just think about adjusting the quantities, chicken thighs are larger than drumsticks.
I almost always buy 4 whole chicken legs and divide them at the joint.
How to divide chicken legs at the joint?
Take the chicken thigh in one hand. Hold onto the chicken drumstick with the other hand. Bend the chicken leg against the joint so that it dislocates.
Use a good large knife and make sure to find the right spot where to cut. If you get it right, going through the joint will be very easy. If you encounter resistance, then you are not at the right spot. Move the knife a few millimeters more to the right or to the left and try again.
Remove the excess fat and the excess skin from the inner side of the chicken thigh with a sharp knife.
If you wish, you can also remove the back part still attached to the thigh. You will need a strong good knife to do that.
Don't discard the back parts. Freeze them (but only if the chicken was fresh and not frozen before) and use them to make chicken stock.
Vegetables:
Potatoes and onions.
Fennel: I happened to use fennel today, but fennel is not something I use often, my kids are not crazy about it, so I prefer to go for vegetable sorts I know they would eat.
So, most of the times I would use 2 large red bell pepper or carrots. Or a combination of both.
Spices:
Sweet paprika is what I would use most of the time. And I often add rosemary or thyme because they just fit the roasted potatoes so well.
Alternative spices, either combined with sweet paprika or on their own:
Different sorts of spice mixtures for chicken, everyone has his/her favorite brand.
Za'atar or sumac for a Middle Eastern touch.
A combination of ground coriander, ground cumin and a tiny pinch of cinnamon for a North African taste.
Smoked and hot Spanish paprika.
Italian dried herbs or Herbs de Provence.
HOW TO MAKE CRISPY CHICKEN THIGHS?
Preheat the oven to 230 degrees Celsius/ 450 degrees Fahrenheit.
Divide the chicken quarters at the joint, if necessary. Place the chicken parts on the oiled baking tray.
Mix the spices, salt, and pepper with some oil to obtain a paste and smear the chicken parts with this mixture.
Bake the chicken for 10 minutes before you add the vegetables.
Use the time to peel, clean and cut the potatoes and the rest of the veggies. Place them in a bowl, add the remaining oil and some spices and rub well to coat all over.
Add the vegetables to the chicken and bake for another 30 or 40 minutes or until the chicken juices run clear when you pierce the chicken with a toothpick.
Don't forget to baste the chicken with the pan juices 2 or 3 times in between.
WHAT TO SERVE WITH CHICKEN AND POTATOES?
GREEN SALAD WITH YOGURT DRESSING
STRAWBERRY SALAD WITH POPPY SEED DRESSING
PIN IT FOR LATER!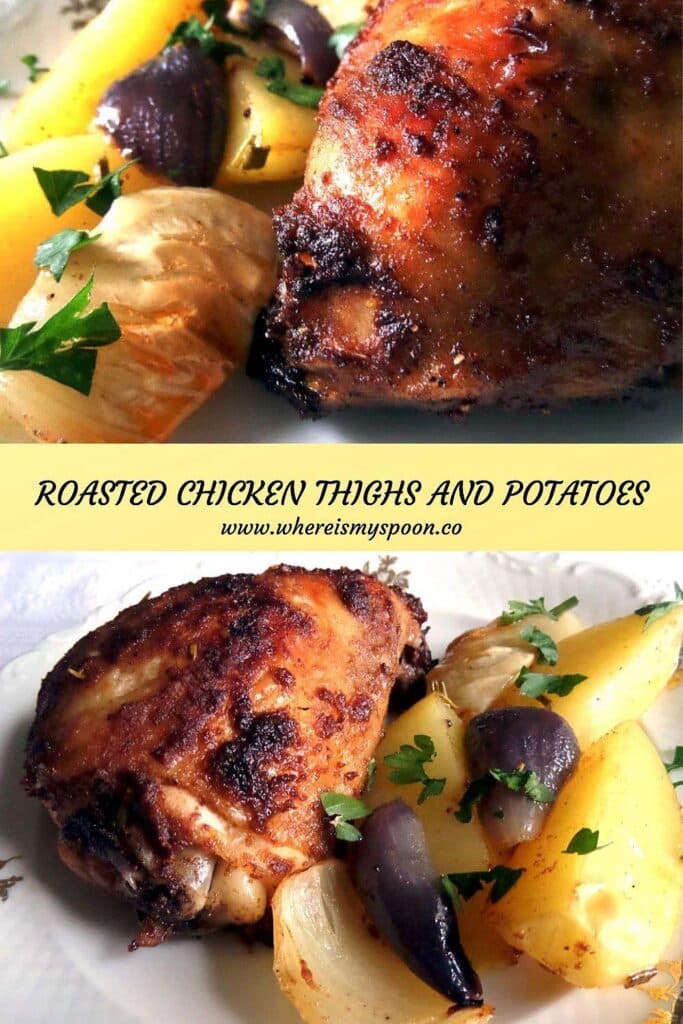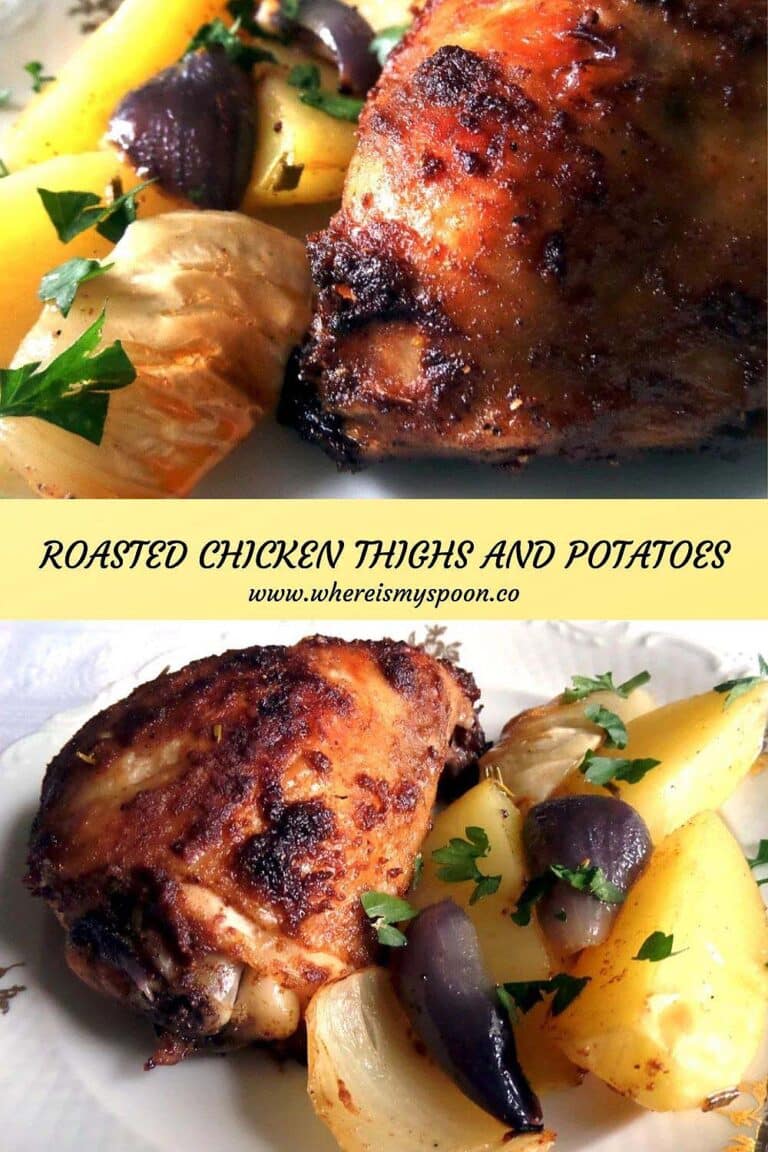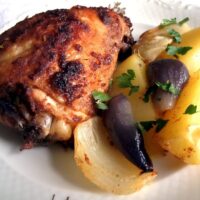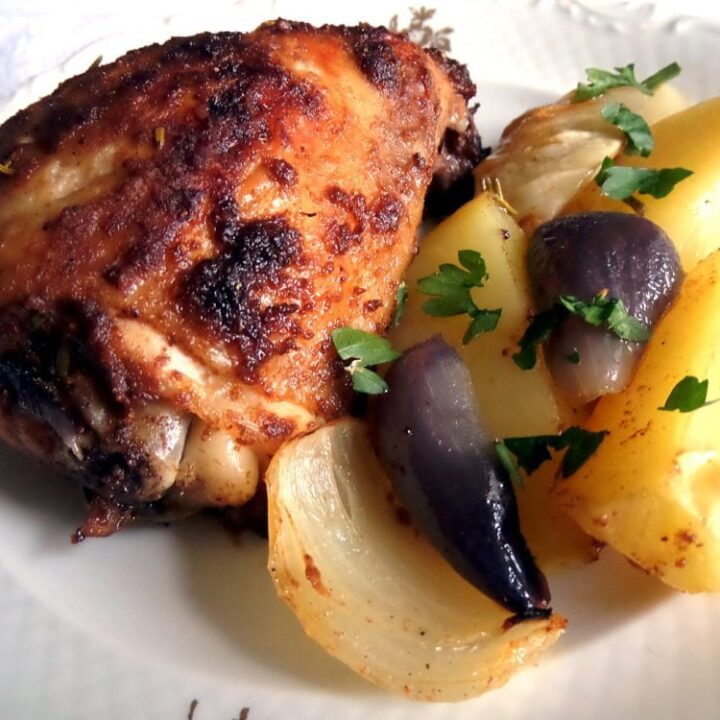 Roasted Chicken Thighs and Potatoes
Roasted chicken thighs and potatoes with carrots or red peppers. A delicious, easy recipe for roasting chicken with vegetables.
Print
Pin
Share
Grow
Saved!
Rate
Ingredients
4

chicken thighs

4

chicken drumsticks

6

medium potatoes

4

medium onions

1

large fennel or 2 red bell peppers or 4 large carrots

2

tablespoons

olive oil

fine sea salt and pepper

sweet paprika

dried rosemary
Instructions
Preheat the oven: 230 degrees Celsius/ 450 degrees Fahrenheit.

Halve the chicken thighs at the joint, then place them on a lightly greased baking tray.

Mix 1 tablespoon olive oil, salt, pepper, about 1/2 teaspoon sweet paprika, and a good pinch of rosemary in a small bowl. Smear the chicken thighs all over with this mixture. Put the chicken in the hot oven and bake for 10 minutes.

Vegetables: In the meantime, peel and cut the potatoes and the onions into wedges. The onion wedges should be a bit smaller than the potato wedges. Cut the vegetables into chunks or wedges as well. Place everything into a large bowl, add the remaining tablespoon of olive oil and more salt, pepper, sweet paprika, and rosemary. Mix everything very well.

Roast: Arrange the vegetables on the tray around the chicken and bake everything for 30 to 40 minutes, basting about 2-3 times in between, until the vegetables are soft and the chicken juices run clear.

Check: The internal temperature should be 165 degrees Fahrenheit (75 degrees Celsius).
Nutrition
Serving:
1
/4 of the dish
|
Calories:
798
kcal
|
Carbohydrates:
67
g
|
Protein:
61
g
|
Fat:
34
g
|
Saturated Fat:
9
g
|
Polyunsaturated Fat:
24
g
|
Cholesterol:
282
mg
|
Sodium:
651
mg
|
Fiber:
8
g
|
Sugar:
8
g