Raspberry vinaigrette with fresh raspberries, one of the most delightful salad dressings you can imagine, homemade, healthy and so delicious.
Homemade Raspberry Vinaigrette Recipe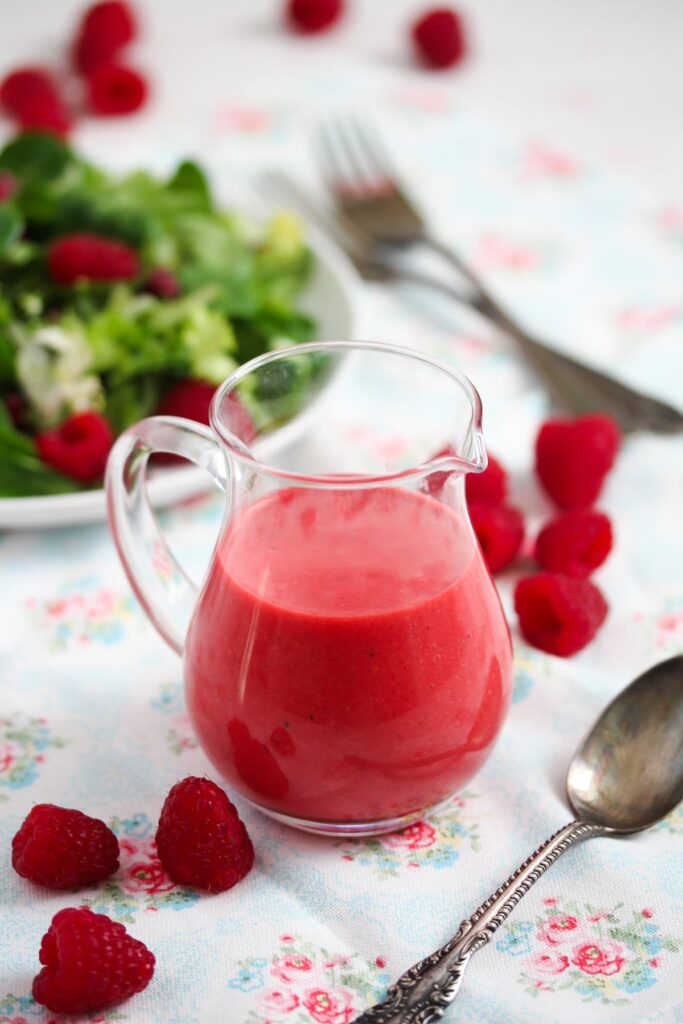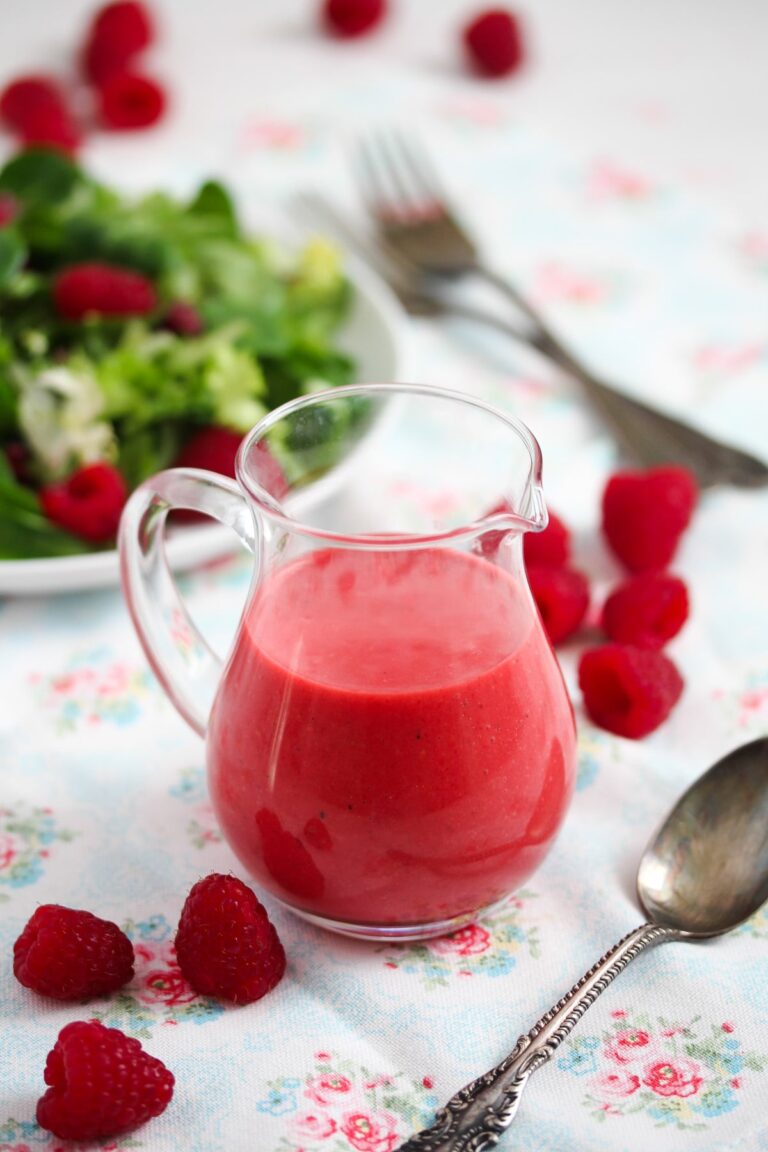 Easy to make raspberry dressing, sweet, tangy, fresh and good for you. Quickly made with fresh or frozen raspberries.
Forget the bottled dressings full of stuff you cannot even read properly. This raspberry vinaigrette recipe is so easy and quick to make, healthy and it tastes just amazing. Just like the yogurt salad dressing, that I have been making at least once a week for years.
It will make just about any salad better, either a simple summer raspberry salad with greens or a nice chicken salad. When I have it in the fridge I end up using it for any kind of salad, from simple everyday iceberg salads to more interesting ones like the apple pear salad or the ancient grain salad.
Or I pour some over grilled or cast-iron chicken breast. So good!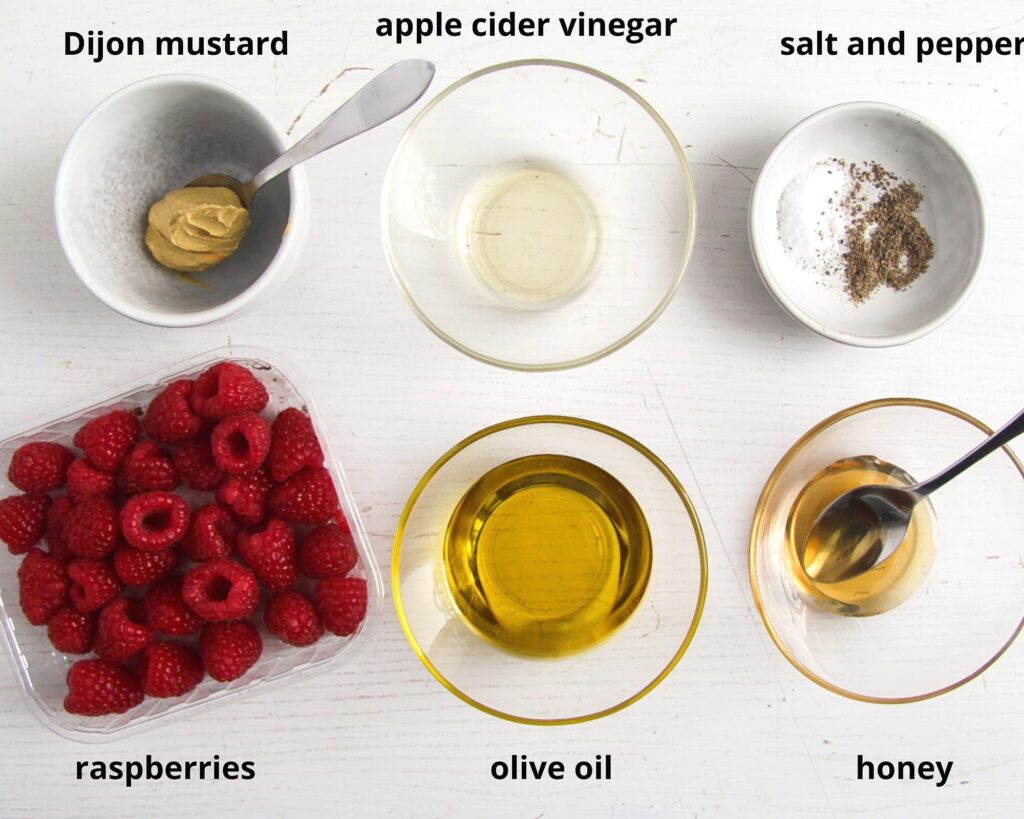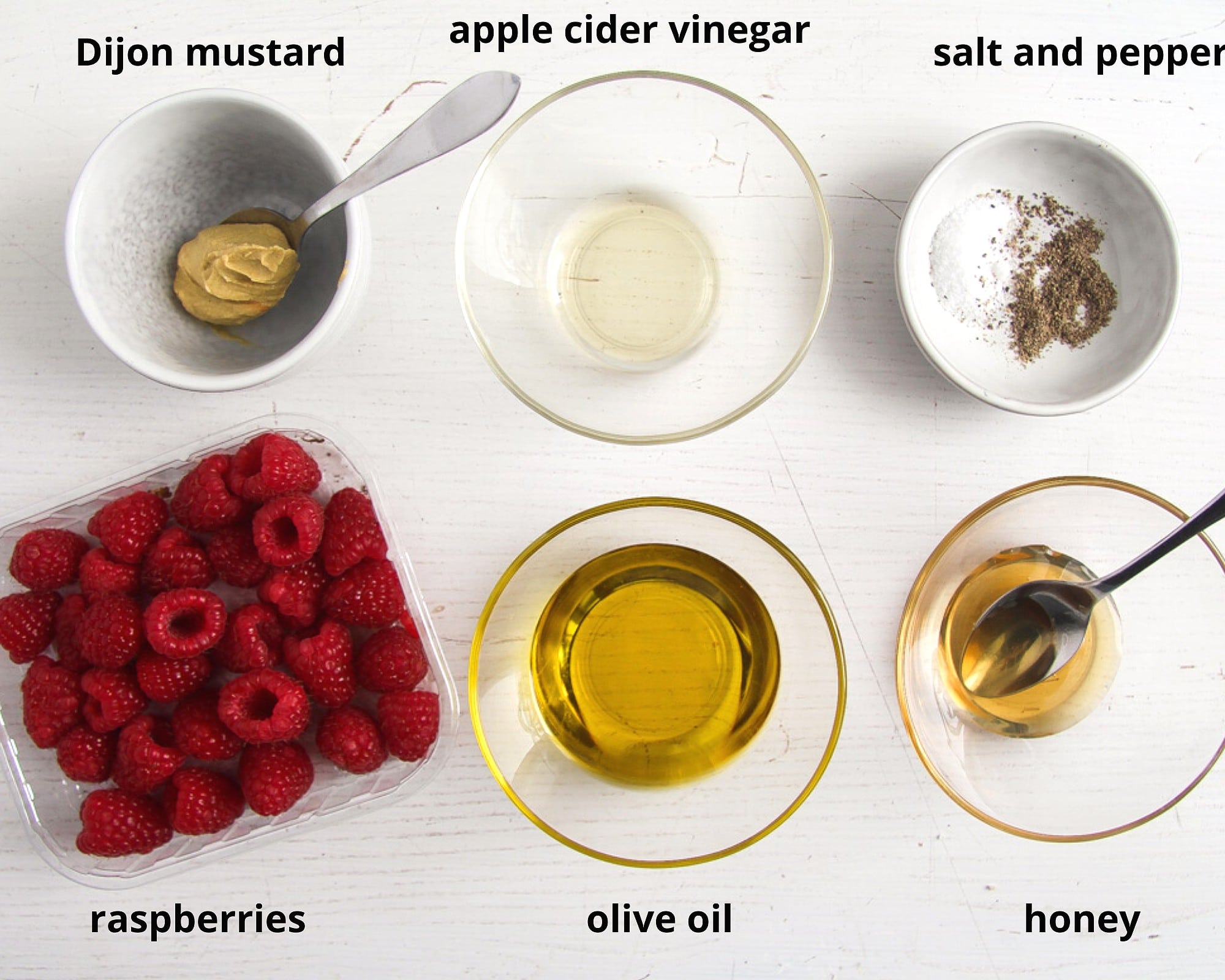 Ingredients
Raspberries:
I use fresh raspberries when available. Well, they are available most of the time, but I tend to make this particular raspberry salad dressing mostly in the spring or summer months, it is when I crave it most.
However, frozen raspberries would be fine as well. Let them defrost properly first and follow the recipe.
When using frozen berries, you might want to adjust the amount of honey you use as frozen berries tend to be less sweet than fresh ones.
Honey:
You will need between 1 and 2 tablespoons clear honey, depending on the tanginess of the raspberries. Just check and adjust the taste to your liking.
Olive oil:
Use good quality extra virgin olive oil and make sure that the olive oil you use is mild and not too bitter.
It might be that I just got the wrong sort or a bad quality once, but I had to throw away a rather large batch of salad dressing because the olive oil was too bitter.
So, I always make sure that I am using the right kind now and if I use a new brand I always taste it before using it for making dressings.
Other ingredients:
Dijon mustard or another mustard you like.
Apple cider vinegar (white wine vinegar would be fine as well).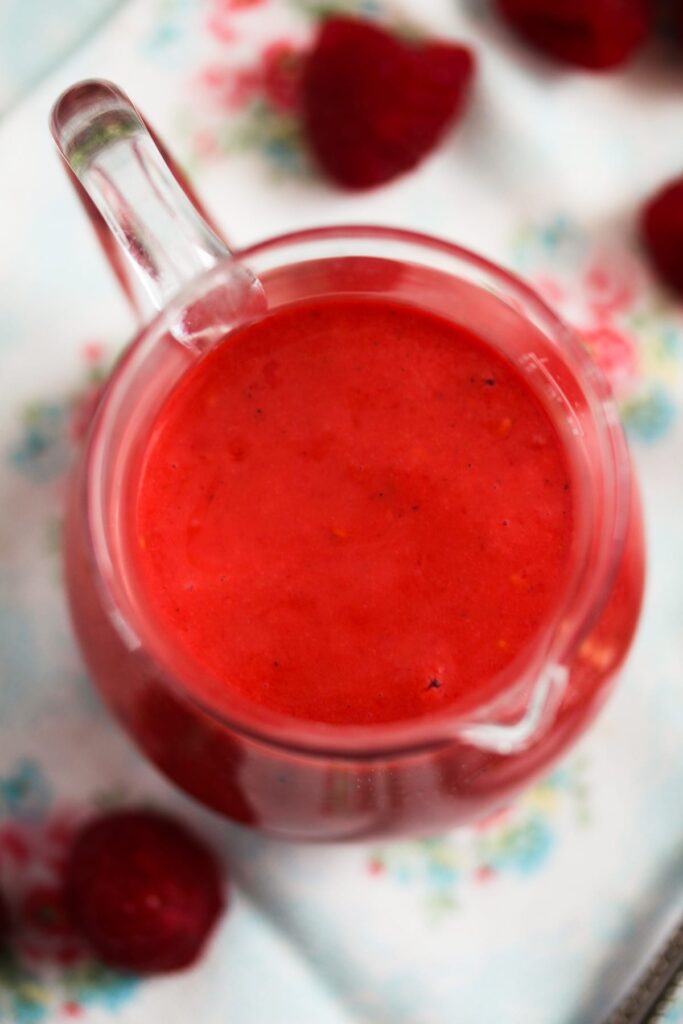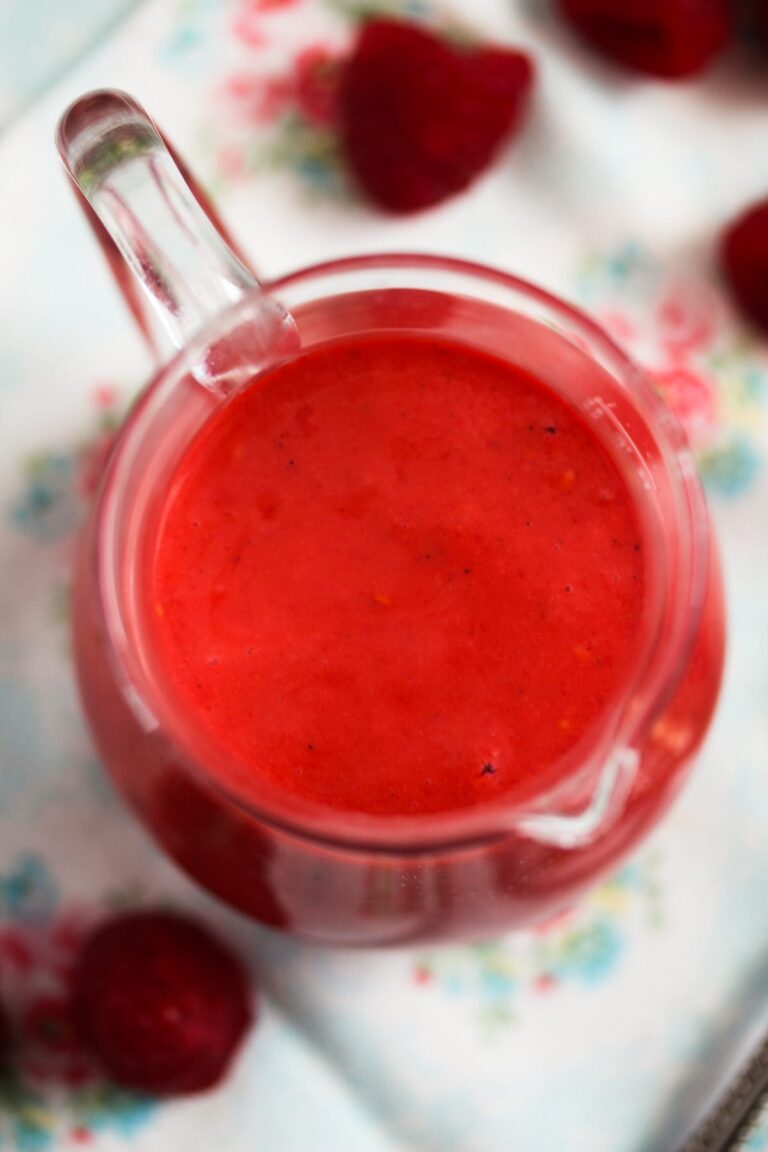 Tips for making raspberry vinaigrette:
Use a blender (preferably small) or an immersion blender to blend the berries.
Crushing them with a fork will work as well, but the raspberry dressing will not be so smooth.
For a silky-smooth texture pass the blended berries through a fine-mesh sieve. It is tedious, but the amount is small and the resulting dressing will be really fine without the seeds.
After blending the berries, add the honey, vinegar, mustard, some salt and pepper and blend again.
Start adding the olive oil slowly and blend until the vinaigrette emulsifies.
Variations
Try making this salad dressing with strawberries or blackberries.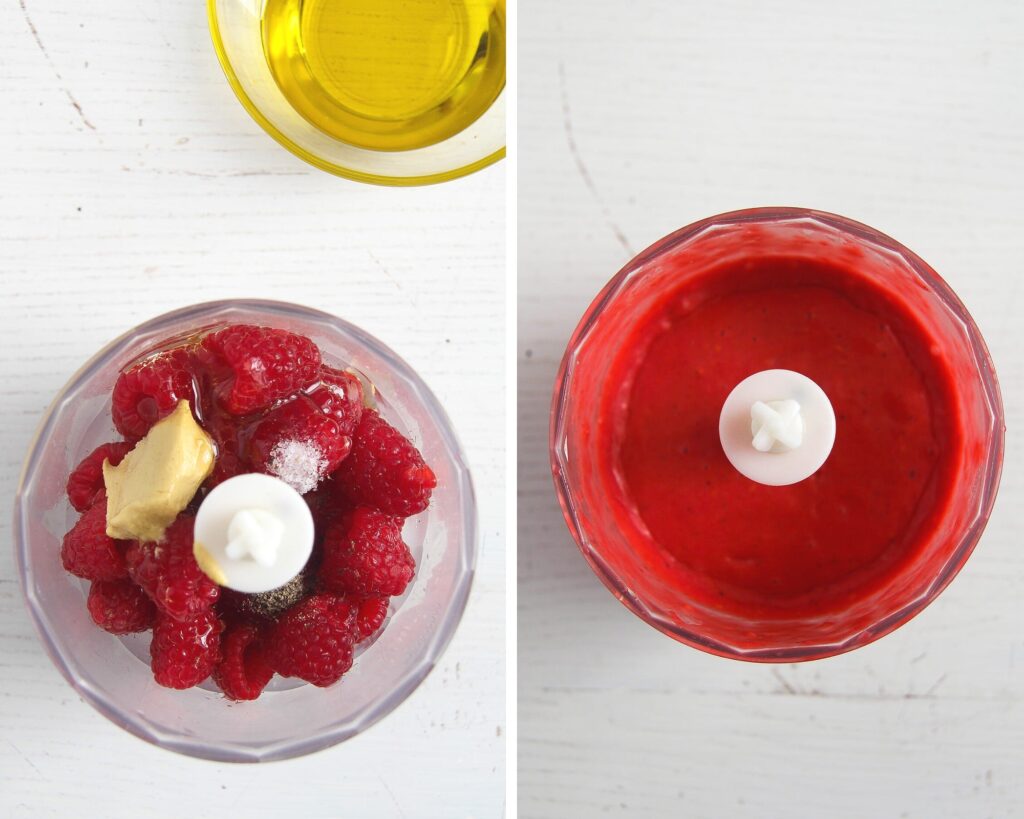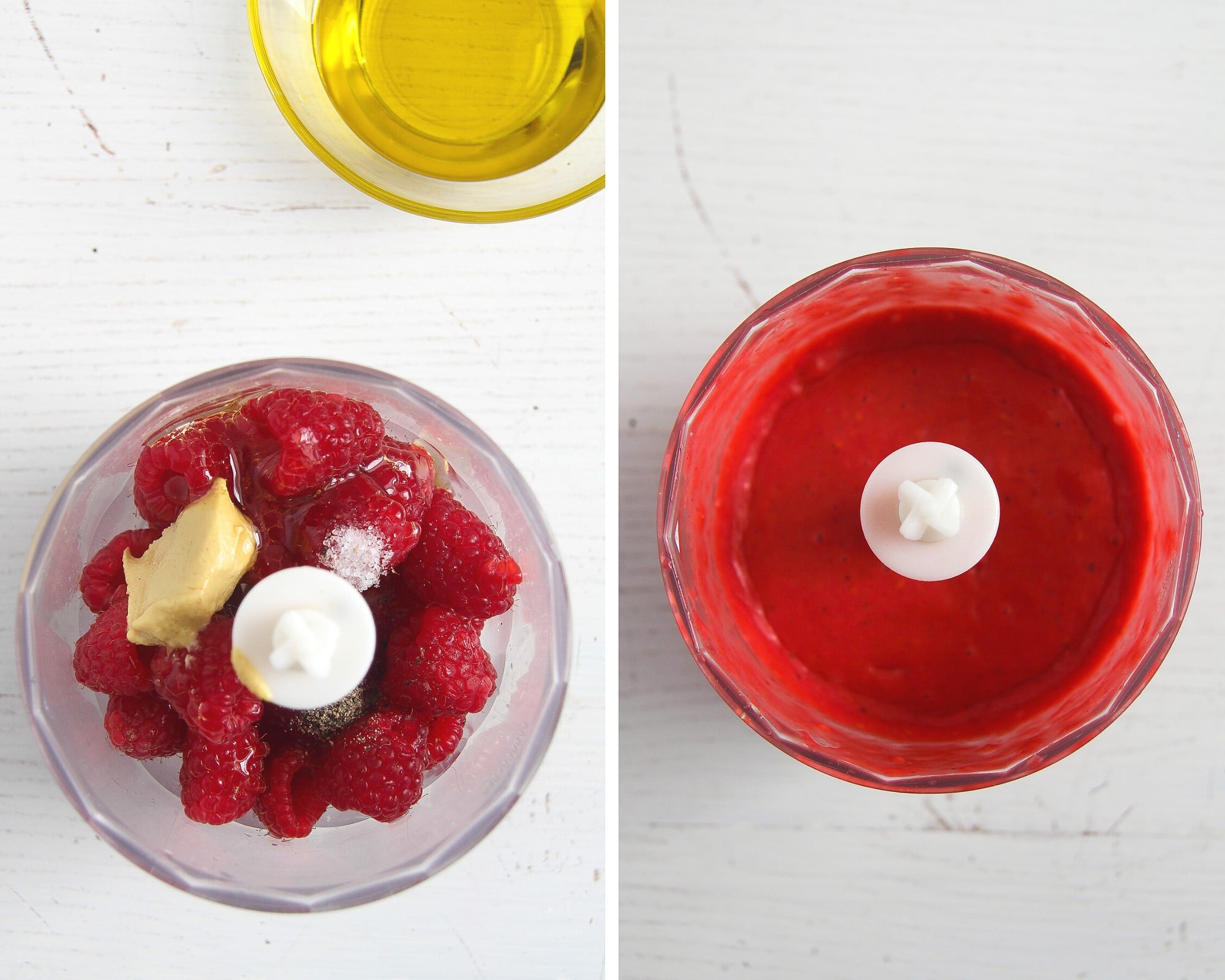 Store
This raspberry vinaigrette recipe makes more dressing than you will need for just one salad.
You will probably have enough for 2-3 of them.
Give it a good shake before using it.
You can keep it in a closed jar in the refrigerator, it will be fine for about 3 days.
Raspberry vinaigrette salad
To make the pictured salad you will need a bag of mixed salad leaves (enough for 2 servings) and a small handful of fresh raspberries.
Pour about 1/3 of the raspberry vinaigrette on top of the salad and toss gently.
Serve as a side dish for pan-fried or grilled chicken breast or pan-fried fish, for instance.
Or as a very light main meal (for 1) with crusty flaxseed bread with butter and camembert or herb-butter baguette.
Also suitable to serve with these chicken skewers.
You can replace the strawberries with raspberries and use this dressing for the asparagus chicken salad.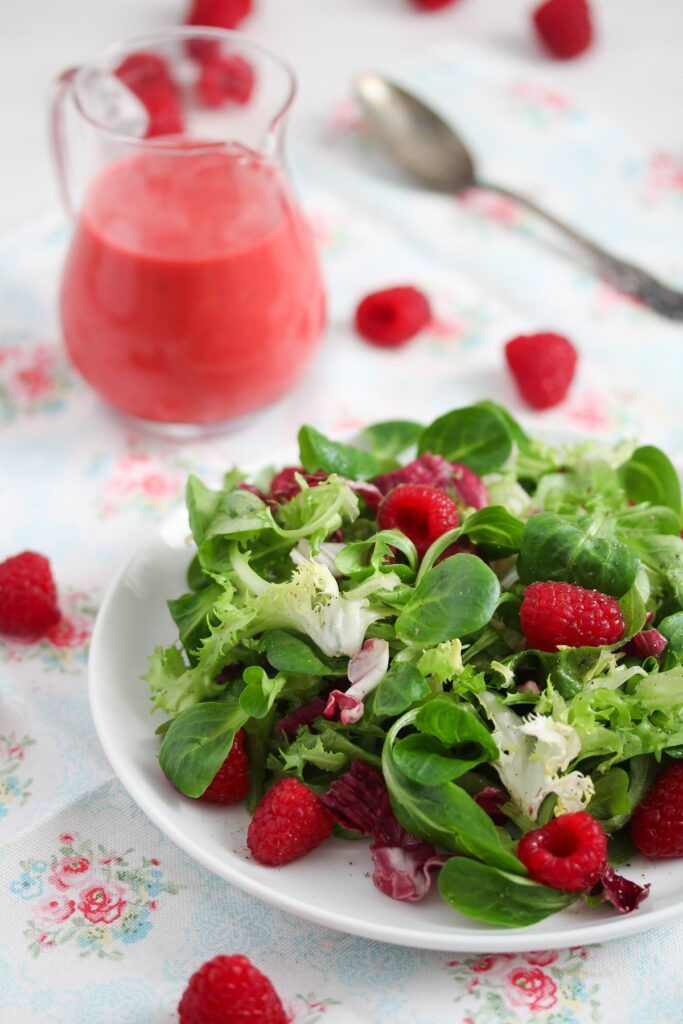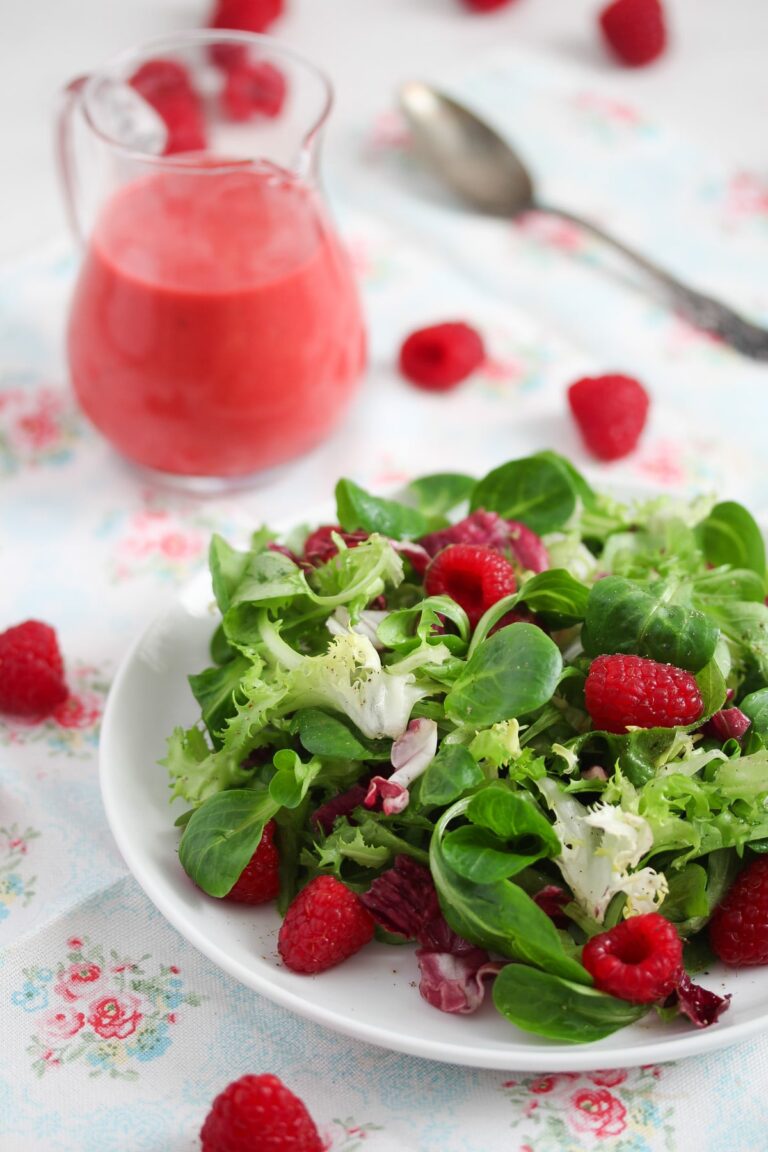 More fruity salads?
Strawberry Salad with Poppy Seed Dressing
Grilled Peach Salad with Chicken
Roasted Brussels Sprouts Salad with Pomelo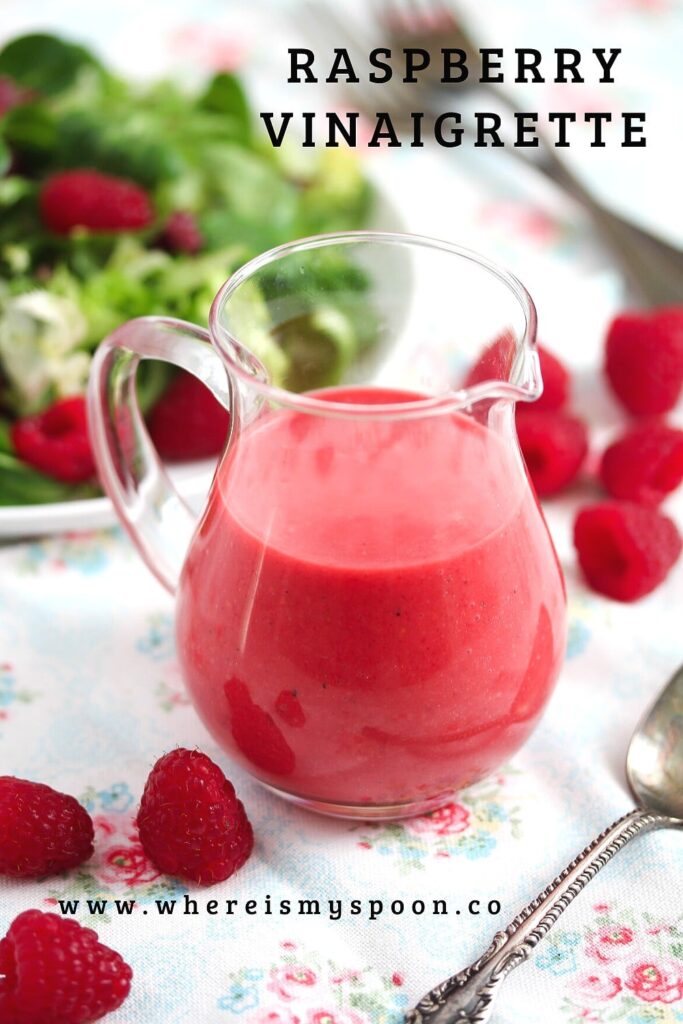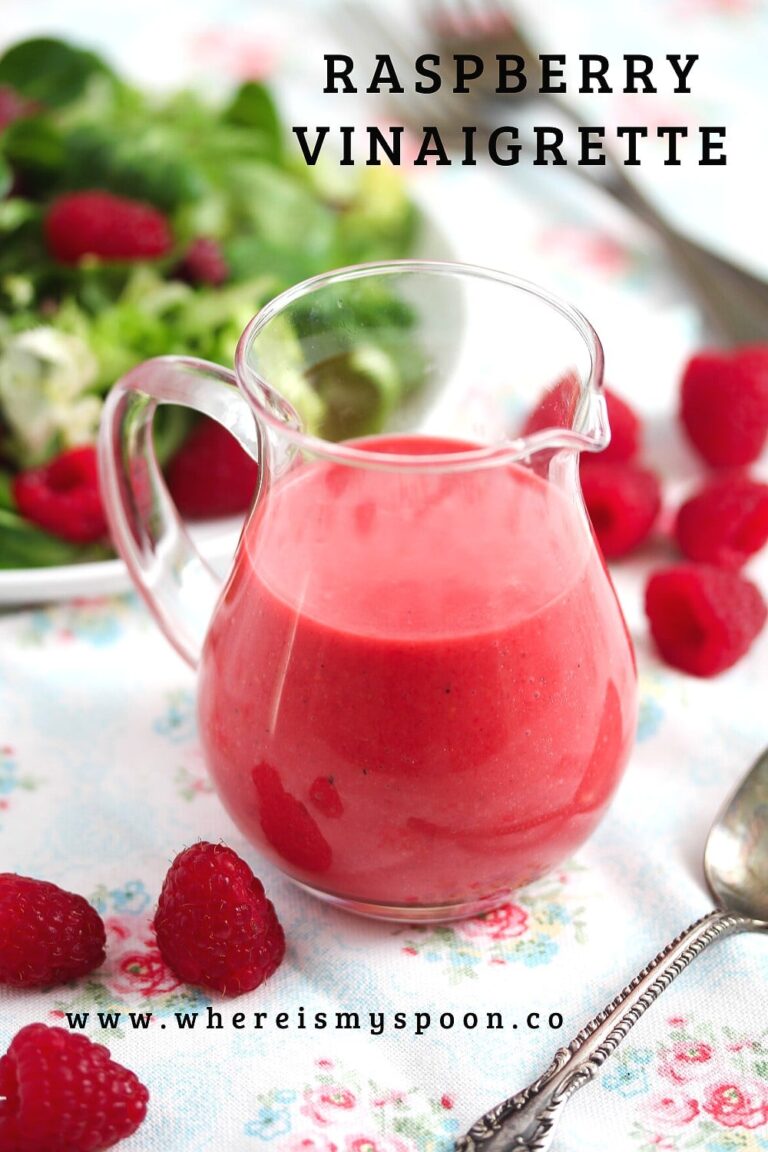 Raspberry Vinaigrette (Raspberry Salad Dressing)
Raspberry vinaigrette with fresh raspberries, one of the most delightful salad dressings you can imagine, homemade, healthy and so delicious.
Ingredients
125 g/4.4 oz/ 1 cup fresh raspberries (See note)
1-2 tablespoons clear honey, to taste
½ teaspoon Dijon mustard
1 tablespoon apple cider vinegar (or white wine vinegar)
6 tablespoons extra virgin olive oil (mild)
fine sea salt and freshly ground black pepper
Instructions
Blend the raspberries in a small blender or with an immersion blender. You can crush them with a fork as well, but the dressing will be less smooth. If desired, pass the blended raspberries through a fine-mesh sieve to remove all the seeds.
Return them to the blender or mixing bowl and add honey, mustard, vinegar, some salt, and pepper. Blend again until smooth.
Slowly add the olive oil and blend until the vinaigrette emulsifies. Adjust the taste with honey (if necessary), salt, and pepper.

Notes
Frozen raspberries (defrosted) would be fine as well. Adjust the amount of honey accordingly as frozen raspberries are usually less sweet.
Nutrition Information:
Yield:

3
Serving Size:

1/3 of the dressing
Amount Per Serving:
Calories:

305
Total Fat:

27g
Saturated Fat:

4g
Trans Fat:

0g
Unsaturated Fat:

23g
Cholesterol:

0mg
Sodium:

221mg
Carbohydrates:

17g
Fiber:

3g
Sugar:

13g
Protein:

1g
Nutritional information is not always accurate.