Tender chicken breast skewers served with an aromatic blackberry sauce.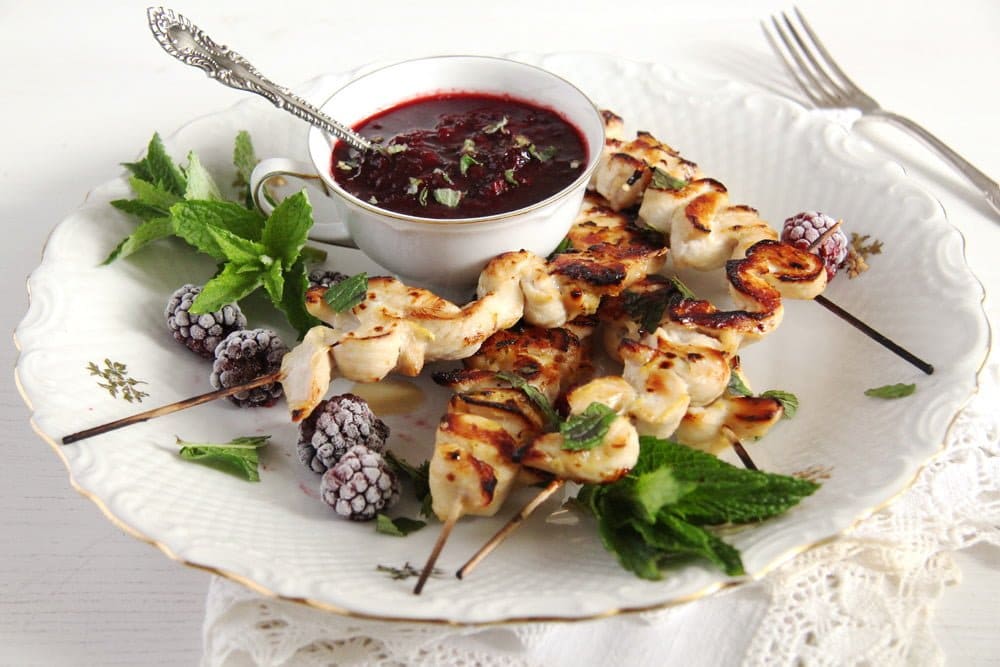 I never used to make skewers, I had a bad experience with some vegetable-tofu skewers once, where the veggies were still uncooked and the tofu tasted bland, and that kind of put me off any kind of skewers for many years. But then, last Christmas, I decided to make some chicken skewers as part of our Turkish inspired Christmas Eve dinner (I know, not very traditional, but we get enough tradition at my mother-in-laws Christmas lunch) and we all, especially my daughter, liked them so much, that I really had to make them again and again.
The sauce (not Turkish inspired) is very simple and makes the most of the blackberries, which you can actually pick up pretty much everywhere around here. We used to have a huge blackberry hedge, which my husband removed about 5 or 6 years ago, because it was just getting out of control. There was nothing coming again for several years, but this year I noticed the branches coming out of the ground at pretty unexpected places… A really resilient plant, I would say…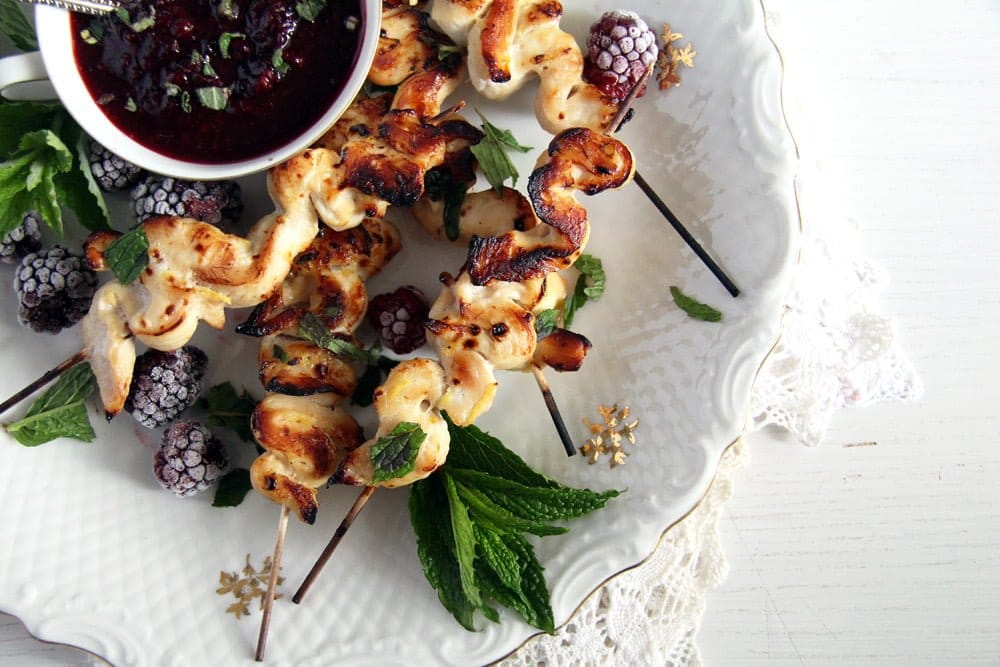 And speaking about blackberry hedges: there are so many of them all over the place in England. This is my first post after the holiday and now that I'm posting a recipe featuring blackberries, I can't help but think of all the blackberries we saw there, growing all over the place, especially at some of the camping sites where we parked our caravan.
And what can I tell you about our holiday? It was just amazing, much better than I thought it would be, caravanning itself proved to be far less difficult than I had imagined. I thought we would have more stress finding a free pitch at different camping sites if we don't book in advance (which we didn't), I thought driving on the other side of the street would be annoying for my husband (it wasn't really), I worried about the British weather (no need, except the two rainy days spent in Edinburgh, Scotland we had amazing weather) and so on… Really, I had more stress and worries before leaving, than I had the whole time there.
And just to give you an idea of all the places we've seen: we spent one day in Canterbury (above), then four amazing days in London, one of them at the Warner Bros Studios for the Harry Potter Studio Tour.
Then we drove to the Lake District for a couple of days, and because we were so far North already, we decided to drive a bit more and see Edinburgh as well. Edinburgh is one of the most beautiful cities I have ever seen, but after two days of continuous raining and my daughter developing a fever, we decided to drive back South again. We spent two days on the coast of Wales and visited two not very pretty little towns, which should remain unnamed and then decided to drive to Snowdonia, one of the three national parks in Wales, which has some of the most beautiful scenery I have ever seen in my life. We drove and spent some days in several picturesque villages in Wales before driving on to Cardiff and then Bath. We saw Stonehenge on our way to Dover, shortly before taking the ferry back to France and then driving home with a short stop in Eindhoven in the Netherlands.
It was quite a lot for the almost three weeks we spent there, every day was so full that I have the feeling of having spent at least two months there, we were able to visit so many places and make so much with our kids, they had so much fun as well, first visiting the Harry Potter Studios, then enjoying themselves at various adventure sites and playgrounds, swimming in the sea, shopping with the money they received from the grandmother and uncle and many other people before we left, trying to talk English to other people and so on…
What can I tell you, we've been back on Friday, but we are already thinking about our next caravan holiday… 🙂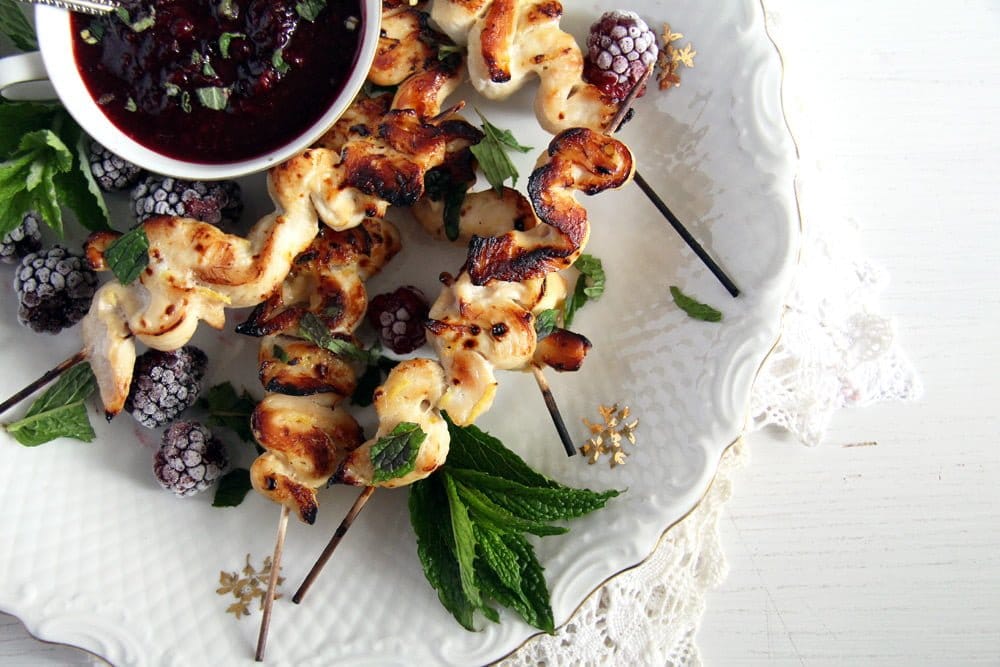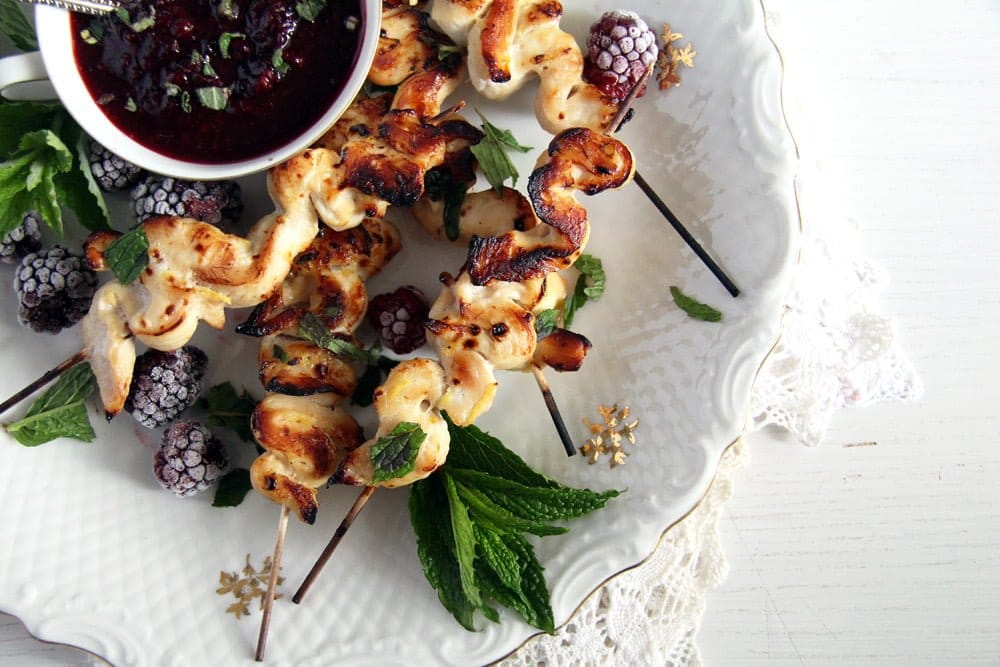 Rating 5.0 from 1 reviews
Prep time:
Cook time:
Total time: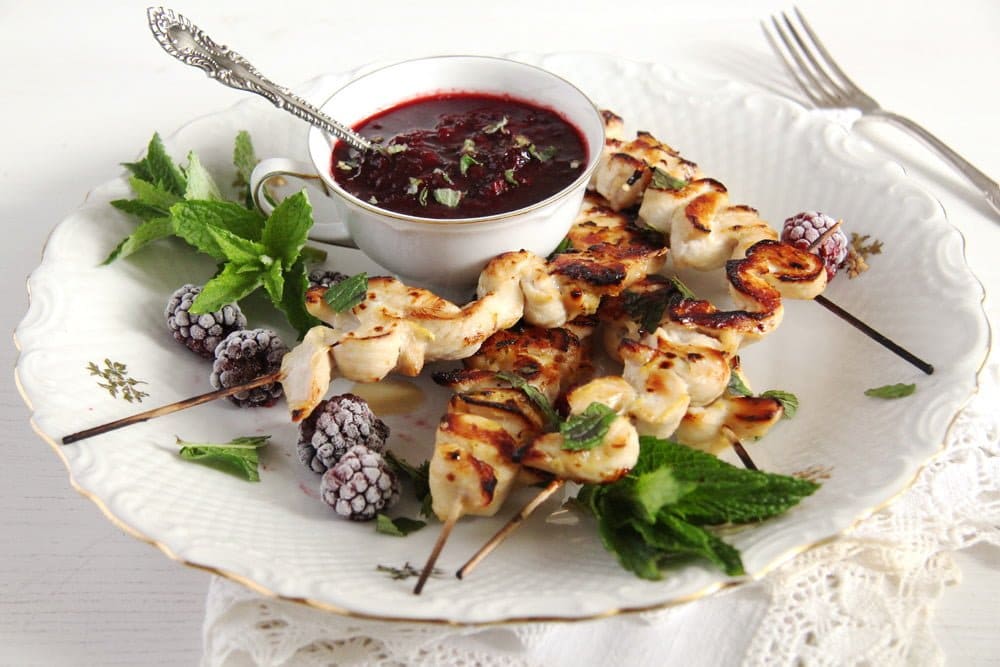 Ingredients
For the skewers:
500 g/ 1.1 lbs skinless, boneless chicken breast
2 tablespoons olive oil, divided
1 teaspoon sweet paprika
1-2 garlic cloves, grated
1 teaspoon apple vinegar
some salt and pepper
For the blackberry sauce:
200 g/ 7 oz fresh or frozen blackberries
1 tablespoon apple vinegar
2 tablespoons blackberry jelly
a small pinch of nutmeg
some mint for garnish
Instructions
Slice the chicken breast into thin, long stripes. In a bowl, large enough to hold the chicken, mix 1 tablespoon olive oil with the sweet paprika, grated garlic, apple vinegar and some salt and pepper. Place the chicken stripes in the bowl and mix well with the marinade. Cover and leave to marinate in the fridge for a few hours.
Drain and reserve the marinade. Thread the chicken stripes on to 8 skewers.
Heat the grill, brush it with the remaining olive oil and cook the chicken for about 5 minutes, turning from time to time, until golden and cooked through. The cooking time depends on the stripes' thickness.
Place the marinade in a small saucepan. Add the blackberries and simmer until they are soft. Pass through a sieve. Give the puree back to the pan and whisk in the apple vinegar and the jelly. Bring to a boil and cook uncovered until reduced by about one-third. It will not take long, so keep an eye on it and don't forget to stir. Add a small pinch of nutmeg. Adjust the taste, if necessary, with a drop or two of apple vinegar.
Garnish with some chopped mint and serve immediately with rice and a green salad, for instance.
Others you might like: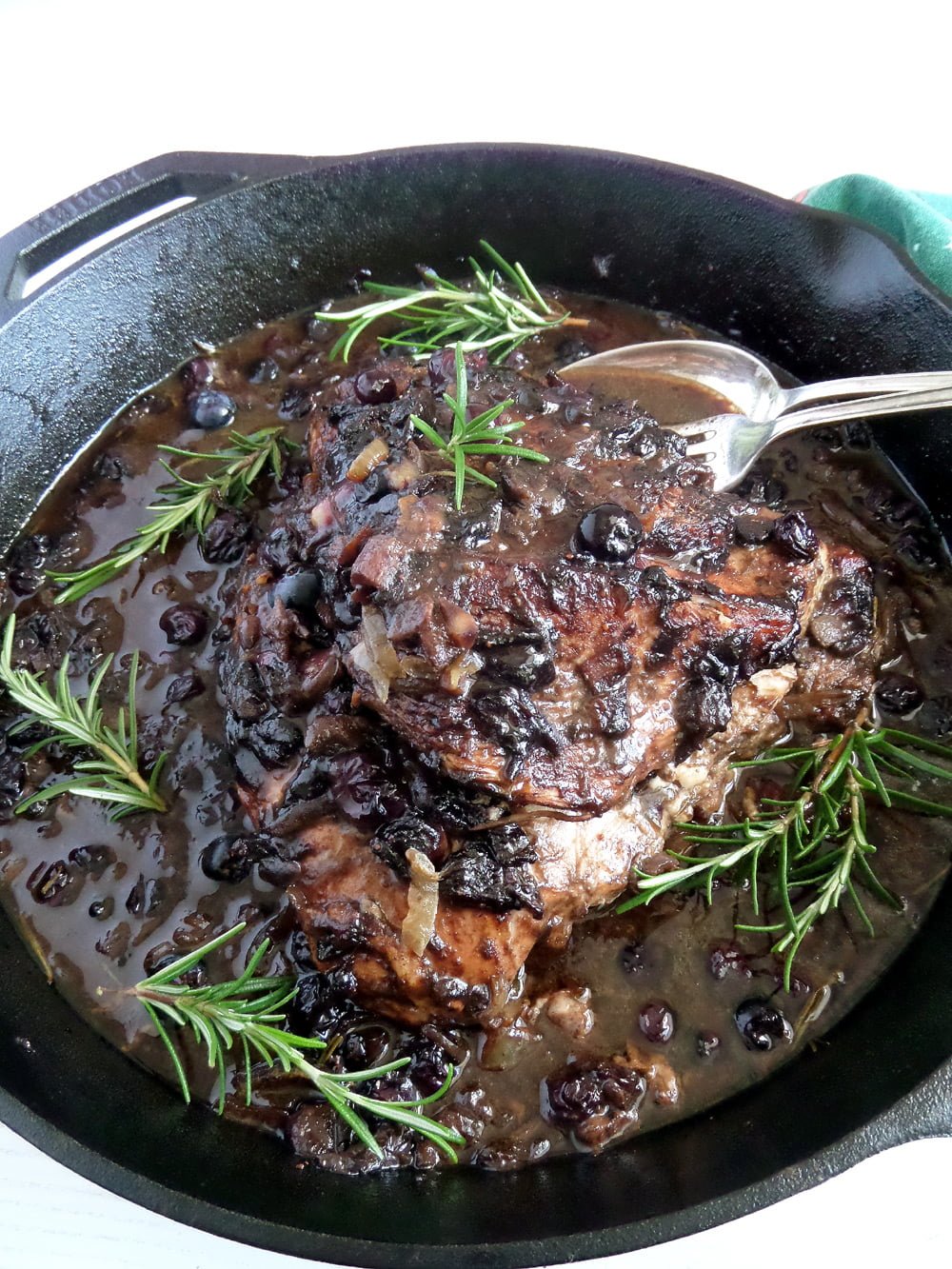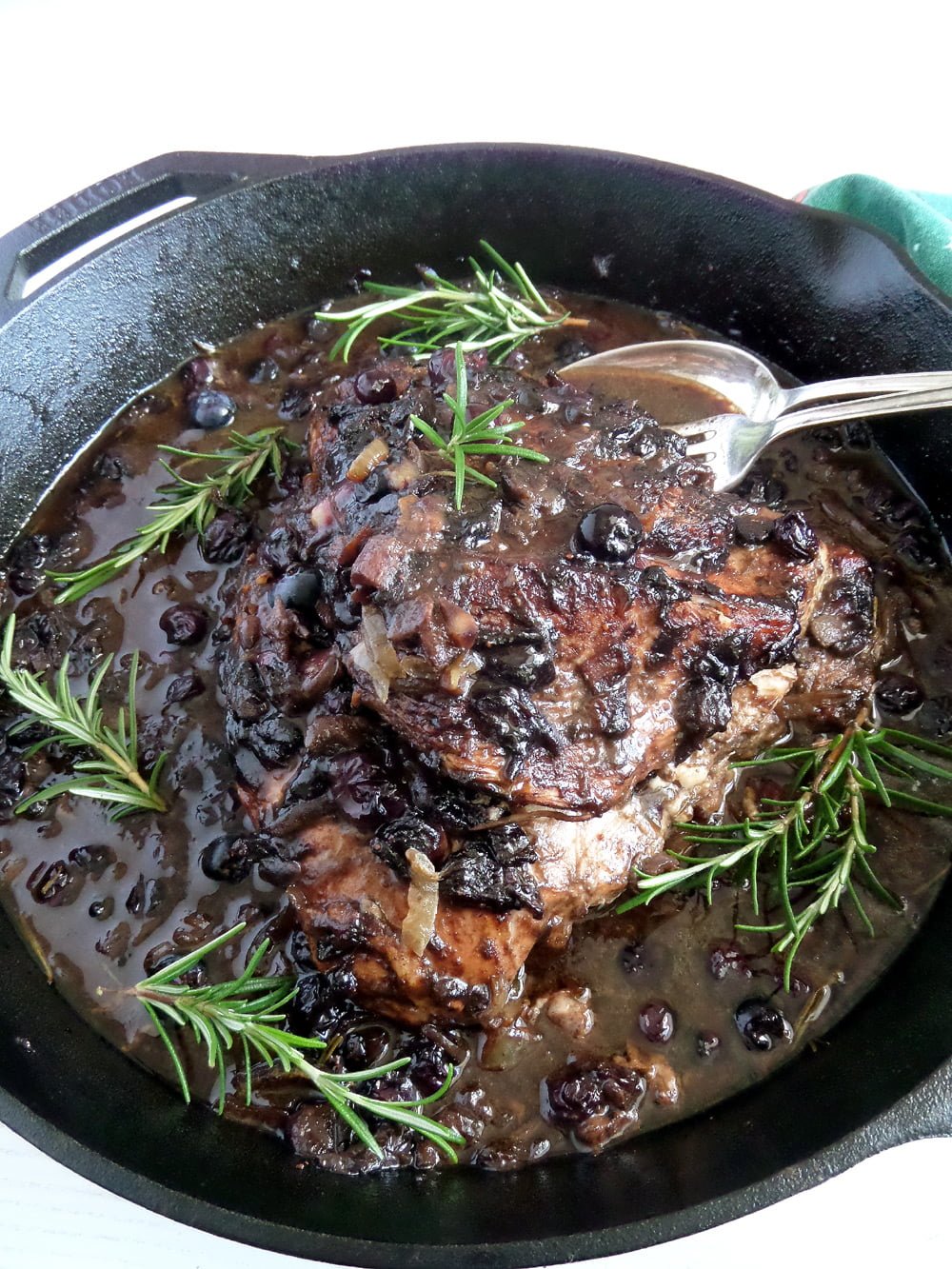 Turkey Breast in Blueberry Balsamic Sauce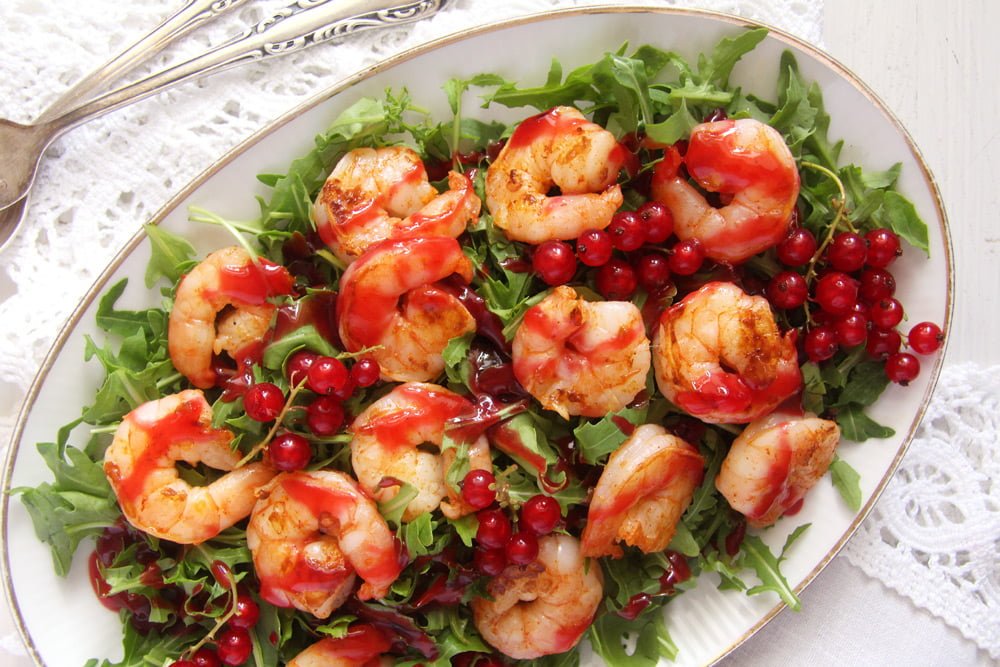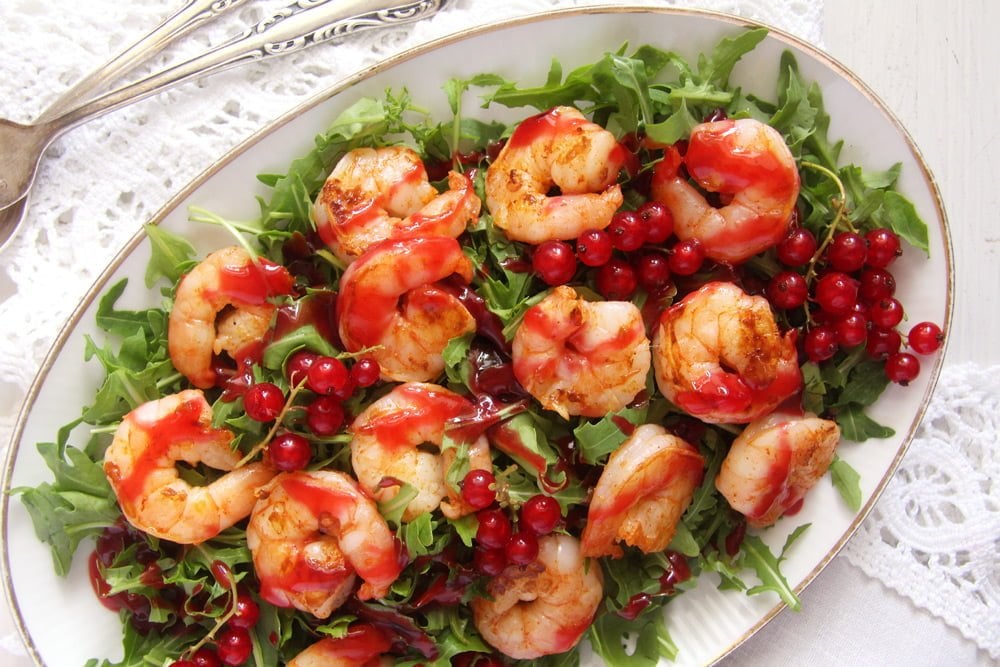 Tiger Prawns with Red Currant Sauce
Blueberry Sauce