A simple fresh blackberry cake recipe, easy to make and suitable for any kind of fresh berries.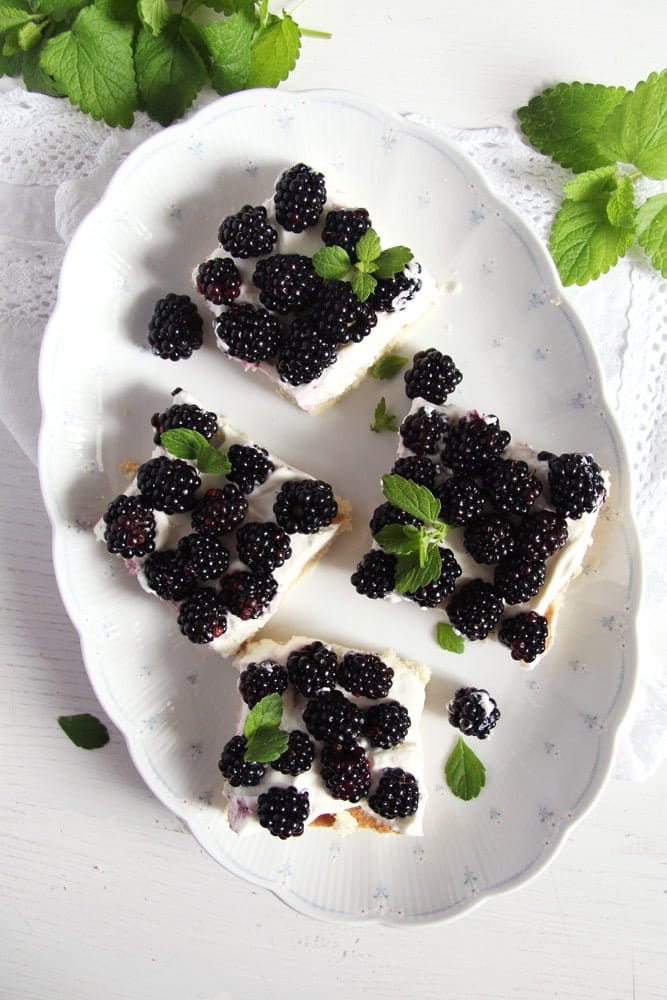 I have an extra recipe for you today. An easy to make and super delicious fresh blackberry cake, which you can use for any kind of fresh berries you happen to have. And if you do have some more blackberries, you could try this Blackberry Crumble Pie or this Rhubarb Blackberry Loaf Cake.
I could not keep this simple blackberry cake away from you. I have made it last week with some fresh blackberries I picked in my friend's garden.
There were not enough of them to make jam or jelly and I thought they were so nice, ripe and fresh it would be a shame to freeze them, so I decided to make a cake and top it with the fresh blackberries.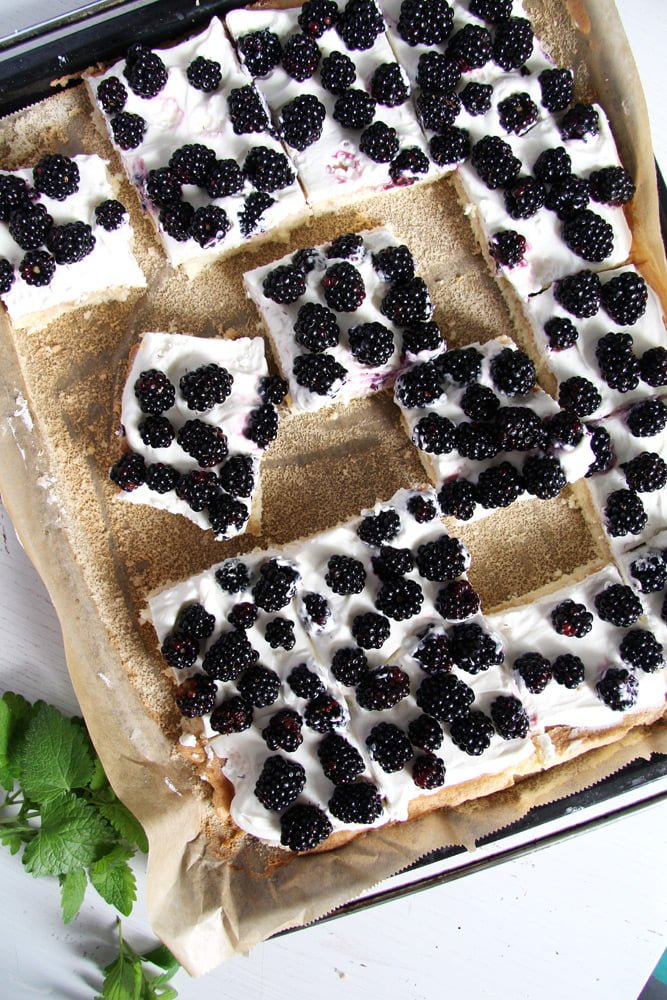 Ingredients
I made this wonderful little cake in no time at all and with ingredients, I already had in my pantry and fridge and we all loved it. Especially the kids, I think between the two of them they managed to eat half the cake in one go. Almost... 🙂
Coffee:
I used brewed coffee to soak and flavor the sponge cake.
The children didn't mind the slight coffee taste at all. Nor did they have trouble falling asleep in the evening.
Fresh berries:
You can use any kind of fresh berries you happen to have in your garden or find at the market, for instance raspberries, blueberries, gooseberries or even small or sliced strawberries. Just make sure that they are all ripe and flavorful.
Quark:
I used a mixture of quark and whipped cream to top the blackberry cake.
Quark is super common in Germany, you can buy it everywhere and it is one of the cheapest (and healthiest) milk products there is.
But what is quark?
Quark is a type of dairy very common not only in Germany and other German-speaking countries but also in Eastern and Northern Europe. It is made by warming soured milk until the product curdles. The solids are gathered up and turned into quark.
The process is rather simple, you can actually easily make quark at home. I found these instructions on how to make quark, they sound pretty good, but as 500 g/ 1.1 lbs quark cost less than 1 Euro in Germany, I was never tempted to make my own...
This kind of homemade quark will probably work well when spread on a slice of bread or on the blackberry cake, but I am not sure how that will work when baked, like in the case of this German Cheesecake.
There are three sorts of quark you can buy in Germany: the low-fat quark which has less than 10% fat, the 20% fat quark, and the 40 % fat quark.
The one I buy 90% of the times is the low-fat quark, it is the kind of quark I used to make this blackberry cake recipe as well. The low-fat quark (Magerquark) tastes fresh and slightly acidic and it is full of protein, much more than yogurt. 100 g/ 3.5 oz quark has 14 g protein, which is a lot!
That is what makes quark so popular in fitness communities.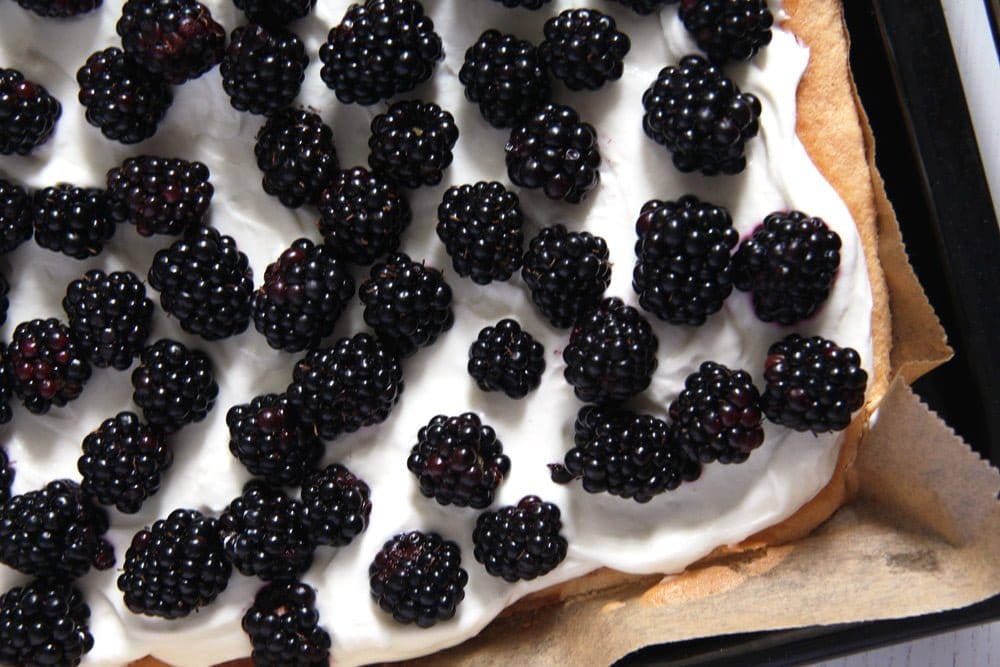 More uses for quark:
I buy loads of quark... And I use it for lots of different purposes.
Sometimes we have it for breakfast, spreading it on top of a slice of sourdough bread and top it with homemade jam, beet molasses or honey.
We also add it to müsli or make a filling for crepes.
I make bread spreads with quark, I sometimes use it for making meatballs.
And then there are the desserts and cakes I make with quark, lots and lots of them, here you can find my quark recipe collection if you are in need of inspiration.

Variations on the blackberry cake
You don't necessarily have to make this cake with blackberries. In case you happen to have any other fresh berries, like raspberries, blueberries, strawberries or whatever, do feel free to replace the blackberries.
Chopped nectarines, peaches, seedless grapes or even canned mandarins or pineapple would work as well.
So, in case you are looking for a quick and delicious cake to make this Sunday, this recipe might be the right one for you! Have a nice weekend!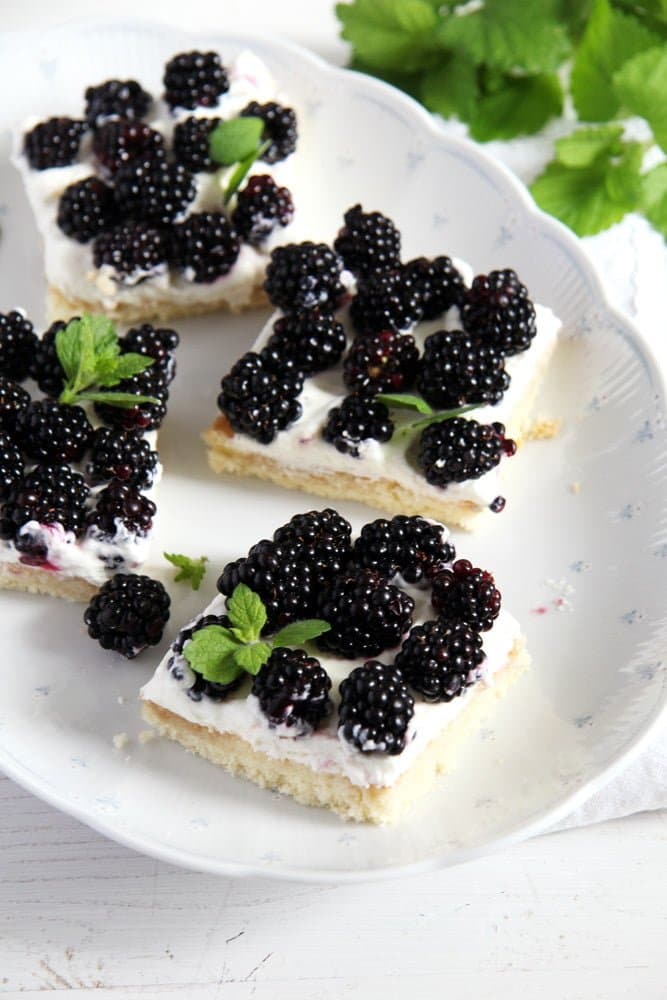 More berry cakes:
Lemon Blueberry Cake with Sour Cream
Fresh Blackberry Cake Recipe
A simple fresh blackberry cake recipe, easy to make and suitable for any kind of fresh berries.
Print
Pin
Share
Grow
Saved!
Rate
Ingredients
4

eggs

4

tablespoons

warm water

150

g

granulated sugar

5.3 oz/ ¾ cup, divided

100

g

all-purpose flour

3.5 oz/ ¾ cup + 1 tablespoon

50

g

cornstarch

1.8 oz/ ⅓ cup + 1 tablespoon

1

teaspoon

baking powder

150

ml

strong coffee

5 fl.oz/ ⅔ cups

500

g

low-fat quark

1.1 lbs/ 2 ½ cups

juice of ½ lemon

250

ml

heavy cream

8.5 fl.oz/ 1 cup

350

g

fresh blackberries

12.5 oz/ 3 ½ cups
Instructions
Preheat the oven to 200 degrees Celsius/ 390 degrees Fahrenheit. Line a baking tray with baking paper.

Beat egg whites: Separate the eggs. Beat the egg whites until stiff. Set aside.

Beat egg yolks: In another bowl beat the egg yolks and the warm water with 100 g/ 3.5 oz/ ½ cup sugar until pale and fluffy, about 6-7 minutes.

Mix the flour, cornstarch, and baking powder. Mix them into the egg yolk mixture. Carefully incorporate the stiff egg whites as well.

Bake: Pour the batter into the prepared tray and bake in the preheated oven for about 15 minutes or until golden.

Coffee: In the meantime, brew the coffee. Using a tablespoon distribute the coffee evenly over the hot cake base and let the cake cool completely.

Topping: Mix the quark, lemon juice, and the remaining 50 g/ 1.8 oz/ ¼ cup sugar. You may add a bit more sugar if you find it necessary.

Whip the heavy cream until stiff and carefully fold it into the quark mixture. Spread the mixture over the cooled cake.

Top with fresh blackberries.
Nutrition
Serving:
1
square
|
Calories:
143
kcal
|
Carbohydrates:
18
g
|
Protein:
5
g
|
Fat:
6
g
|
Saturated Fat:
3
g
|
Polyunsaturated Fat:
2
g
|
Cholesterol:
53
mg
|
Sodium:
59
mg
|
Fiber:
1
g
|
Sugar:
11
g