The easiest berry crumble pie recipe you could make. A blackberry pie with crumb topping, everybody just loves this pie!

BLACKBERRY PIE WITH CRUMB TOPPING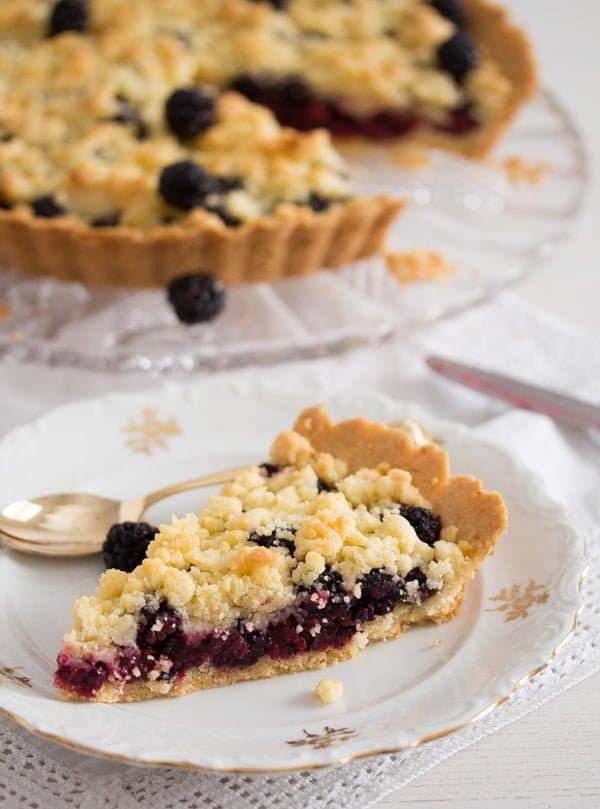 A basic crumb crust pie with a blackberry layer in between, this pie recipe is perfect not only for blackberries but for almost any other kind of berries or fruit.
After the most glorious summer we have had in years, autumn has finally arrived. Not that is already very cold, we mostly have nice sunny weather, but there are more rain and clouds involved and the heat is gone.
And for the first time in years, I don't feel totally down at the thought that summer moved on... and that is because this year, for a change, we did have a wonderful summer, so I am not left with that feeling of losing something we didn't even have properly.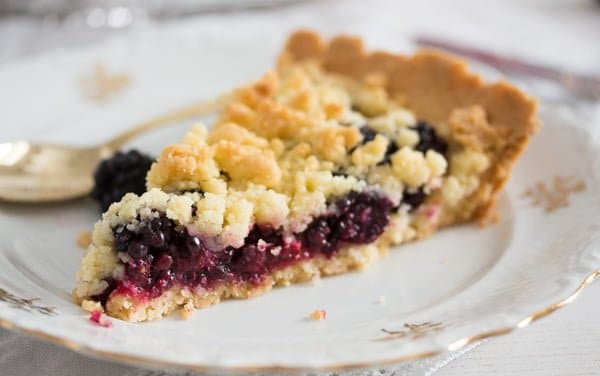 BERRY CRUMBLE PIE RECIPE
I've made this berry crumble pie with blackberries this time.
Blackberries are some of the last berries we can pick every year. The season starts with strawberries and red currants, goes on with gooseberries, raspberries and blueberries and kind of ends with blackberries.
Of course, there are still the plums and the apples to be found just about everywhere at the moment, but as they are not berries, we will forget about them for the moment. But I have plenty of recipes involving plums and apples coming soon... the trees are hanging so full of fruit... it's amazing!
Just like last year when I have posted the recipe for this blackberry coffee cake, I got my blackberries from my friend's garden. She has a rather large bush, blackberry bushes do tend to become huge, they seem to grow like weed, if you don't take care, they will take over the garden in about 2 years.
I was able to pick a full bowl of blackberries this year again. My kids ate about half of them as they were, they are really hard to resist, large and shiny and bursting with flavor. I used the rest to make this beautiful blackberry crumble pie. It was one of the cakes I made for my son's birthday and it was gone faster than any of the other cakes I baked.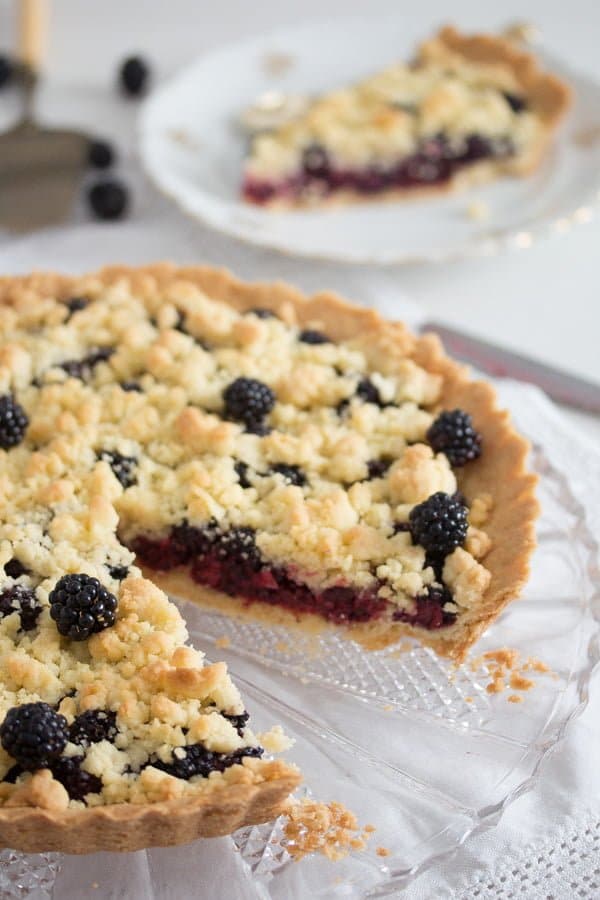 BERRY PIE WITH CRUMBLE TOPPING
It is easy to understand that this blackberry pie with crumble topping was gone so fast, I have yet to meet anyone who doesn't like a simple crumb crust pie with just a layer of berries or fruit in between.
My experience is that although most people will tell you how much they enjoy a nice chocolate cake, a cheesecake or a rather sumptuous layer torte, if there is a simple berry or fruit tart on the table, most of them will reach for it first.
Berry pies have something refreshing, an intensive flavor that is not given by heavy ingredients like heavy cream or buttercream, but by nature so to say, the pure, natural sweetness and sourness of the berries moderated by that heavenly, comforting crumb crust pie, that seems to be almost anybody's favorite type of crust.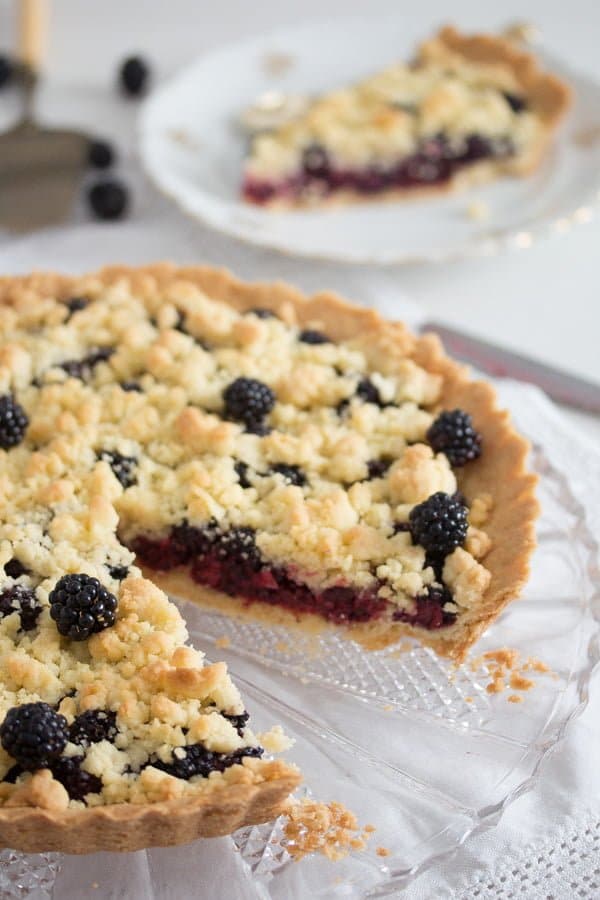 HOW TO MAKE A CRUMB CRUST PIE
This is one of the easiest methods to make a pie crust I know. I discovered this (blackberry) pie recipe somewhere online (I don't remember where exactly, but it was in German, probably Chefkoch) and I have been making it repeatedly ever since.
One thing I feel I have to mention before I get to making the pie is the pie form you use. A regular pie dish would probably be fine and if that is what you have, use it and remove the pie from the dish the way you always do it.
However, I got myself a loose bottom tart pan some years ago and I would never go back to a regular pie dish. These removable bottom pie dishes are so easy to use, the pies comes so easily out of the form and look perfect every time.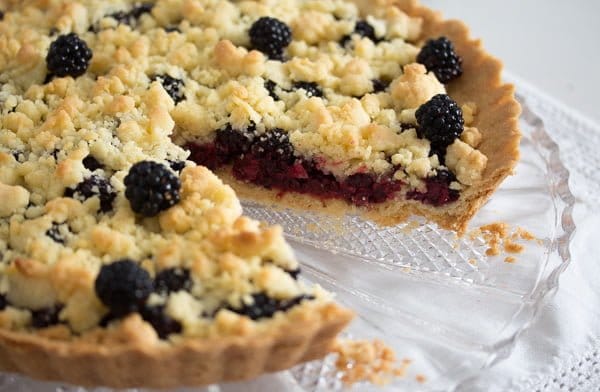 CRUMB CRUST PIE RECIPE
When making this wonderful berry crumble pie with blackberries start by preheating your oven. Most pie crusts I make require to spend some time in the fridge before rolling and baking, but not this particular crumb crust pie.
Mix together the ingredients for the batter (soft butter, sugar and flour) and press about ¾ of this dough into the baking dish, which doesn't even need to be buttered before.
How easy is that? You will not need any food processor, a plain old hand held mixer would be enough.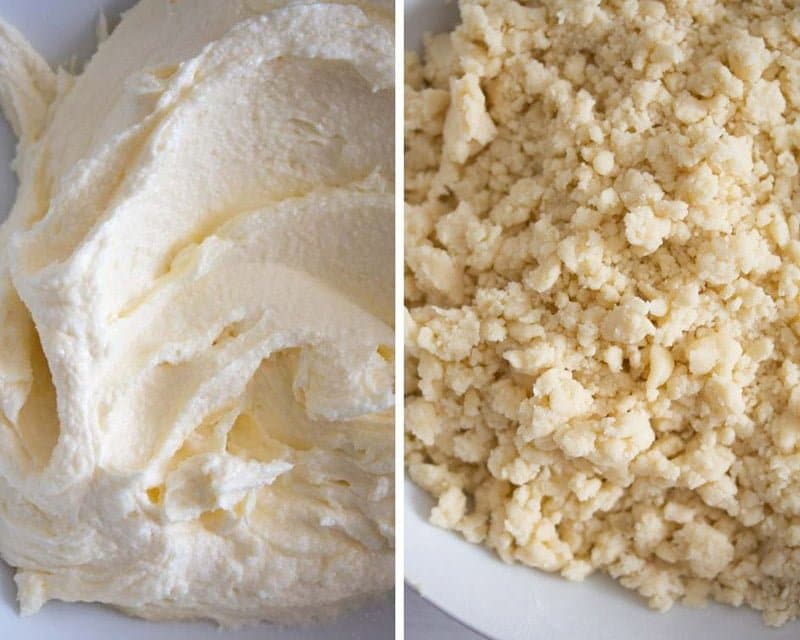 You will not need any rolling pin either, press the dough into the pie form with your fingers, it will work perfectly. Bake the crumb crust without any berries for about 20-25 minutes or until golden.
Should it puff up a little bit during the baking process, just press it down again before you place the berries on top. It did puffed up once or twice for me, but most of the times it just stays put and looks perfect.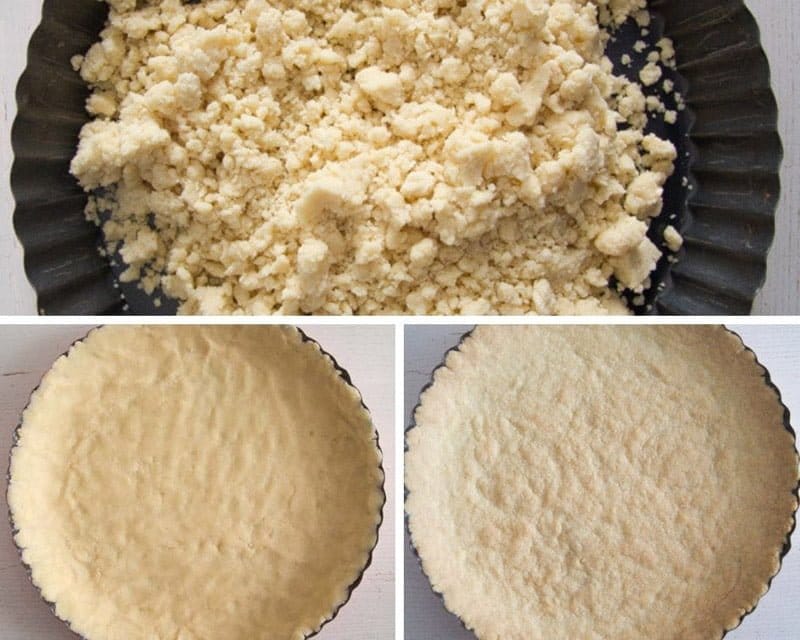 BERRIES OR FRUIT FOR THE CRUMBLE PIE
When it comes to the berries, there is not much to do either. Wash and dry them and arrange them on the crust. Cover the berries with the remaining crumbs to form a crumble topping and that's it! Bake the pie again for about 20-25 minutes and enjoy.
This was the first time I have made the crumb crust pie with blackberries, but I have made it with blueberries and gooseberries before, with apples and plums, nectarines or peaches (even canned ones in winter) cherries and so on.
I can totally imagine this pie with crumble topping to taste amazing with sour cherries and even more exotic fruit like mango and maybe some coconut flakes mixed in the crumble topping.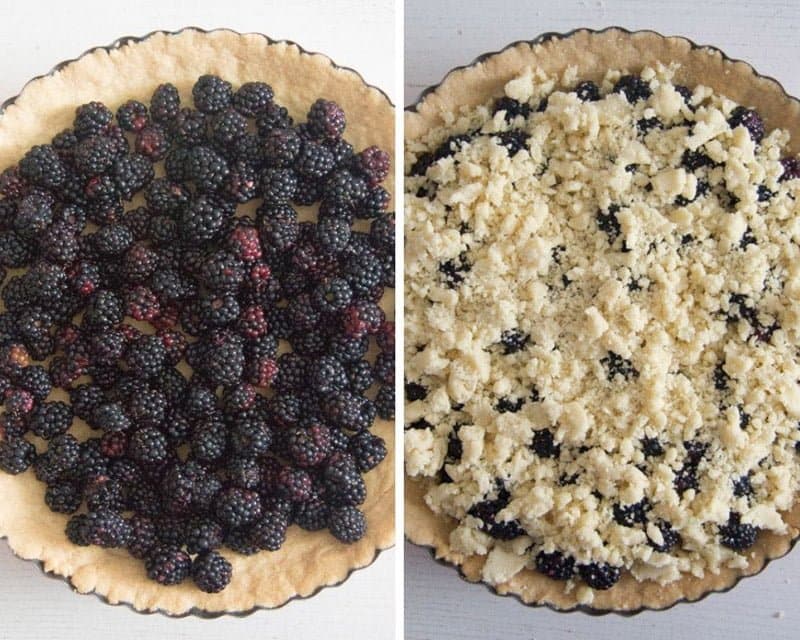 HOW TO SERVE THE BLACKBERRY CRUMBLE PIE
This is the kind of pie recipe you can make on a moment's whim, with ingredients you always have in the house and with any kind of fruit or berry that is plentiful at the moment.
You can serve the blackberry pie with crumble topping pie lukewarm or at room temperature. If you happen to have a slice or two leftover, cover them with cling film or place them in a airtight box and refrigerate them until the next day, they will still be wonderful.
The blackberry crumble pie can be served as it is or with a dollop of whipped cream, strained yogurt or crème fraiche. If you go for crème fraiche, mix it with one or two teaspoons of brown sugar, it is sooo good!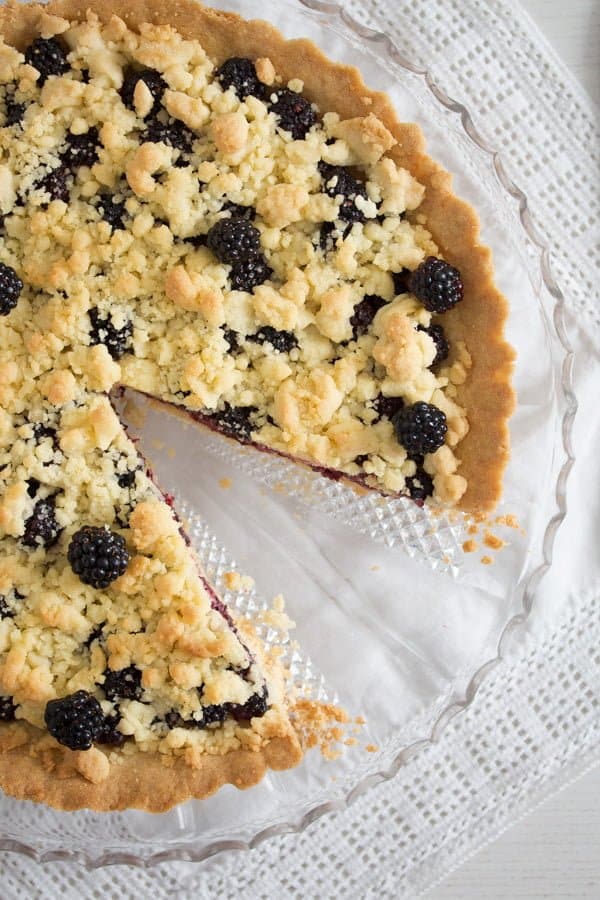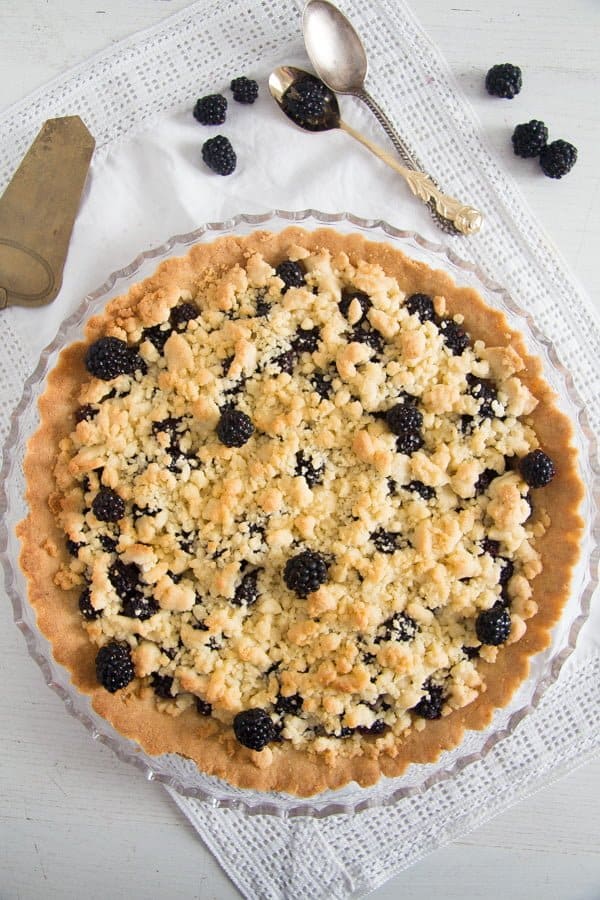 MORE PIES?
The Best Rhubarb Meringue Pie - this is the only pie to make when rhubarb is in season, no other rhubarb pie recipe can top this one.
Best Lemon Meringue Pie Recipe - again, the only lemon meringue pie you should make, I have never had any better!
Swiss Sweet Cherry Pie - a typical Swiss Wähe or sweet cherry pie, a thin crust covered with fresh cherries, the perfect pie for the short sweet cherry season.
Treacle Tart - Harry Potter's favorite dessert, a sweet yet lemony pie, perfect for the colder season.
Strawberry Rhubarb Pie with Almond Streusel - tangy rhubarb and flavorful strawberries topped with a crunchy and delicious almond crumble, you will love this spring pie!
PIN IT FOR LATER!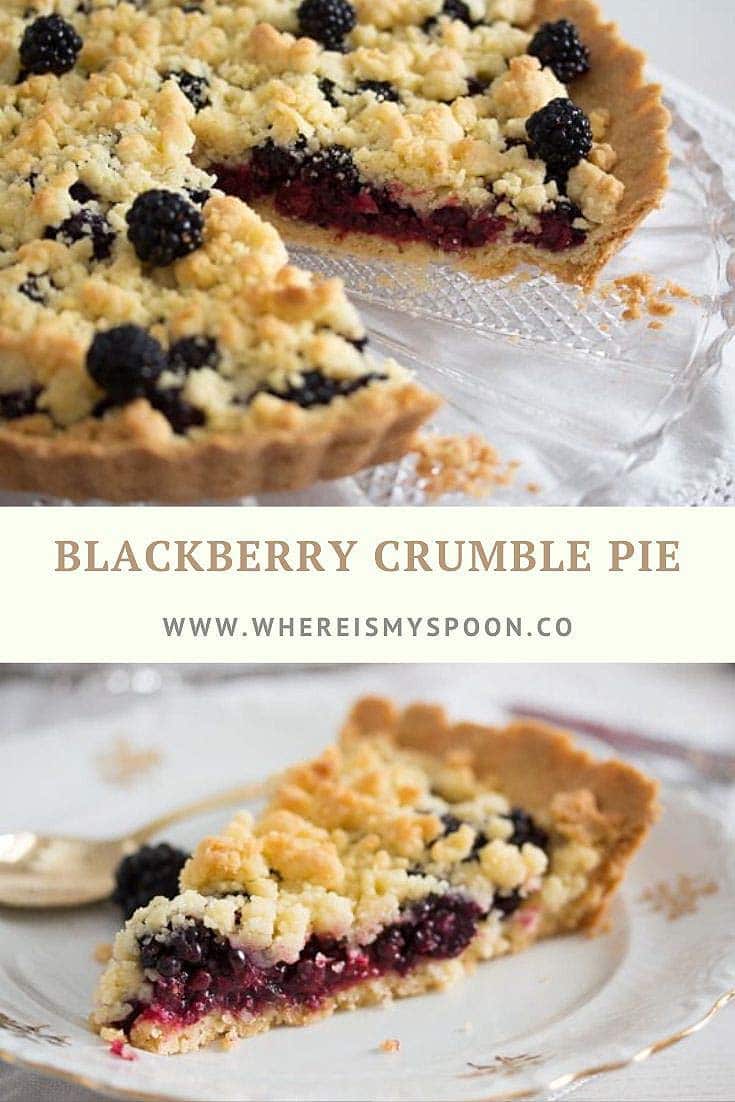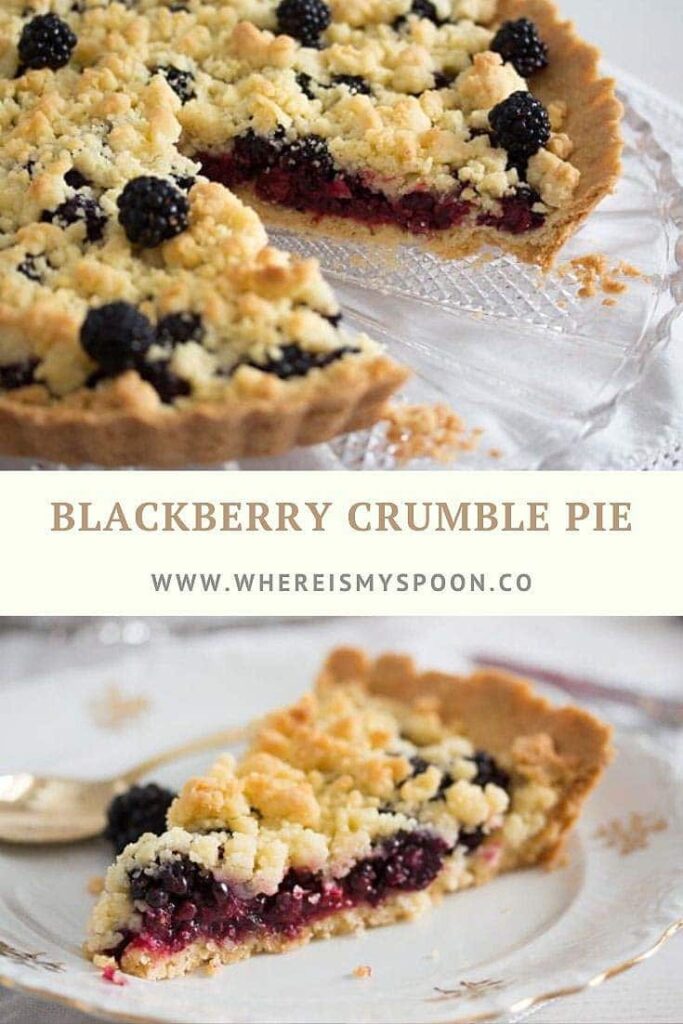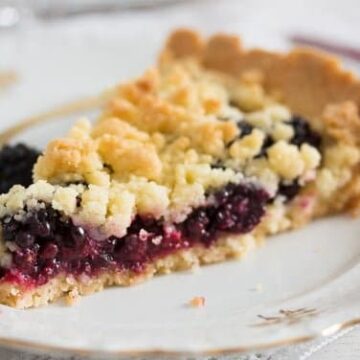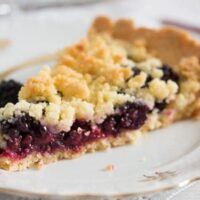 Berry Crumble Pie - with Blackberries
The easiest blackberry crumble pie recipe you could make. Recipe suitable for any kind of berries.
Print
Pin
Share
Grow
Saved!
Rate
Ingredients
250

g

soft unsalted butter

8.8 oz/ 1 cup

150

g

granulated sugar

5.3 oz/ ¾ cup

½

teaspoon

pure vanilla extract

375

g

all-purpose flour

13.2 oz/ 3 cups + 2 tablespoons

1

pinch

of salt

350

g

about 350 g/ fresh blackberries

12.3 oz, (Notes 1 and 2)

whipped cream

strained yogurt or crème fraiche to serve, optional
Instructions
Soften butter: Make sure you take the butter out of the fridge a few hours before baking; the butter must be soft.

Preheat the oven to 180 degrees Celsius/ 360 degrees Fahrenheit.

Cream the butter, sugar, and vanilla extract with a handheld mixer until light and fluffy.

Mix the flour and the salt, add them to the butter mixture, mix with a spoon first, and then with your hands to form the crumbs.

Bake crumb: Press ¾ of the crumb dough in the pie dish (the bottom of my pie dish has a diameter of 23 cm/ 9 inches), forming a dough edge as well. Bake the crumb crust in the preheated oven for 20-25 minutes until golden.

If the crumb crust puffs up a little, press it down again with the back of a spoon before you add the berries. But it usually doesn't happen; the pie crust looks just perfect most of the time.

Prepare berries: While the crumb crust is in the oven, prepare the berries or the fruit. If using berries, wash them briefly and let them dry well on kitchen paper. Pat them dry on top as well.

If using fruit, slice or chop the fruit.

Top the pie: Take the crumb crust out of the oven. Place the berries or the chopped fruit on top in an even layer. Sprinkle the remaining dough on top to form a crumble topping.

Bake the pie for further 20-25 minutes until the crumble topping is nicely browned.

Cool: Let the blackberry pie cool down in the form for about 20 minutes, then you can remove it. Removing the pie out of the form works best when using a pie dish with removable bottom.

Serve the pie lukewarm or at room temperature either as it is or with a dollop of whipped cream, strained yogurt, or crème Fraiche mixed with one or two teaspoons of brown sugar.
Notes
Always use a

digital kitchen scale

in baking; it ensures the best results (Amazon affiliate link).

Use as many berries as needed to have a rather thick layer of berries in the pie form, it is OK if you have a bit more or less than the required quantity.
You can use other sorts of berries as well, for instance, gooseberries, blueberries, currants, raspberries. Fruit can be used instead: pitted sweet or sour cherries, chopped or sliced apples, nectarines, peaches, apricots, grapes, mango, etc.
Nutrition
Serving:
1
slice
|
Calories:
325
kcal
|
Carbohydrates:
39
g
|
Protein:
4
g
|
Fat:
17
g
|
Saturated Fat:
11
g
|
Polyunsaturated Fat:
6
g
|
Cholesterol:
45
mg
|
Sodium:
14
mg
|
Fiber:
2
g
|
Sugar:
14
g