Last Updated on
Blueberry sour cream cake with fresh or frozen blueberries, this is an easy to make, fluffy and delicious blueberry cake recipe.
Blueberry and sour cream cake recipe
What can I tell you about this blueberry sour cream cake? It is so fluffy and comforting, so delicious with those aromatic blueberries bursting in your mouth…
And so easy to make, you could make the sour cream cake in your sleep… Not to mention quick, about 10 minutes actual working time (and you will only need those full 10 minutes, if you are talking on the phone on the same time or your child keeps asking you stuff…). Then about 30 minutes baking time and you're done.
You don't even have to leave the blueberry sour cream cake to cool completely before having a piece. I would not eat the sour cream cake hot, but still slightly warm is absolutely wonderful. Make a cup of coffee or tea and enjoy.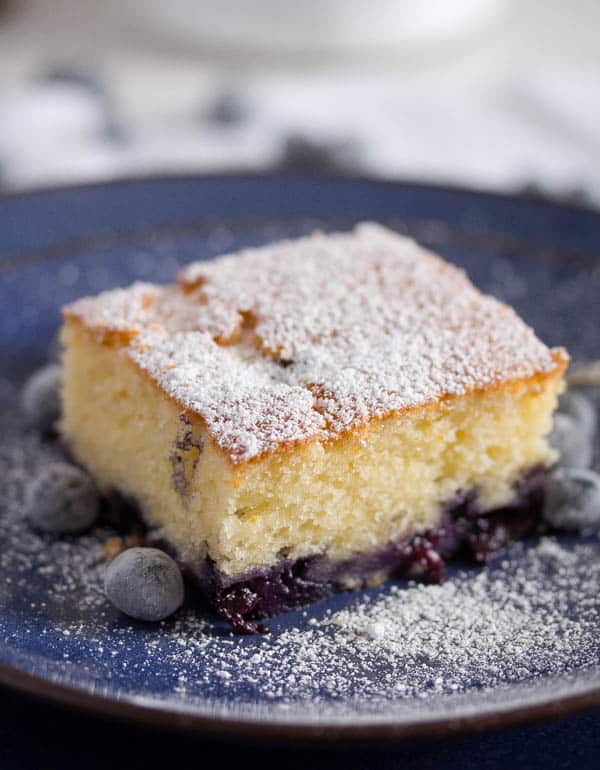 Ingredients for sour cream cake with blueberries
The ingredient list for the blueberry sour cream cake is short as well, thus making this cake super cheap as well.
You will need some soft unsalted butter, 3 eggs, sugar, flour, baking powder, sour cream and blueberries.
Blueberries:
When it comes to the blueberries, you can either use fresh or frozen blueberries to make the blueberry sour cream cake. I do use fresh if I happen to have them, but this time (when I took pictures for this cake, which I have made several times over the last couple of years) I used frozen blueberries.
Rather freshly frozen blueberries, one bag of the many kilos of blueberries I picked on the fields sometime in July.
If you use fresh blueberries to make this blueberry sour cream cake , there is nothing else you have to do except mixing them with some sugar and giving them to the cake batter.
If you decide to use frozen blueberries, let the blueberries thaw well on kitchen paper, so that the extra moisture will be absorbed. Also pat the blueberries dry with kitchen paper before mixing them with the sugar.
And you don't necessarily have to use blueberries for the sour cream cake, any other kind of berries would be delicious as well. Think of blackberries, raspberries, currants… whatever you happen to have. You could mix several kinds of berries as well, if you like.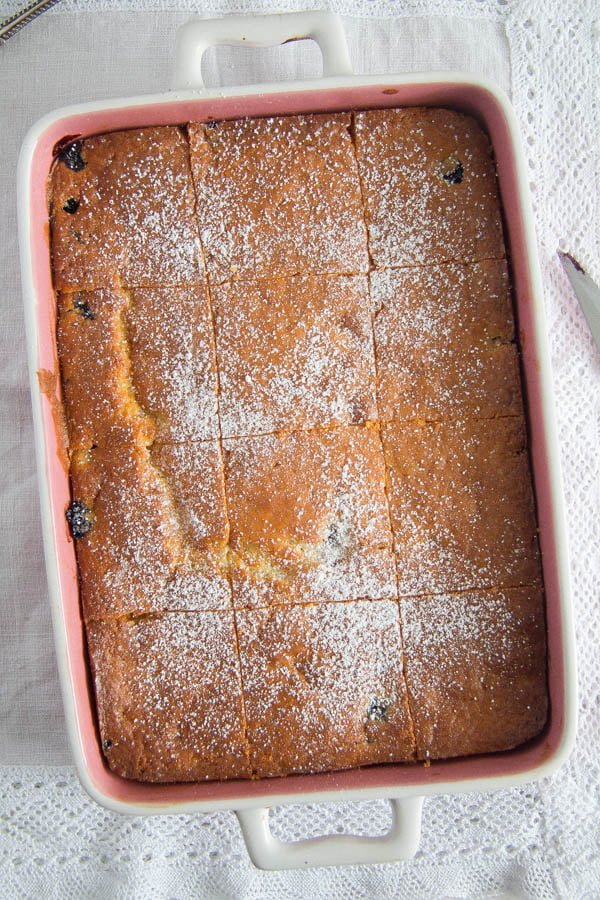 Sour cream:
This is an original Romanian sour cream cake recipe. This means that, traditionally, we would use smetana to make this cake. Smetana is a soured heavy cream, rather similar to crème fraiche, with a quite high fat content.
Smetana is usually used in the East European countries, all of them probably, not only Romania. It is a rather stiff product, stiffer than crème fraiche and good smetana (as any other similar good milk products) should not contain weird stuff that you cannot even identify without a dictionary.
However, I have made this cake either using the German Schmand with about 24% fat or sour cream with 10% fat content. Use whatever you can find, all of them – smetana, heavy sour cream (Schmand), sour cream or crème fraiche 30% fat – will be just fine. The difference will not be noticeable, at least I have never noticed anything worth mentioning.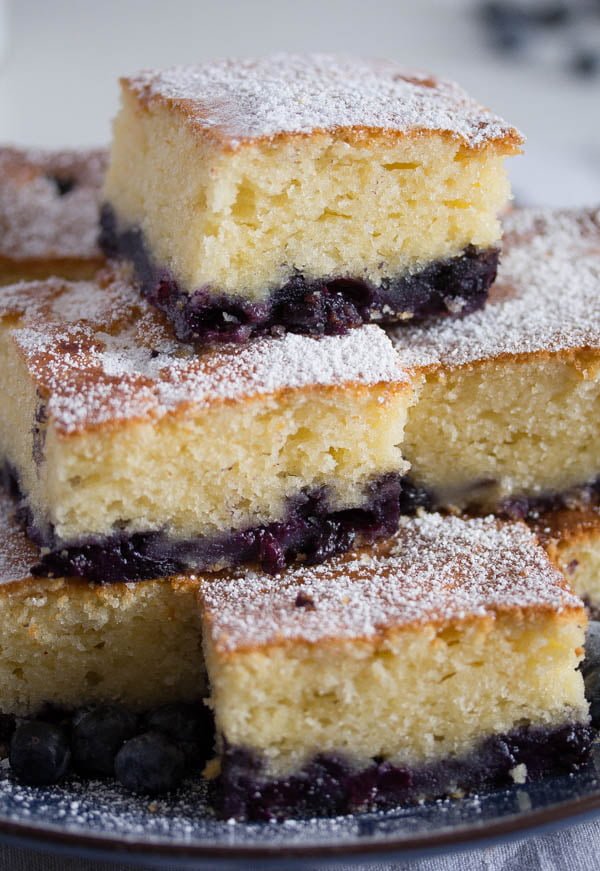 How to make the blueberry cake with sour cream
The steps involved in making this easy and fluffy blueberry sour cream cake are also not worth a long story, so to say.
Make sure your butter is soft. Mix the soft butter with the sugar until light and fluffy. Add the eggs and mix well again.
Add the sour cream and incorporate.
Mix the flour and the baking powder and incorporate with a spatula.
Mix the blueberries with a little sugar and give them to the batter.
Pour the batter into the prepared pan and bake.
That's really it! Easy, isn't it? And just as delicious as it is easy.
The blueberry sour cream cake is best served on the day you bake it. It is still good the next day, but it will not be as soft and fluffy anymore.
But as it is so easy and quick to make and using ingredients one usually has in the pantry and freezer, this is the kind of cake you can make spontaneously, if some unexpected guests have just announced themselves. Or if you are just in the mood for some nice and comforting cake with your cup of coffee or tea in the afternoon.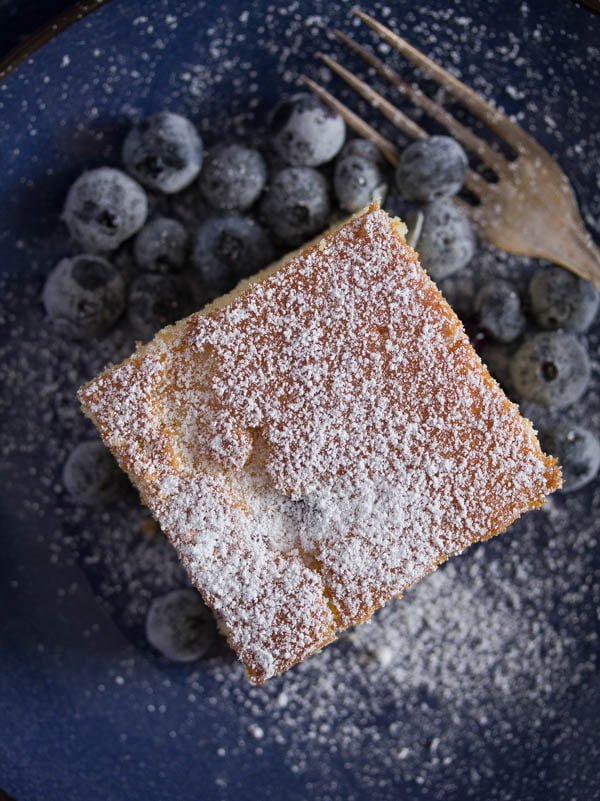 Ingredients
100 g/ 3.5 oz/ 1/3 cup + 1 ½ tablespoons soft, unsalted butter
150 g/ 5.3 oz/ ¾ cup granulated sugar
3 eggs (medium Germany, large US)
250 g/ 8.8 oz/ 1 cup sour cream (read blog post for more information on that)
250 g/ 8.8 oz/ 2 cups all-purpose flour
1 sachet Dr. Oetker baking powder or 3 ½ teaspoons baking powder
250 g/ 8.8 oz/ 1 cup blueberries
1 tablespoon granulated sugar
icing sugar, for dusting
Instructions
If necessary, thaw the blueberries. Thaw them on kitchen paper that will absorb the moisture and pat them dry with more kitchen paper when ready to use. Make sure that the butter is soft, you should take it out of the fridge at least an hour before starting to prepare the cake batter.
Preheat the oven to 180 degrees Celsius/ 360 degrees Fahrenheit. Thoroughly butter a casserole dish of approximately 25x20 cm/ 10x8 inches.
Beat the soft butter and the sugar until light and fluffy. Add the eggs and mix well again. Add the sour cream and mix shortly again.
Mix the flour and the baking powder together, add them to the butter mixture and incorporate.
Mix together the blueberries and 1 tablespoon sugar. Give them to the batter and incorporate carefully.
Pour the batter into the prepared casserole form and bake for 25 to 35 minutes. Check after 25 minutes already, when the cake is baked through the toothpick inserted into the middle of the cake should come out clean, meaning without traces of batter.
The toothpick might come out wet and blue, meaning you hit a blueberry at the bottom of the pan. Make sure that the batter is not sticking to the toothpick. The top of the blueberry sour cream cake should be golden brown.
Leave to cool slightly in the form and enjoy lukewarm or at room temperature. The blueberry sour cream cake is best served on the day you baked it.
Dust with icing sugar before serving.
[nutrition-label id=10412]