Pork kebabs, kebobs, souvlaki – so many names for these delicious skewers made with pork, smoked ham and lots of vegetables.
These pork kebabs with ham and vegetables are a must-have for your BBQ parties this summer!
Either you are celebrating a garden birthday, like we do with both our kids in August or you just want to get together with friends or you are celebrating the 4th of July or whatever summer holiday you have somewhere around the world, some nice skewers or kebabs should always be a part of the feast.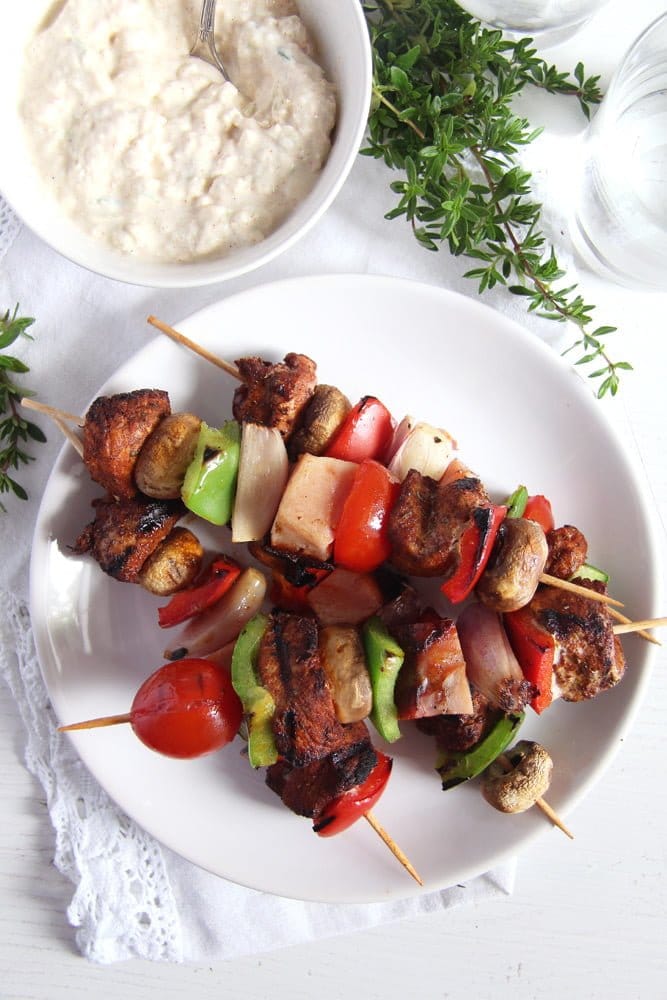 PORK KEBABS RECIPE
We always have some skewers or chicken or pork kebabs with vegetables alongside the typical German steaks and sausages, either bought or homemade, the kids love them and for me is a good way of getting my family into eating more veggies at a grill party than they would normally do.
And I do so much like the taste of those slightly charred veggies, the juices running from the grilled and slightly burst tomatoes, the slight rawness of those onion wedges... Mmm! Who needs the sausages, right? 🙂 🙂
But because this is a typical Romanian barbecue recipe, I could not possibly leave out the meat. Pork and smoked ham in this case, they are an important part of these so-called Outlaw Skewers or Frigarui haiducesti, which apparently are a common way of enjoying grilled meats in the South region of Romania – Oltenia.
Outlaw Skewers, you might ask?
Well, I find outlaw to be a harsh translation for the word "haiduc", which in my opinion, has more of a Robin Hood touch than an actual outlaw. Robin Hood was a thief, but a noble one, who took from the rich and gave to the poor, and this is the way I understand the Romanian word of haiduc.
No idea, if the haiduci in those old times were really as noble as Robin Hood was, but the nice stories we used to hear as children still make me think more of tragic heroes than of real outlaws when I hear the word haiduc.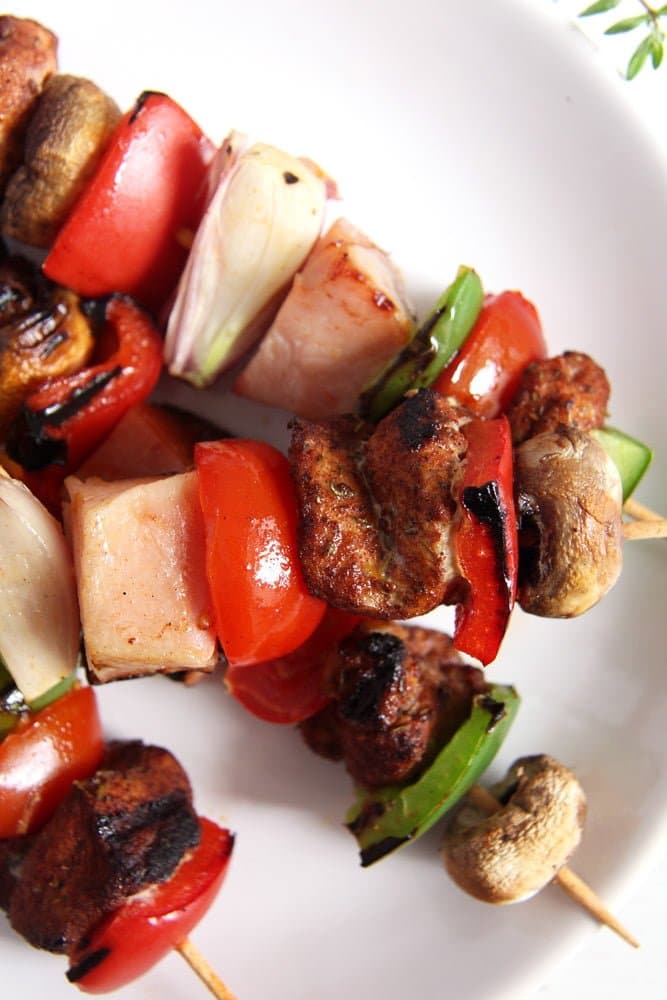 HOW TO MAKE PORK KEBABS WITH VEGETABLES ?
Well, it is pretty straightforward, stick the meat and vegetables on skewers and grill them. However, there are a few things you should consider, if you want perfect results. There are a few steps to consider when making skewers or kebabs.
Marinate the meat:
Marinating the meat is not a compelling step, but still I prefer to do it, it definitely makes the meat more flavorful and tender. There are dozens of recipes for marinades for grilling meat, you can choose whatever you like. For this recipe I chose a pretty simple combination of ingredients like sweet paprika, garlic and oil, something typical for the Romanian kitchen.
You should consider marinating the meat for at least 4-5 hours before grilling, I actually prefer to do it overnight.
Soak the skewers before grilling:
You could use metal skewers in which case you can skip this step completely, but I prefer the wooden skewers, I don't like that metal touch in my food.
To make sure that your wooden skewers don't get burnt on the grill, you should definitely soak your skewers for about 30 minutes before grilling.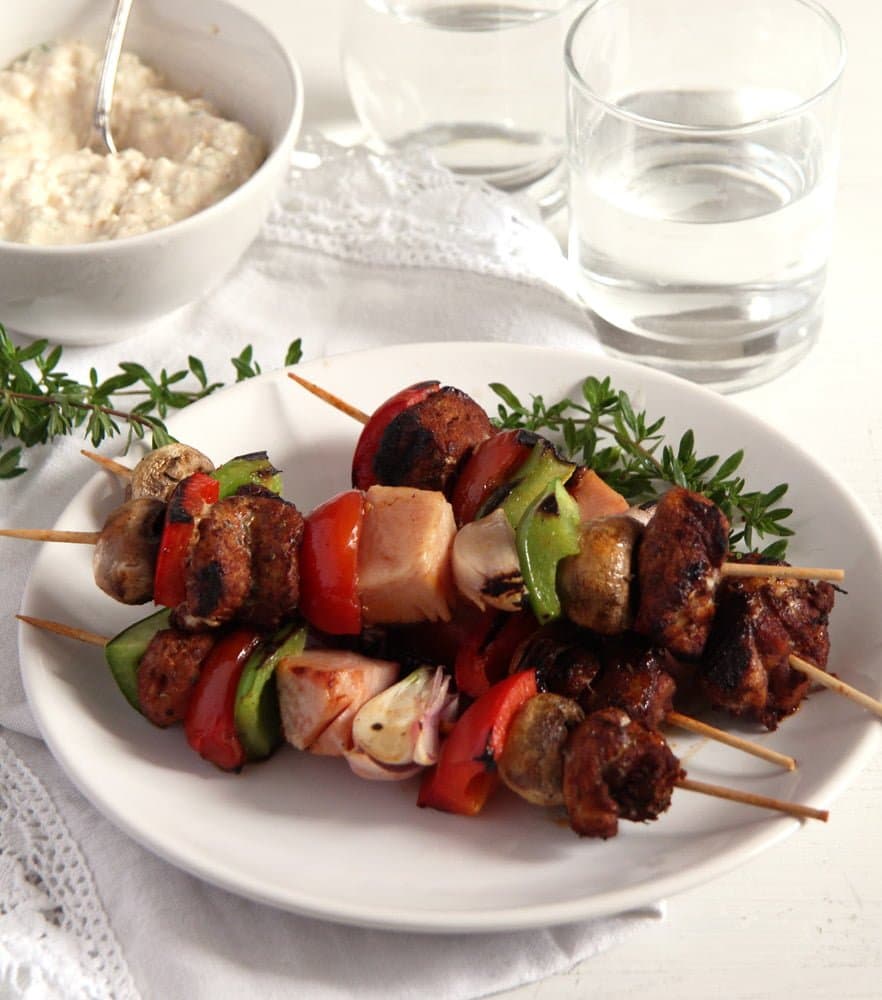 Chop the vegetables:
This is the one step I had most difficulties with at the beginning: realizing that the vegetable and meat cubes should all have very similar sizes in order to get a proper grilling result. Some of my veggies, the pepper pieces for instance tended to be chunkier than the rest, so that the smaller veggie pieces, the meat or the tofu were not even touching the grill in some places. You can imagine, that was not good!
So take care to cut everything very carefully, so that all the vegetable and meat pieces can make contact with the hot grill. If you use whole vegetables like cherry tomatoes, small onions and mushrooms make sure they have very similar sizes and that you chop the meat and the ham the same size as the veggies.
If you have normal-sized vegetables, cut them into similar-sized pieces and wedges.
Grill the pork kebabs:
Baste with the remaining marinade, grill on high, direct heat and don't forget to turn the skewers repeatedly.
So, I hope you have a great summer with lots of sun and time to do some grilling. And just in case, here are some more ideas for some delicious Chicken Skewers with Blackberry Sauce or Turkey Kebabs.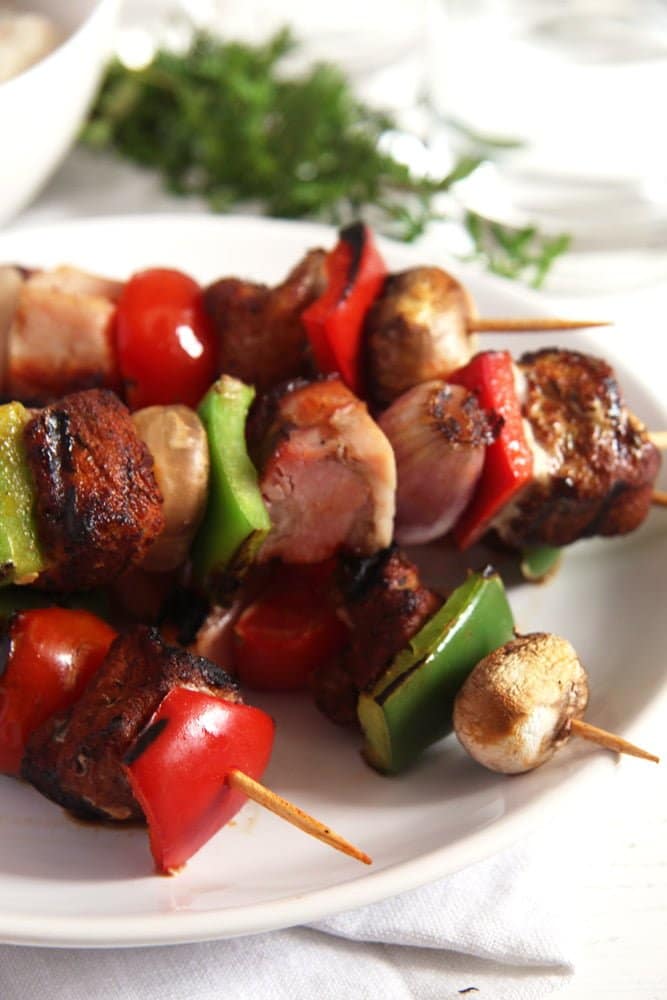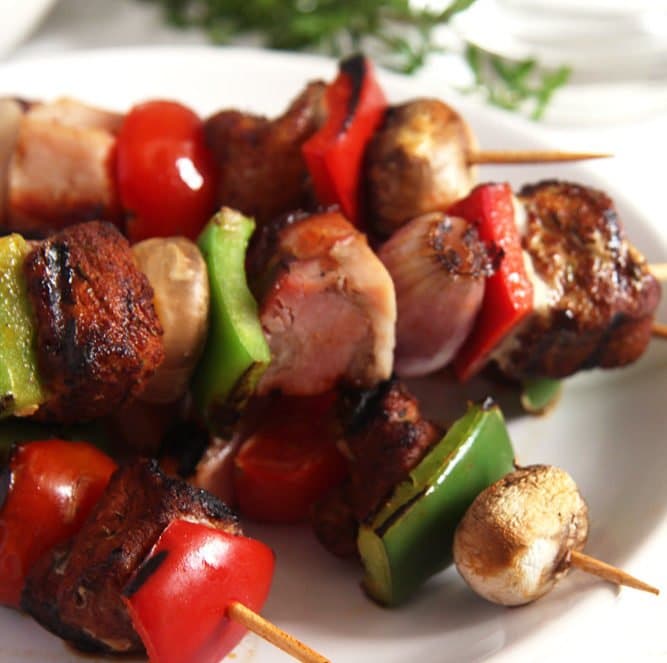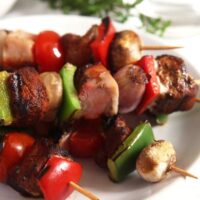 Grilled Pork Kebabs with Vegetables
Pork kebabs, kebobs, souvlaki – so many names for these delicious skewers made with pork, smoked ham and lots of vegetables.
Print
Pin
Share
Grow
Saved!
Rate
Ingredients
Pork kebabs:

450

g/ 1 lbs pork neck

200

g/ 7 oz smoked streaky ham

in one piece

14-16

small mushrooms

14-16

small cherry tomatoes

14-16

small onions or 8-9 shallots or 1 large onion

1

– 2 bell peppers

For the marinade:

4

tablespoons

vegetable oil

2

teaspoons

sweet paprika

2

garlic cloves

grated

1

teaspoon

dried savory or thyme

¾

teaspoon

salt

½

teaspoon

black pepper
Instructions
Stir all the ingredients for the marinade. Chop the meat into pieces, which should have the same size as the vegetables.

Give the meat to a bowl, mix it well with the marinade, cover and let marinade in the fridge for 4-5 hours or better overnight.

Soak the wooden skewers for 30 minutes before grilling.

Chop the peppers into pieces the same size as the rest of the whole vegetables and the meat cubes. If you are using larger mushrooms, onions and tomatoes, cut them into pieces as well. If you are using shallots, halve them.

Chop the smoked ham into same-sized pieces.

Thread the meat, ham and vegetables onto the soaked skewers. I had 2 pieces of meat and 1 of ham on each skewer and alternated the veggies.

Brush the meat and the vegetables with the remaining marinade.

Grill on high, direct heat, turning the skewers from time to time. It took me about 10 to 12 minutes, but it depends on the hotness of the grill is and the size of the meat and vegetable pieces. Let rest for a few minutes and enjoy.
Nutrition
Serving:
1
pork kebab
|
Calories:
175
kcal
|
Carbohydrates:
10
g
|
Protein:
13
g
|
Fat:
9
g
|
Saturated Fat:
2
g
|
Polyunsaturated Fat:
6
g
|
Cholesterol:
37
mg
|
Sodium:
275
mg
|
Fiber:
2
g
|
Sugar:
5
g