How to make traditional German red cabbage, the perfect side dish recipe for goulash, beef roulades, goose or duck.
German Cabbage
A traditional recipe for the German red cabbage, just the way my German mother-in-law makes it. That is: when she doesn't take the shortcut and uses red cabbage from a jar…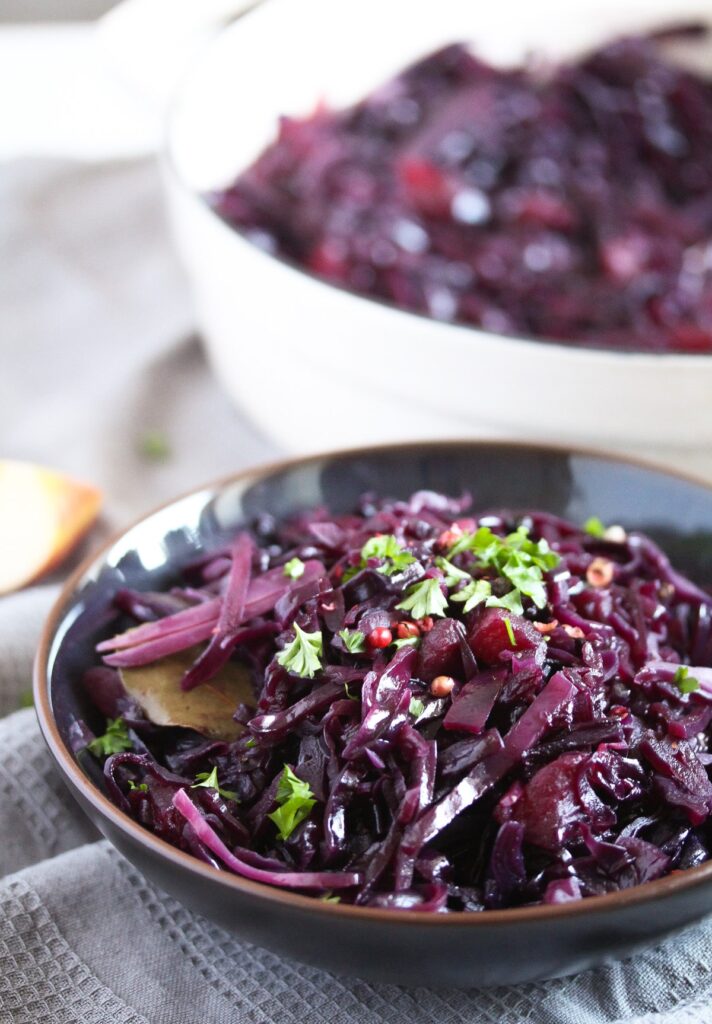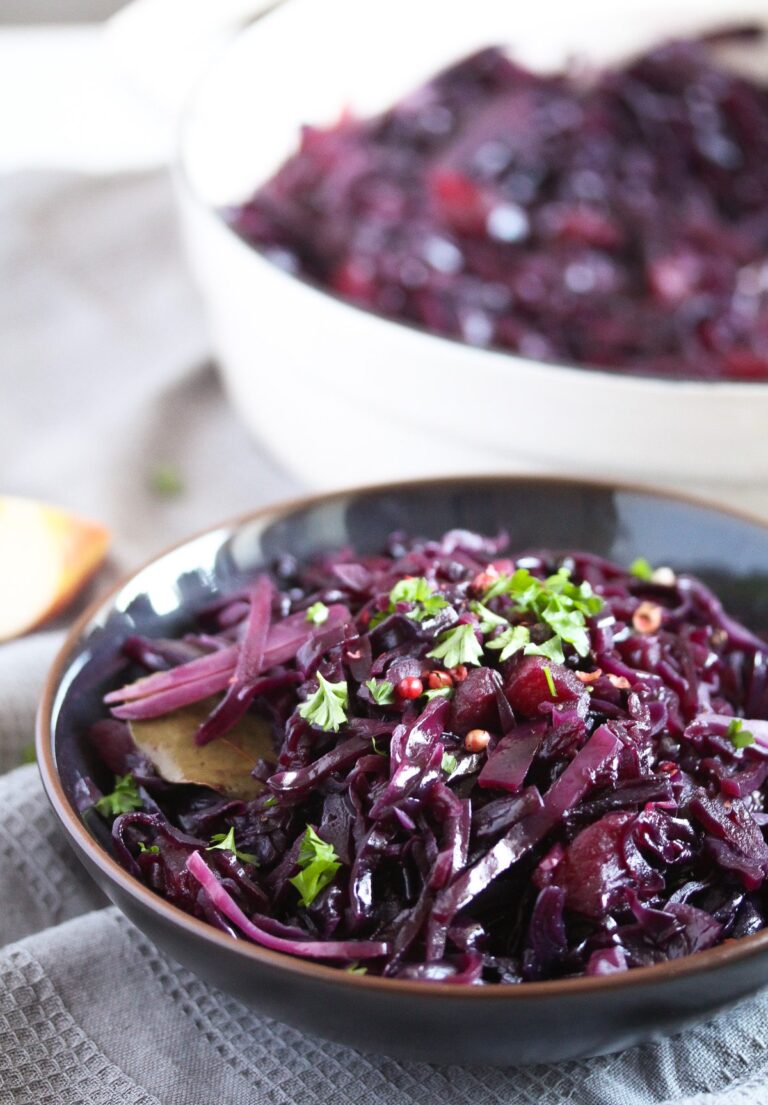 But when she does take the time to make a proper red cabbage side dish, this is her recipe. Plus or minus a few things, but I will come to that in a moment.
And the recipe I use most of the time myself. I might add some orange juice and maybe some other spices from time to time (something more exotic like cinnamon), but actually, I rarely leave the path…
This dish is just like a proper German red cabbage dish should be, that is soft, aromatic and fruity, a worthy side for many other typical German dishes like Sauerbraten – sour marinated roast or other kinds of roasts, baked sausages, goulash, goose or duck, beef roulades and so on.
Benefits of eating red cabbage
Red or purple cabbage is such a healthy vegetable, I felt I had to mention a few things about that.
It is rich in nutrients and vitamins.
It contains lots of Vitamin C, one serving covers 56% of the recommended daily intake of Vitamin C.
Other vitamins found in it are Vitamins K, B5, A.
Vitamin C helps boost the immune system, while Vitamin K seems to reduce the risk of osteoporosis.
It is an anti-inflammatory food and might help fight arthritis.
Like many other Brassica vegetables (white cabbage, cauliflower, broccoli, kale, Brussels sprouts and so on), red cabbage might reduce the risk of getting cancer.
It helps you keep a healthy gut, especially when fermented.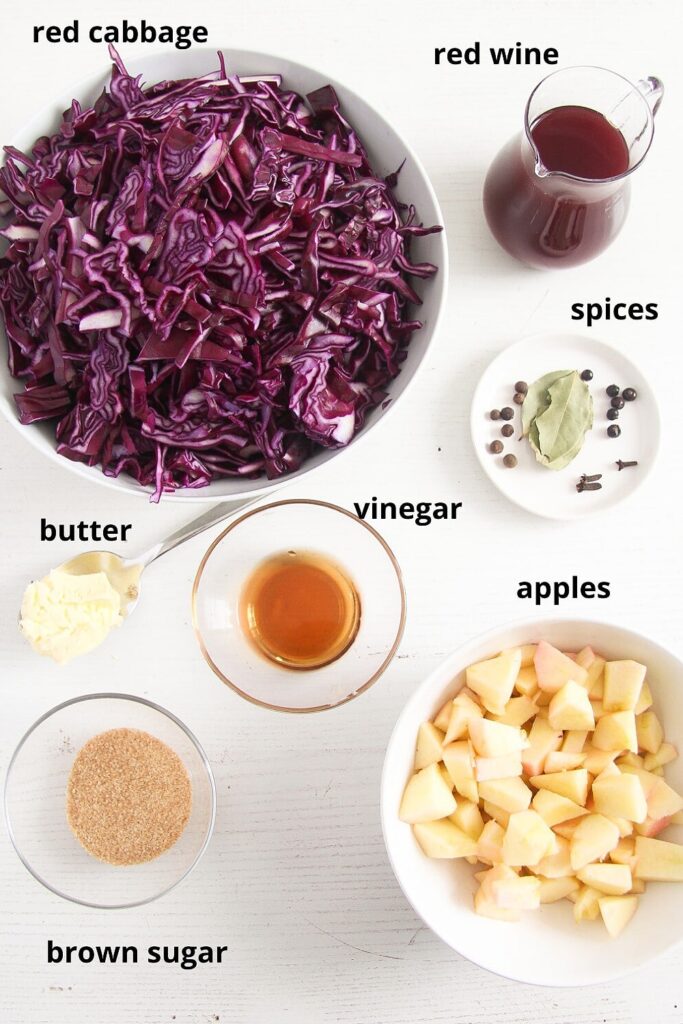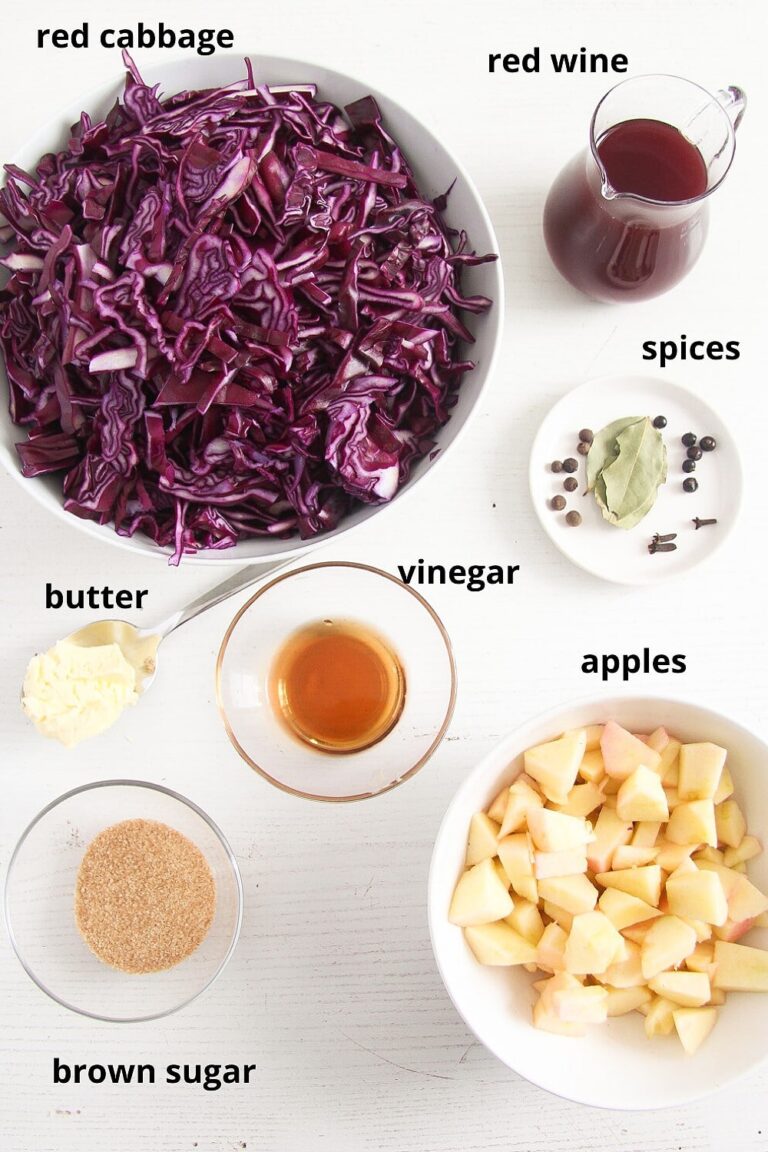 Ingredients
I experimented a little with stewing the red cabbage until finding this version which I like best. It comes close to my mother-in-law's version (which is great), but I think that the changes I've made make it even better.
Red cabbage:
One small to medium cabbage, weighing more or less 1 kg/ 2.2 lbs.
However, if it is larger and you want to use it all, increase the amounts of the other ingredients accordingly and freeze the cooked leftovers.
Apples:
Peel and chop one or two tangy apples, depending on size.
They will overcook in the stew and kind of disintegrate, covering the cabbage with a film of squishy apples as well.
About 130 g/ 4.5 oz/ 1/2 cup applesauce can be used instead.
Bought apple sauce is perfectly fine, just make sure that you buy an unsweetened or very slightly sweetened sauce.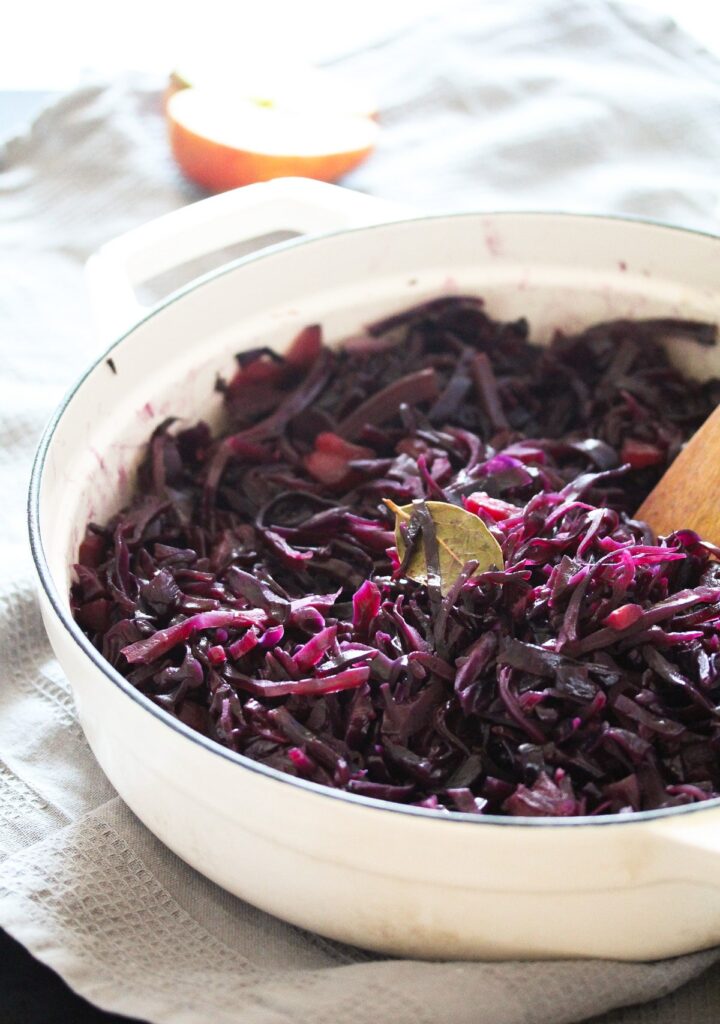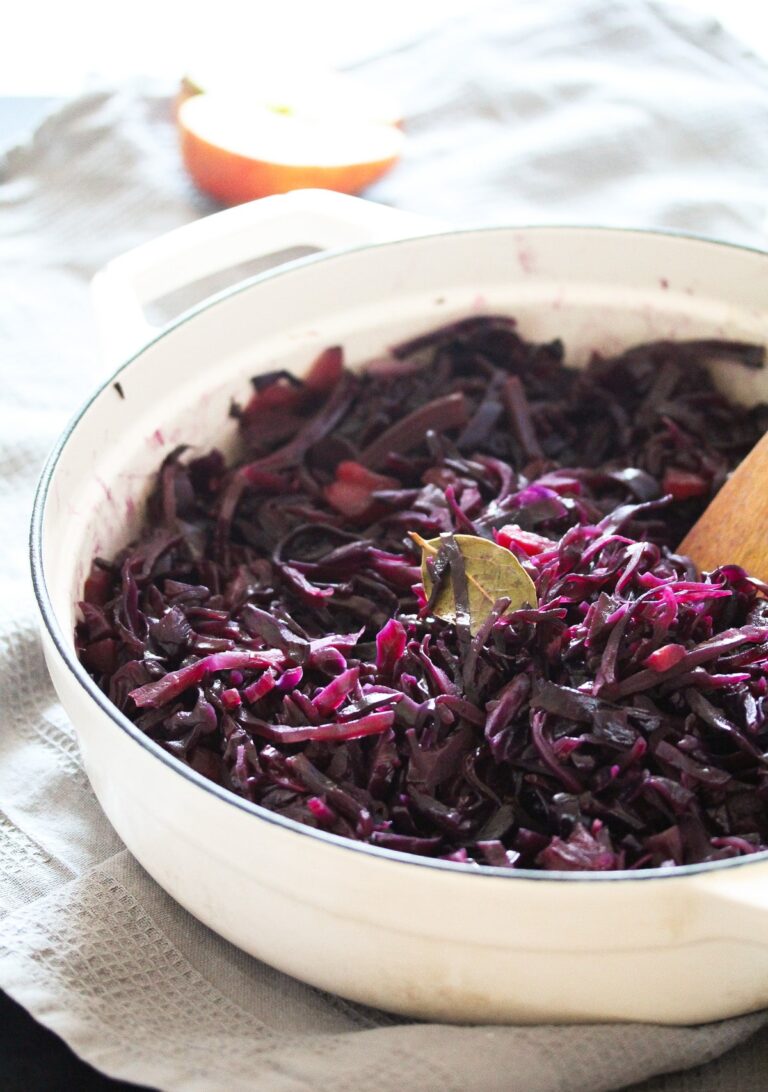 Spices:
The spices are an important part of this recipe. I have had red cabbage spiced with only salt and pepper and it was really not impressive. You will need these condiments to make the cabbage really good:
Red wine:
You don't have to go for expensive wine here, but don't buy the cheapest one either.
Low to the mid-price category, I would say, something you would also drink and not use only for cooking.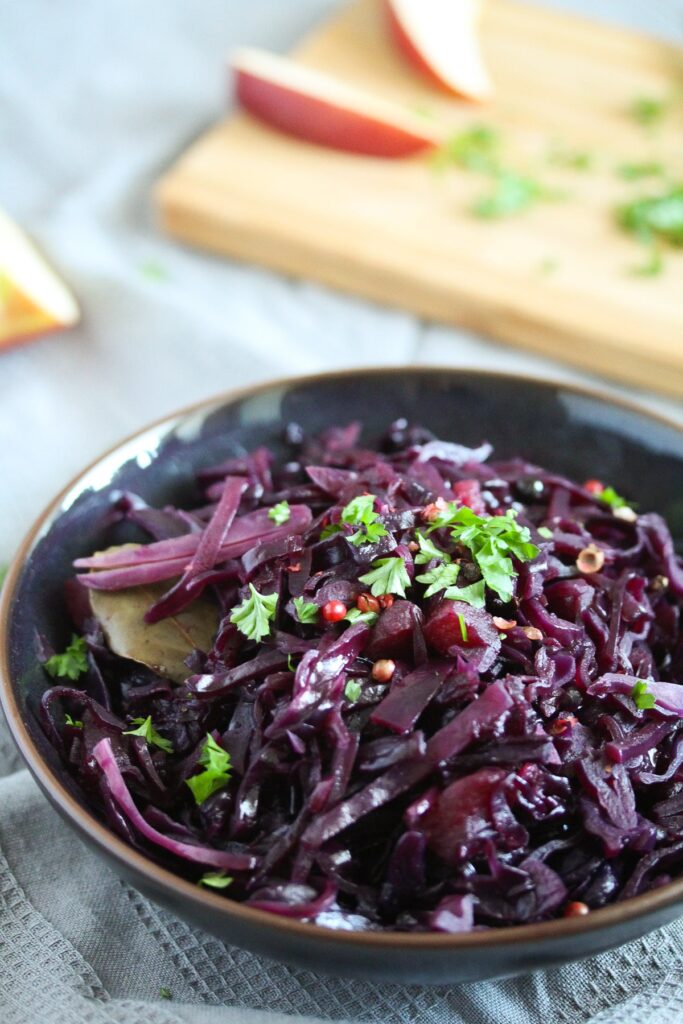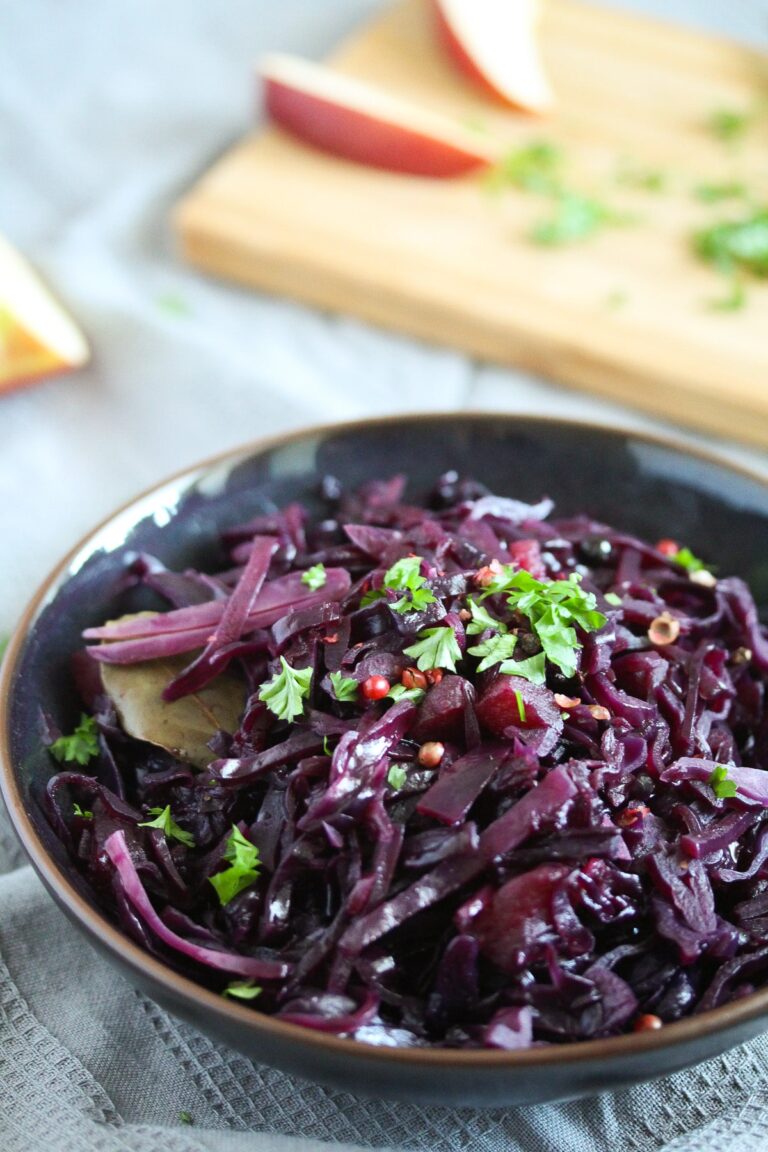 Tips
The only thing that requires a bit of dedication is chopping the cabbage. Once you've done that, there is not much for you to do anymore.
Make sure that it is finely chopped and that the apples are peeled. The peel would remain tougher than the rest and that would be a distraction in this particular recipe.
Let the brown sugar caramelize nicely, but pay attention and don't let it burns. If it burns, start over again, as you will not like the bitterness.
Once you have caramelized the sugar and added the chopped cabbage, stir very often for the first five minutes, before adding the wine. This will prevent the sugar from catching and will ensure that the red cabbage is braised all over and coated with the sugar.
Add the remaining ingredients, turn the heat down and simmer the cabbage for 1 hour or until soft.
Stir from time to time and if you have the feeling that the cabbage is too dry, add a splash of red wine.
I don't often need to do that, I think it has a lot to do with the tightness of the lid you are using.
Adjust the taste properly. Check for salt and pepper and for more sweetness or sourness. Add a pinch of sugar and a little red wine vinegar or balsamic vinegar to taste.
The German red cabbage needs to be flavorful. As mentioned above, plain boring red cabbage is not a joy.
I am thinking here about a side dish we had in a restaurant shortly before Christmas. Lukewarm, flavor-free, not even properly salted red cabbage from a jar. Really world's apart from today's recipe…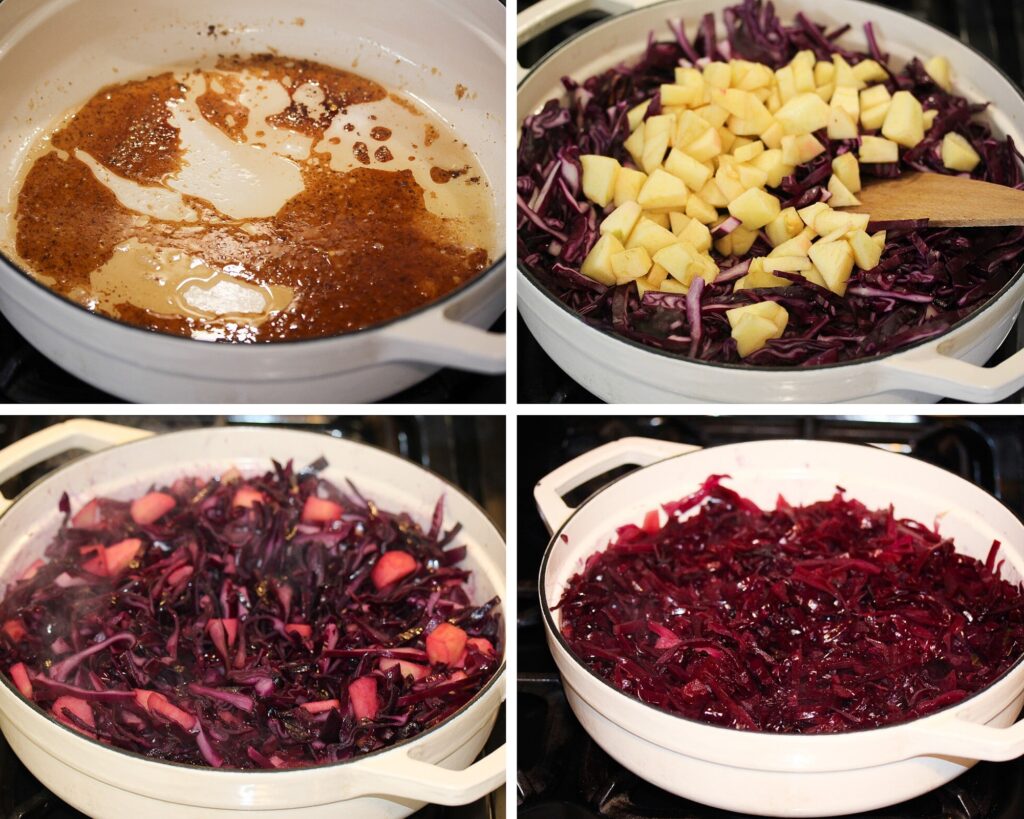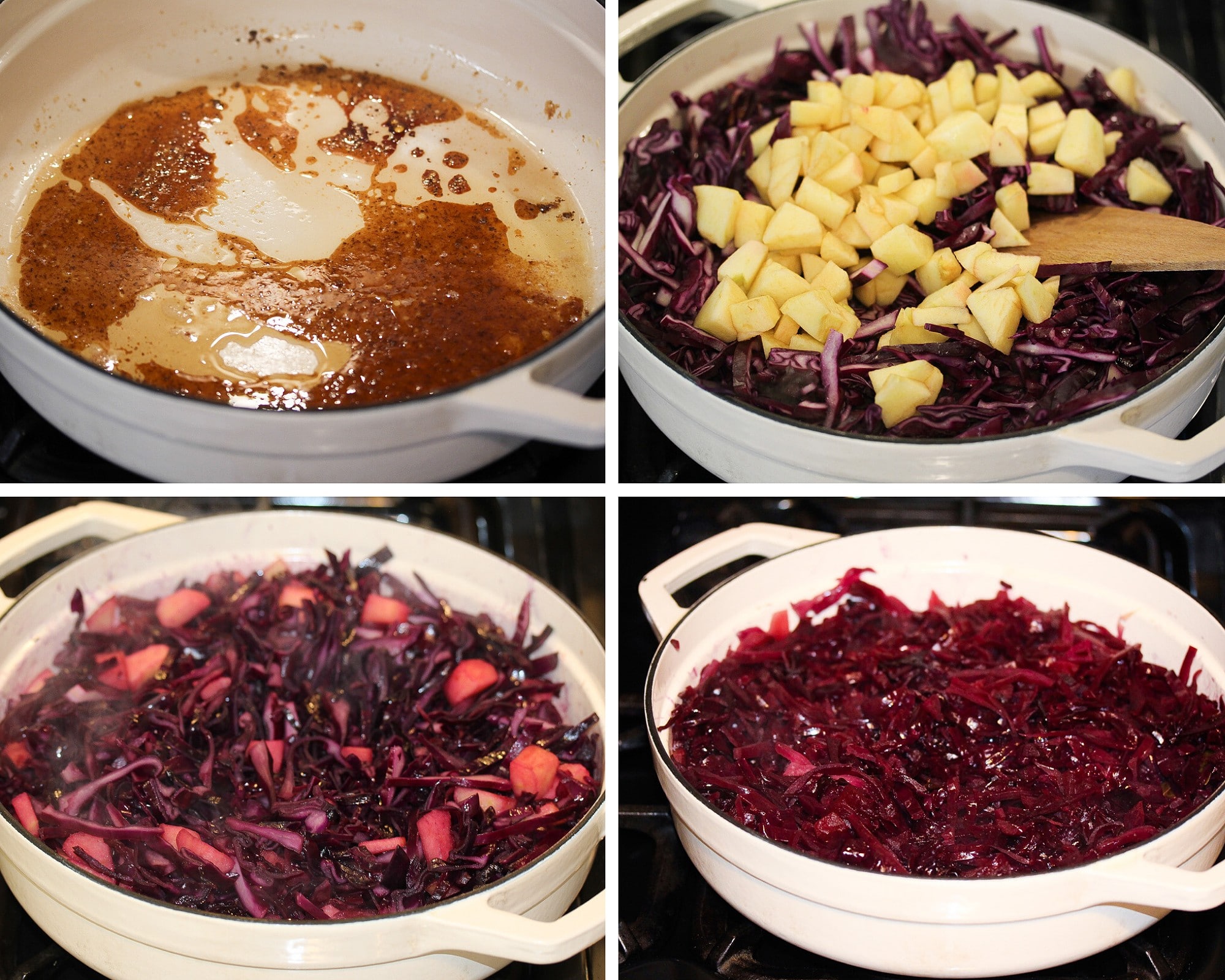 What to do with leftovers?
You can reheat the leftovers several days in a row, the red cabbage keeps well in the fridge for at least 3-4 days.
This means, that you can cook it in advance and reheat it before serving.
Leftovers can also be frozen. Froze individual portions and defrost in the fridge overnight or on the counter for a 1 hour or so.
You can start reheating it when still slightly frozen, make sure you stir often.
What to serve?
So many things. Red cabbage is the perfect side dish for many German dishes.
For instance, the classic Sauerbraten, roasted duck or roasted goose, any kind of beef or pork roast.
Boiled potatoes or mashed potatoes.
German potato or bread dumplings.
Or how about?
Last updated: March 31, 2020.
German Red Cabbage Recipe
How to make traditional German red cabbage, the perfect side dish recipe to go with goulash, roast beef, goose or duck.
Print
Pin
Share
Grow
Saved!
Rate
Ingredients
2

lbs

red cabbage

1

tablespoon

butter

2

tablespoons

brown sugar

2

apples

,about 7 oz/ 200 g

1/4

teaspoon

allspice

3

cloves

1

cup

red wine

2

tablespoons

red wine vinegar

a pinch of sugar

to taste

fine sea salt and pepper
Instructions
Prepare: Shred the red cabbage very finely. Peel and cut the apples into small cubes.

Caramelize: Melt the butter in a large pan. Sprinkle the sugar in the pot and let it caramelize, about 1-2 minutes.

Saute: Add the red cabbage and apples and sautee lightly for about 5 minutes while stirring quite often. Add the spices, wine, and vinegar. Add about ½ teaspoon salt.

Simmer: Cover the pot, turn down the heat, and let the cabbage simmer for 1 hour. Stir from time to time and add more red wine if necessary (I didn't need to, but keep an eye on the pot, it should not get too dry).

Adjust the taste with salt and pepper and some more sugar and vinegar, if necessary.
Nutrition
Serving:
1
/4 of the dish
|
Calories:
270
kcal
|
Carbohydrates:
48
g
|
Protein:
6
g
|
Fat:
4
g
|
Saturated Fat:
2
g
|
Polyunsaturated Fat:
2
g
|
Cholesterol:
8
mg
|
Sodium:
399
mg
|
Fiber:
14
g
|
Sugar:
27
g