Learn how to cook sausages in the oven. Cooking brats in the oven is easy, quick, and less messy than usual. A delicious bad-weather recipe!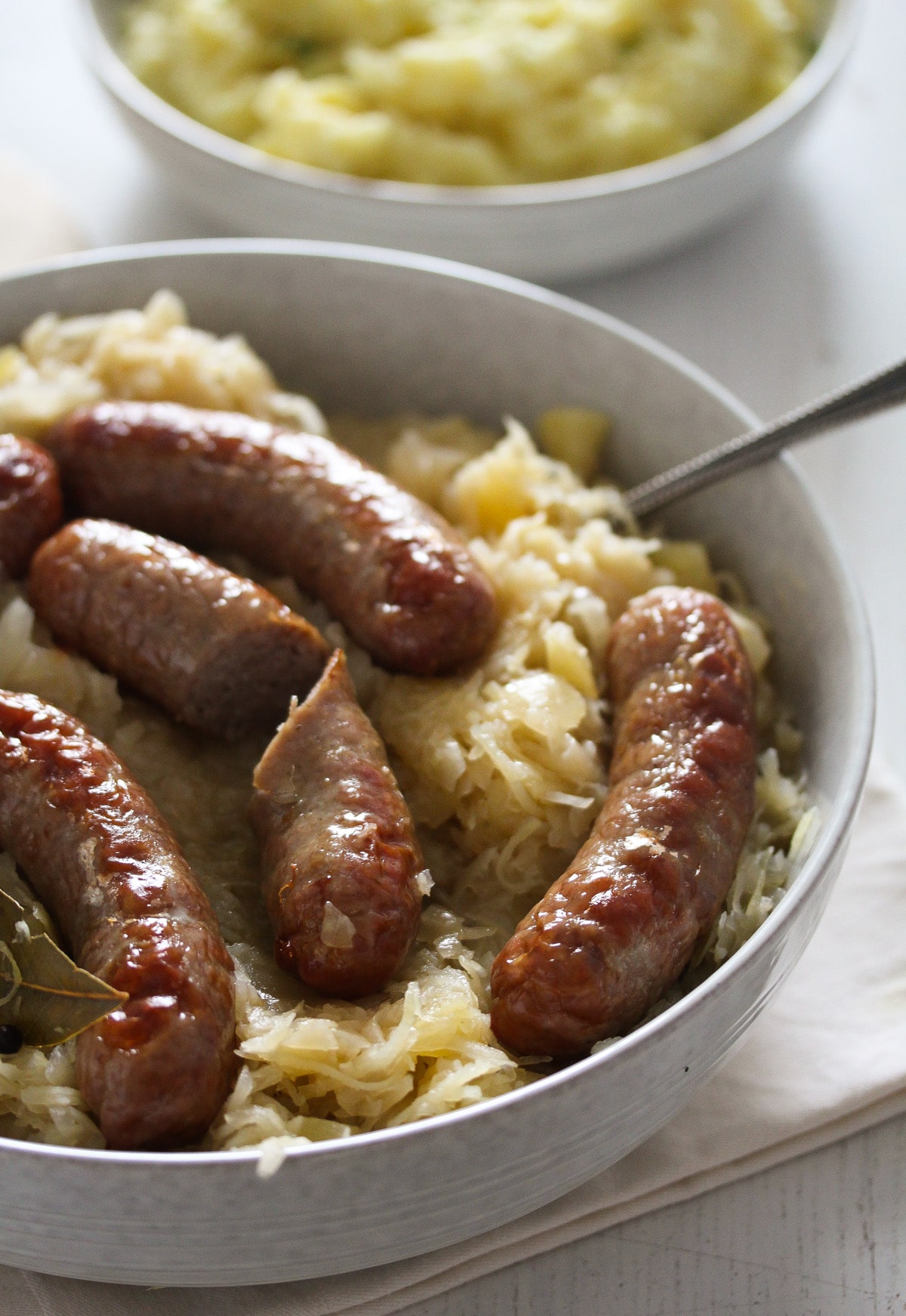 No grilling weather outside? And no desire to clean the stovetop after cooking brats? Then it's better to learn how to cook bratwurst in the oven. The best bratwurst recipe: clean, quick, and foolproof! This method is the next best thing to grilling them outside.
Or you could also make some Brats on the Stove or Brats in the Air Fryer. And if you only have frozen brats, see How to Cook Frozen Sausages!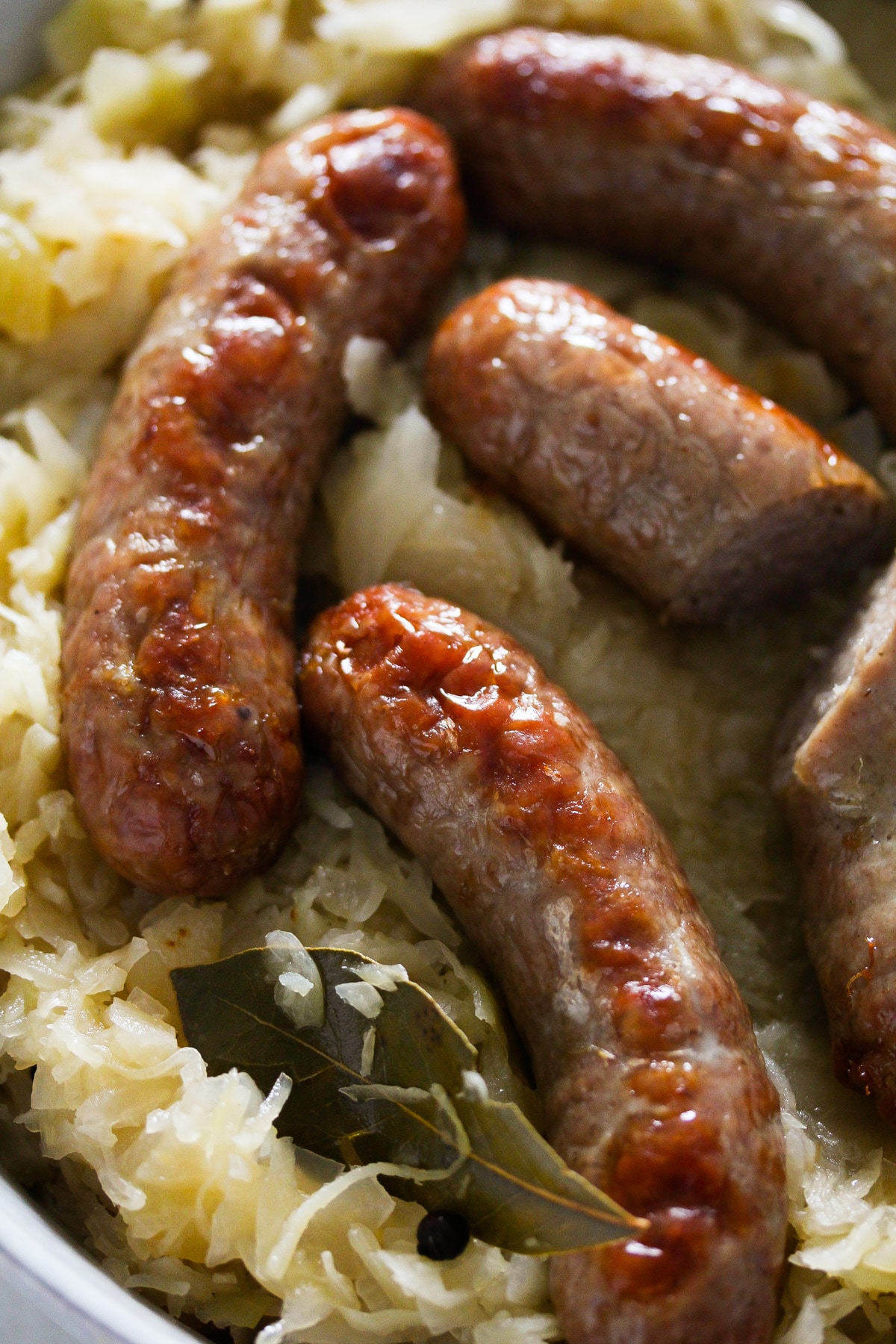 Advantages of cooking brats in the oven
No mess:
This is the main advantage for me. Including not many dishes to clean afterward. The stovetop remains clean; there is no grill pan to scrub.
Cleaning just one sheet pan is definitely quicker and easier. If you line the baking tray with aluminum foil or parchment, you might even be able to skip that. It doesn't always work because the fat usually finds its way underneath the piece of parchment paper, but the cleaning-up is minimal.
Safe:
You will not have to check the sausages 10 times to make sure that they are cooked through.
Give them the time required by the recipe and check once, maybe twice, if they are not done already.
To check, I usually cut one bratwurst in the middle; it should not be pink anymore.
You can also use a meat thermometer to check for doneness.
Foolproof:
Grilling sausages in the pan might cause them to be burned on the outside while still raw on the inside. And you definitely don't want to eat burnt yet uncooked brats.
Constantly adjusting the temperature is almost mandatory unless you have cooked sausages this way many times. And although you will not fry or grill anything, the sausages will still get a nice sear.
When cooking them in the oven, you only have to set the temperature at 200 degrees Celsius/ 400 degrees Fahrenheit.
Less work:
You don't have to turn the bratwurst constantly in the pan to make sure that it cooks evenly.
Turning once at half-time will be enough.
Cook a big batch:
You can cook more brats using this method than you would do in the pan.
Place as many as needed on the tray, and use a second tray if you are cooking for a really large gathering.
If baking brats using two trays, use a fan oven.
Sides:
You could cook the sides together with the brats in the oven.
Add some vegetables like onions, peppers, fennel, and cauliflower to the baking tray, or bake the veggies on a separate tray in the same fan oven.
You can also bake potato wedges together with the bratwurst.
Or you can make other dishes on the stovetop, as the stovetop is not being used anyway.
What kind of sausages do you need?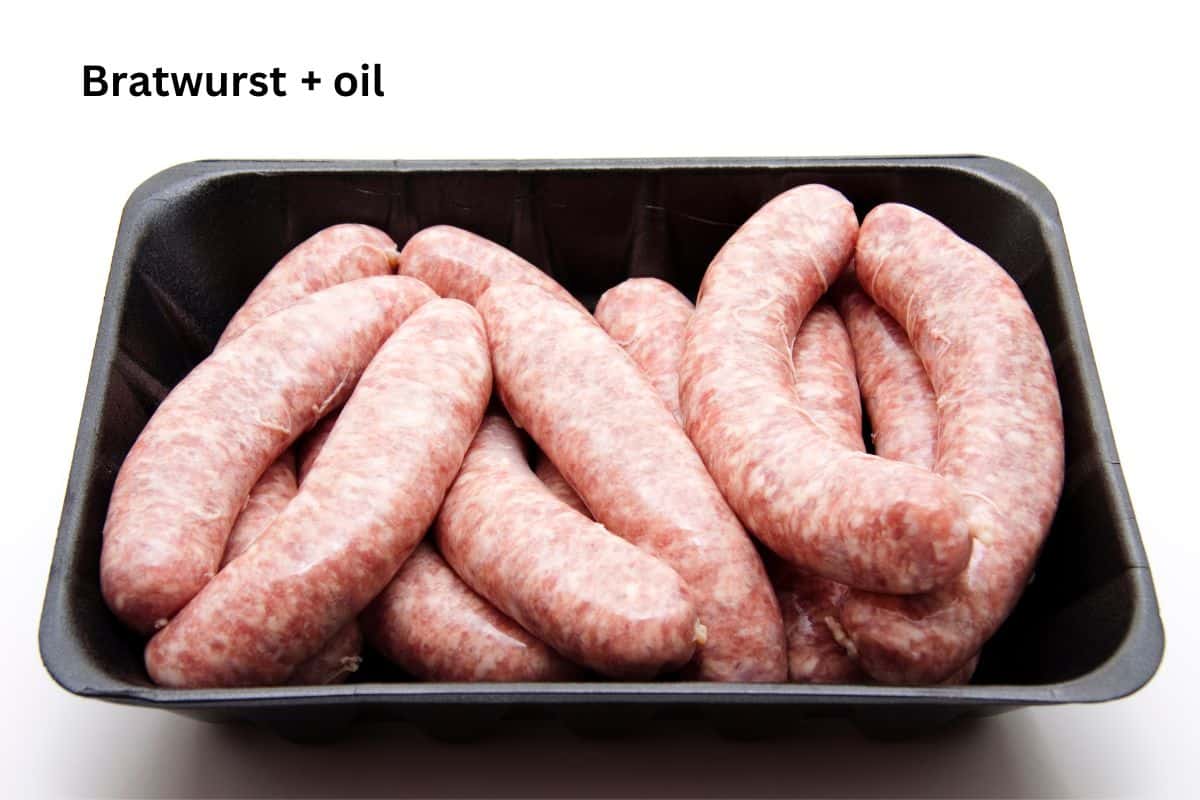 I cook the typical pork bratwurst most of the time.
But you can bake any brat variety in the oven: pork, beef, chicken or turkey sausages, Italian sausages, spicy or sweet sausages, you name it. Probably any kind of uncooked fresh bratwurst you like, your favorite brand.
All you have to consider is the size, especially the thickness of the brats, and adjust the cooking time accordingly.
You will also need one or two teaspoons of olive oil or some cooking spray.
Portion size
I usually cook two pieces for the adults and one for the children.
Or maybe 2-3 more extra if I'm serving this to guests, just to be sure I have enough if somebody manages more than 2.
How to bake brats?
You can make this simple recipe for flavorful sausages in just a few simple steps; it is a simple process involving minimal effort, a great alternative to grilling or frying.
Place the raw bratwurst on a large baking sheet lined with foil or parchment paper (1). If you only cook a few, you can use a smaller casserole dish or another baking dish as well. Just make sure the tray/dish has a rim so that the sausages can't roll off them.
Spray them with cooking spray all over or pour a little oil in your hand and rub the raw brats well.
Bake them in the preheated oven for 35 minutes (2), turn with tongs (3), and continue baking for another 15 minutes; they should be golden brown by now. (4).
Check the internal temperature; if they are not done, check again after 5 minutes.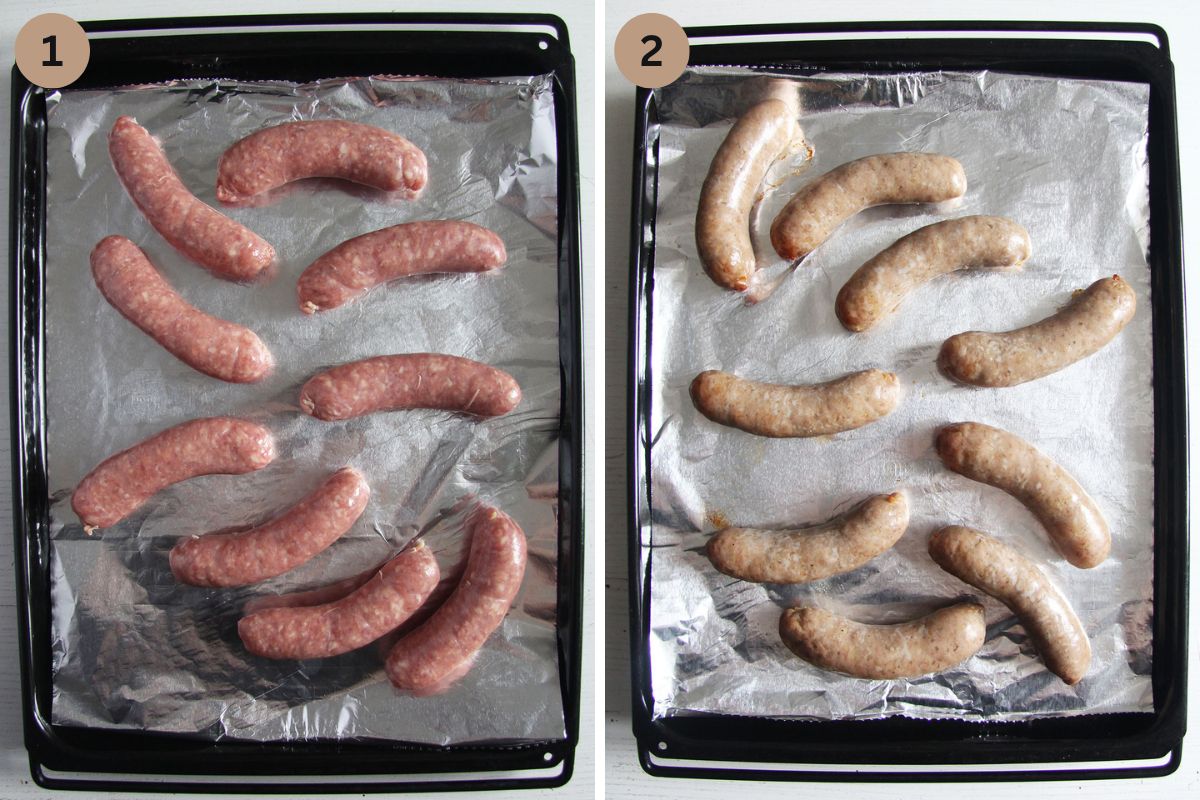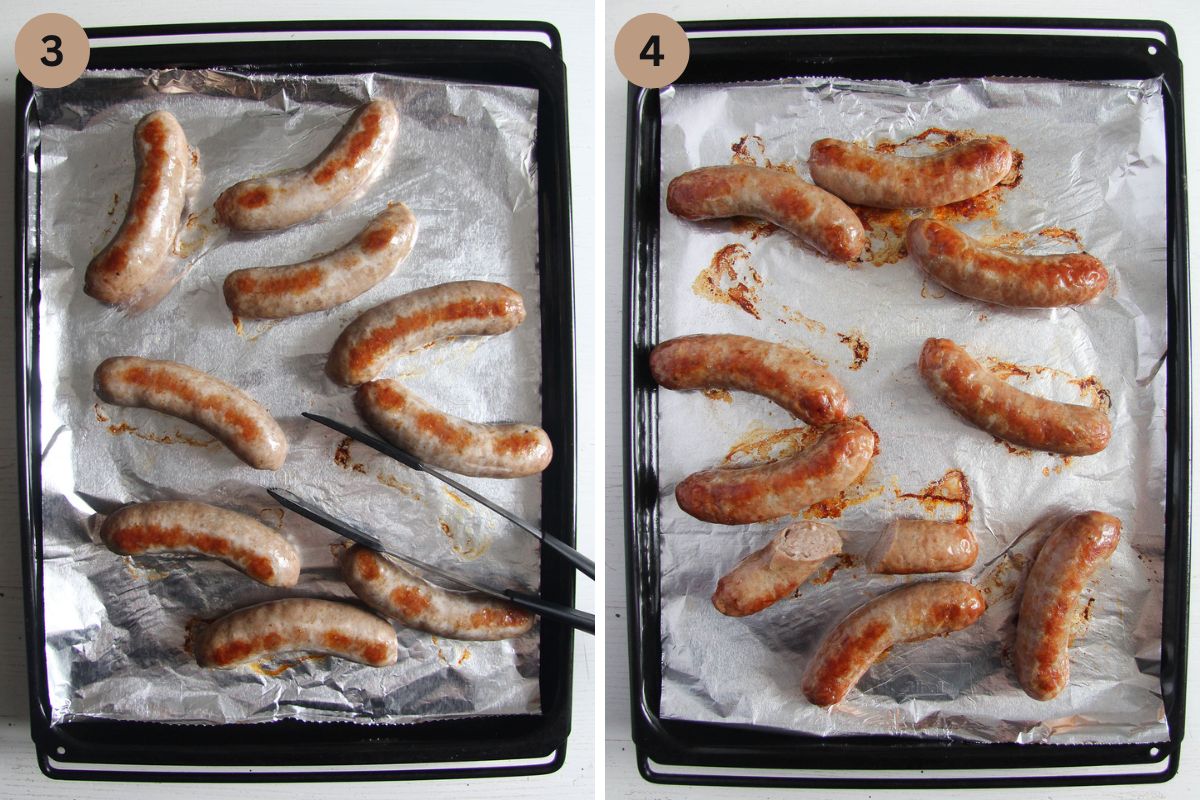 How long to cook brats in the oven?
It depends on their size. Thicker, larger ones will need longer, while thinner ones a shorter baking time.
A typical bratwurst weighs more or less 3.5 oz/ 100 g, depending on where I buy it. The cooking time for this size is between 35 and 40 minutes. I check after 30-35 minutes and give them 5 extra minutes if needed.
The safest way of checking if the brats are cooked through is to use a meat thermometer.
The inner temperature for pork bratwurst should be 150°F/ 65°C and for poultry sausages should be 160°F/ 70°C.
Use an instant-read thermometer to check (the Amazon affiliate link opens in a new tab).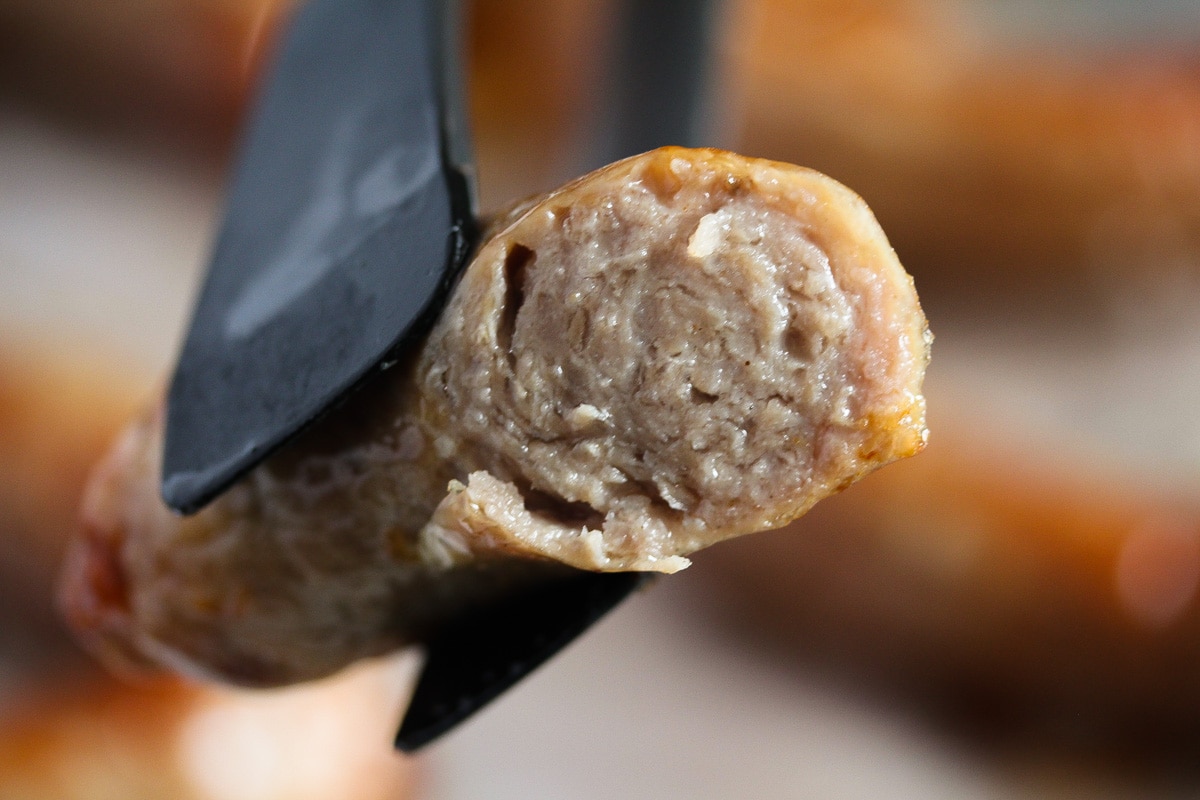 Expert Tips
Make beer brats in the oven:
Make beer brats in the oven
Yes. Marinate them in beer for about 30 minutes to 1 hour, and then bake them as instructed.
Or you can slice some onions, place them in the baking dish or a cast iron skillet, and add the raw brats. Cover with foil and bake for 30 minutes in the preheated oven at 400°F/ 200°C. Flip and cook uncovered for another 20 to 30 minutes until they are cooked through. Check the internal temperature.
For a nicer color, you can broil them during the last minutes of the cooking time, but keep an eye on them so that they don't burn.
Italian sausages can be cooked the same way. Raw kielbasa is another great option. Always check the internal temperature, especially if the products differ in size.
Recipe FAQ
How to store and reheat?
Refrigerate the cooled leftover brats in an airtight container for about 3 days. 
Reheat in the oven or microwave.
Freeze the leftovers. Let the sausages come to room temperature and freeze in freezer containers for up to 3 months. 
Defrost in the fridge or reheat from frozen. Make sure that they are heated through before serving.
What to do with leftover bratwurst?
Chop the baked brats and add them to soups, to pasta salads, make pasta dishes with tomato sauce and sausage pieces, add to rice dishes, make a pizza topping, and so on.

What to serve with brats?
A popular way of serving them is with sauerkraut, mashed potatoes, or German Potato Salad and mustard. And your favorite beer, preferably pils or lager.
There is a large variety of dishes that are perfect for oven brats, so choose your favorite sides. How about roasted potatoes, fries, a hoagie roll, or bread rolls?
Or try a German pasta salad, cucumber salad, cabbage salad, potato salad, bbq rice, spicy Jollof rice, or vegetable rice on the side.
As mentioned above, you can make a delicious meal by roasting some vegetables together with the juicy brats.  
Another easy dinner idea is to stuff these delicious brats in hot dog buns and add your favorite toppings like coleslaw, lots of mustard or ketchup, caramelized or roasted onions, and so on.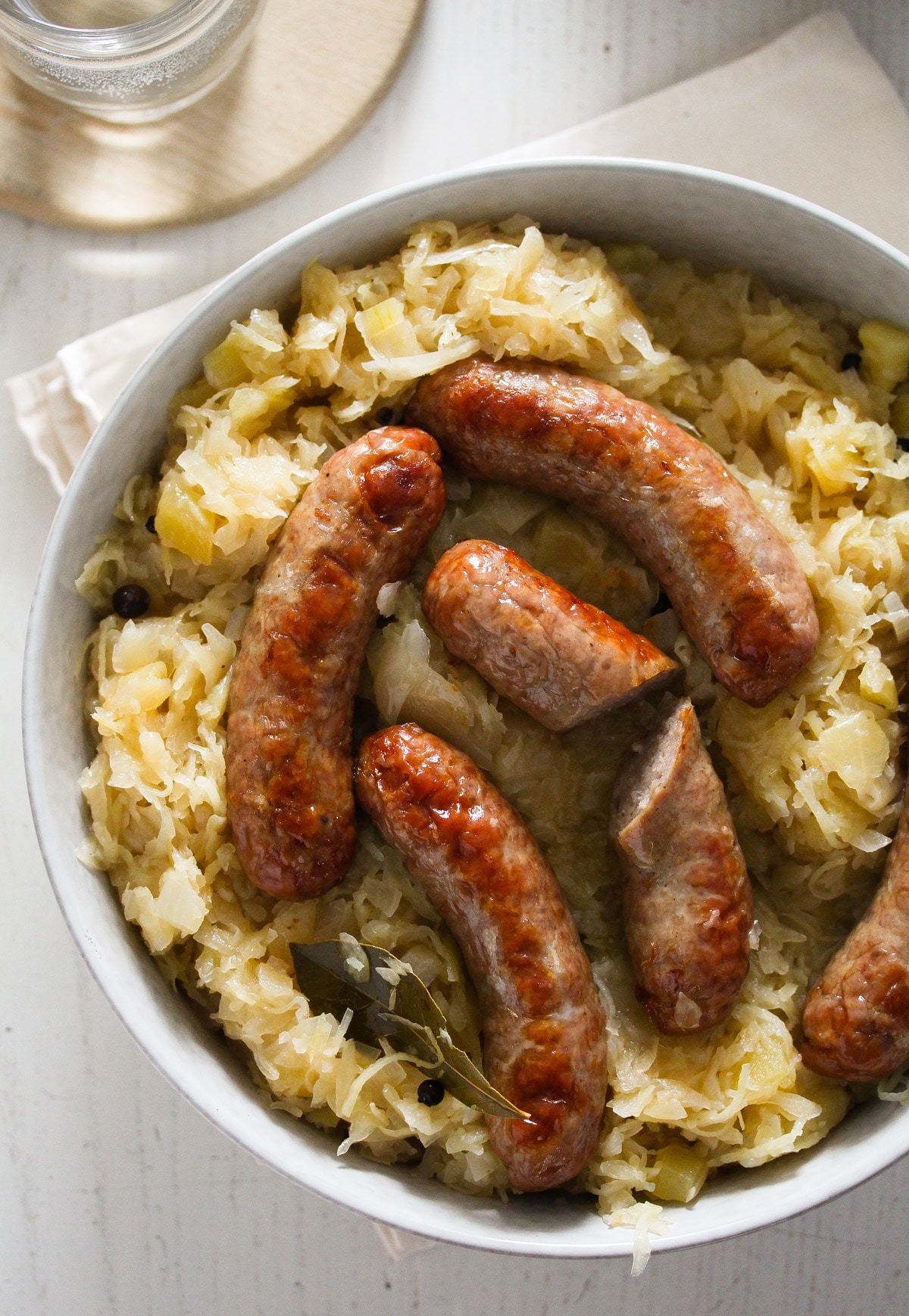 More sausage or bratwurst recipes
Check out the web story for this recipe: Sausages in the Oven
How to Cook Brats in the Oven
Learn how to cook bratwurst in the oven. Making brats in the oven is easy, quick, and less messy.
Print
Pin
Share
Grow
Saved!
Rate
Ingredients
10

bratwurst

Note

1-2

teaspoons

vegetable oil
Instructions
Preheat the oven to 400°F/ 200°C. Line a sheet pan with foil or parchment paper.

Rub: Place the sausages on the tray. Pour the oil into the palm of your hand and rub them with the oil. 10 brats + 1-2 teaspoon vegetable oil

Bake brats: Bake for about 15 minutes. Turn with tongs. Bake for another 15 minutes.

Check if they are done by cutting one in the middle; it should not be pink anymore. Alternatively, check with a meat thermometer. The inner temperature for pork sausages should be 150°F/ 65°C and for poultry sausages should be 160°F/ 70°C.

If they are not done yet, give them 5 more minutes and check again. The baking time greatly depends on the size of the sausages; smaller sausages might be done after 15 – 20 minutes already (Note 2).

Serve immediately as suggested above.
Notes
Type of sausage: Brats, Italian sausages, beef, chicken, or turkey sausages; the recipe works for any kind of sausage. One regular bratwurst weighs between 3-3.5 oz/ 80-100 g.
The cooking time depends on the size of the sausages.
Nutrition
Serving:
2
sausages
|
Calories:
436
kcal
|
Carbohydrates:
1
g
|
Protein:
16
g
|
Fat:
40
g
|
Saturated Fat:
13
g
|
Polyunsaturated Fat:
22
g
|
Cholesterol:
83
mg
|
Sodium:
1125
mg
|
Sugar:
1
g