How to make mustard? A simple recipe for flavorful and hot homemade mustard with oranges.
HOW TO MAKE MUSTARD?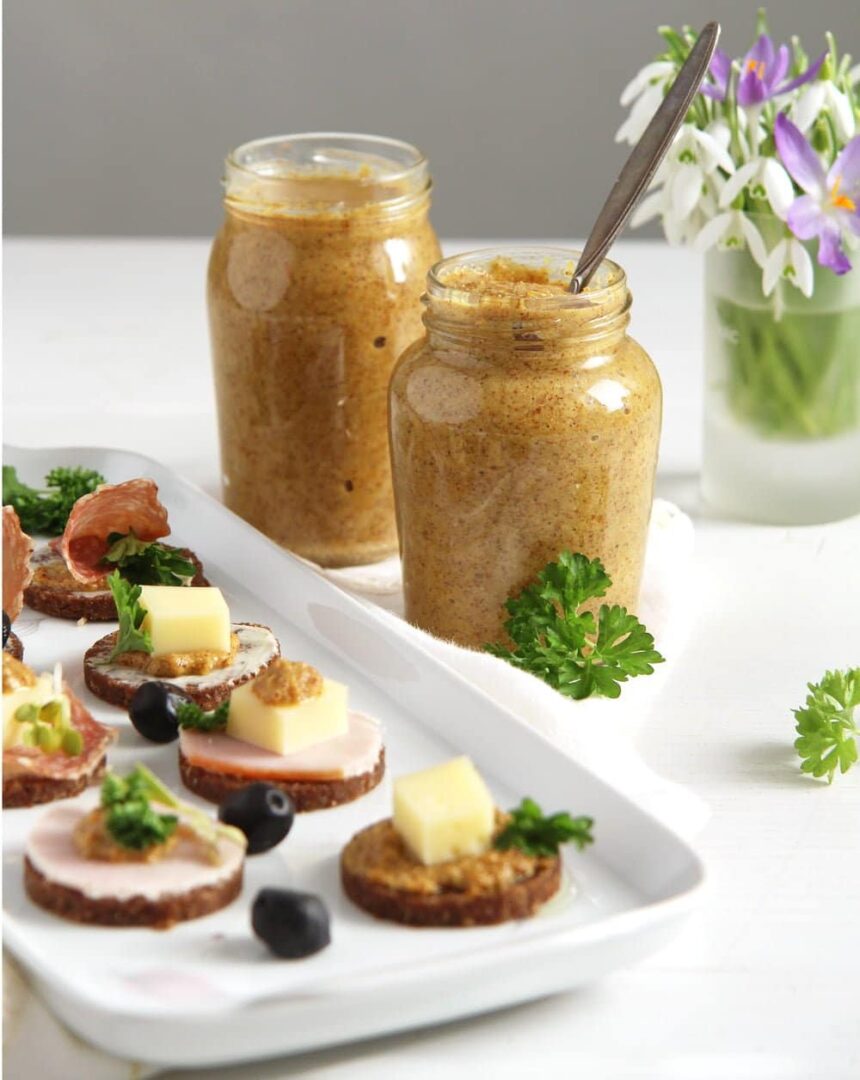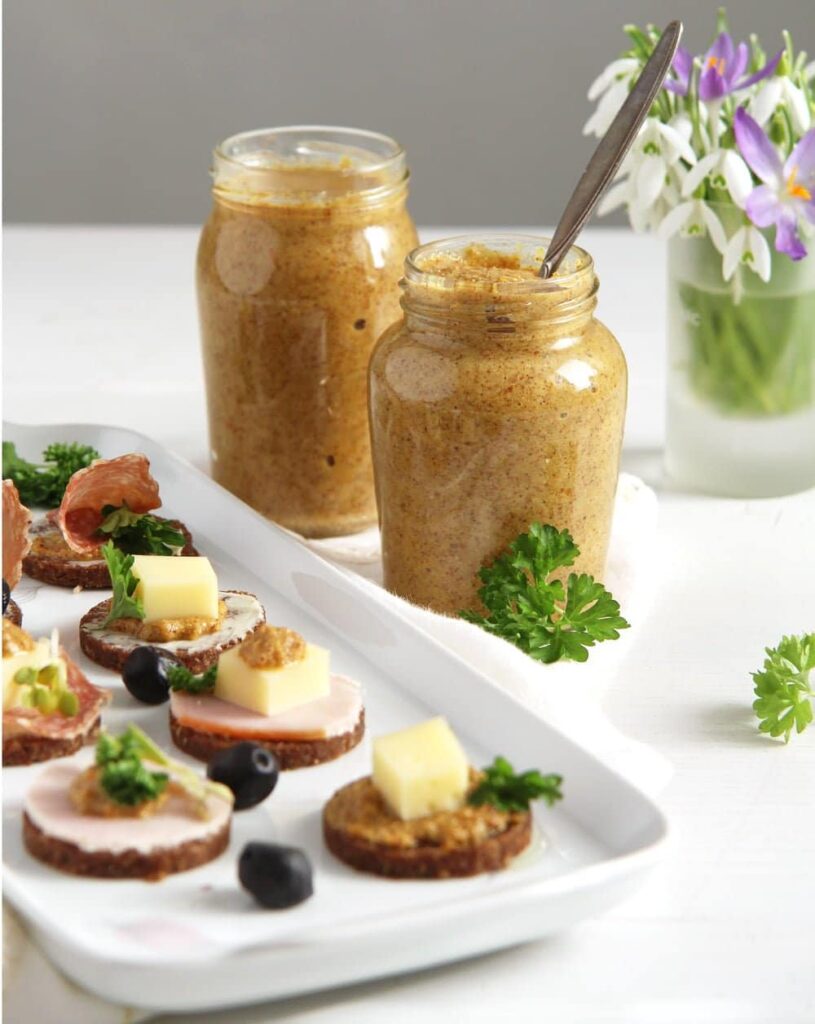 Have you ever consider making homemade mustard? You should! It is delicious and it makes a wonderful homemade present. If you can bear with parting with any of the jars... This orange mustard is pretty addictive!
Making your own mustard must sound like a crazy idea to many, I mean, there are so many kinds of mustard out there, they are good, mostly free of weird stuff, so why bother?
Well, I do like to bother for things like this, experimenting, just wanting to know how things are made and if I can make them better than the standard. And I think I managed in the case of this mustard.
I love the plain mustard that you can buy in the store and always have 3 jars in the fridge: Dijon, medium German mustard and sweet, grainy mustard.
But I was never lucky in finding a flavored mustard that I really liked, they are often too sweet, the particular aroma is too strong and too chemical (and I remember here a particularly bah fig mustard) and even if I like it a little bit, I never like it enough to eat it regularly, so I end up throwing away half of the eventually expired mustard.
So, why not try making my own flavored mustard? I searched and found the recipe on Chefkoch.de (German).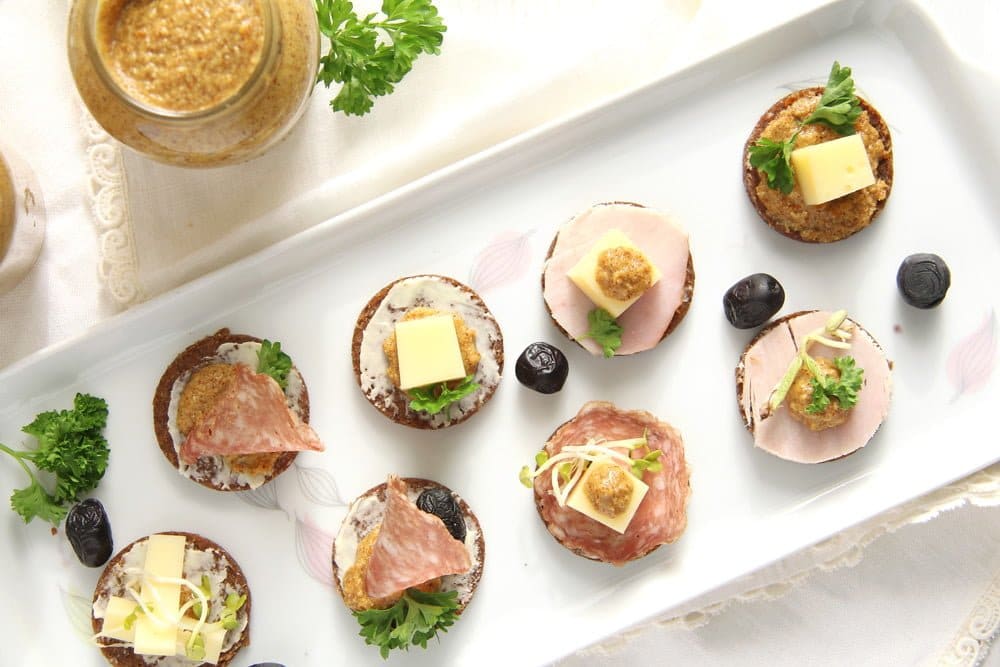 INGREDIENTS FOR ORANGE MUSTARD
Mustard seeds:
They really make this orange mustard hot! And that is probably the best thing about the mustard, except the orange flavor.
The heat is really there, so be aware about that when making this condiment, this is not your plain, medium mustard. It is really hot, but in a way that I find quite different from the heat of a Dijon mustard for instance.
It makes me think more of the heat of wasabi, although there is no horseradish involved here. The heat really kicks from behind.
Coriander:
The coriander seeds add a lot of flavor as well, I would not want to miss them in this homemade mustard recipe.
Oranges:
Make sure to use organic, untreated oranges, you need the peel of the oranges as well and you don't want the chemicals in your mustard.
I used quite a lot of orange peel, so the aroma really comes through, we love that, but you can definitely reduce the amount of peel used if you would like a more delicate orange flavor.
Ginger:
Vinegar:
Apple cider vinegar or white wine vinegar, they are both nice and flavorful.
TIPS FOR MAKING ORANGE MUSTARD
Finely grind the mustard and coriander seeds. I prefer to do that in a food processor, I don't have the patience to grind so much in a mortar and pestle. But if that is all you have, it will work fine as well, you just need a little more time and strength.
A coffee grinder can be used as well.
Wash the oranges very well. Use hot water and dry them properly afterward.
Zest the oranges and rub the zest with the sugar, to infuse the sugar with the flavor.
Juice the oranges and reduce the juice by half. Cook it in a pan until reduced, it took me about 20 minutes, but that depends on the heat and the size of the pot.
Once the orange juice has cooled slightly (about 10-15 minutes), mix all the ingredients together.
After making the mustard, transfer it to a bowl and leave it uncovered, in the kitchen, overnight. This will affect the oxidation and fermentation process making the mustard more intensive and hotter.
Transfer to clean, small jars and refrigerate.
HOW LONG DOES THE MUSTARD KEEP?
After the first night on the counter, always keep the homemade mustard refrigerated.
Properly stored, it will keep for at least one month.
However, always check the consistency and smell before serving. If something seems weird, discard it.
Try not to keep it for too long, after a while the mustard might lose some of its kick.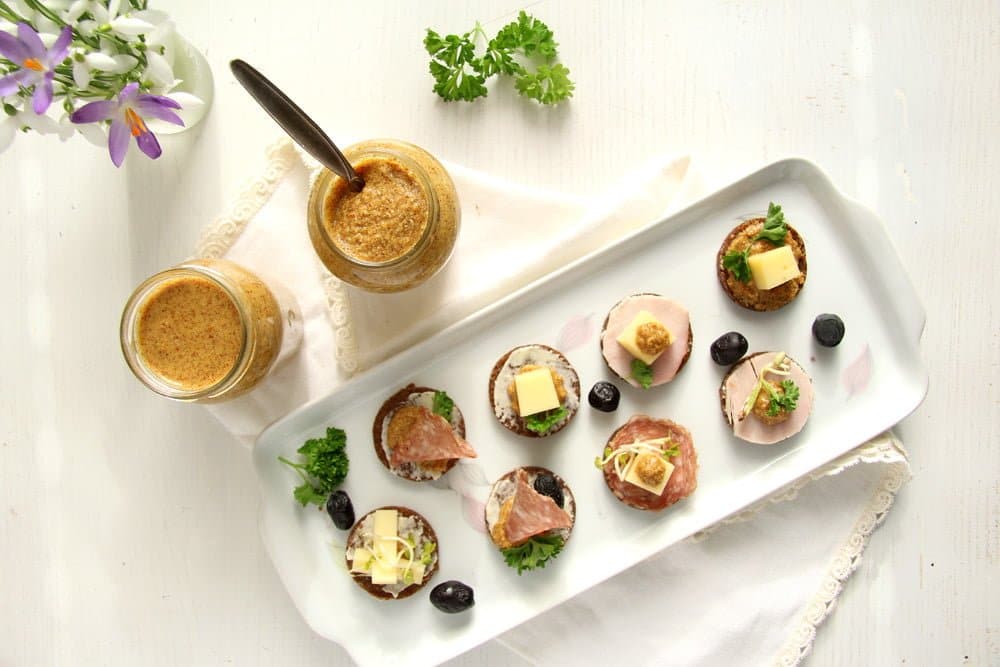 HOW TO SERVE HOMEMADE MUSTARD?
The way you would serve regular mustard.
Have it with sausages, smear it on bread and top with cheese or ham.
Make canapes to serve guests. You can use small rounds of pumpernickel bread like in the pictures, they are a perfect fit for the homemade orange mustard.
Use it for salad dressings.
And I can wait to make some eggs in mustard sauce again and use this mustard.
MORE HOMEMADE GIFTS?
STRAWBERRY FUDGE WITH MARSHMALLOW FLUFF - Pretty and sweet strawberry fudge with marshmallow fluff, a super cute homemade gift.
HOMEMADE RAFFAELLO COCONUT BALLS - Sweet and delicious homemade Raffaello coconut balls with condensed milk and almonds.
HOMEMADE CHOCOLATE BUTTER - Chocolate nut butter or homemade Nutella (almost), this is a decadent yet healthy chocolate spread.
HOMEMADE CHEESE CRACKERS - Very cheesy, shortcrust homemade cheese crackers sprinkled with caraway seeds or salt or even sesame seeds.
PINEAPPLE CANDY - How to make crystallized pineapple or candied pineapple, this recipe makes a nice and inexpensive homemade gift.
PIN IT FOR LATER!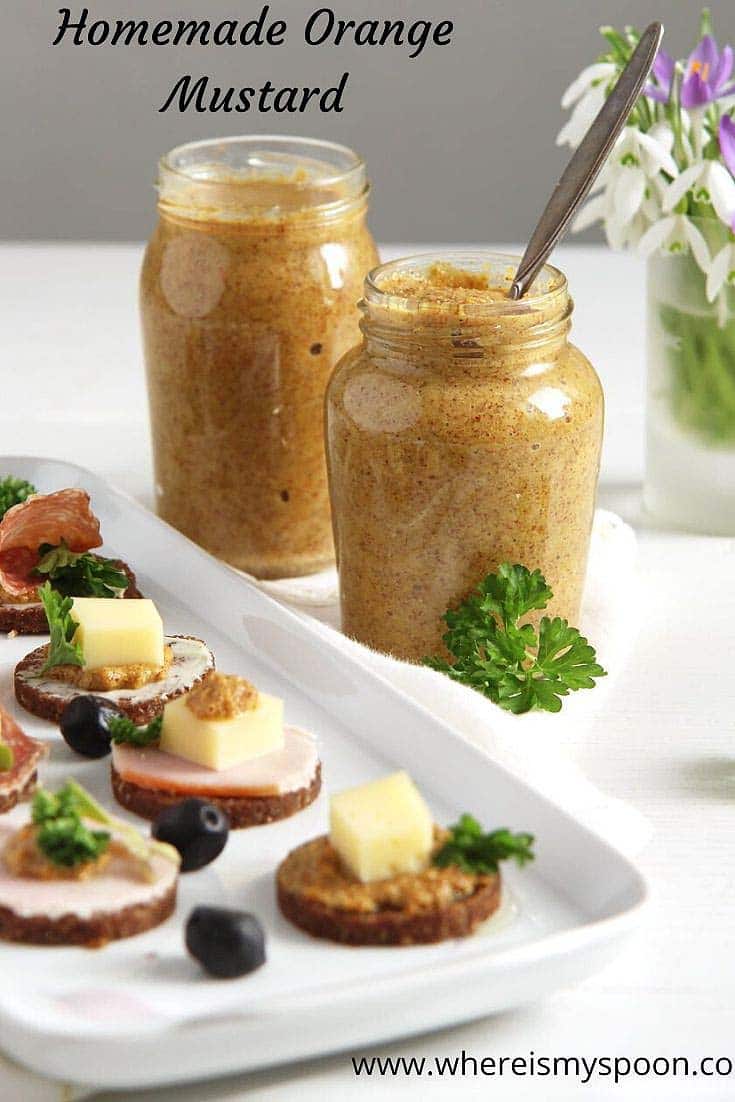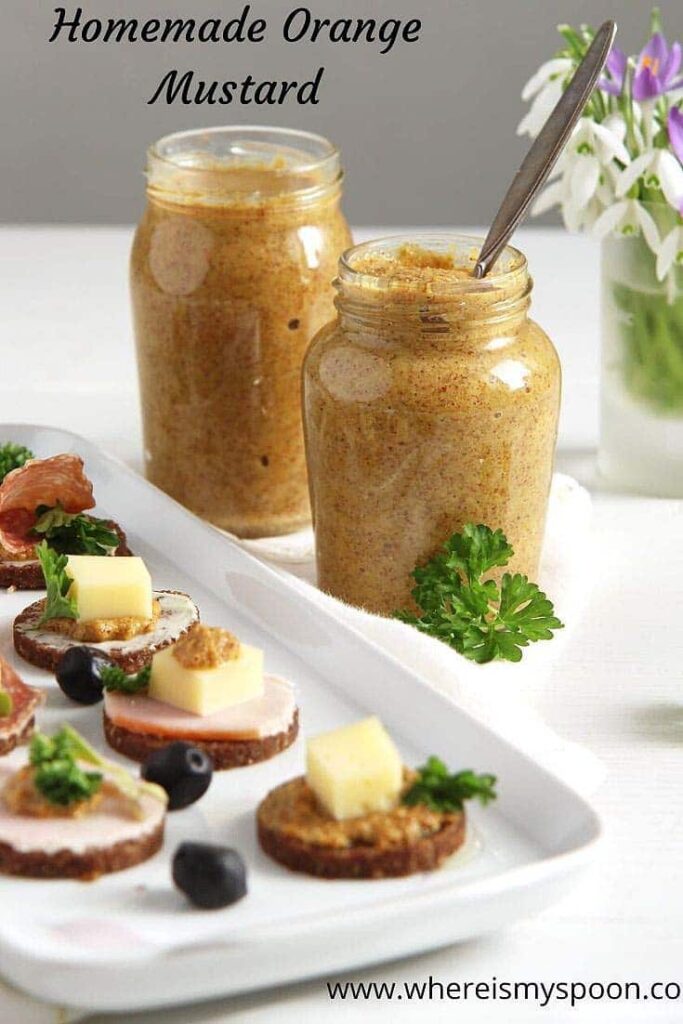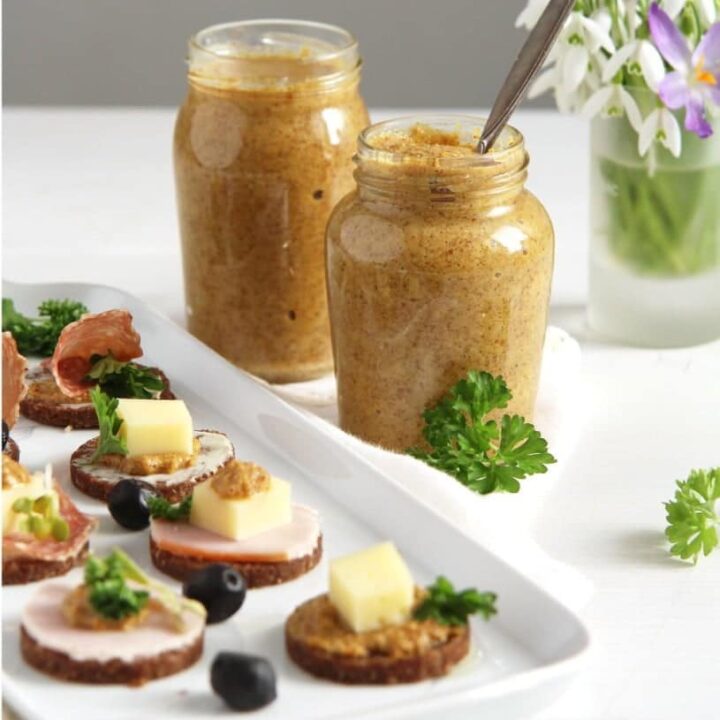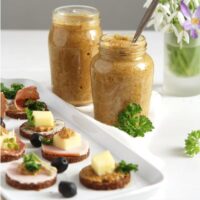 Homemade Orange Mustard
How to make mustard? A simple recipe for flavorful and hot homemade mustard with oranges.
Print
Pin
Share
Grow
Saved!
Rate
Instructions
Grind spices: Place the mustard and coriander seeds in a food processor and grind them finely. Alternatively, you can do this in a coffee grinder or using a mortar and pestle.

Orange zest: Wash the oranges with hot water, dry them well and grate the zest. Place it in a small bowl, add the sugar and rub everything together with the fingers until well mixed.

Orange juice: Halve and juice the oranges. Pour the juice in a small pan, bring to a boil and let cook until reduced to 100 ml/ slightly less than ½ cup. It took me about 20 minutes to achieve that, but it depends very much on the size of the pan, so keep checking.

Let the juice cool slightly, sieve over the ground mustard.

Combine: Add the orange zest-sugar mixture, grated ginger, salt, and vinegar, and mix everything very well together.

Store: Transfer the mixture to a clean bowl and leave uncovered, in the kitchen, overnight. Transfer to clean, small jars and refrigerate.
Nutrition
Serving:
1
small jar
|
Calories:
539
kcal
|
Carbohydrates:
65
g
|
Protein:
19
g
|
Fat:
25
g
|
Saturated Fat:
1
g
|
Polyunsaturated Fat:
23
g
|
Sodium:
2834
mg
|
Fiber:
13
g
|
Sugar:
42
g