Turmeric chicken legs with a garlic honey glaze, a simple chicken leg recipe with only 5 ingredients.
The turmeric chicken with honey garlic glaze is the second recipe in this Turmeric Series. This is a repost from 2016.
Like I've told you in my last post – Turmeric Paste for Golden Milk, turmeric is such an amazing spice, "the spice of life" like the people of India call it, something I am striving to include in our diet as much as I can.
I've discovered the recipe for the honey turmeric chicken only about 3 months ago, but I think I must have made it 6 times ever since. My children, especially my daughter, love chicken legs.
Sometimes at the beginning of the year I told my kids that each of them can wish me to cook something that they especially like every other week, one week Bruno and the next week Perla. Bruno is being quite creative when wishing me to cook something he likes, but Perla's first choice is always chicken.
When I say, please, we had that last week, then she would consider something else, most of the times pizza or chicken dumpling soup or zucchini pancakes, but otherwise is chicken.
So I cook lots and lots of chicken legs, mostly baked, that is the way they both like them best, but I try to be creative with the seasoning at least, because it would definitely get boring to serve exactly the same thing over and over again.
Ingredients
I have been using this turmeric honey glaze very often lately.
Not only it tastes absolutely delicious and looks totally appealing due to that wonderful bright turmeric yellow, but it is also soooo easy and quick to make. And it is cheap on top of everything.
You will only need 5 ingredients: chicken legs (thighs and/or drumsticks) + turmeric powder + honey + garlic + soy sauce. Not counting the salt and the one teaspoon oil for greasing the baking tray.
Chicken:
I use whole legs, which I divide at the joint. You can do that as well, or you can use thighs and/or drumsticks instead.
How to divide chicken legs at the joint?
Hold the thigh with one hand and the leg with the other hand. Bend the chicken leg until the joint dislocates.
Cut through the dislocated joint with a sharp knife or use kitchen shears. Remove the excess fat and skin.
How to make?
Honey glaze:
Grate the garlic. Mix with honey, soy sauce, turmeric and salt.
Roast:
Place the thighs and legs on a baking tray lined with foil or baking paper, which have been slightly greased with oil.
Bake for 30 to 40 minutes or until cooked through. Make sure to check that the meat is perfectly cooked through, pink chicken is not safe to eat.
How to check if the chicken is done?
There are several ways of checking.
Check the internal temperature:
This is the best way. Use a meat thermometer, insert it in the thickest part of the thigh. The safe internal temperature for chicken is of 74 degrees Celsius/ 165 degrees Fahrenheit.
Insert a skewer in the thickest part of the chicken thigh, the juices should run clear.
Make a small cut on the underside of the piece of meat, near the bone. The meat around the bone should be white and not pink or bloody.
What to serve with it?
I usually serve the honey turmeric chicken with baked potato wedges and green salad with yogurt dressing.
Other serving suggestions:
Nigerian Jollof Rice + green salad
Plain rice + Zucchini with Pesto
Pan Fried Sweet Potatoes + green salad
Garlic Smashed Potatoes + French Style Green Beans
PIT IT FOR LATER!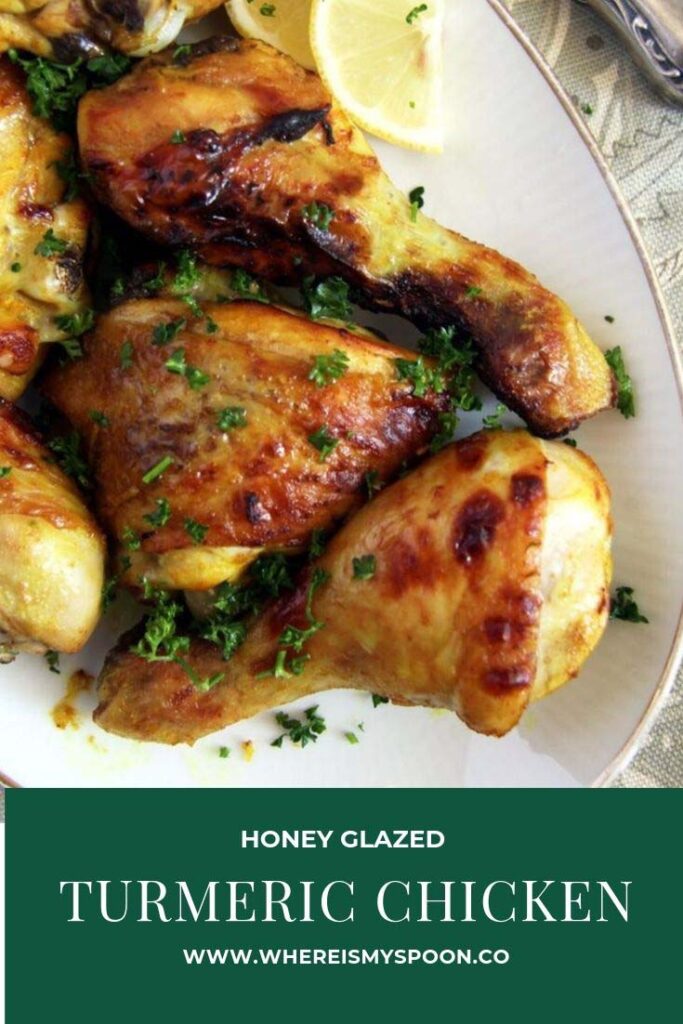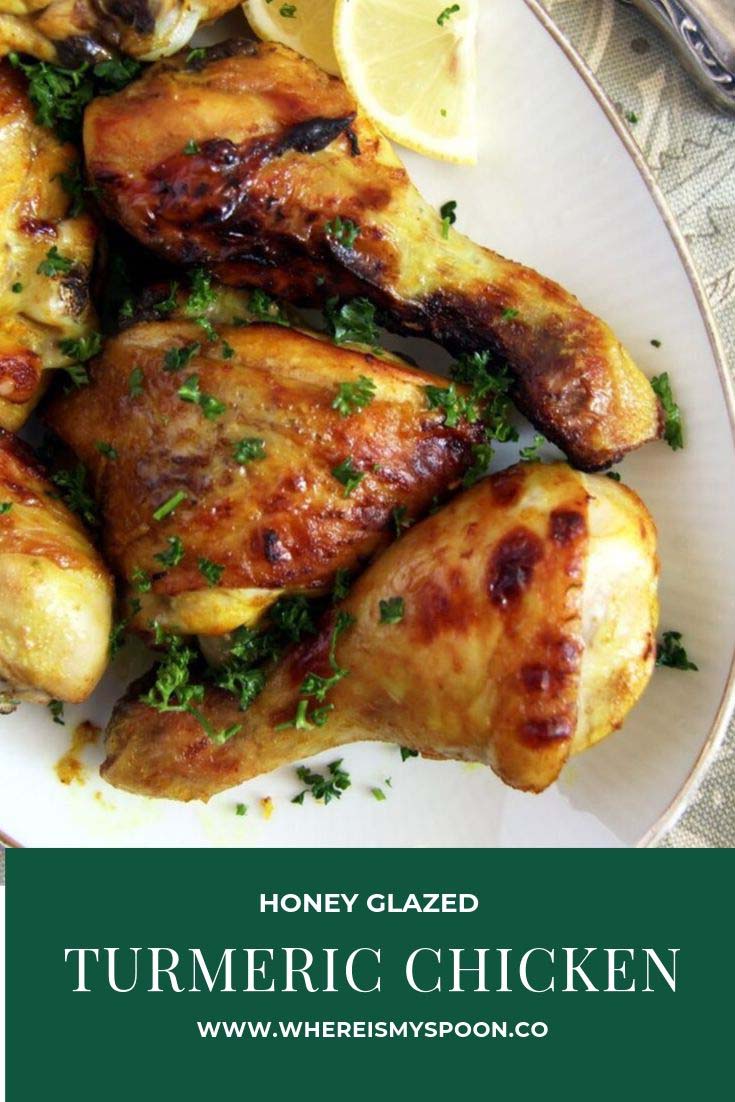 Turmeric Chicken with Honey Glaze
Turmeric chicken legs with a garlic honey glaze, a simple chicken leg recipe with only 5 ingredients.
Ingredients
6 whole chicken thighs (See note)
4 garlic cloves
1 teaspoon salt or to taste
1 teaspoon oil
Instructions
Preheat the oven to 200 degrees Celsius/ 390 degrees Fahrenheit.
Divide the chicken legs at the joint, so that you have 6 thighs and 6 drumsticks. Place them in a shallow and large dish.
In a small bowl combine the rest of the ingredients. Pour the mixture over the chicken and rub the chicken well.
Line a large baking tray with foil or baking parchment. Lightly brush the foil with a little oil. Place the chicken parts on it and bake for 30-40 minutes or until the chicken is cooked through.
To check the doneness, insert a toothpick in the thickest part of the thigh, the juices that run out should be completely clear, absolutely no pink.
Make sure to check after 30 minutes baking time. If the juices are still pink, prolong the baking time and check after every 5 minutes or so.
Notes
You can divide whole chicken legs at the joint, or use 4 chicken thighs and 4 chicken drumsticks.
Nutrition Information:
Yield:

4
Serving Size:

1 1/2 chicken parts
Amount Per Serving:
Calories:

739
Total Fat:

40g
Saturated Fat:

12g
Trans Fat:

0g
Unsaturated Fat:

27g
Cholesterol:

423mg
Sodium:

1441mg
Carbohydrates:

15g
Fiber:

0g
Sugar:

13g
Protein:

80g
Nutrition information isn't always accurate.
MORE ROASTED CHICKEN?