How to make turmeric paste to stir in your Golden Milk.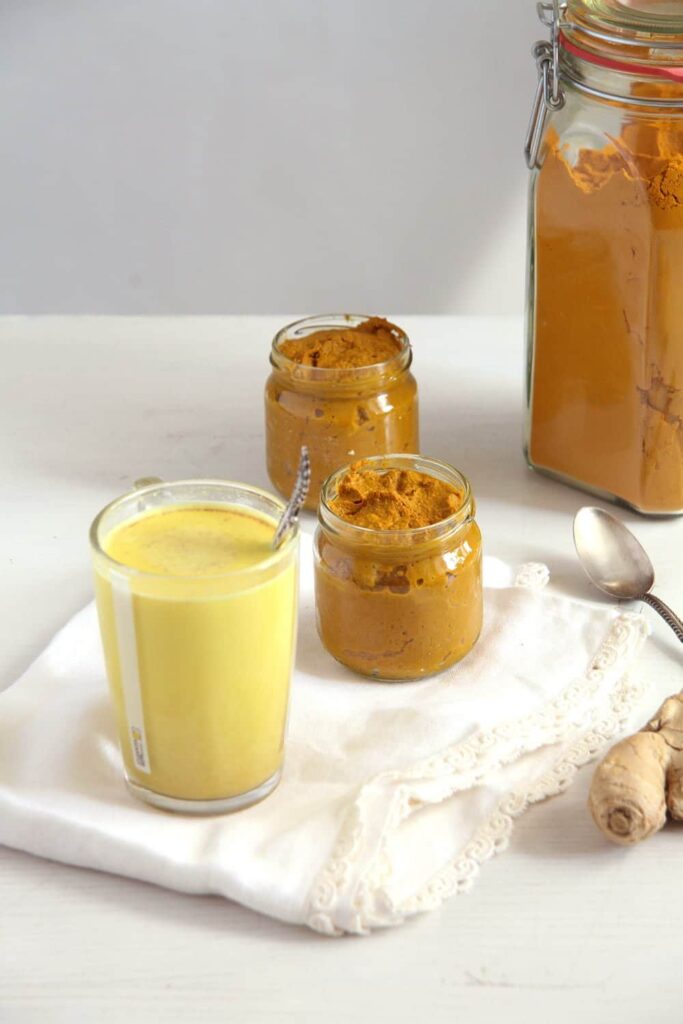 Known as the "spice of life" in India, turmeric seems to be considered at the moment as one of the most powerful herbs in the world. Its health benefits have been analyzed in thousands of studies apparently and most everyone seems to agree that including turmeric to your diet can prevent or improve the symptoms of various diseases like cancer, type 2 diabetes, inflammatory diseases, metabolic diseases, neurological diseases and so on.
For example, laboratory studies have shown that curcumin, which is the most studied component of turmeric, "is able to kill cancer cells and prevent more from growing. It has the best effects on breast cancer, bowel cancer, stomach cancer and skin cancer cells".
Another study regarding one of the diseases most affecting our modern society shows that "curcumin is 400 times more potent than Metformin, a diabetic drug, in improving insulin sensitivity which can help reverse Type 2 Diabetes". This is of particularly interest for me, as I have been recently diagnosed with PCO (Polycistic Ovary System), which among other things, increases the insulin sensitivity and the risk of getting type 2 diabetes. To help against it I have been taking Metformin for several months now, but knowing that I could improve the symptoms of PCO with the help of something so natural as turmeric is amazing.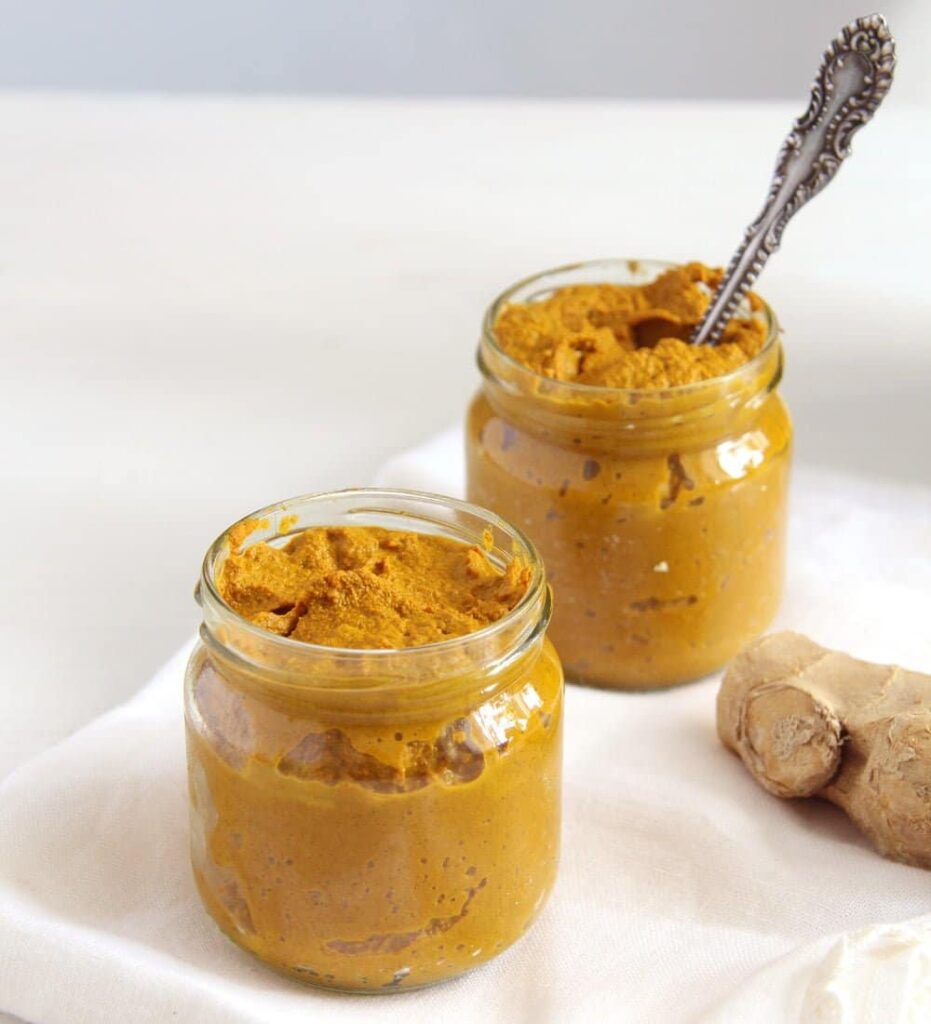 And if you want to read more about the health benefits and uses of turmeric paste, make sure to read this article:
More on the benefits of curcumin can only be found on these sites:  Dr. Axe – Food is Medicine, Mercola.com, The World's Healthiest Foods
So including turmeric in your diet can only be of advantage for your health. The most common way of using turmeric is, of course, in curries, even when using an already made curry paste or curry powder, I like adding an extra teaspoon of turmeric. It's not only healthy, it looks pretty as well… :). I like to use this Organic Turmeric Powder
Recently I came to discover Golden Milk. I made it fresh a few times and enjoyed it, together with my husband, from time to time, in the evening or on a weekend morning. Then I found an article stating that it is possible to make a turmeric paste, which will allow you to enjoy the Golden Milk regularly without having to start fresh every time. I tried 3 or 4 versions of it and found the following to be the tastiest. It combines lots of turmeric with black pepper (which is said to increase the health benefits of turmeric), cinnamon, nutmeg, fresh ginger and coconut oil. The amount will make two small jars, which are enough for a few weeks of regularly drinking Golden milk.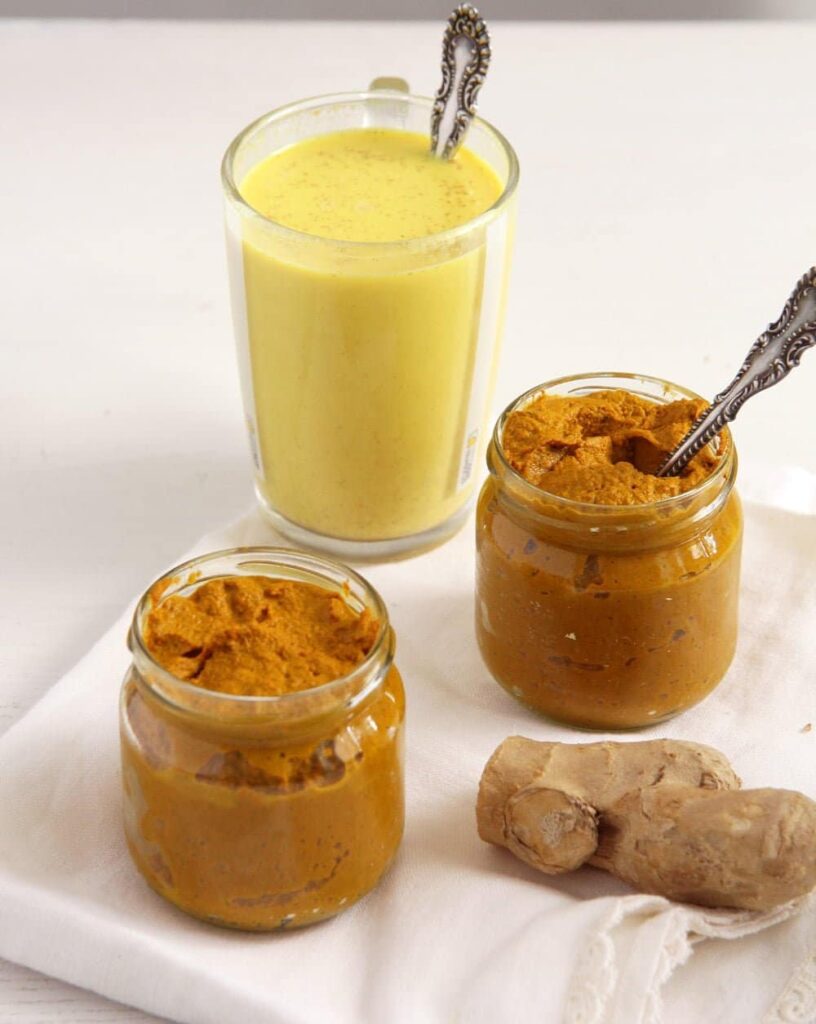 You can use any milk you like as a base for the golden milk. Coconut milk is considered to be the best choice due to its content of lauric acid, studies showing that lauric acid might promote weight loss and improve insulin sensitivity and glucose tolerance as well. But I have also used normal milk, almond milk and soya milk. The choice is yours. I am normally not sweetening any of my drinks, but in this case, I like adding ½ to 1 teaspoon honey to the milk, I find it takes the edge of the turmeric taste a little bit, I do like it, but in such a concentrated amount, I feel it tastes a bit "raw" and the honey really balances the taste perfectly, it is like drinking a nicely spiced chai.
Another way of enjoying this paste is by stirring one cup of warm milk with the paste and then using this liquid to pour over some homemade muesli, letting it cool and adding some chopped fresh fruit. And sometimes, when making a curry or a soup, I like adding some of the turmeric paste as well. I feel it tastes best when added to carrot soup, lentil soup, dhal or chickpeas. I even came across a cake recipe using turmeric paste, I will give it a try soon and let you know.
Turmeric Paste for Golden Milk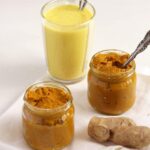 Print This
Ingredients
For the turmeric paste:

1 ½ cups water

½ cup turmeric powder

1 piece of fresh ginger, about the size of ½ of your thumb

1 level tablespoon cinnamon

2 level teaspoons ground black pepper

½ teaspoon nutmeg

3 teaspoons coconut oil

For the Golden Milk (serving 1):

1 cup milk of your choice (coconut, almond, dairy etc)

1 heaped teaspoon turmeric paste

½ – 1 teaspoon honey or other sweetener of your choice
Instructions
Pour the water into a small pan and bring to a boil.
Finely grate the ginger and add it to the pan together with the turmeric powder, cinnamon, black pepper, nutmeg and coconut oil.
Stir continuously on a medium-low heat for about 3-4 minutes. If the paste is too thick, add a small splash of water and continue stirring.
Give the paste to the clean jars, seal and let cool. It will keep in the fridge for a couple of weeks.
To make the Golden Milk, gently heat one cup of milk of your choice. The milk should be lukewarm and not hot. Whisk in 1 heaped teaspoon of the turmeric paste and the honey or another sweetener of your choice. Serve immediately.
Rate this recipe!
Click on a star to rate it!
Average rating / 5. Vote count:
We are sorry that this post was not useful for you!
Let us improve this post!
Thanks for your feedback!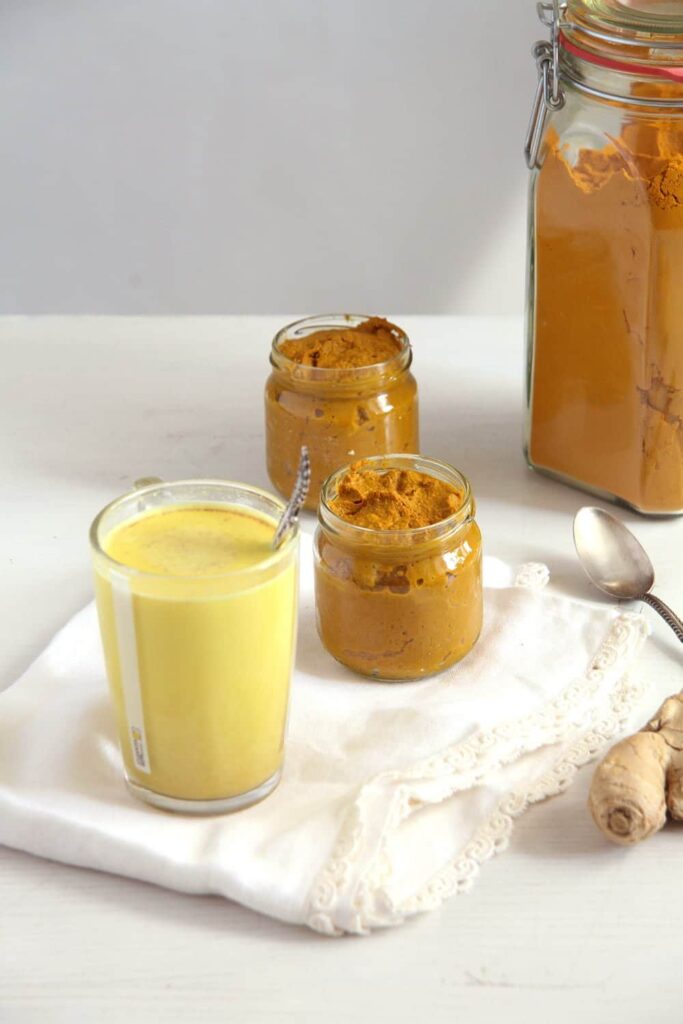 This post contains affiliate links, so if you make a purchase we will receive a commission which helps support our family.
Others you might like:
Muesli with Yogurt, Berries and Turmeric Paste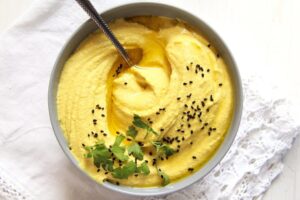 Turmeric Hummus (Hoummus) with Tahini and Garlic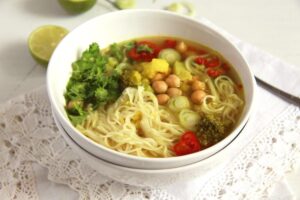 Turmeric Paste Soup with Noodles and Vegetables
Rate this recipe!
Click on a star to rate it!
Average rating / 5. Vote count:
We are sorry that this post was not useful for you!
Let us improve this post!
Thanks for your feedback!