Oven-roasted turkey thigh with potatoes and pumpkin, this dish would make a delicious Thanksgiving or Christmas turkey dinner. An easy-to-make sheet pan meal.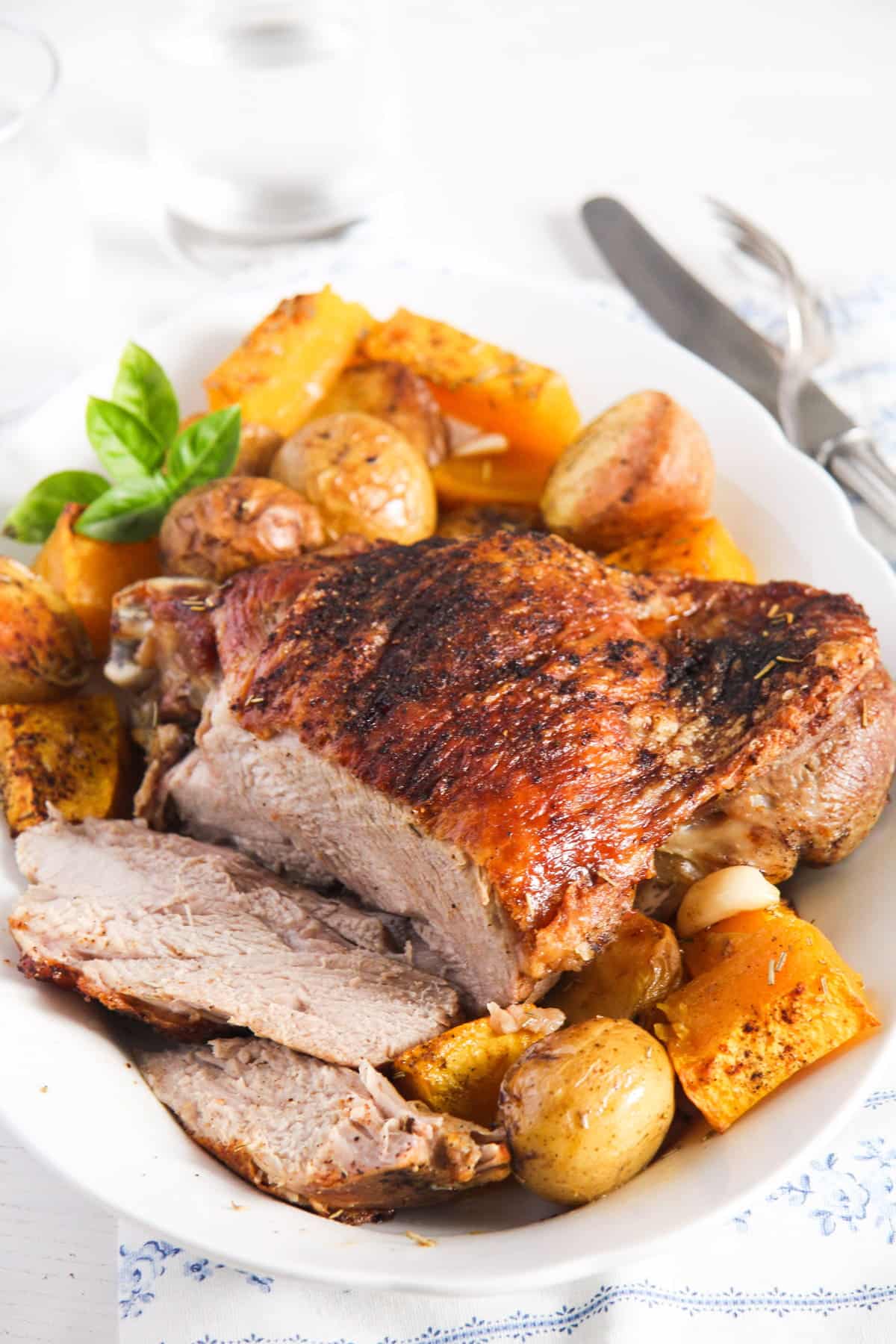 This oven-roasted turkey thigh with potatoes and pumpkin is a super easy roast recipe that involves the minimum effort on your side. Clean and cut some potatoes and pumpkin, put the meat and the veggies in the oven, and wait for them to be cooked.
Make a salad or cook some vegetables, and there you have it: a complete, delicious, healthy, and festive dish to celebrate Thanksgiving or Christmas or to enjoy on an ordinary Sunday when you feel like having something a bit special. The perfect alternative to cooking an entire bird for a holiday meal.
Why do we love this recipe?
Sheet-pan meal: The best about this oven-roasted turkey thigh (except for them being so delicious) is that all you need is one tray. Juicy meat, comforting potatoes, and soft and delightful pumpkin pieces, all on just one tray.
Small gathering: Not everyone wants or needs to cook a whole turkey. The oven-roasted turkey thigh is the perfect Thanksgiving dinner solution for a small family; it serves four people generously. But if you would still like to cook a whole bird, check out Dutch Oven Turkey or Red Wine Turkey.
Easy: Season the meat and cut some veggies. That's it!
More dark meat: White meat is delicious, but there are a lot of dark meat lovers out there; thighs or legs are everyone's favorite turkey parts.
What do you need?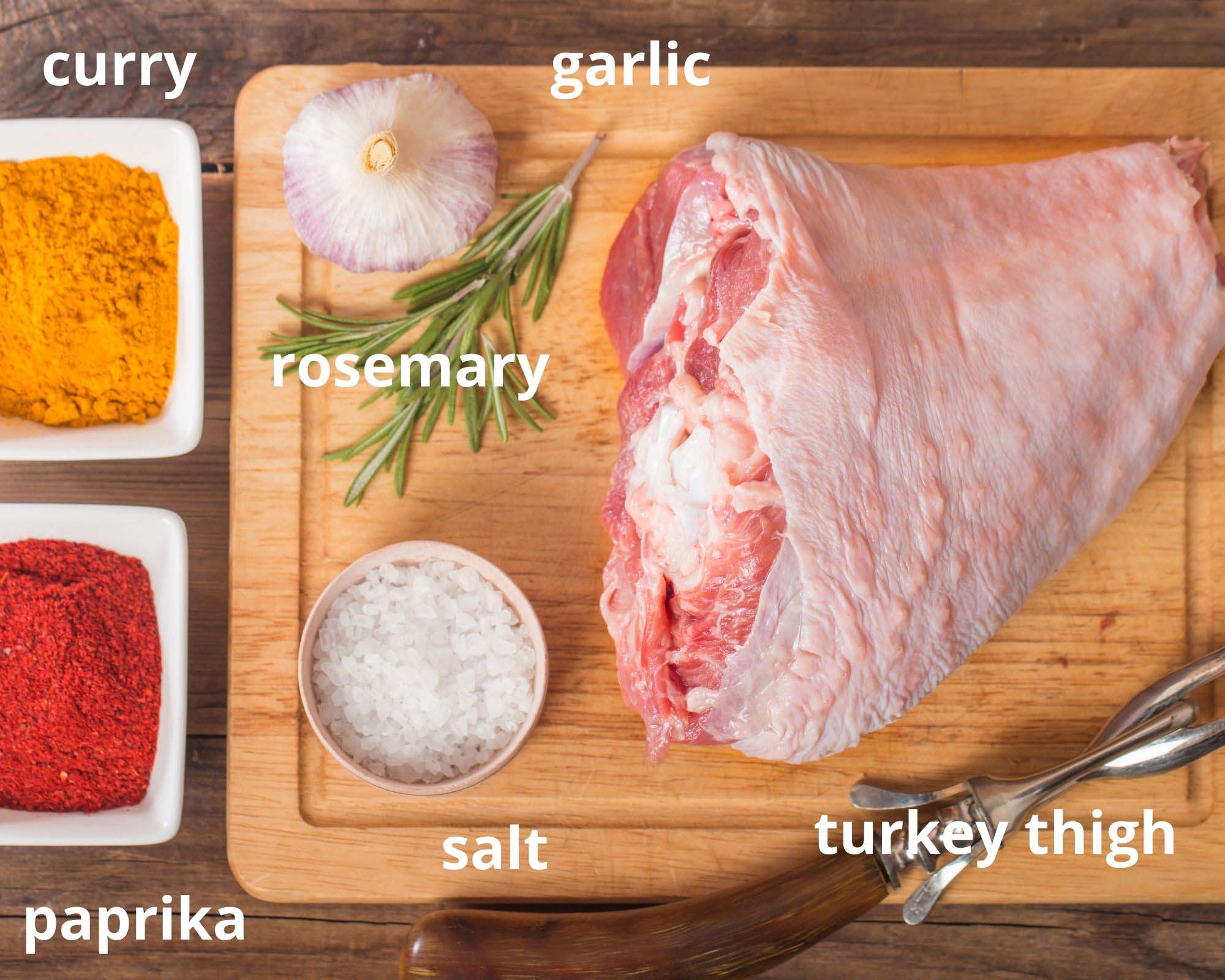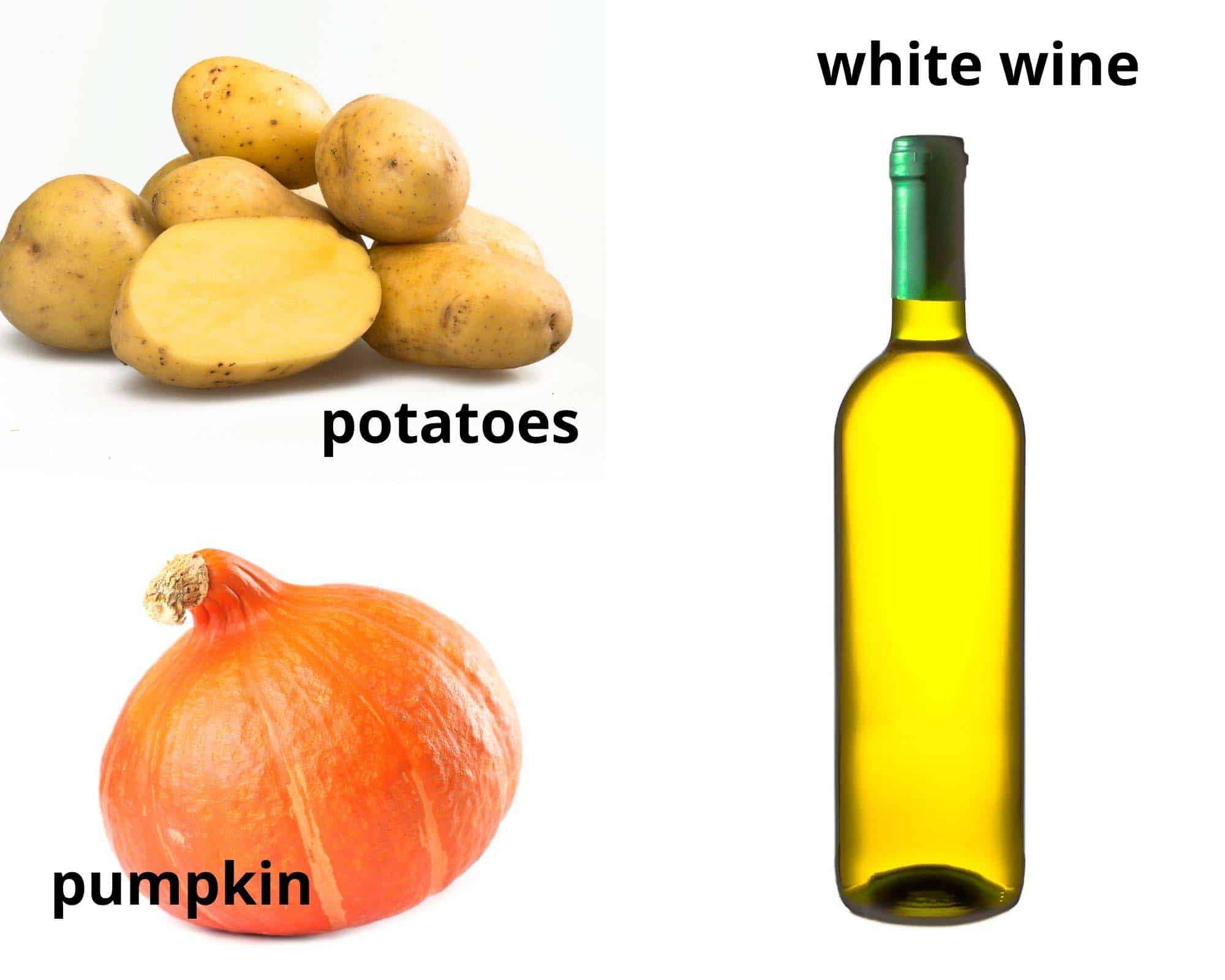 Meat: A large turkey thigh of about 2.5 - 3.3 lbs/ 1.2 - 1.5 kg, bone-in, skin-on.
Vegetables: Pumpkin, potatoes, lots of garlic. I often use small potatoes, but if all you have are regular-sized ones, they are fine as well. Just chop them into several pieces. You can leave the peel on, but I only do it if the potatoes are organic. Either Hokkaido pumpkin, also known as red Kuri squash, or butternut squash.
Other ingredients: garlic, white wine, olive oil, a little bit of dried rosemary, curry powder, sweet paprika, sea salt (or Kosher), and ground black pepper.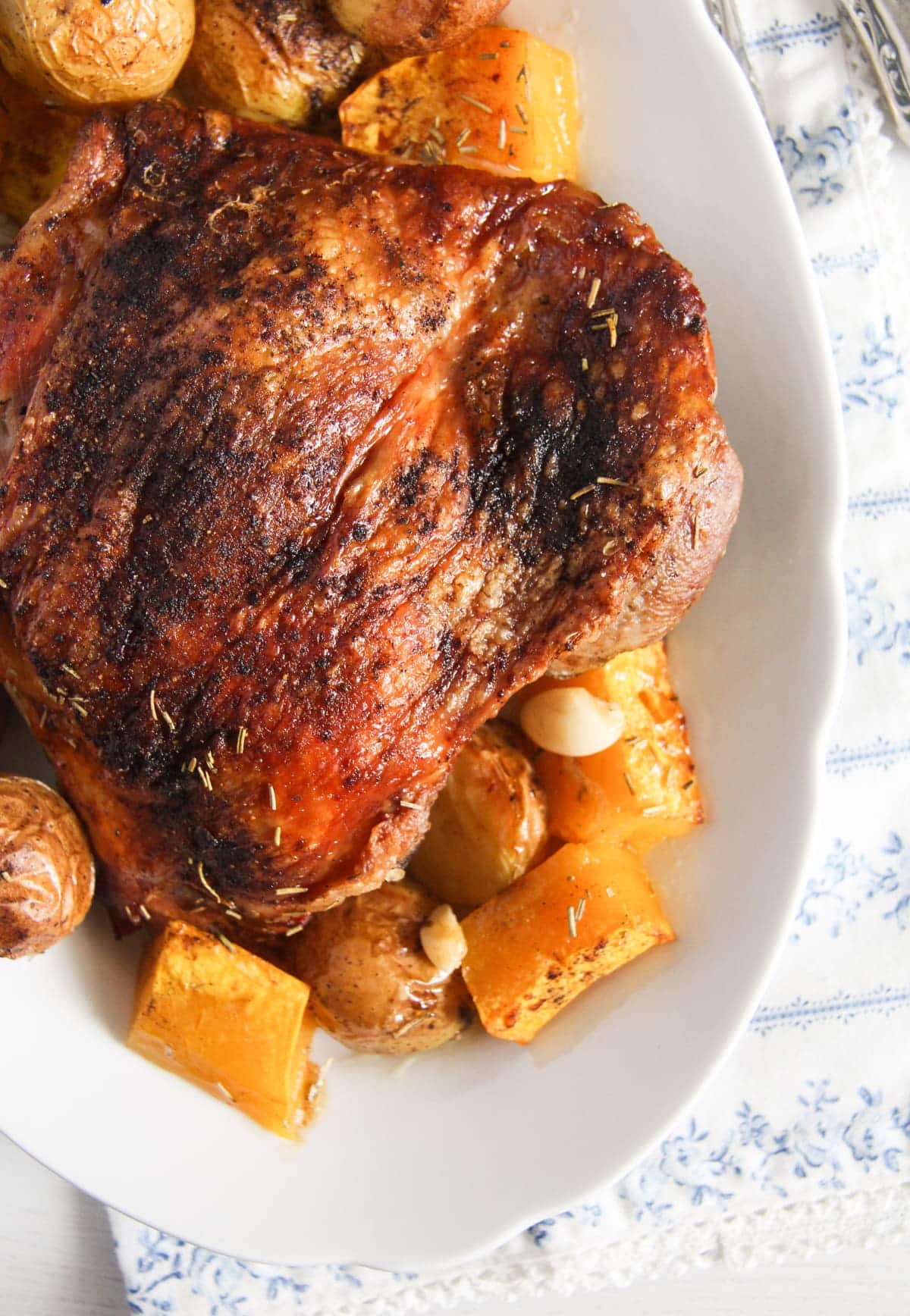 How to make?
Dry brine:
This step is optional but a good idea; the salting process will make the meat moister and impart more flavor. It will also make the skin crispier.
Mix salt, pepper, curry, and sweet paprika in a small bowl. Dry the meat with a paper towel. Rub the thigh all over, massaging the seasoning mixture into the meat and skin.
Refrigerate for at least 6 hours or overnight.
Remove from the fridge about 30 to 1 hour before roasting.
Preheat the oven to 350 degrees Fahrenheit/ 180 degrees Celsius.
Prepare vegetables:
If the potatoes are organic, wash them well but leave the peel on if you like it. Otherwise, it is recommendable to clean them very well and then peel them. Cut them into chunks.
If using Hokkaido, wash and cut into chunks. If using butternut squash, peel it and cut it into pieces.
Peel the garlic but leave the cloves whole.
Place the vegetables in a large bowl, add extra virgin olive oil and spices and rub them well.
Roast:
Grease a rimmed baking sheet lightly with olive oil.
Place the meat skin side up in the middle of the large baking dish.
Arrange the vegetables around it.
Roast in the hot oven for 45 minutes.
Pour the wine around the meat and bake for another 40-45 minutes or until the internal temperature reaches 165 degrees Fahrenheit/ 73 degrees Celsius. Use a meat thermometer (Amazon affiliate link).
Rest the oven-roasted turkey thigh for 10 minutes at room temperature before slicing while keeping the vegetables warm.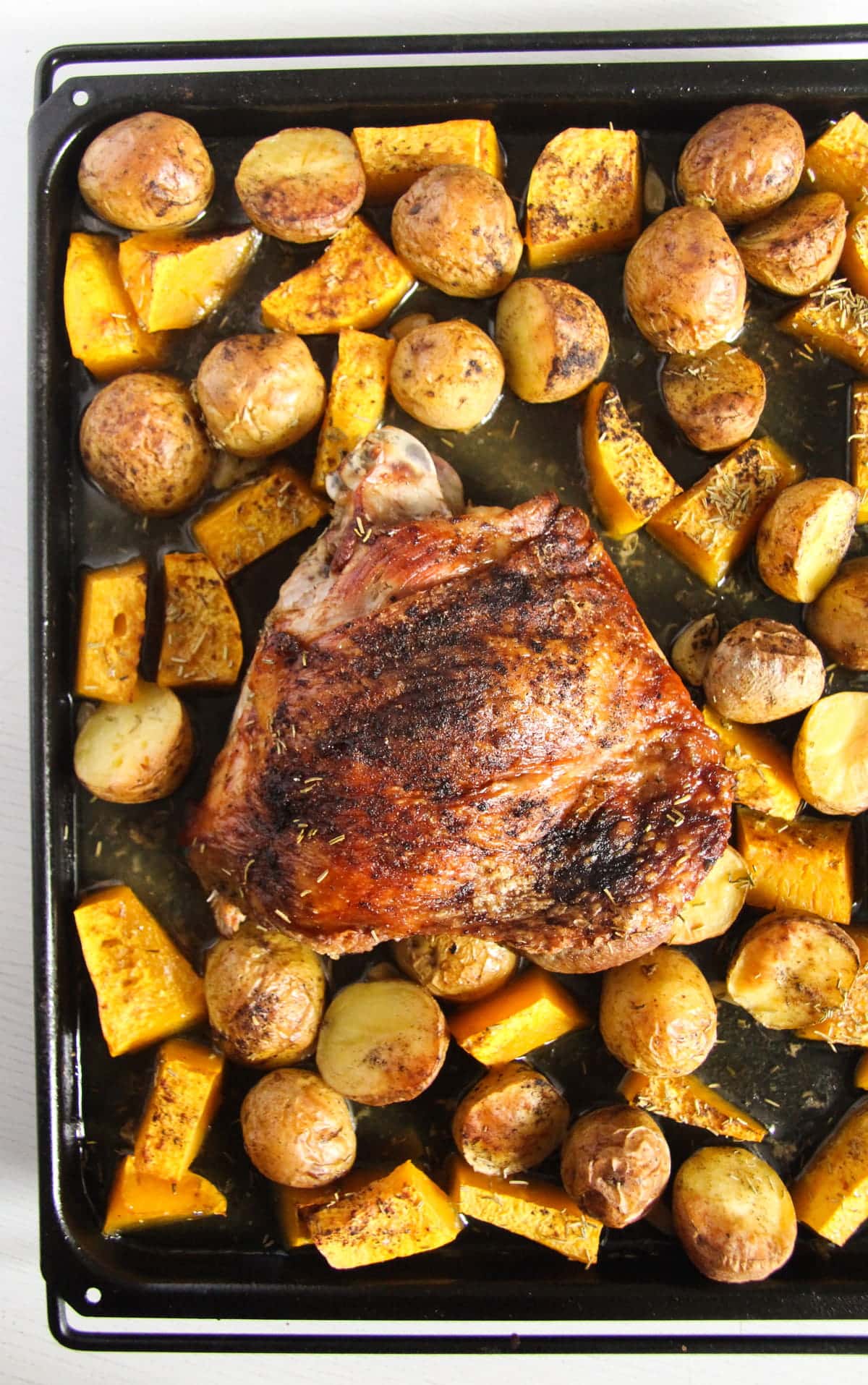 Expert Tips and FAQ
Dry brine: For extra flavor and crispy skin, pat the thigh dry with kitchen towels, season it generously and leave it in the refrigerator uncovered for several hours or overnight. This process will allow the salt and spices to penetrate the meat and add more layers of flavor. In addition, salt changes the protein structure of the meat and makes it moist. It will also dry out the skin a bit, making it crispier in the end.
Salt choice: If using table salt instead of fine sea salt or Kosher salt, reduce the amount to about 1 ½ teaspoon; table salt is more powerful.
Use Hokkaido pumpkin or butternut squash; they are very tasty, much more than a regular cooking pumpkin. Also, if using Hokkaido, there is no need to peel; the skin is super soft.
Recipe FAQ
Do I have to dry brine the meat?

No, it will still be delicious if you don't have the extra time for brining. However, if you do it, the meat will taste even better, and the skin of the turkey will be crispier.
Can I use other veggies instead of pumpkin?

Definitely, if pumpkin is not in season or you don't like it, replace it with sweet potatoes, for instance. For a completely different taste, replace it with bell peppers, cauliflower, broccoli, and so on. Cut them all into relatively large chunks as they will spend quite a while in the oven.
What about leftovers?

Refrigerator: The oven-roasted turkey thigh keeps for 2-3 days in an airtight container.
Freezer: You can freeze the meat but not the vegetables; defrosted potatoes are not nice. The meat will keep in an airtight container for at least 3 months.
Defrost it in the fridge and reheat before serving.
How to reheat the leftovers?

Slice the meat off the bone, this will make reheating faster, and both meat and veggies will get warm simultaneously. Place them on the baking tray lined with parchment paper. Cover loosely with aluminum foil and reheat at 350 degrees Fahrenheit/ 180 degrees Celsius for about 20 to 30 minutes or until everything is piping hot. You can recheck the internal temperature; it should be 165 degrees Fahrenheit/ 73 degrees Celsius.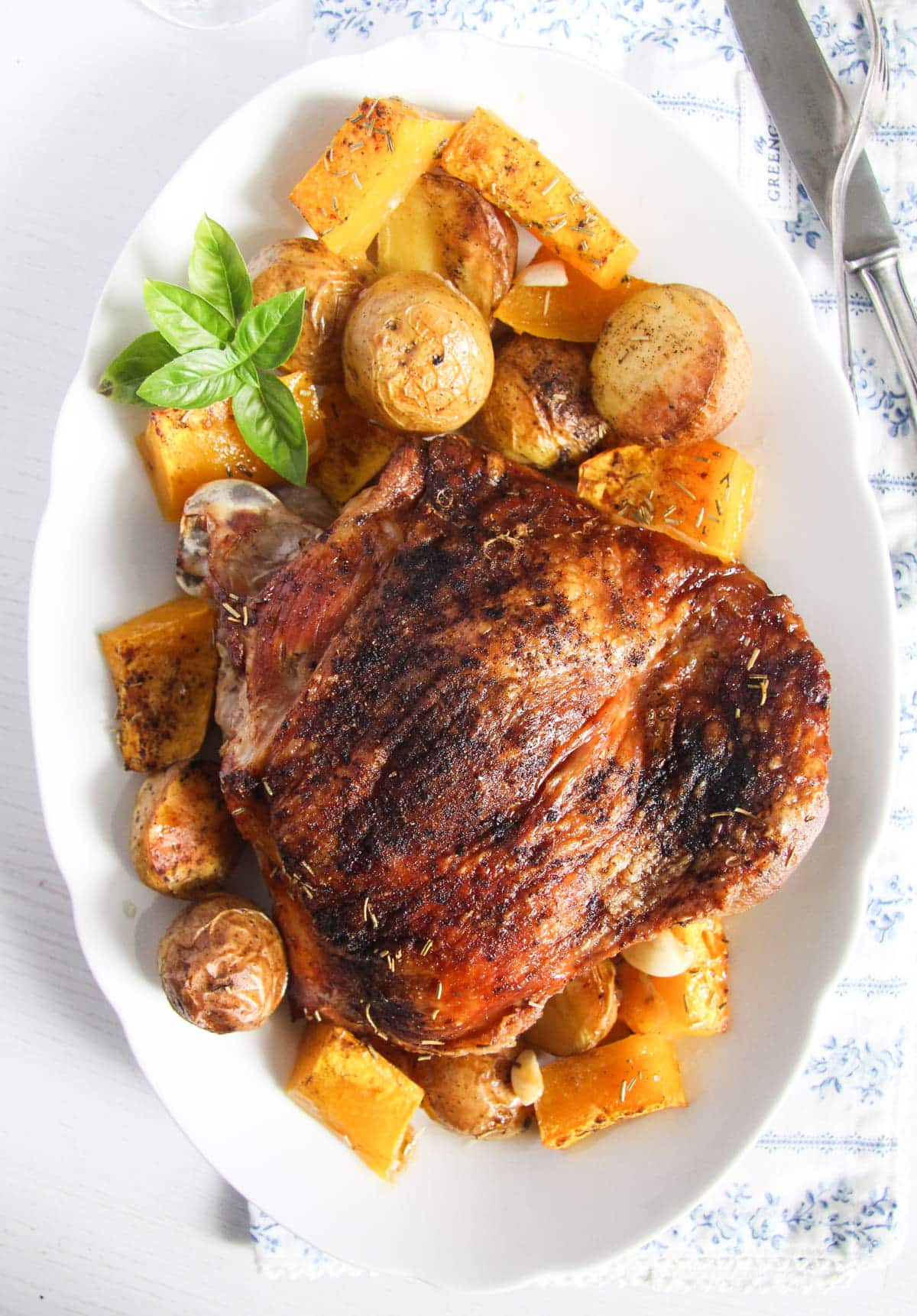 More roasted turkey recipes:
Do you like this recipe? Please leave a good rating in the recipe card below. Stay in touch through social media: Pinterest, Facebook, and Instagram. Don't forget to tag me when you try a recipe!
Oven-Roasted Turkey Thigh (with Potatoes)
Oven-roasted turkey with potatoes and pumpkin, this dish would make a delicious Thanksgiving or Christmas main dish. An easy-to-make tray bake meal.
Print
Pin
Share
Grow
Saved!
Rate
Ingredients
1

turkey thigh

bone-in, skin-on, about 1,2 kg/ 2.6 lbs

2.2

lbs

small potatoes

1 kg

1

lb

pumpkin

450 g, Note

5-6

garlic cloves

1-2

tablespoons

olive oil

1

cup

white wine

250 ml

1

teaspoon

dry rosemary

sweet paprika powder

fine sea salt and pepper
Instructions
Preheat the oven to 180 degrees Celsius/ 350 degrees Fahrenheit.

Season: Rub the turkey thigh with salt, pepper, and sweet paprika powder. Place in on a large baking tray.

Prepare vegetables: Thoroughly clean the potatoes and halve them. If using Hokkaido pumpkin, cut it into chunks without peeling. If using butternut squash, peel first, then cut into chunks. Next, peel the garlic cloves but leave them whole.

Rub the potatoes, pumpkin, and garlic with olive oil and rosemary, and add salt and pepper. Place the vegetables on the baking tray around the turkey thigh.

Roast in the oven for about 45 minutes first.Add the white wine and continue roasting for another 40 - 45 minutes or until a thermometer inserted in the thickest part of the thigh shows an internal temperature of 73 degrees Celsius/ 165 degrees Fahrenheit.

Check: If you don't have a meat thermometer, check the meat with a long stick inserted in the thickest part of the thigh. The juices should run clear. If they are still red or pink, continue the roasting process checking again every five minutes or so until the juices run clear.

Rest: Remove from the oven and let the turkey thigh rest for about 10 minutes while keeping the vegetables warm.
Notes
I used Hokkaido pumpkin for this recipe, which doesn't have to be peeled. You can use butternut squash instead, which needs to be peeled first.
Nutrition
Serving:
1
/6 of the recipe
|
Calories:
595
kcal
|
Carbohydrates:
42
g
|
Protein:
50
g
|
Fat:
23
g
|
Saturated Fat:
6
g
|
Polyunsaturated Fat:
16
g
|
Cholesterol:
219
mg
|
Sodium:
310
mg
|
Fiber:
5
g
|
Sugar:
4
g