Red wine turkey stew for cold autumn days. Easy to make and delicious served over pasta or rice.
Turkey Stew with Balsamic Marinade
Who doesn't love a good hearty stew? Either beef, pork or chicken, they are always a good meal, especially during the colder season. A red wine turkey stew is maybe not as common as one of the above-mentioned but, trust me, it is equally delicious!
Bleak weather today. Cold and wet and dark. Makes you just wanna get on the couch, wrapped in a fluffy blanket, with a cup of tea or coffee and a really good book. Wouldn't that be nice? I wish I could, but at not even 9 o'clock in the morning, I don't think I could achieve that without having to deal with some serious conscience issues.
I mean, husband working hard, children in the kindergarten, a million things waiting to be attended, a birthday coming up soon….. neh, I couldn't even relax for 5 minutes… I think I'll have to wait until the evening…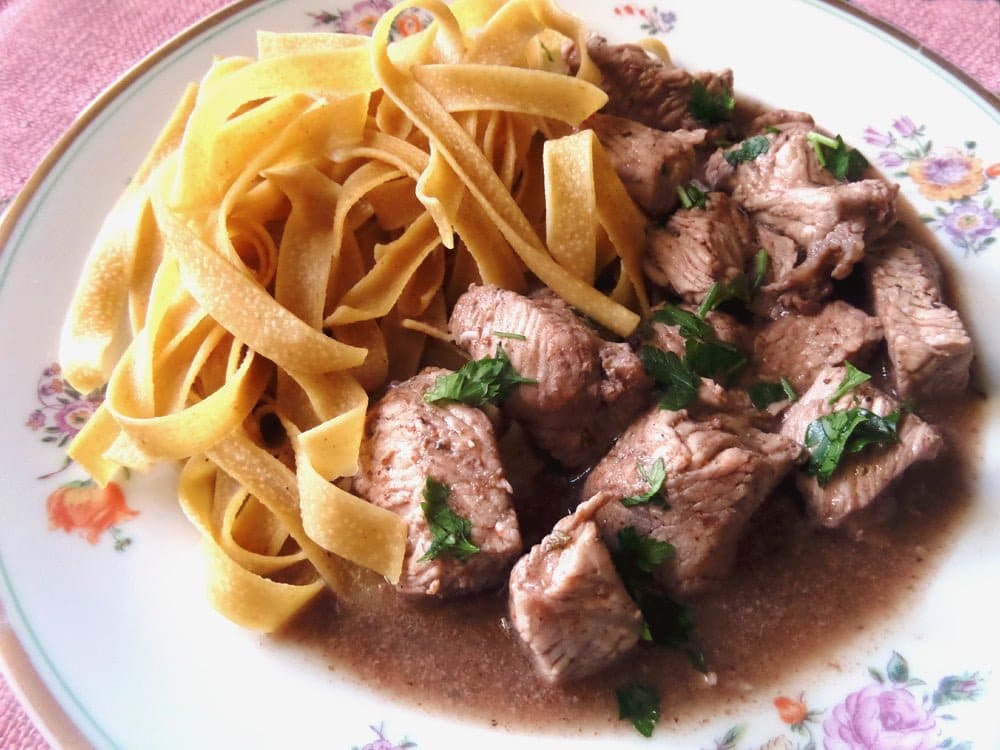 This is a delicious, no-fuss recipe, quick to make if you don't count the marinating time. If you have 10 minutes in the morning you can mix everything, then just leave it in the fridge till the evening.
The cooking time is short, the meal will be ready by the time your noodles are cooked. A good meal for this kind of weather also, it will warm you up and leave you feeling cozy and satisfied.
And if you drink a glass of the leftover wine while cooking then you will really have no worries for the rest of the evening anymore. 🙂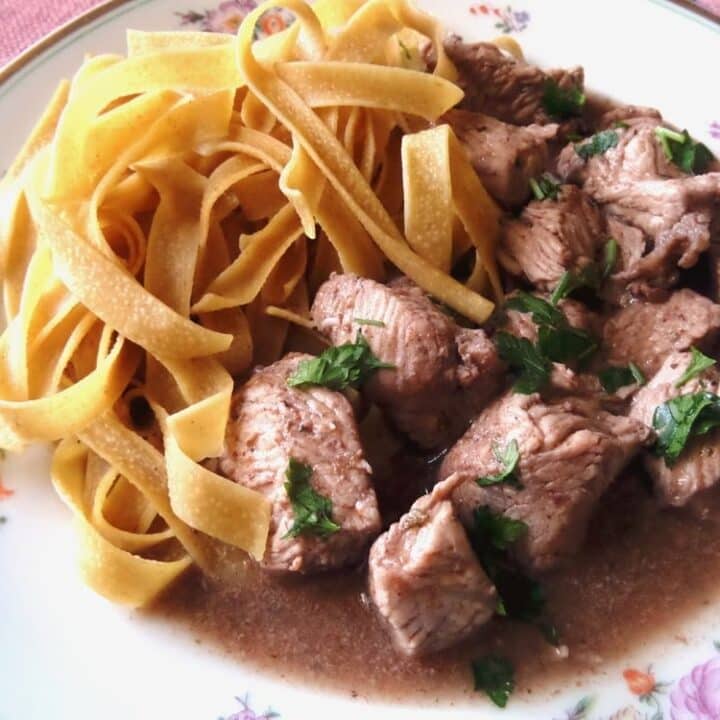 Red Wine Turkey Stew
Red wine turkey stew for cold autumn days. Easy to make and delicious served over pasta or rice.
Ingredients
800 g/ 1.7 lbs turkey breast
125 ml/4.2 fl.oz/ 1/2 cup red wine
125 ml/ 4.2 fl.oz/ 1/2 cup chicken stock
½ tablespoon dried thyme
2 tablespoons balsamic vinegar
2 tablespoons lemon juice
1 teaspoon paprika
2 tablespoons cornstarch
½ teaspoon fine sea salt and black ground pepper
Instructions
Mix the red wine, chicken stock, thyme, balsamic vinegar, lemon juice, paprika, salt, and pepper in a bowl. Chop the turkey into fairly large cubes and add it to the bowl. Mix well to coat, cover, and let marinate in the fridge for at least 2 hours.
Place everything in a skillet, bring to a boil, reduce heat and let simmer for about 8-10 minutes. Check to see if the meat is cooked through, if not, leave it for a few more minutes but be careful, you don't want to overcook it.
In the meantime start cooking the pasta or rice for serving.
Whisk the cornstarch with a few tablespoons of cold water, add to the boiling sauce while stirring continuously and let boil for 1 minute until the sauce thickens slightly.
Serve immediately.
Nutrition Information:
Yield:

4
Serving Size:

1/4 of the dish
Amount Per Serving:
Calories:

350
Total Fat:

4g
Saturated Fat:

1g
Trans Fat:

0g
Unsaturated Fat:

2g
Cholesterol:

161mg
Sodium:

590mg
Carbohydrates:

7g
Fiber:

1g
Sugar:

2g
Protein:

61g
Nutrition information isn't always accurate.