Roasted potatoes and Brussels sprouts, this is an oven-roasted vegetable recipe you will keep making, again and again, the perfect winter side dish.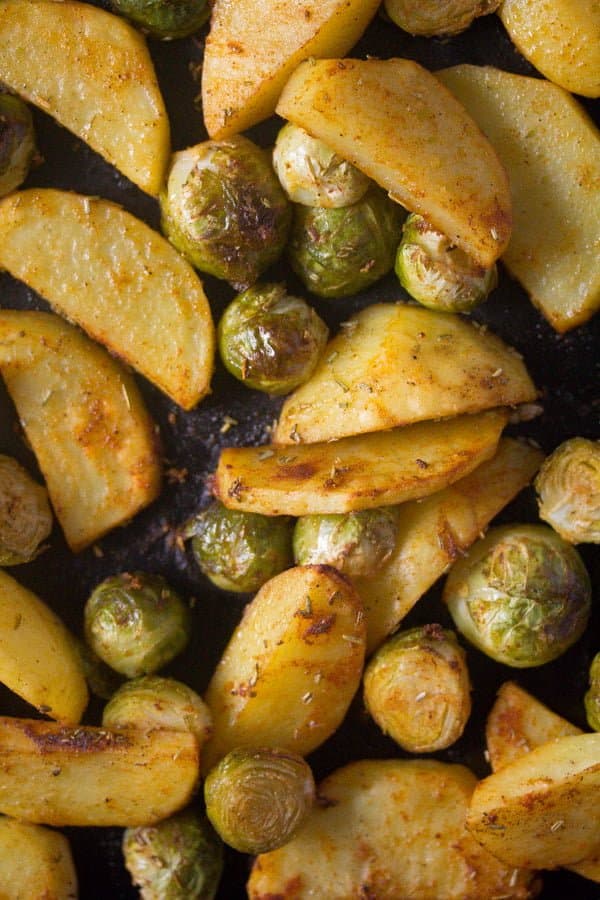 What can be better than roast potatoes? Hardly anything, if you ask me. We love them, I make them often, we have them as a side dish or we have them as they are with just a little dip on the side.
Roast potatoes and Brussels together and there you have it: a whole new dish, so good and satisfying (not to mention healthy), a perfect side dish for any holiday meal.
And on top of that, this recipe is vegan, unlike most recipes out there using bacon. I absolutely love bacon, but this recipe is perfect just the way it is. Of course, you can always add some bacon. 🙂
How to make?
This is a very easy, basic recipe. Once you have cleaned and cut the vegetables, there is really not much else to do.
Peel the potatoes. If you have really nice organic ones you can leave the peel on, otherwise, I recommend removing the skin, potatoes are some of the most sprayed vegetables out there. So, unless I buy them from my neighbor or I see an organic label on the sack, I always peel them.
Cut into cubes or small wedges. To obtain wedges, you would normally halve them and cut the wedges lengthwise. To obtain these smaller wedges, halve the potatoes but cut the wedges across the halves.
Clean the sprouts as well. Use a small knife to remove the outer leaves and trim off the ends. Halve them.
Lightly grease a baking tray with olive oil. Place the vegetables onto the baking tray. Add the oil, spices, and herbs and rub well with your hands until they are all nicely coated.
Bake in the preheated oven for about 30 minutes or until the potatoes are tender.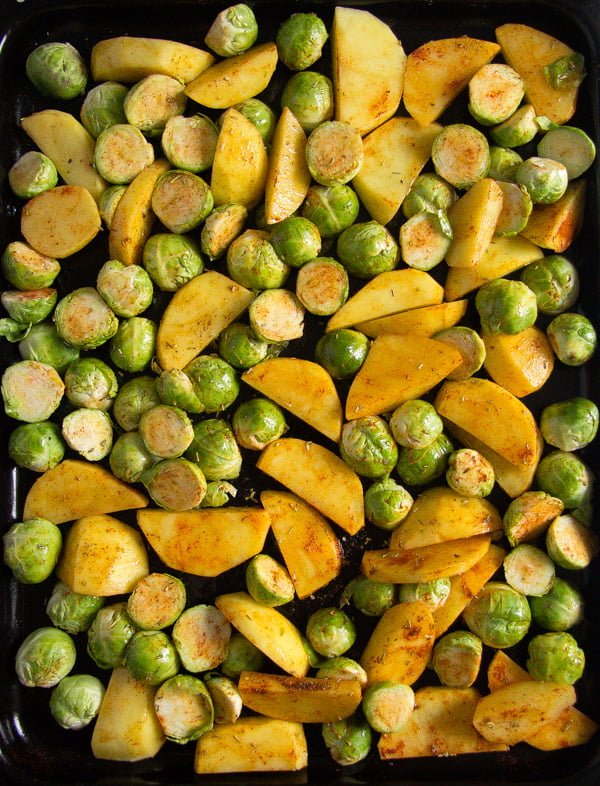 Seasoning
Olive oil, salt, pepper, sweet paprika, and rosemary are my standard roast potato seasoning.
I use it most of the time when roasting potatoes, so often that my son already knows himself what spices to reach for when he's helping me cook.
But there are many other spices you can use when making oven-roasted vegetables of any kind.
Try an Italian or French herb mixture instead of the rosemary, add some cayenne pepper or chili flakes for a bit of heat (I especially love chili when adding the Brussels sprouts to the roasted potatoes).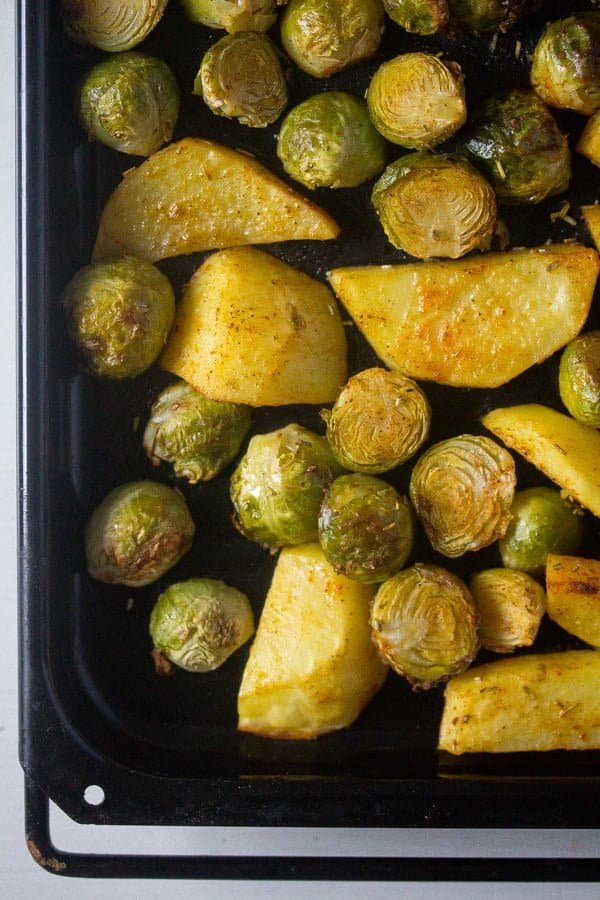 You can even go Indian and spice the vegetables with your favorite curry powder or with a mixture of ground cumin, ground coriander, and turmeric. Garam masala is always great.
Recently I used this amazing Baharat spice mixture to flavor oven-roasted vegetables and a nice Moroccan flavor can be achieved by using some Ras-el-Hanout.
Really, when it comes to seasoning the sky is the limit. Experiment and find your favorite combination.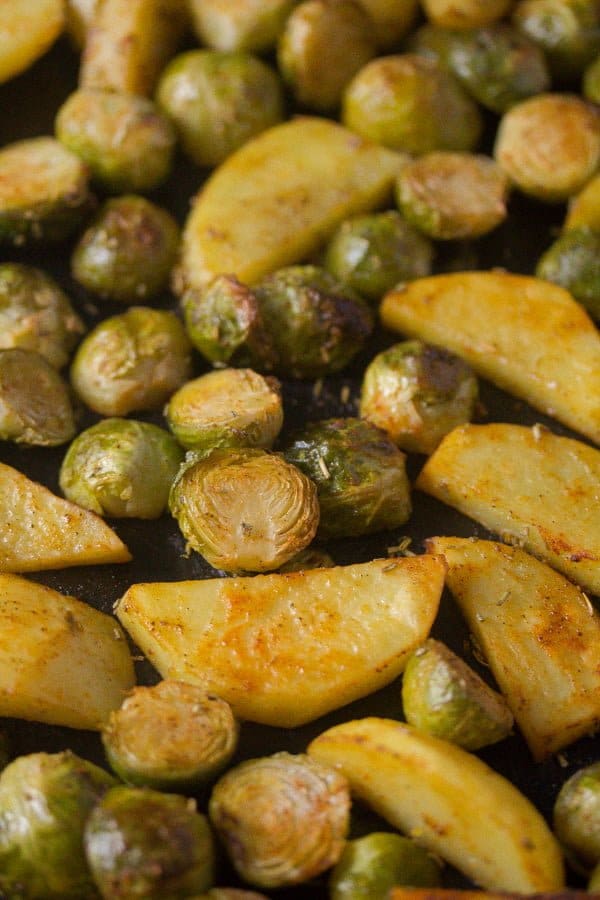 How to serve?
This dish is intended to be a side dish, but don't let that idea stop you if you feel like having roasted Brussels sprouts and potatoes for dinner. Without any meat at all.
They are so good, you will not miss the meat. Make a yogurt, garlic sauce, or chili dip (or any kind of dip you fancy) and enjoy.
Otherwise, we served them with a huge roasted turkey leg recently. We also had them with balsamic beef and I am sure that you can pair these oven-roasted vegetables with any kind of roast you like, even a vegan nut roast if you are cooking for vegetarians/vegans.
More potato side dishes?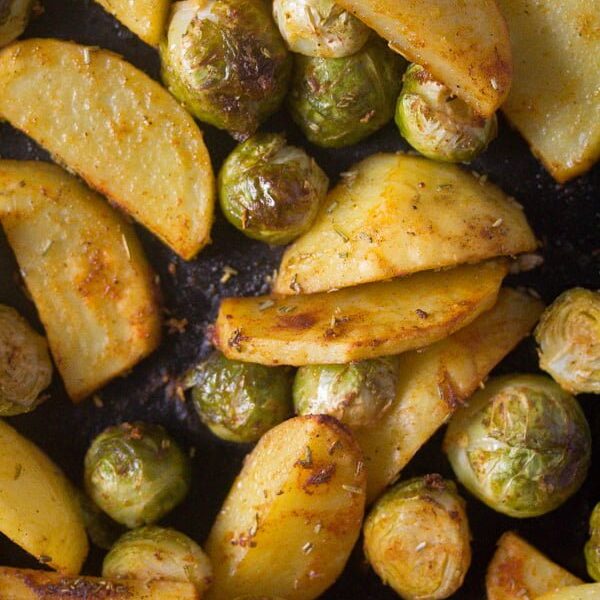 Roasted Potatoes and Brussels Sprouts
Roasted potatoes and Brussels sprouts, this is an oven-roasted vegetable recipe you will keep making, again and again, the perfect winter side dish.
Ingredients
750 g/ 1.7 lbs Brussels sprouts
750 g/ 1.7 lbs potatoes
3 tablespoons olive oil
½ teaspoon ground sweet paprika
¼ teaspoon cayenne pepper, more or less to taste (can also be omitted)
1 teaspoon dried rosemary
1 teaspoon sea salt
½ teaspoon freshly ground black pepper (See note)
Instructions
Preheat the oven to 200 degrees Celsius/ 400 degrees Fahrenheit. Lightly oil a large baking tray with olive oil.
Clean the Brussels sprouts by removing their outer leaves. Trim off the stem and halve the sprouts. Peel the potatoes, halve them and cut the halves across into smaller wedges.
Place all the vegetables on the baking tray. Pour the olive oil all over the sprouts and potatoes and sprinkle evenly with the herbs and spices. Rub well with your hands until all the vegetables are coated.
Bake for about 30 minutes or until the potatoes are golden and tender and the Brussels sprouts roasted and lightly charred.
Serve immediately as suggested above.
Notes
Read the blog post for more ideas about seasoning the roasted Brussels sprouts and potatoes.
Nutrition Information:
Yield:

6
Serving Size:

1/6 of the recipe
Amount Per Serving:
Calories:

223
Total Fat:

8g
Saturated Fat:

1g
Trans Fat:

0g
Unsaturated Fat:

6g
Cholesterol:

0mg
Sodium:

392mg
Carbohydrates:

36g
Fiber:

6g
Sugar:

4g
Protein:

6g
Nutritional information is not always accurate.