With Thanksgiving approaching fast, you might already be planning the meal. Here are some of our favorite potato side dishes perfect for any family celebration to make the search a little easier.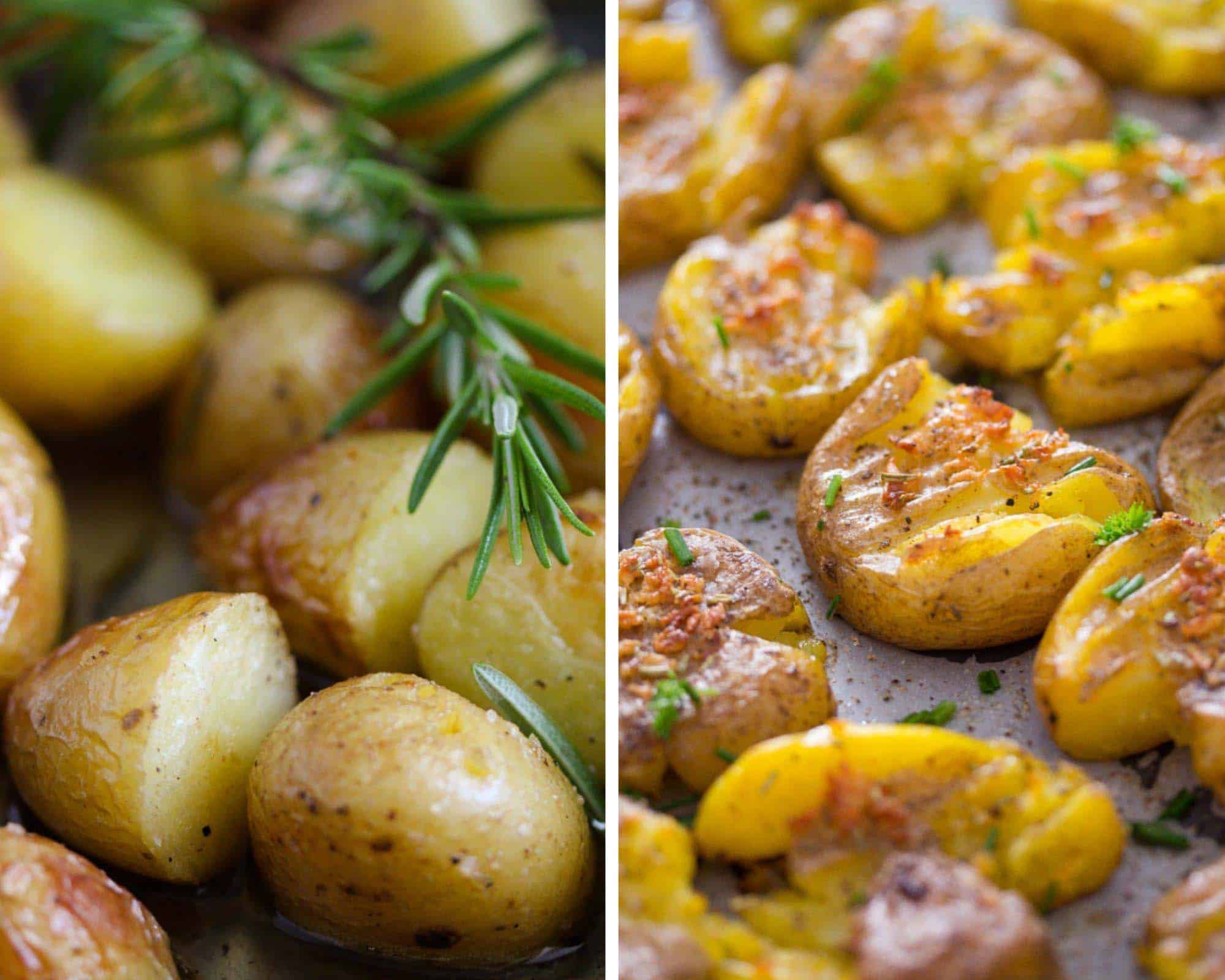 We love potatoes, and I make a side dish of potatoes of any kind at least twice a week. And I could not imagine Thanksgiving or any celebration that involves lots of food (Christmas and Easter) without at least one potato side dish. And while Roasted Turkey is the central, never-changing item on the menu, we do love to variate the side dishes to try at least one or two new recipes every year. And what is more versatile than potatoes?
1. Crispy Garlic Smashed Potatoes
This is my go-to recipe when I want to impress! These smashed potatoes are incredible: crispy on the outside, tender on the inside, and so full of flavor.
2. Roasted Garlic Parmesan Mashed Potatoes
Another amazing potato and garlic combination. Learn how to roast garlic and make the most delicious mashed potatoes with Parmesan.
3. Cauliflower and Potato Mash
You can choose this creamy and wonderful cauliflower and potato mash for a lower-carb version of garlicky mashed potatoes.
4. Creamy Spinach Potato Mash Recipe
Another incredible potato mash, this time with spinach. I especially love to serve this with fish, but it would be perfect alongside turkey, chicken, beef, or pork as well.
5. Baked Cornmeal Potatoes
Oven-roasted potatoes are always a good idea! Try these delicious crispy potatoes with cornmeal and paprika crust.
6. Pumpkin Potato Bake
This potato and pumpkin casserole might sound a bit unusual for Thanksgiving, but you should give it a try; it is fantastic! Perfectly suited if serving dinner for vegans.
7. Sweet Chili Dip and Potato Wedges
These potato wedges (with or without the chili sauce) are the potato recipe I cook most often, even more frequently than plain boiled potatoes. They are easy to make, versatile, and always a delight.
8. Cast-Iron Skillet Potatoes
Potatoes fried in the skillet are one of our favorite side dishes, something that will go perfectly well with most Thanksgiving mains. They are also delicious as a main meal; a salad and a chili or yogurt dip on the side are perfectly sufficient many times.
9. Caramelized Potatoes - Icelandic Side Dishes
This recipe is a traditional Icelandic side dish served for Christmas, something I knew I had to try the moment I saw the recipe. And it was well worth it; this potato side dish is delicious.
10. Cheese Jacket Potatoes
These comforting potatoes are filled with Gouda, mayonnaise, and green onions; they are our number one recipe when it comes to stuffed potatoes.
11. Potatoes with Tomato Sauce
Thanksgiving recipes don't have to be complicated, and even less so for side dishes. These delicious tomato potatoes might sound unusual, but they make an excellent side dish for any roast.
12. Healthy Broccoli Potato Casserole
Luscious bake with a light cheese sauce, so much flavor yet not that many calories. Perfect as a light main meal or as a side dish for other main courses.
13. Roasted Brussels Sprouts and Potatoes
Potatoes and vegetables on one tray to make things even simpler and quicker on Thanksgiving.
14. Confit Potatoes
Perfectly cooked potatoes, crispy on the outside and so soft and comforting on the inside, these tubers are roasted in duck or goose fat for an ultimate festive side dish.
15. Sweet Potato Dauphinoise
As a bonus, how about a few sweet potato side dishes? A gratin is always a welcomed sight on any festive table, and this creamy dauphinoise checks all the boxes.
16. Sweet Potato Puff Pastry Pie
An elegant side dish with sweet potatoes and onions, you are sure to impress with this pie. You can also serve it as a vegetarian main dish for Thanksgiving if you use the right kind of vegetarian cheese.
17. Sauteed Sweet Potatoes
This simple dish of sauteed sweet potatoes goes perfectly well with turkey, chicken, or whatever else you decide to cook this year.
18. Baked Sweet Potato Slices
Sweet potatoes, a bit of oil, and some spices. That is all you need to make these soft, aromatic, slightly caramelized baked sweet potato slices.
19. Baked Sweet Potatoes with Green Onions
These guys are stuffed with Camembert and green onions, and they would make a great side dish for Thanksgiving and a delicious main for any day of the week.
20. Pan-Fried Sweet Potatoes
Simple fried sweet potatoes, a straightforward way of cooking the tubers, perfect to accompany almost any dinner you can think of.
21. Air Fryer Frozen Sweet Potato Fries
And should both the oven and the stovetop be occupied with pots, how about using the air fryer for one of the side dishes?