Sauteed sweet potatoes, tender, spicy, and comforting. Serve with tahini sauce (or another sauce) for a light meal or as a side dish.
A simple dish of sauteed sweet potatoes for a light lunch or dinner. Or as a side dish suitable for many other dishes.
I cook sweet potatoes on a regular basis, either sauteed or pan-fried, air-fried, dauphinoise, fries, and even brownies. Not to forget the delightful puff pastry pie, which makes a wonderful festive meatless dish.
Sauteing them in a cast-iron skillet (Amazon affiliate link) or a non-stick pan is one of the easiest ways of dealing with them. All you have to do is to peel and cube the veggies and stir them in the pan for a rather short time.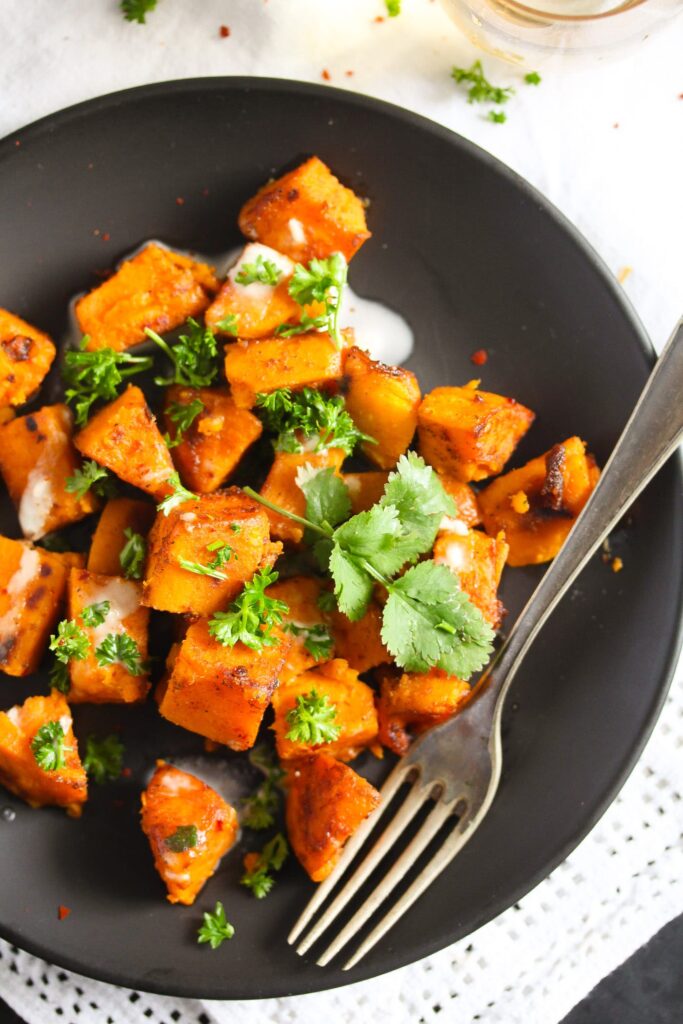 What do you need?
Sweet potatoes:
Not to be confused with yams. I've been reading recently that there is a bit of confusion in the US on this matter.
What you will need for this recipe are red-skinned, orange-fleshed ones.
Spices:
I had a mixture of paprika, cinnamon, brown sugar, red chili flakes, salt, and pepper.
This mixture tastes amazing, but it is still optional.
The cubes will still taste good if you only use salt and pepper.
Or use other spice mixtures you like, either bought mixtures (like curry powder, Cajun spices, or other favorite ones) or mix your own spices.
Other spice mixture ideas:
½ teaspoon dried thyme + ¼ teaspoon dried rosemary + 1 grated garlic clove + salt and pepper to taste
½ teaspoon ground cumin + ½ teaspoon ground coriander + pinch of nutmeg + red chili flakes to taste + salt and pepper to taste
½ teaspoon cinnamon + 1 teaspoon brown sugar
pinch of ground cloves + pinch of cinnamon + 2 teaspoons brown sugar + a little salt
How to saute sweet potatoes?
Difference between sauteing and pan-frying:
When you pan-fry something, you will normally need a little more fat than when sauteing something.
By adding some vegetable broth to the pan, I get away with using only 1 tablespoon of oil yet having a great dish of savory, tender, and delicious potatoes.
Steps:
Peel and cube the veggies.
Mix all the spices in a small bowl.
Heat the oil in the cast-iron skillet (or a non-stick pan) and saute for about 3 minutes. (1)
Add the spices and stir well to coat the vegetables.
Add ½ of the vegetable broth. It will start to bubble immediately. Let the liquid bubble away; it will not take long. (2.3)
Pour the remaining broth into the skillet, stir quickly and cover the pan. (4)
Cook for about 5-6 minutes, check. The veggies should be perfectly tender. If they are not, allow a few more minutes and check again.
How to serve?
You can serve them as a side dish for almost anything you can think of. Try them with panko chicken breast, roasted half chicken, baked turkey wings, or pork tenderloin.
For a light vegetarian/vegan meal, try the delicious tahini sauce (in the recipe card) and serve with a green salad, White Cabbage Salad, Ancient Grain Salad, or Broccoli Pea Salad.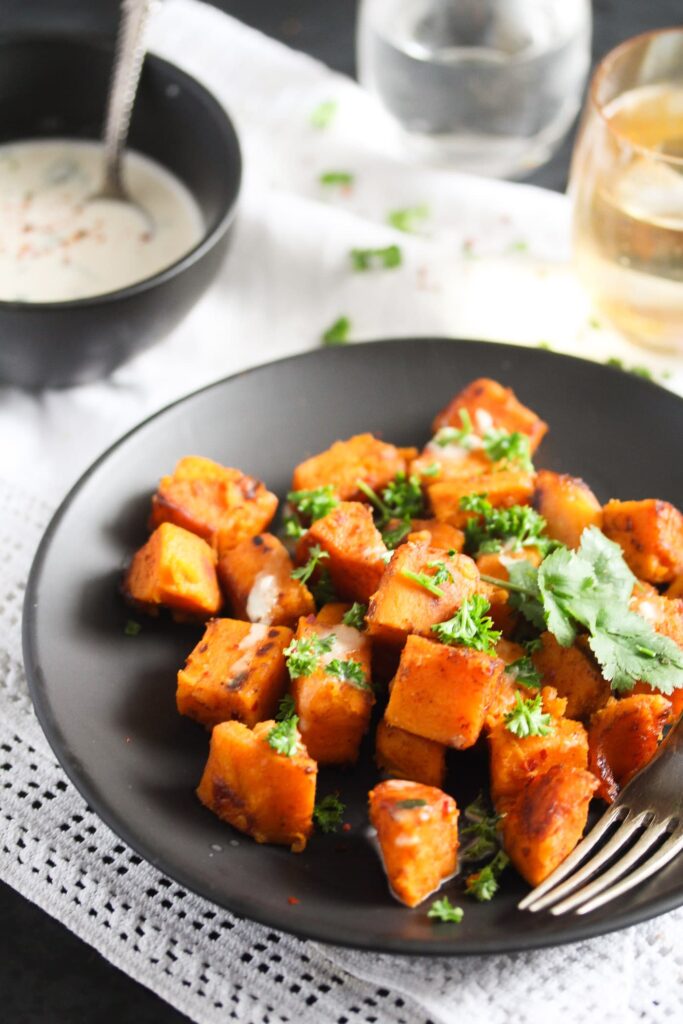 What to do with leftovers?
You will probably not have any, but just in case.
These sauteed cubes are amazing stuffed into a flatbread (pita, Turkish bread, tortilla), drizzled with the remaining sauce, and topped with other veggies like chopped salad leaves, pepper, cucumber, or tomato slices. Actually, I often cook this dish just to stuff some flatbread.
You can add some cheese as well, my favorite version is with feta, but other sorts of cheese are great as well.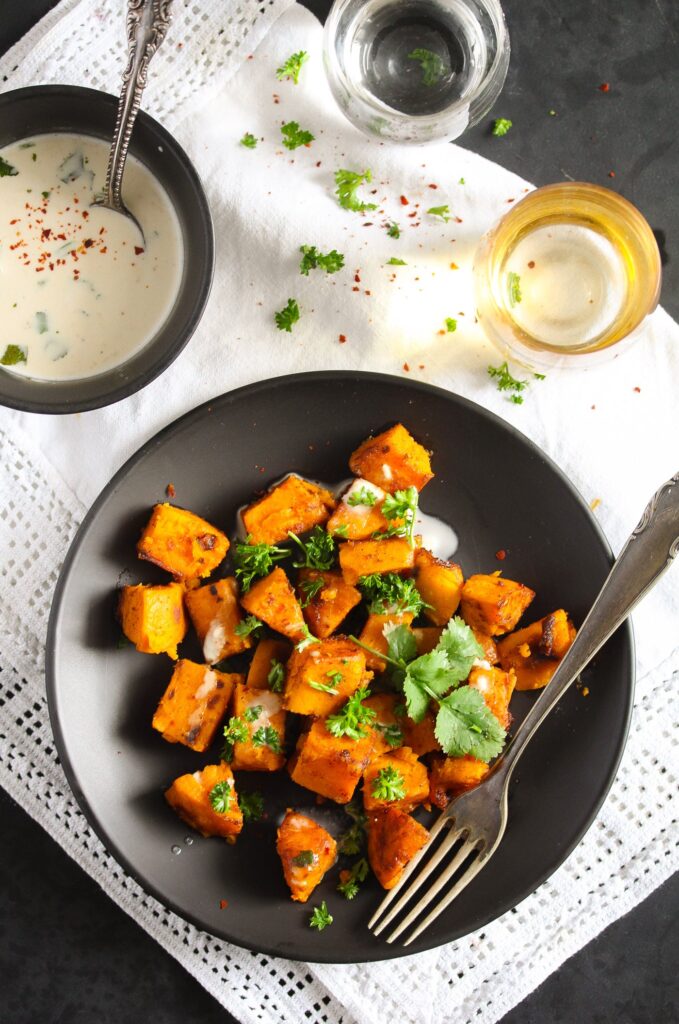 More sweet potato recipes:
Sauteed Sweet Potatoes
Sauteed sweet potatoes, tender, spicy, and comforting. Serve with tahini sauce (or another sauce) for a light meal or as a side dish.
Ingredients
Sweet potatoes:
300 g/ 10.6 oz sweet potatoes
1 tablespoon olive oil
½ teaspoon sweet paprika powder
1/8 teaspoon cinnamon
¼ teaspoon red chili flakes
½ teaspoon brown sugar
¼ teaspoon fine sea salt
1/8 teaspoon ground black pepper
250 ml/ 8.5 fl.oz/ 1 cup vegetable broth
Tahini sauce:
1 ½ tablespoon tahini
2 tablespoons cold water
2 small garlic cloves
a few drops of lemon juice, to taste
fine sea salt and black pepper
some cilantro or parsley
Instructions
Sweet potatoes:
Mix paprika, cinnamon, red chili flakes, brown sugar, salt, and pepper in a small bowl. Set aside.
Peel the sweet potatoes and cut them into cubes, about 2 - 2 ½ cm/ 0.8 – 1 inch.
Heat the olive oil in a large cast-iron skillet or a non-stick pan. Saute the sweet potatoes, often stirring, for about 3 minutes.
Sprinkle the spice mixture over the potato cubes and stir for about 1 minute.
Add ½ of the vegetable stock, let bubble until evaporated; it will only take a few moments. Add the remaining broth, cover the pan, and cook on medium-low heat for about 6 minutes.
Check the sweet potatoes; they should be soft. If they are not done yet, continue cooking for 2-3 minutes more.


Tahini sauce:
In the meantime, make the sauce. Place the tahini and the cold water in a small bowl. Whisk until smooth. Add the grated garlic, a little squeeze of lemon juice, some salt, and pepper to taste. Whisk again and add 1 extra tablespoon of cold water if you want a thinner sauce.

Serve the sauteed sweet potatoes immediately drizzled with the sauce and sprinkled with cilantro or parsley.
Nutrition Information:
Yield:

2
Serving Size:

1/2 of the dish
Amount Per Serving:
Calories:

280
Total Fat:

13g
Saturated Fat:

2g
Trans Fat:

0g
Unsaturated Fat:

11g
Cholesterol:

0mg
Sodium:

714mg
Carbohydrates:

37g
Fiber:

6g
Sugar:

11g
Protein:

6g
Nutritional information is not always accurate.