My last post in this Green Onions series brings you soft, velvety, baked sweet potatoes topped with Camembert and green onions.
I like sweet potatoes a lot and if I had my own way I would eat them at least once a week, unfortunately I cannot convince my kids to eat them as well. I mean, they try it every time, because one of our rules is that everything that comes on the table has to be at least tried, but they never like them, unless they are really well hidden in some casserole dish, pureed soup, vegetarian meatballs or something like this. I really don't get it, I mean sweet potatoes are sweet and they like sweet stuff more than anything in the world, so why don't they like sweet potatoes? Beats me!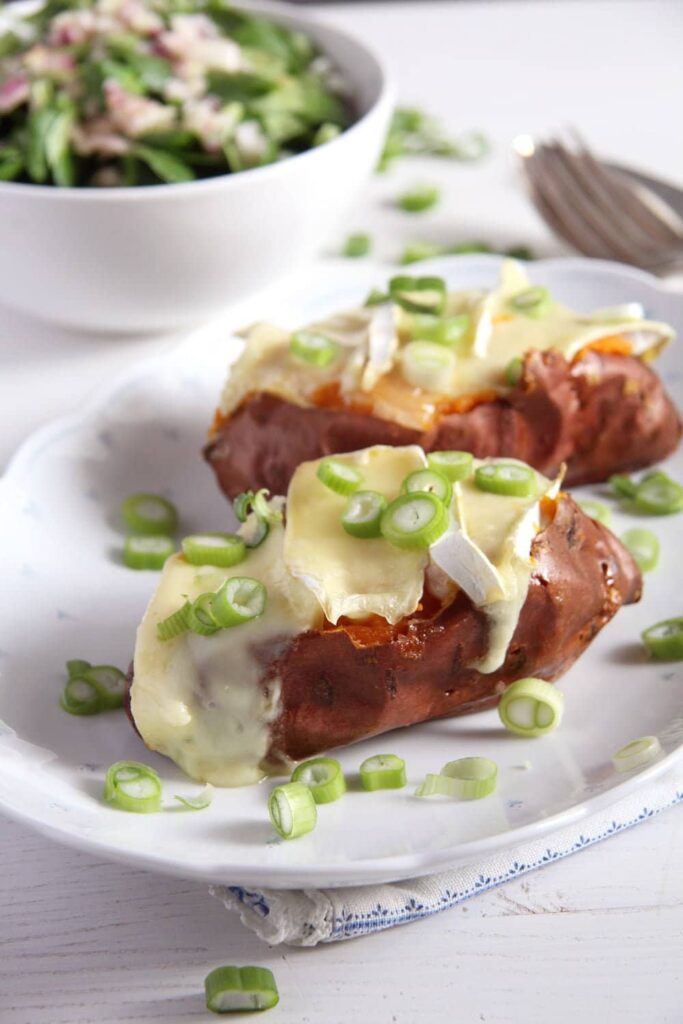 But I hope this won't put you off these baked sweet potatoes because that would be a shame. They are so nice and soft and creamy and I just love that melting cheese on top and the crunch and freshness that the green onions bring. If you don't care about the potatoes having to be baked for about 45 minutes, than this is also a dish that won't give you a lot to do either. Just clean and prick the potatoes, slice the cheese and the green onions and you're done. Everything else takes place in the oven. One quick green salad and you have a delicious and healthy meal in front of you.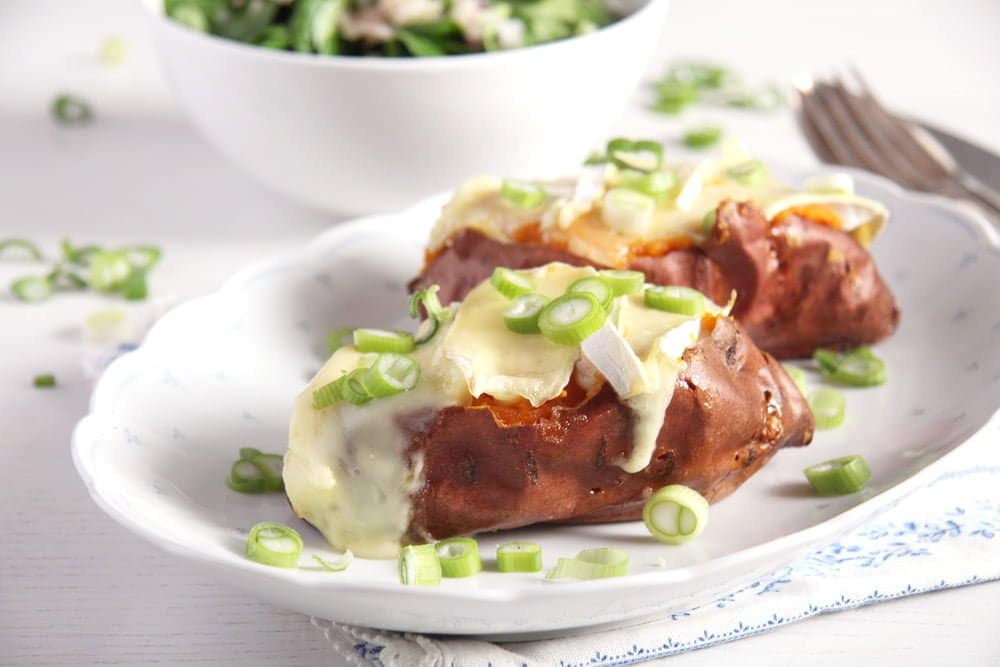 I hope you enjoyed the green onions recipes I posted during the past two weeks and are ready for the next batch of recipes. As Easter is coming soon, I decided to cook and post for you some authentic Romanian Easter recipes next. And by authentic I mean the way my grandma used to cook them or the way my aunt still cooks them today. Really typical dishes that you will get to eat in every Romanian family this time of the year (and some of them at Christmas too), those kind of recipes for which each woman has a slightly different recipe. Every member of their family is probably convinced that their wife/mother/grandmother has the absolute best recipe out there, just like I am quite sure that my grandma cooked these dishes better than anyone else. Am I making any sense? Do you know what I mean?
But until Wednesday, here are the sweet baked potatoes with green onions and cheese.
You may also like:
Skinny Broccoli Potato Casserole
Stuffed Kohlrabi, Two Ways
Golden Roasted Potatoes