Baked potatoes filled with Gouda, mayonnaise and scallions, it can hardly get any easier or any better.
These are my daughter's favorite jacket potatoes, I could make them every week and she would probably not get tired of them. She loves potatoes in any form actually, but baked and with cheese are, of course, always a winning dish. She is not a big eater, so I am always glad when I manage to cook something that she really really enjoys… 🙂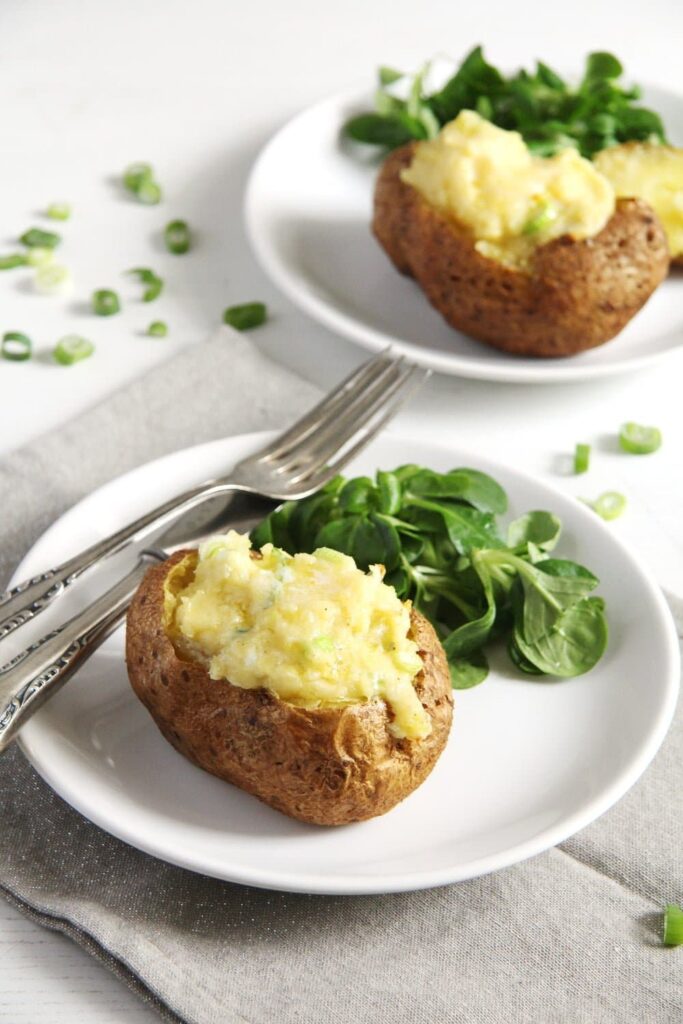 Baked potatoes was one of my favorite foods as a kid as well, however, the Romanian style made by my grandmother, even simpler than this version but utterly delicious as well. Actually the only thing my grandma would do, was to bake the potatoes until soft on the inside and crisp on the outside, remove the skin and mix the hot insides with butter and salt. Heaven for us kids! My mouth is watering just thinking about it. These cheese-mayonnaise potatoes would be the de luxe version of those simple baked potatoes.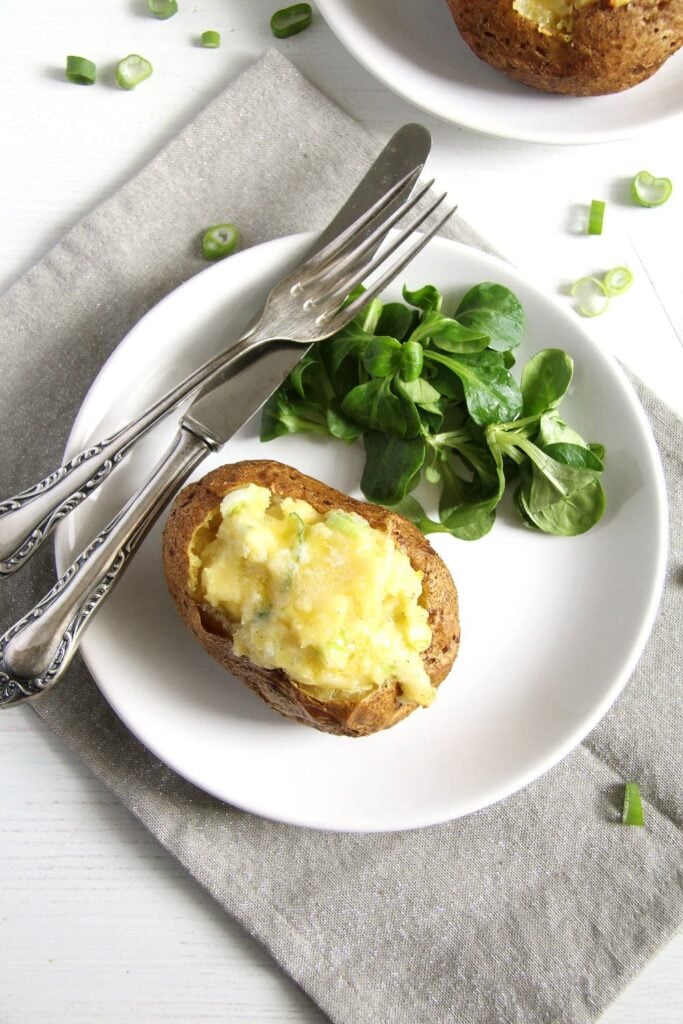 Rating 5.0 from 1 reviews
Prep time:
Cook time:
Total time:
Ingredients
2 medium baking potatoes, about 200 to 250 g/ 7 to 8.8 oz each
1 teaspoon olive oil
75 g/ 2.6 oz Gouda or cheddar
3 teaspoons mayonnaise
2 scallions
very small knob of butter, optional
Instructions
Preheat

the oven to 200 degrees Celsius/ 400 degrees Fahrenheit.
Wash and dry the potatoes thoroughly. Pierce with a fork about 5 or 6 times all over. Place them on a baking tray, rub them with the olive oil and bake them until tender. I had to bake mine for 1 hour and 15 minutes. Keep checking, it really depends on their size.
In the meantime grate the Gouda or cheddar and mix it with the mayonnaise and ¾ of the finely chopped scallions.
When the potatoes

are cooked

through, take them out of the oven and cut about ⅓ of the upper part. Carefully scoop out the flesh. Mash the flesh

roughly

with a fork and mix it with the cheese mixture. Stuff the potatoes with this mixture and bake for another 5 to 10 minutes until the cheese is nicely melted.
Top each potato with a tiny amount of salted butter, sprinkle with the remaining scallions and serve immediately with a green salad.
Others you might like: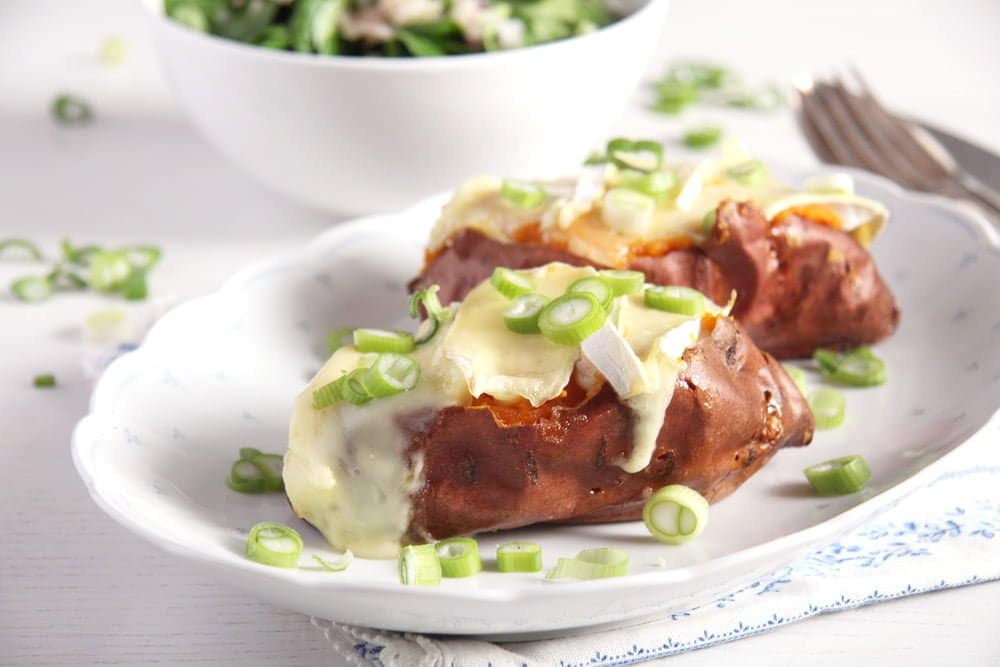 Baked Sweet Potatoes with Green Onions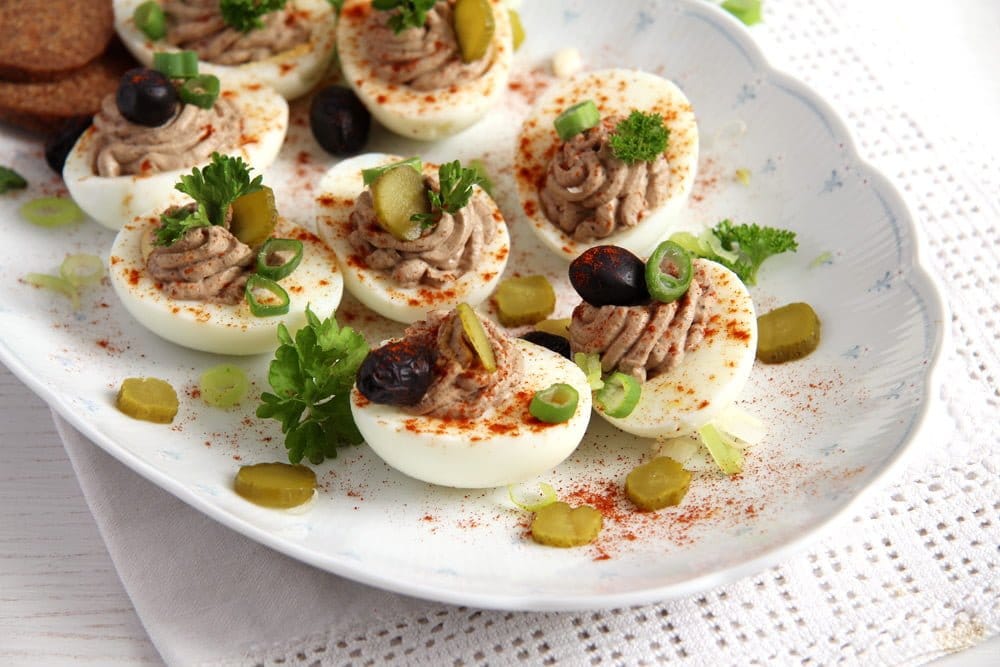 Deviled Eggs with Homemade Liver Pate