Super tasty broccoli potato casserole on the healthy side. A loaded bake with a light cheese sauce, so much taste yet not that many calories. Perfect as a light main meal or as a side dish for other main courses.
Potato Broccoli Casserole or Bake
This broccoli potato casserole is better than you can imagine! Really! You might think, just potatoes and broccoli and a low-fat sauce, but trust me, you will love it! It is just that good, and it will probably become a family favorite.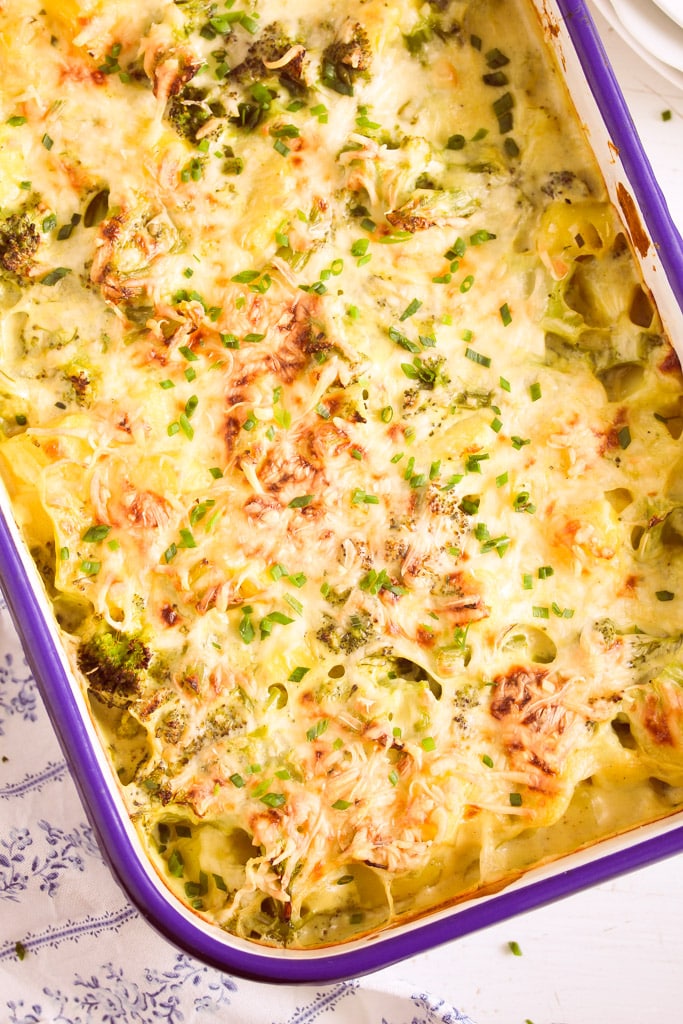 Why is it that good?
Potatoes and broccoli are a perfect match. Either they are mixed in a bake or a casserole, roasted on a baking sheet, or mixed in cream of broccoli soup; they are always a hit.
This is an excellent recipe for using broccoli stems. Many recipes (especially salads) only require fresh florets so that you might get stuck with the stalks. Never throw them away! Make this wonderful potato broccoli bake (or a soup).
It's healthier than a cheesy potato casserole recipe usually is, a tasty casserole using low-fat dairy products.
It makes a delicious main course or a comforting side dish for chicken, sausages, and many other dishes.
Kid-friendly: Like many other mothers, I know I have problems getting my children to eat vegetables. Then, a couple of weeks ago, my son brought home a book from kindergarten, a book with a beautiful title: "Bert – The Vegetable Goblin."
Bert was a broccoli floret that could speak. In the book, he explained to the brother and sister all about the importance of eating vegetables and could convince them to eat the broccoli casserole their mother so lovingly cooked for them. Happy end!!!!
My Bruno found the book so good that he suggested making broccoli casserole for lunch the next day. Then, finally, the miracle happened; my son ate his veggies without discussion and said he did like it a little bit. 🙂 That's a start, isn't it?
His sister still refused to try the broccoli (she's only just 3, so the book's message was a bit lost on her). Still, she ate everything else on her plate after carefully removing any millimeter of broccoli that she could pick out. This is a repost from 2015. My kids are less vegetable-resistant nowadays; there is not much I can still complain about.
Ingredients
Vegetables: Potatoes and broccoli.

Use the stem as well, and if you only have broccoli stem leftovers from making another dish, this casserole is a great way of using them.
Frozen broccoli can also be used; there is no need to defrost it; add it to the pot 2-3 minutes earlier.
Dairy: Cream cheese, milk, and grated cheese.

I use either Gouda or Cheddar cheese. I always recommend buying a block of cheese and grating the cheese yourself for this kind of cheesy bake. Already grated cheese doesn't melt well at all, and you will miss that.
You can use other sorts of good melting cheese as well, either lower-fat or full-fat. A mixture of mozzarella and Parmesan cheese are nice as well. Or any different kind of good-melting cheese you like. You can use some extra cheese if you want, 125 g/ 1 ½ cup cheese is fine, but you can add more.
All the dairy I use to make this potato broccoli casserole is low-fat. Of course, you can go for the full-fat version, but you will not know the difference. And in such a case, I always go for the less fatty version.
To top the casserole, you can use low-fat Gouda, Cheddar, or any cheese you like to use for this kind of bake or casserole.
Other ingredients: vegetable broth, flour, curry powder, chives (either fresh or frozen, but not dried), salt, and pepper.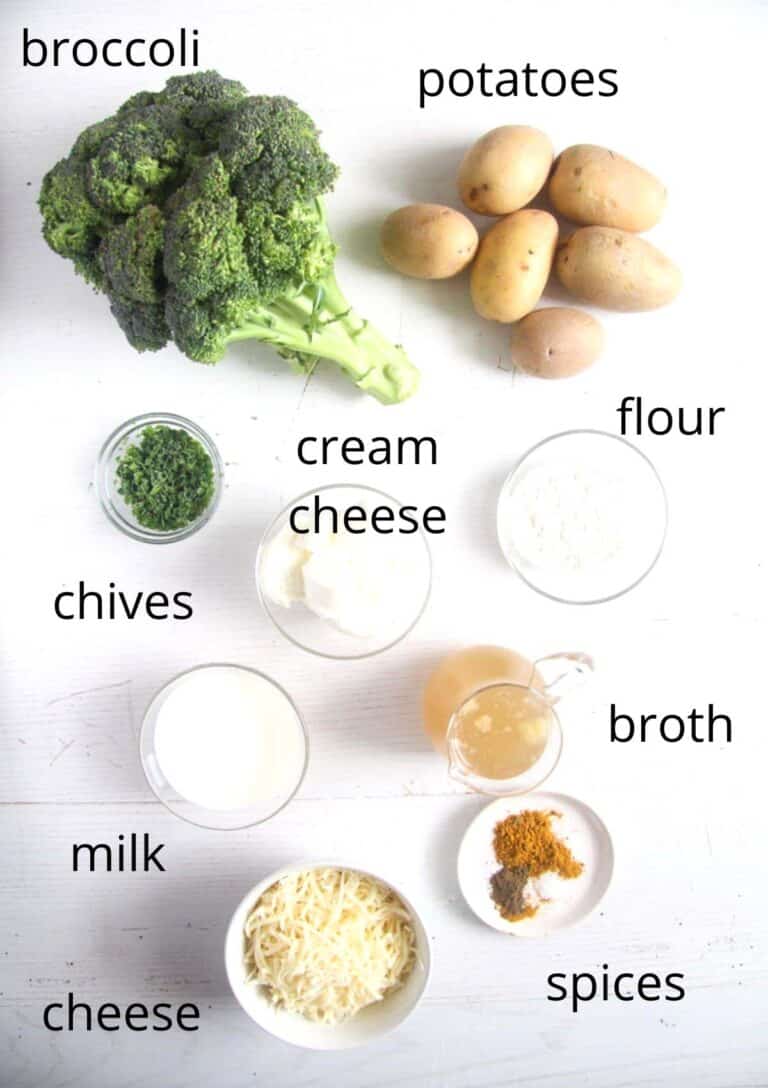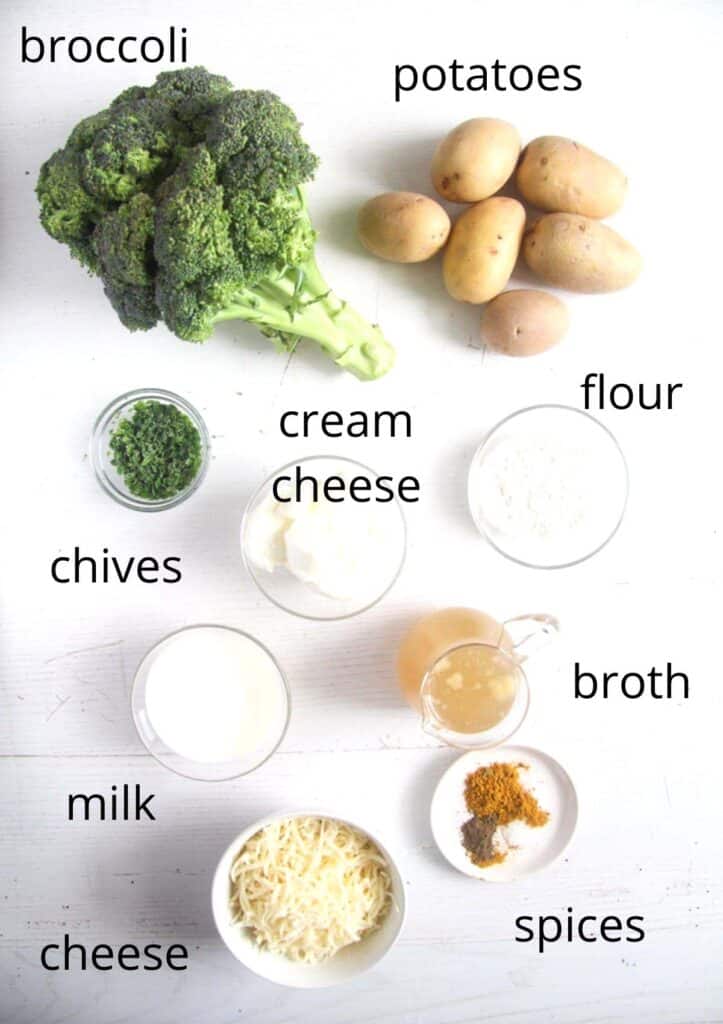 How to make a broccoli potato bake?
Chop the potatoes and the stem into cubes. Divide the head of the broccoli into florets. (1,2)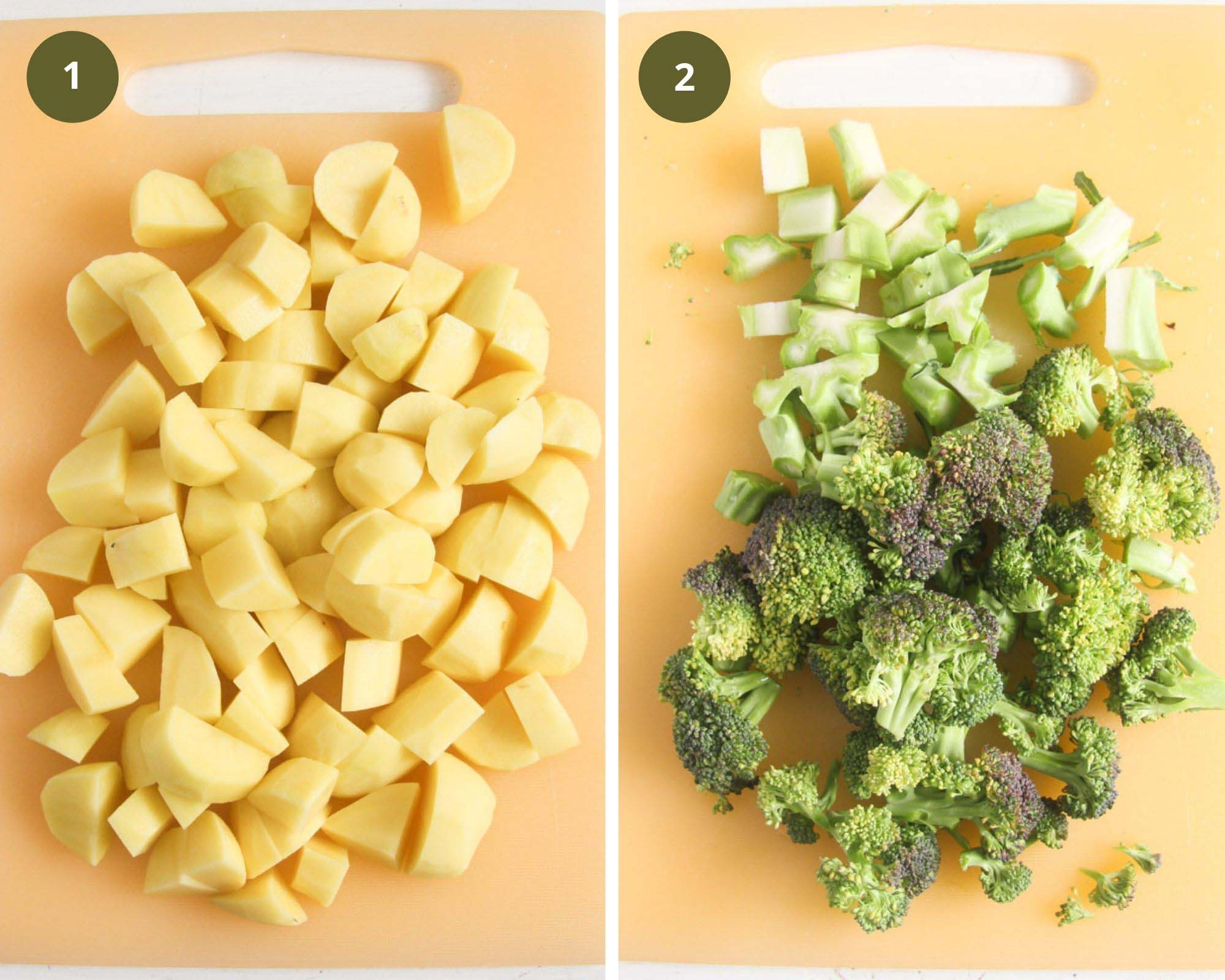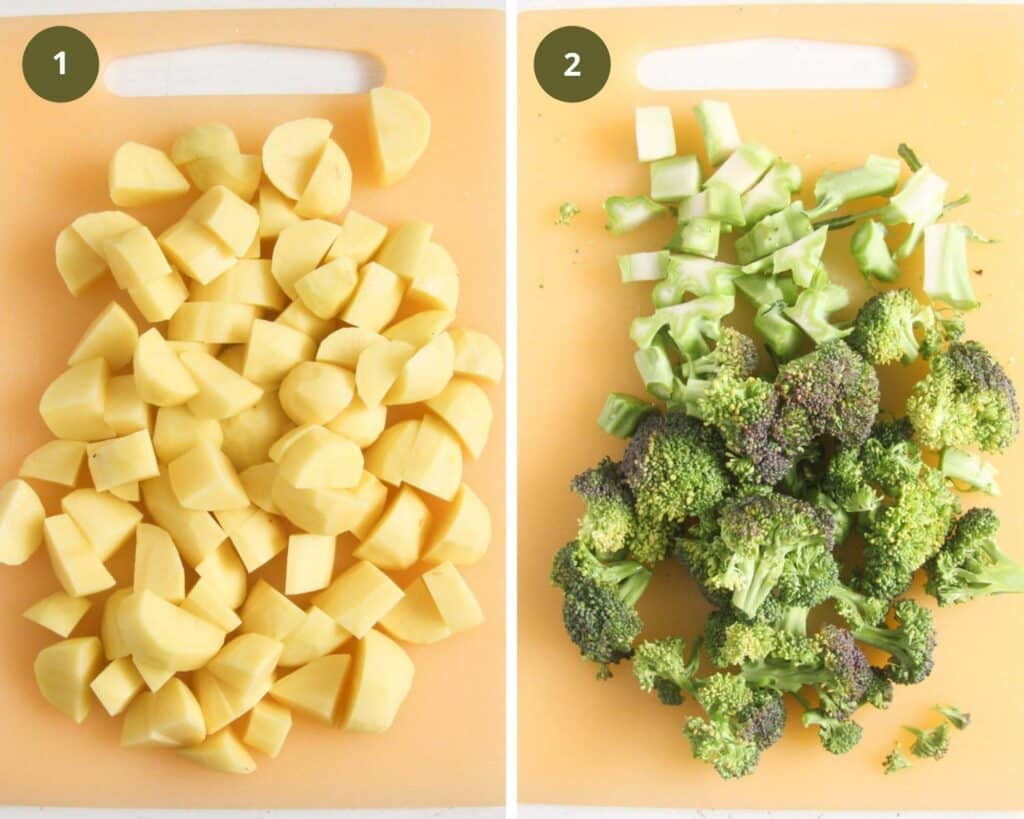 Precook vegetables. Bring a large saucepan of water to a boil. Add salt generously, then add the peeled and cubed potatoes. Cook them for 5 minutes. Add the chopped stem and florets and cook for 3-5 minutes; the broccoli should remain al dente. Drain well.
Warm the vegetable broth in a small saucepan and whisk in the cream cheese. (1,2)
In a small bowl, mix milk and flour until smooth (3). Add to the cream cheese mixture, bring to a boil, whisking constantly; there should be no clumps in the sauce. (4)
Add the chopped chives and adjust the taste generously with salt, black pepper, and curry powder. (5)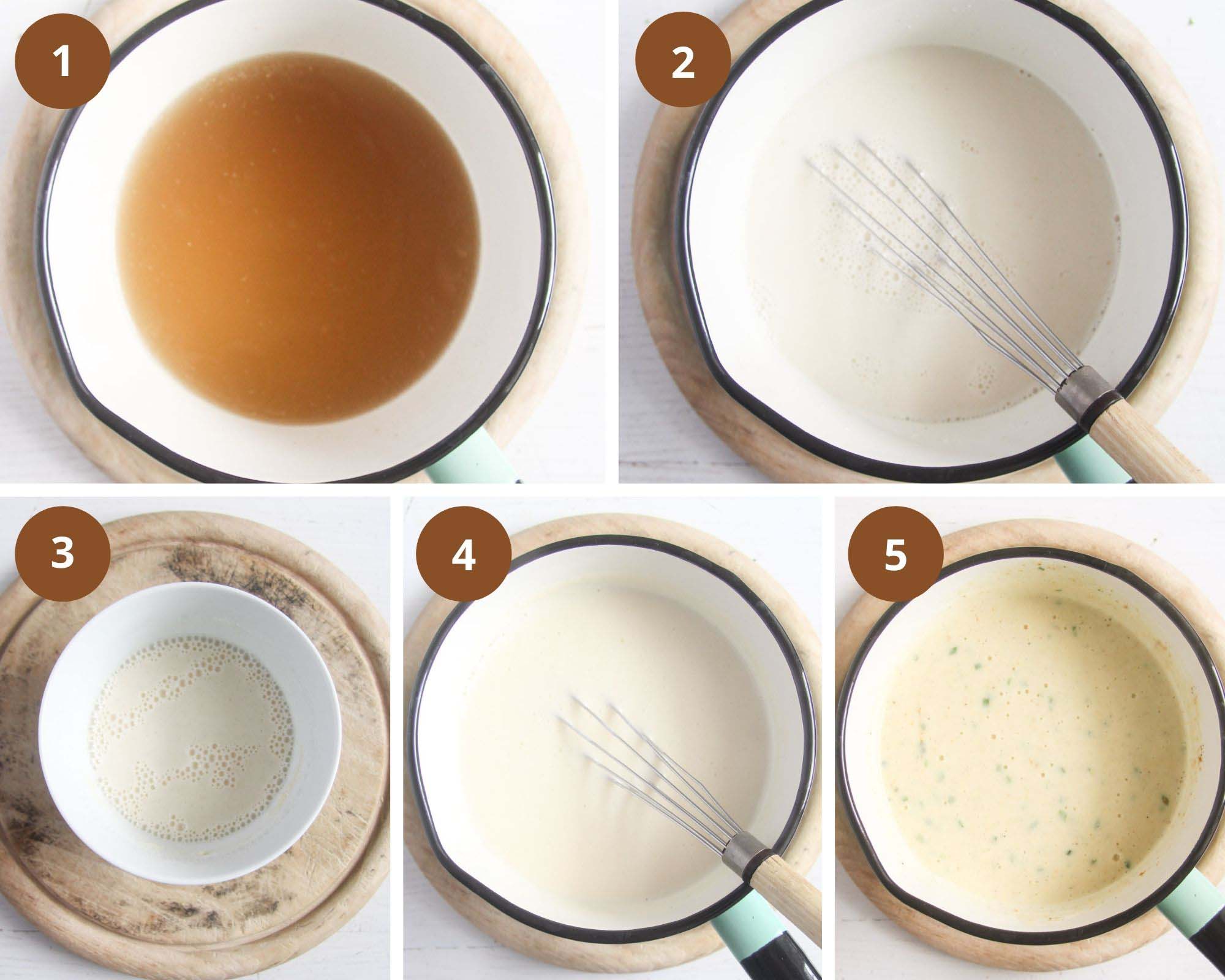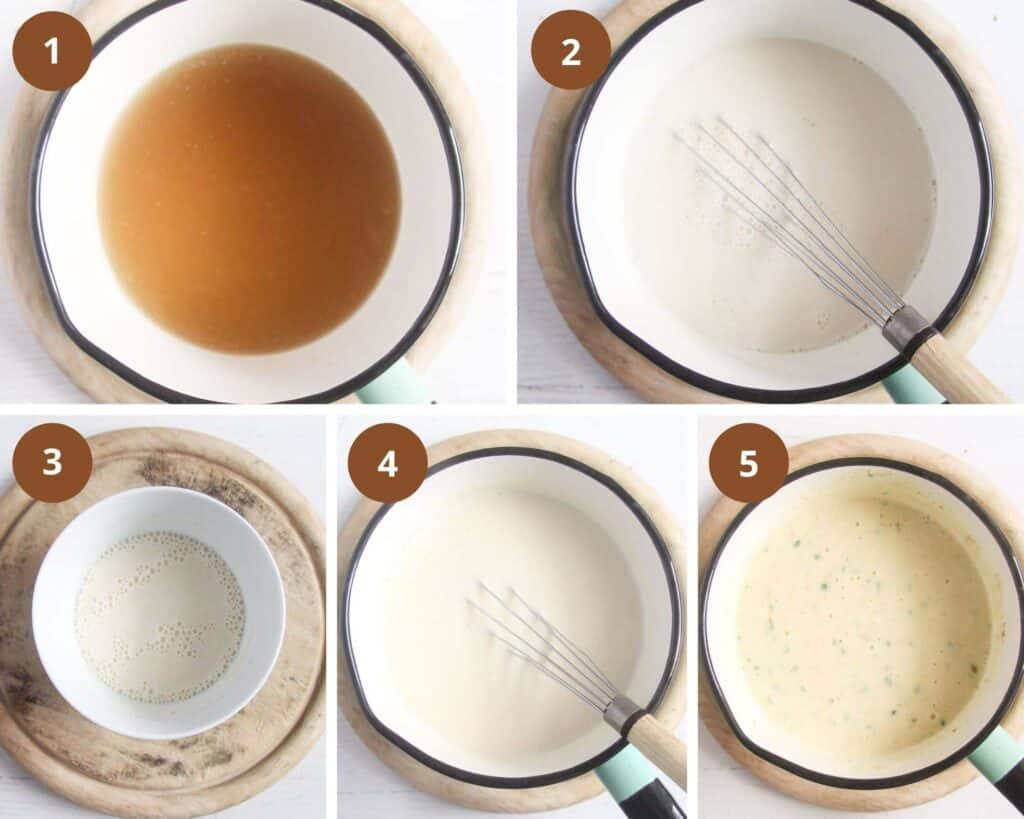 Place the veggies in a casserole dish of about 32x23 cm/ 12x9 inches. Distribute evenly at the bottom of the baking dish. (1)
Pour the sauce over the vegetables in the baking dish. Add about ½ of the grated cheese and mix well. Top with the remaining cheese. (2)
Bake in the preheated oven for about 20 minutes until bubbly and golden.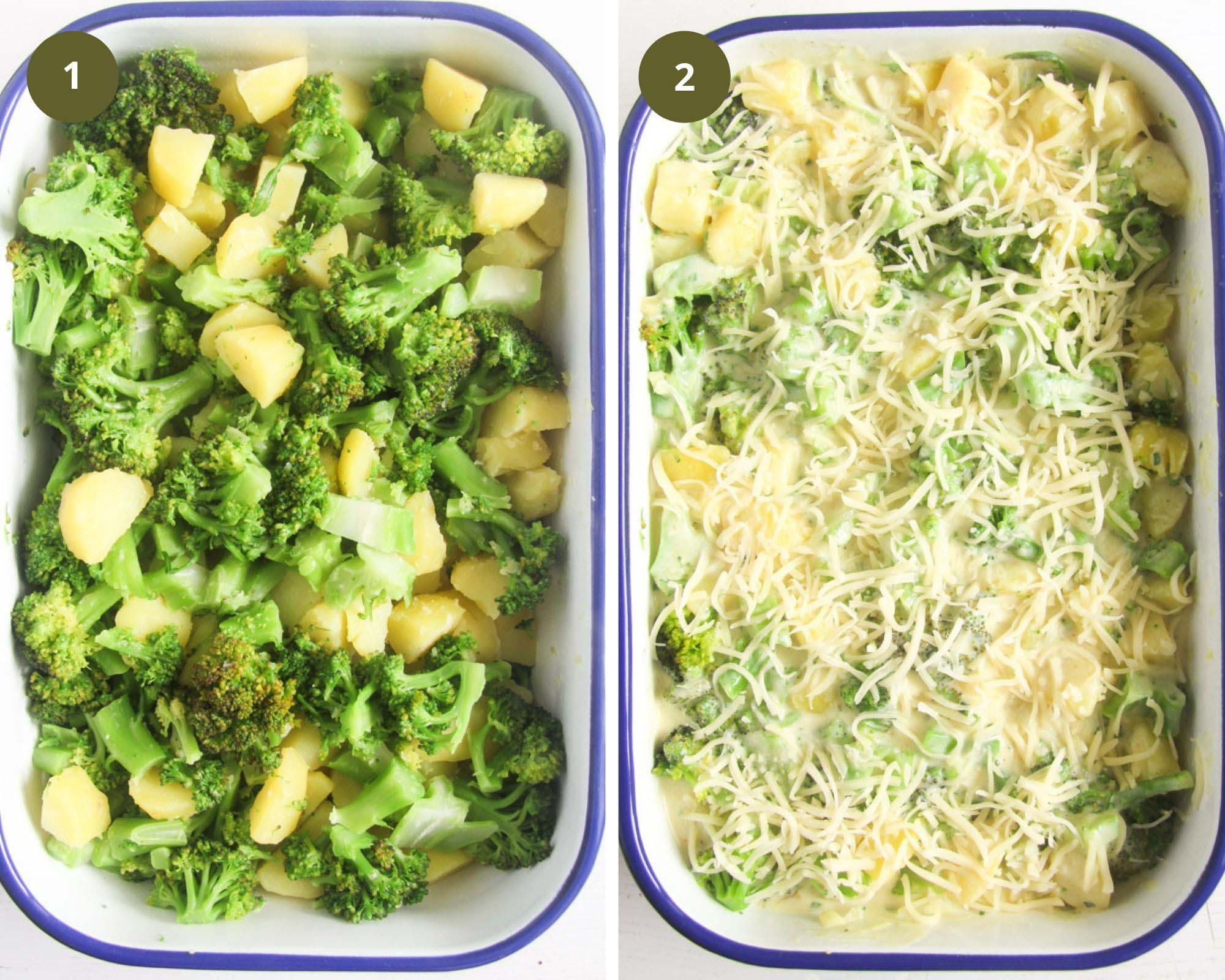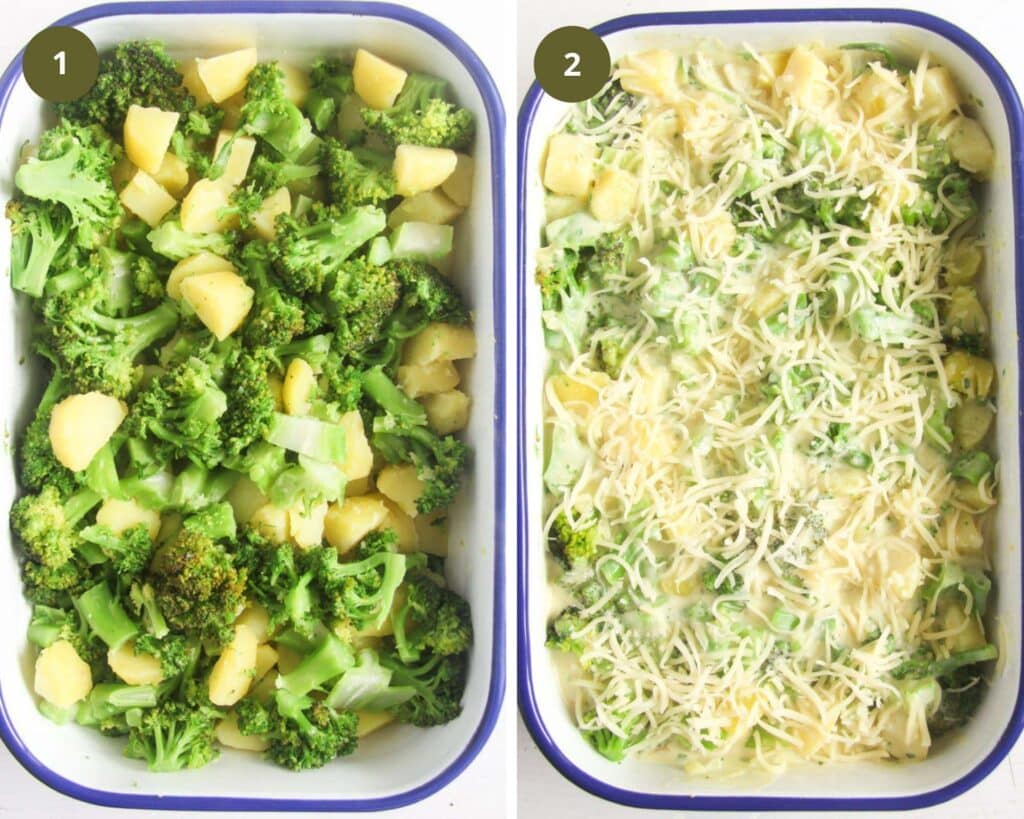 Make ahead and store
You can cook the vegetables ahead of time, place them in the baking dish, and let them come to room temperature. Cover with plastic foil and keep refrigerated until ready to bake. Add the cheese mixture and bake, adding about 5 to 10 minutes to the baking time.
Leftovers keep well in the fridge for 2-3 days. Then, reheat well in the microwave or the oven before serving. I would not freeze the leftovers; I'm not too fond of the consistency of potatoes once thawed.
You can transform the leftovers into a soup. Place the rests in a pot and barely cover with vegetable or chicken stock. Slowly bring to a boil and heat well for about 5 minutes. Puree the soup with an immersion blender and adjust the taste with more spices.
How to serve?
You can serve the cheesy broccoli potato casserole as a light meal dish on its own with a green salad on the side. It also makes the perfect side dish for cast-iron chicken breast, a whole roast chicken, or roasted chicken leg quarters.
This healthy casserole is also a perfect addition to baked brats, pork chops, or pork roast. Of course, it is a delicious side dish for the holiday table, as it is a perfect fit for many meaty dishes, but it keeps the calorie number a bit down. And you can also make a large batch to serve many guests.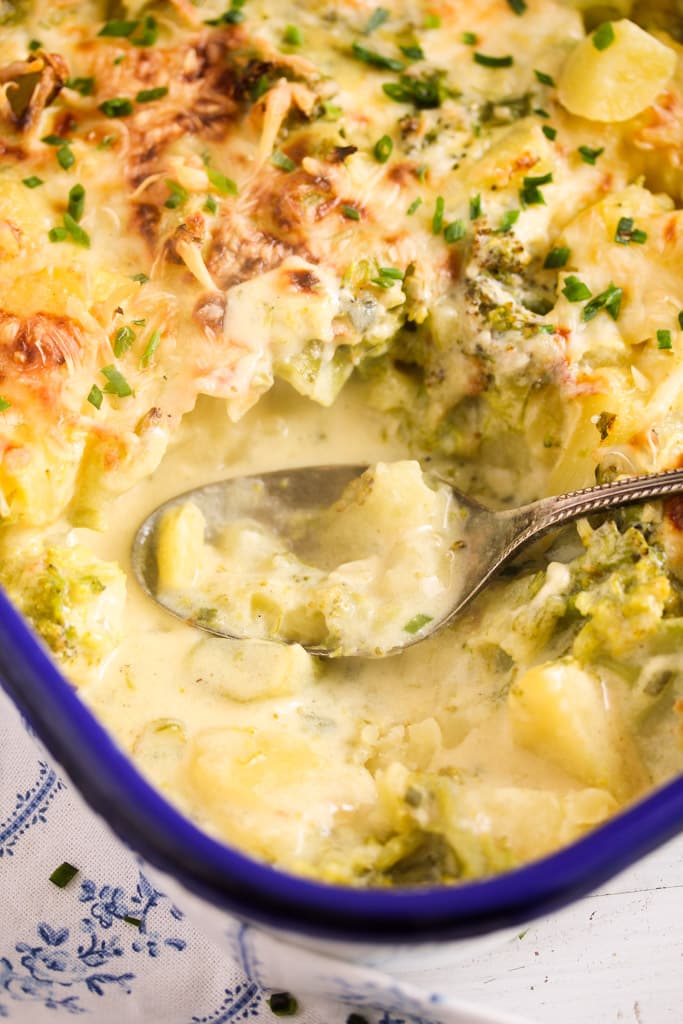 More delicious casseroles or bakes?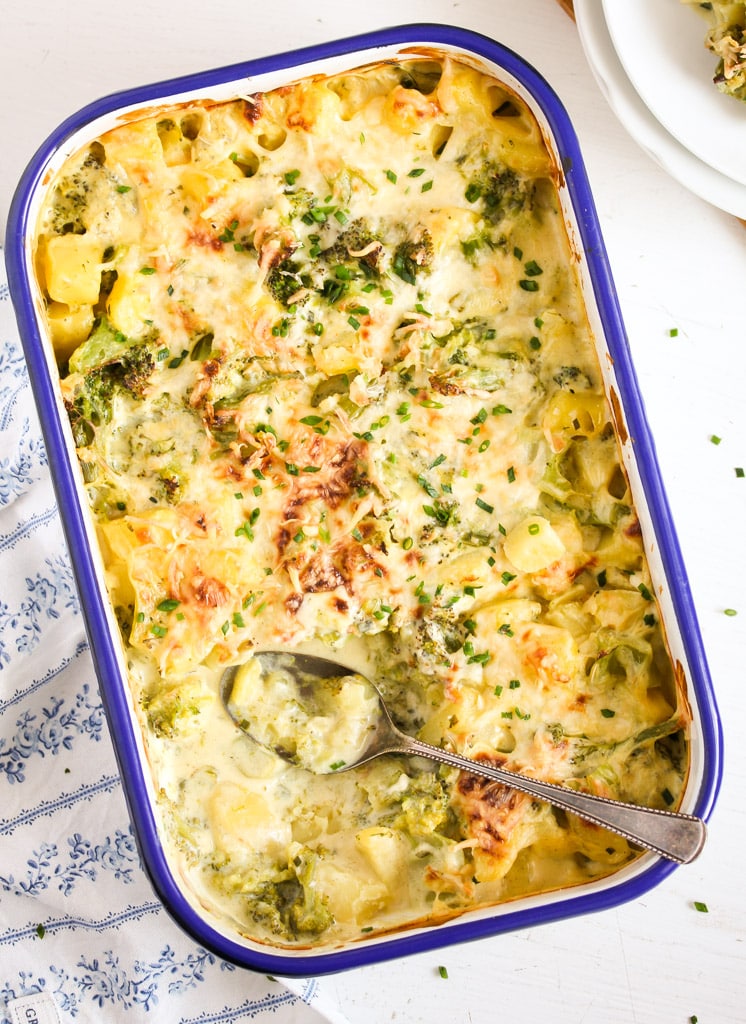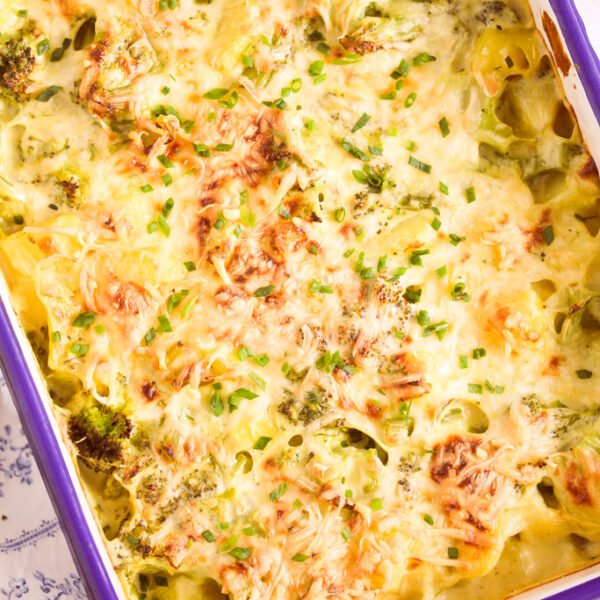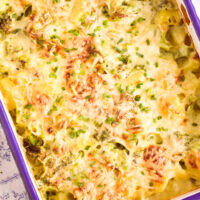 Healthier Broccoli Potato Casserole
This healthy broccoli potato casserole with light cheese sauce makes a perfect light main meal or a side dish for other main courses.
Print
Pin
Share
Grow
Saved!
Rate
Ingredients
2

lbs

potatoes

2

lbs

broccoli

Note 1

1 ¾

cups

vegetable stock

⅔

cup

low-fat cream cheese

Note 2

2

tablespoons

all-purpose flour

½

cup

low-fat milk

1

tablespoon

finely chopped chives

¼

teaspoon

fine sea salt

more to taste

⅛

teaspoon

ground black pepper

more to taste

½

teaspoon

curry powder

more to taste

1

cup

low-fat grated cheese

Gouda or Cheddar (Note 2)
Instructions
Preheat the oven to 200 degrees Celsius/ 400 degrees Fahrenheit.

Precook vegetables: Peel the potatoes and cut them into cubes. Bring a large pot of water to a boil, add some salt and cook the potatoes for about 5 minutes. In the meantime, divide the broccoli head into florets and chop the stem into cubes. Add to the potatoes and cook everything for another 5 minutes. Drain well and place the vegetables into a casserole dish of about 32x23 cm/ 12x9 inches.

Sauce: Warm the vegetable stock in a small pot, remove from the heat and whisk in the cream cheese until completely melted. In a small bowl, mix the milk and the flour until smooth, add it to the vegetable stock-cream cheese mixture and bring everything to a boil while stirring all the time. Remove from the heat, add the chives, salt, pepper, and curry powder to taste.

Bake: Pour the sauce over the vegetables, sprinkle the casserole with the grated cheese, and bake for about 20 minutes until bubbling and golden.
Notes
Stems included. Or use only broccoli stems if you have to have some leftover. Or use frozen broccoli.
Use full-fat dairy products (cream cheese, cheese) if desired.
Nutrition
Serving:
1
/4 of the dish
|
Calories:
348
kcal
|
Carbohydrates:
49
g
|
Protein:
15
g
|
Fat:
12
g
|
Saturated Fat:
7
g
|
Polyunsaturated Fat:
4
g
|
Cholesterol:
35
mg
|
Sodium:
586
mg
|
Fiber:
8
g
|
Sugar:
7
g