A layer of potatoes, one of spinach, meatballs and cheese: all combined into one dish. What could you want more?
I am not sure I could call this recipe a typical Romanian one, at least it is not something I have ever eaten in my grandmother's house, but like I have mentioned a few times before, my grandma was not exactly a pioneer in the kitchen, she knew her dishes well and cooked those perfectly but never considered trying anything new or even changing one thing in at least one of her dishes.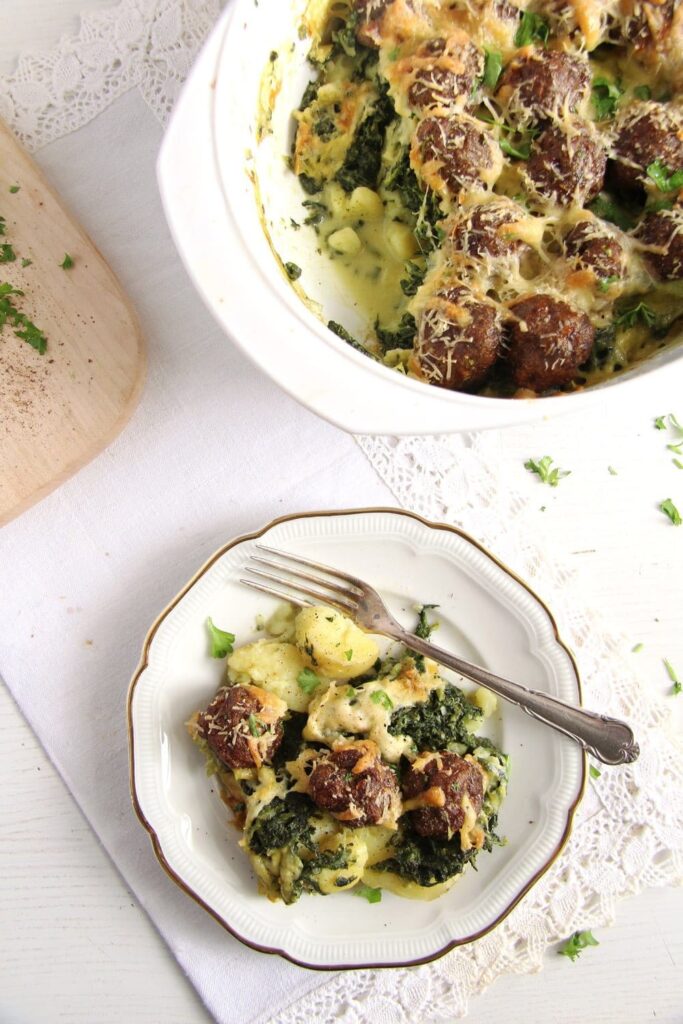 She either had exactly all the ingredients she needed for a dish or she would make something else, replacing or leaving out something was not an option, every dish had to taste exactly the same every time she made it or it was not good. This was also the main reason she would almost never eat in other people's houses, their also typical Romanian recipes would differ slightly from her own, hence they were not good and those people (including her own daughters and sisters) didn't know how to cook. She was quite difficult to please, I am telling you.
This is probably the reason I am so willing to try any kind of food, the reason I have so many cookbooks and why, with some exceptions, I rarely cook the same recipe again and again. I like variety and although I liked my grandmother's cooking a lot when I was growing up, I remember myself when I was about 16-17 and she wanted to make sarmale/cabbage rolls again for like the 4th time in 2 months (one of my favorite dishes actually), that I've told her "Sarmale? Not again!!! We already had that last week! Make something else". Her answer was: "What else can I make, I have already bought the meat and the cabbage?" Main point: she could not even conceive that there might be another way of combining cabbage and ground meat into a new dish.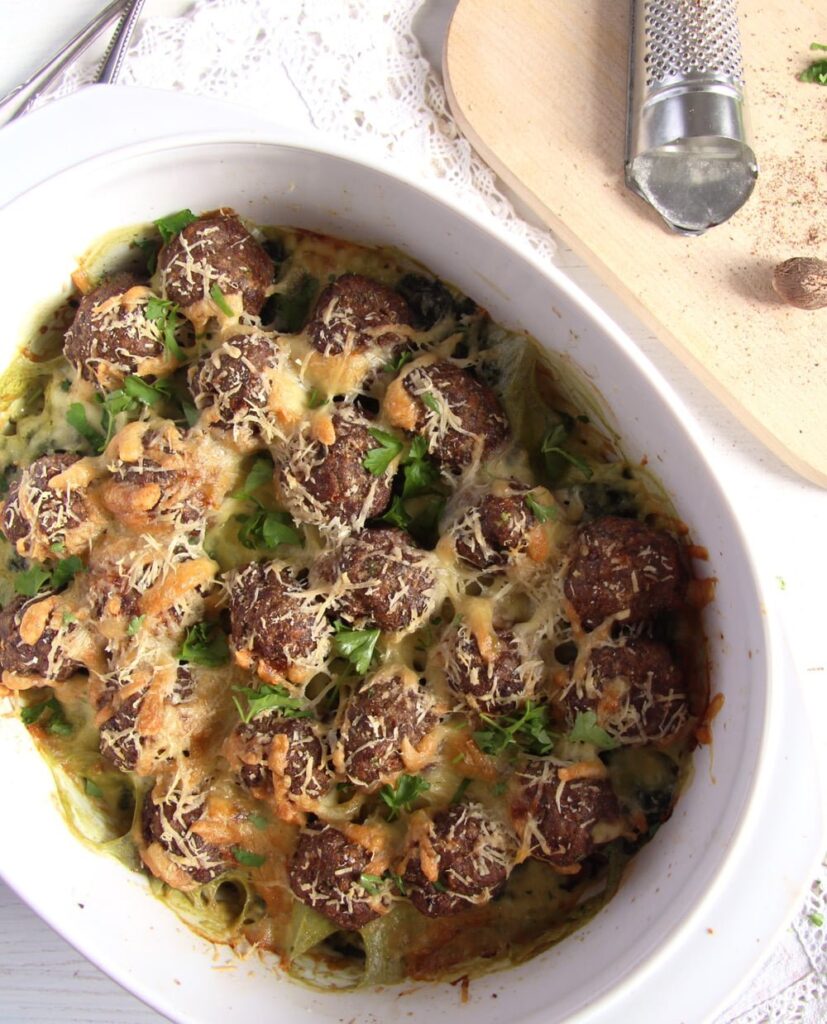 So a casserole dish containing potatoes, spinach, meatballs and CHEESE (imagine that – putting cheese on top of meat and melting in the oven!!!! Preposterous!!!) would be something my grandmother would never have eaten if you paid her to do so. She would probably have rather gone hungry for 3 days instead or would have eaten only dry bread while watching us eating the casserole and thinking we are completely insane and have no idea what good food actually is.
Luckily, I don't have this problem with my lot now, they do enjoy eating all kind of different dishes and a casserole with cheese on top is always a winner. I used fresh spinach to make this Cheesy Spinach Meatball Potato Casserole, but if all you have is frozen spinach, don't worry about it, it will work just as well. Just thaw and drain it first. But make sure you buy some frozen spinach where the leaves are not chopped into tiny fragments, I really don't like that kind unless I want to puree the spinach anyway. The fresh spinach leaves should also not be chopped very finely, if they are small leave them whole, if they are large, slice them roughly two or three times. I stirred some smetana into the spinach, but you can use crème fraiche, sour cream or cream cheese instead.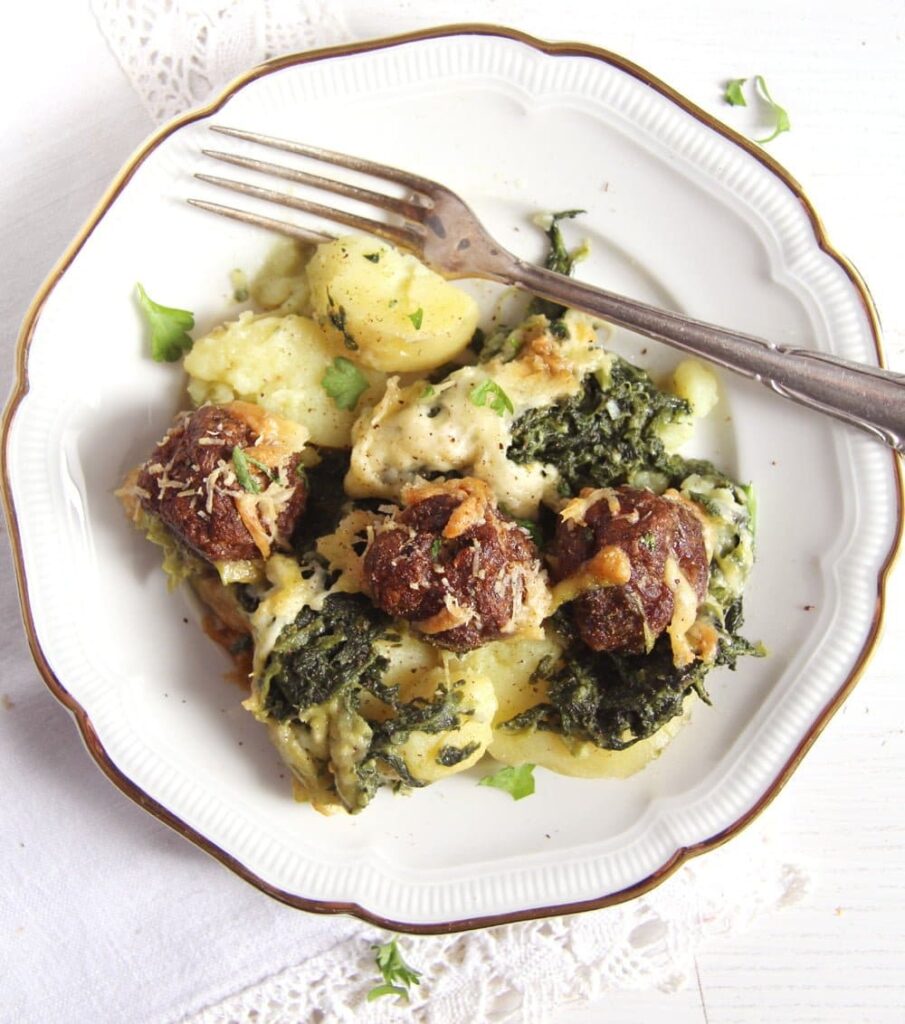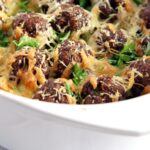 Ingredients
600 g/ 21 oz potatoes
2 tablespoons oil
800 g/ 28 oz fresh spinach (weighed when stalks removed) or about 400 g/ 14 oz frozen spinach, thawed
6 garlic cloves, separated
200 ml vegetable broth
2 tablespoons smetana/ crème fraiche/ sour cream/ cream cheese
500 g/ 17.6 oz lean ground beef (or a mixture of beef and pork)
3 tablespoons dry breadcrumbs
1 heaped teaspoon Dijon mustard
1 egg
1 teaspoon sweet paprika
2 tablespoons chopped parsley
some nutmeg
salt and pepper
150 g/ 5.3 oz freshly grated Gouda or cheddar
Instructions
Preheat the oven to 180 degrees Celsius/ 360 degrees Fahrenheit. Line a baking tray with baking paper. Butter a casserole dish.
Cook the potatoes, let get cool enough to handle, peel and slice them into rather thick slices.
In a bowl mix together the ground meat, dry breadcrumbs, 2 of the garlic cloves – grated, egg, mustard, sweet paprika, salt and pepper to taste. Form about 20-25 meatballs, place them on the prepared baking tray and bake in the oven for about 12-14 minutes, they should not be raw in the middle anymore, but still remain soft and juicy, they will be cooked longer in the casserole dish itself.
Remove the stalks of the spinach and chop it very roughly, only if the leaves are very large. Heat the oil in a large pan, add the spinach and let it wilt shortly. Add the vegetable broth and cook for about 5 minutes. Add the remaining 4 cloves of finely sliced garlic and continue cooking for another 5 minutes, stirring from time to time, or until the spinach is cooked and most of the liquid has cooked down. Stir in the smetana or crème fraiche. Adjust the taste generously with salt, pepper and nutmeg.
Place the sliced potatoes in the prepared casserole dish, give the spinach on top, arrange the meatballs over the spinach and sprinkle everything with the freshly grated cheese. Bake for about 35-40 minutes or until golden brown.
Serve with green salad.
This post contains affiliate links. The price you pay as a consumer does not change, but if you make a purchase we will receive a commission which helps support the blog.
You might also like:
Skinny Broccoli Potato Casserole