Last Updated on
Oven-baked vegetarian patties with cauliflower and potatoes, soft and creamy on the inside and incredibly crispy on the outside.
Although baked in the oven these cauliflower patties are the crispiest patties I have ever made. No kidding!!!
I was truly amazed and I liked them so much I think I ate 4 or 5 in one go. And they're not exactly tiny. And another huge plus was that the children liked them as well.
I really have to struggle to get them into eating vegetables like cauliflower or broccoli or cabbage, therefore I am even happier when I see them eating these veggies without complaining.
OK, I admit, one cannot really recognize the cauliflower in the patties, so that is the main reason of their lack of complains, but you can still taste the cauliflower and to see them eating the patties made me day.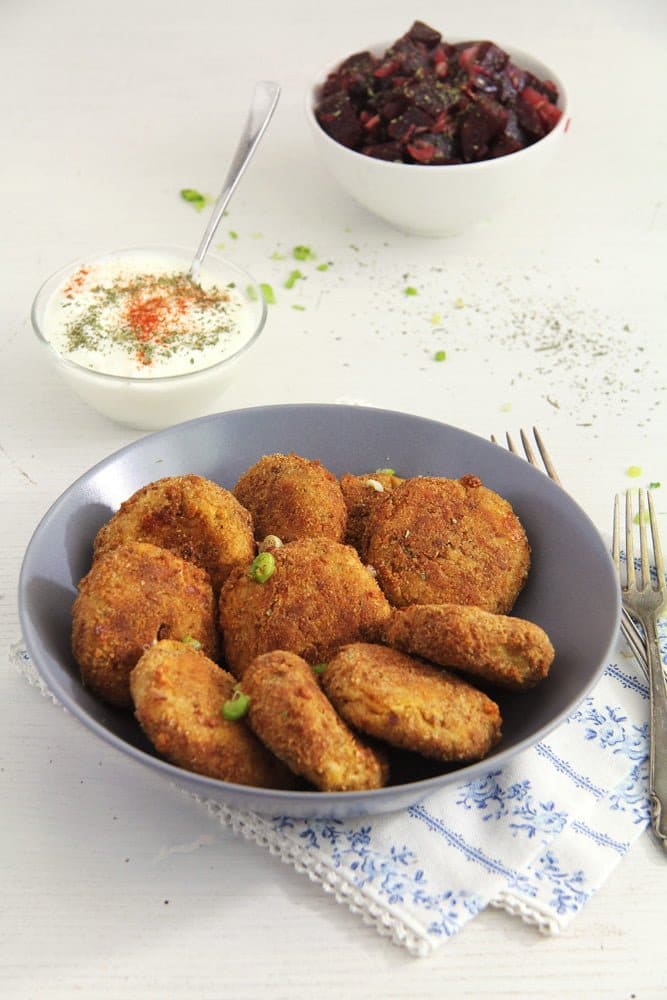 Cauliflower patties with potatoes recipe
This is not something I ate as a child in my grandmother's house, she was not a very experimental cook and her meatballs reduced themselves to the typical pork meatballs, which she would fry in lots of oil and which we would eat warm with mashed potatoes or cold on a slice of bread smeared with mustard.
The only change she would ever make was to cook the leftover meatballs in tomato sauce from time to time, when she had made too many of them.
But vegetarian patties would never have occurred to her, which is strange, because after taking the time to learn more about the traditional Romanian cooking, I realize how many recipes there are out there for patties/vegetarian meatballs involving all kinds of vegetables from the typical and simple potato to cauliflower, broccoli, cabbage, peas and so on.
I really cannot wait to try more of these patties in the next months, I am especially curious about the cabbage patties, cabbage is one of my favorite veggies and all the recipes I have read until now sound so good.
Some vegetarian meatballs that I love are these Broccoli Cauliflower "Meatballs" or these Veggies and Chickpea Meatballs.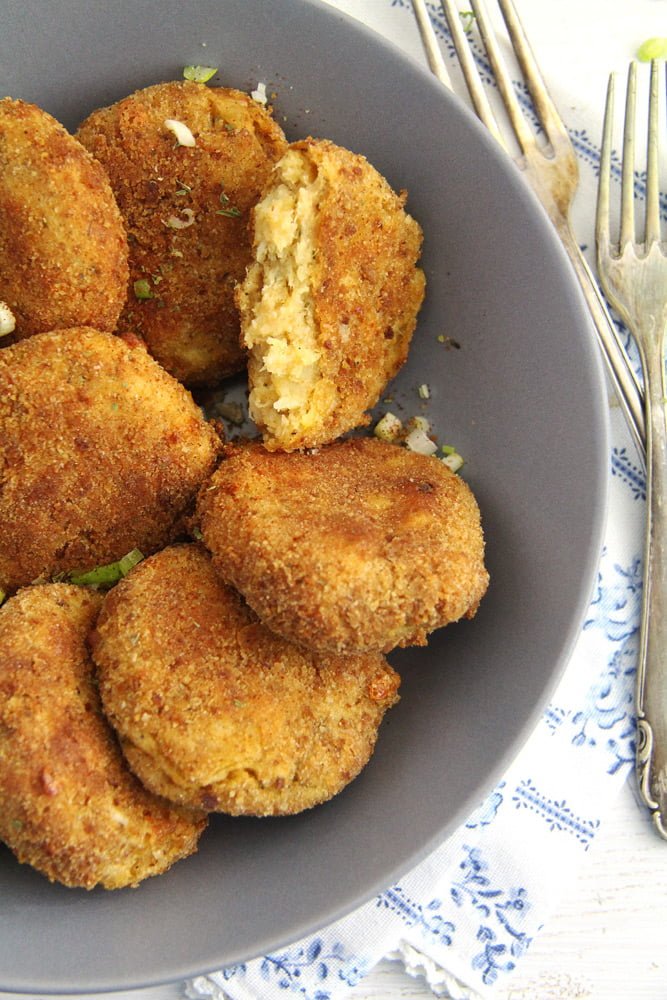 However, until then, I am more than happy to introduce to you these amazing potato patties, if you do try them, I am sure you will love every bite of them.
And what is not to love: a comforting, smooth and cheesy interior, surrounded by that crisp coating.
There is no particular source for this recipe. I found a similar recipe for broccoli patties in a Romanian recipe magazine, but I have changed that recipe beyond recognition, I would say.
Ingredients for the cauliflower patties
Not only the ingredient list but also the cooking method, those patties were fried in lots of oil, a method I am not particularly fond of and which I try to alter most of the times. This time it worked perfectly, I cannot imagine these cauliflower patties being crispier even when fried.
I used frozen cauliflower to make the patties, which I did not even bother defrosting, just gave it to the pot as it was. This recipe is suitable for using the stem of the cauliflower as well.
Sometimes, I only use the florets for a recipe and then I keep the stem to make a soup or something. You could chop that stem when you have it leftover, freeze it (if not using it immediately) and use it to make these patties on another occasion.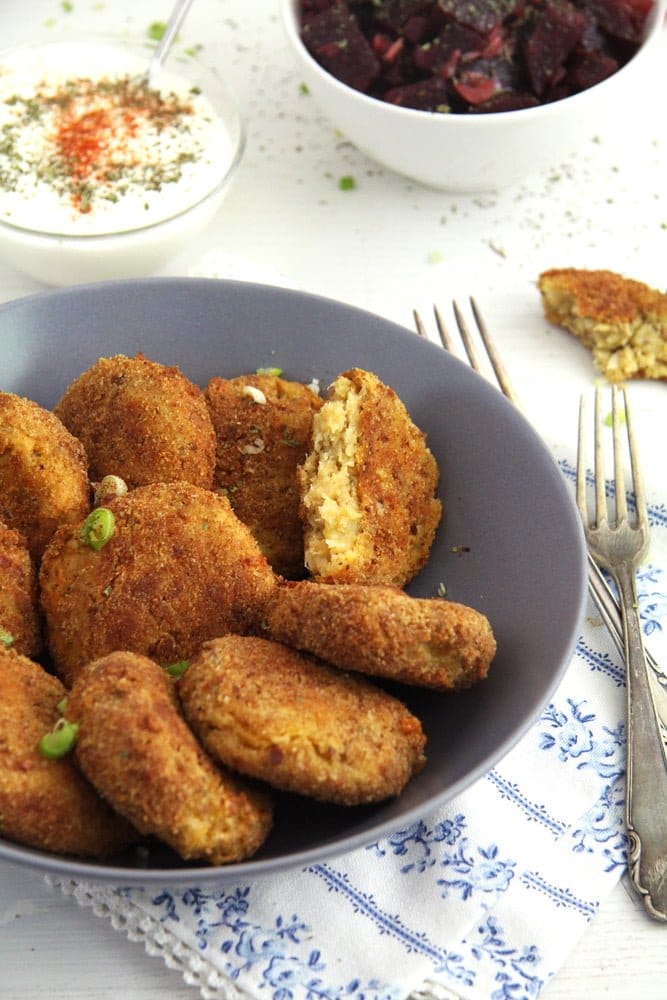 Traditionally, a Romanian person would use cascaval – a Romanian yellow cheese – to make the potato patties with cauliflower, however, that is not available in Germany and I like Gouda better anyway, it has a stronger taste than cascaval.
Cheddar is another good option and I would not mind trying to make the cauliflower and potato patties with Parmesan.
How to serve the potato patties with cauliflower
Serve the patties with salad and a dip or sauce of your choice. I had them either with Garlic Dip or Basic Tomato Sauce, but the kids prefer ketchup of course. When eaten immediately the patties are very crisp.
If left to get cold, they lose their crispiness, but they still taste delicious. I liked the leftovers stuffed in pita bread with sweet and sour sauce and coleslaw.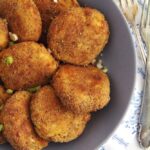 Ingredients
425 g/ 15 oz potatoes

300 g/ 10.5 oz cauliflower

100 g/ 3.5 oz Gouda or cheddar

3-4 tablespoons + 100 g/ 3.5 oz dry breadcrumbs, divided (See note)

1 + 2 eggs

2 teaspoons chopped dill (frozen is OK)

4 thin scallions

1 ½ teaspoons salt

¼ teaspoon black pepper

½ teaspoon sweet paprika

2-3 tablespoons all-purpose flour

2 tablespoons vegetable oil
Instructions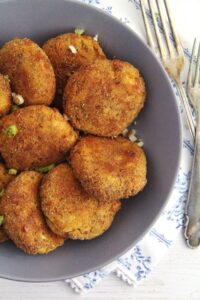 Peel the potatoes and cut them into pieces. Bring a pot of water to a boil, add a pinch of salt, the potatoes and the frozen chopped cauliflower. Bring to a boil again and let cook for about 15 minutes or until both potatoes and cauliflower are soft. Drain well and let get cold.
Mash the potatoes and the cauliflower with a potato masher. Add the grated cheese, 3 tablespoons of the dry breadcrumbs, 1 egg, dill, finely chopped scallions, salt, pepper and sweet paprika. Mix very well and try to form a patty. If the mixture is too soft, add the 4th tablespoon of breadcrumbs and mix again.
Preheat the oven to 200 degrees Celsius/ 400 degrees Fahrenheit. Line a baking tray with baking paper. Pour the two tablespoons oil in a small bowl and use a bit of it to lightly brush the baking paper.
Form 16 balls (about 55 g/ 1.9 oz each). Flatten the balls into discs with your palm. Put the flour on a large plate, beat the remaining two eggs in a shallow bowl and give the remaining 100 g/ 3.5 oz dry breadcrumbs to another plate.
Coat each patty with flour and pat gently to remove the excess flour. Drag the patties through the lightly beaten eggs and coat well with the breadcrumbs. Place the patties onto the prepared tray and use the remaining oil to brush the top and sides of the patties.
Bake for 15 minutes, flip over and bake for further 15 minutes until golden brown and crisp. Serve hot with salad and a sauce of your choice (yogurt or tomato sauce would both be good, the kids had ketchup).
You might also like:
Polenta and Cheese Meatballs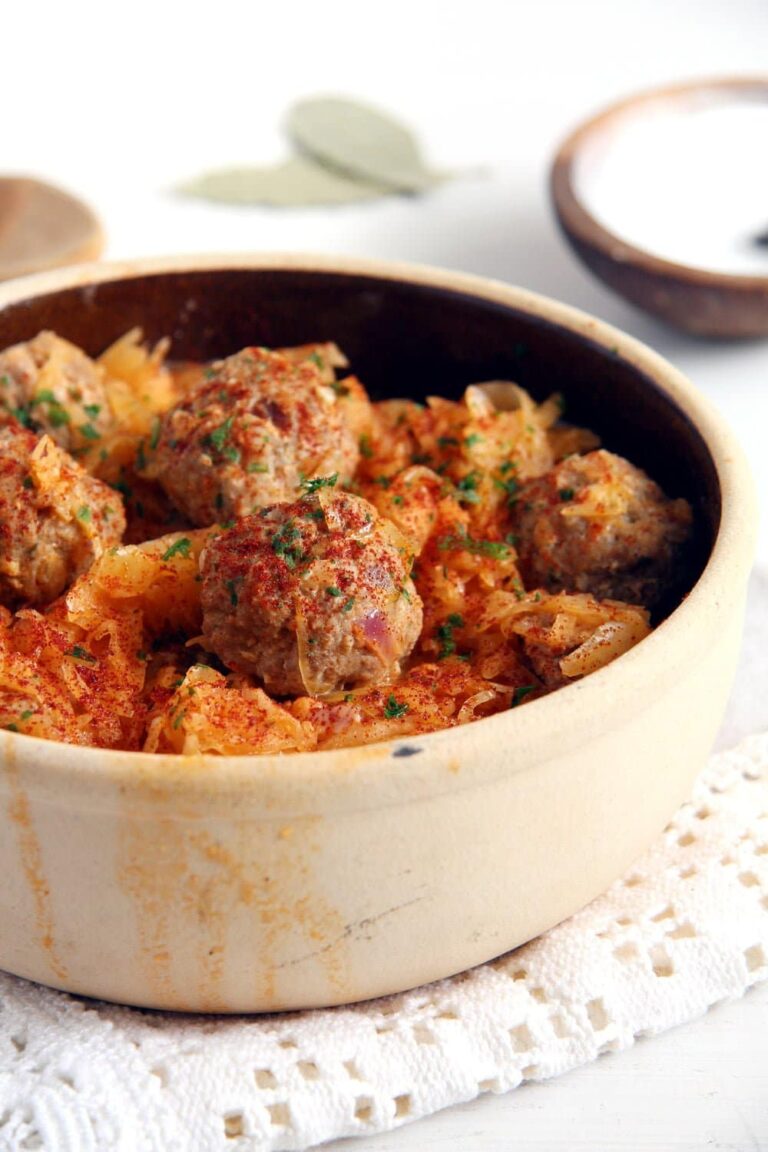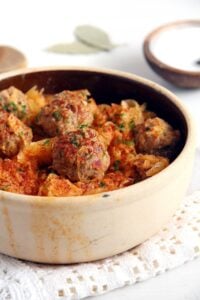 Sauerkraut and Meat Dumplings
<
Broccoli Cauliflower "Meatballs"