An easy to make fruit cake with mixed dried fruit like cranberries, currants, and raisins. A fruit cake recipe without alcohol.
Christmas fruit cake without alcohol
A classic Christmas fruit cake, the English style is indeed a nice kind of cake to have for the holidays. If it wasn't this huge drawback of having to make it so much in advance and then think about wrapping and unwrapping it, soaking it with brandy again and again over the course of several weeks or even months.
And then the alcohol, I don't mind it, I have had a classic fruit cake with brandy and found it delicious, but it would not do for the kids…
So I am glad for this delicious and easy fruit cake recipe, using no alcohol at all and needing no soaking times or wrapping paper.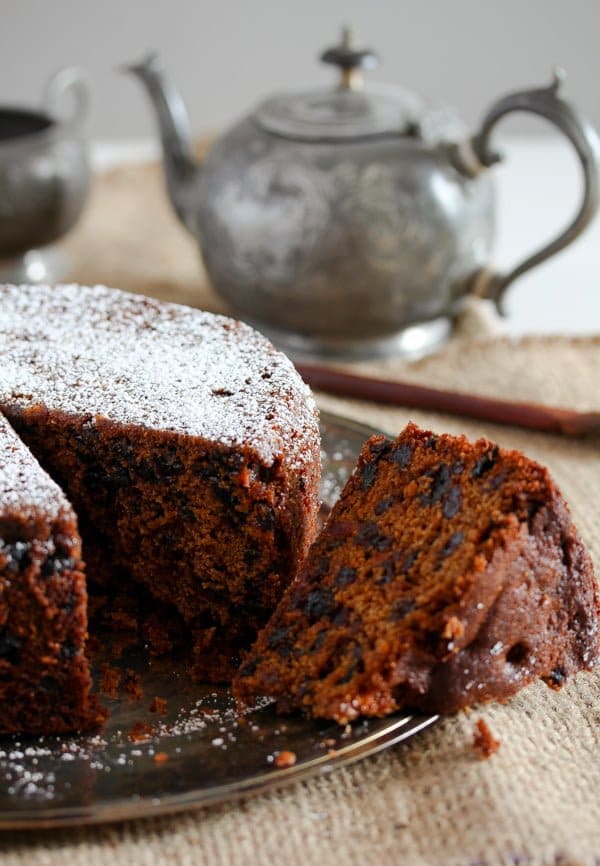 Fruit cake recipe with mixed fruit
As mentioned above I have had a classic English fruit cake before, I didn't bake it myself though. What I did bake was a huge wedding cake, which used a Jamaican fruit cake as a base. It was a really massive cake, not only in appearance but also in taste and use of ingredients.
Lots of (rather expensive) ingredients, quite a lot of work and lots of alcohol. Although I liked the cake, I did rather think you could mainly taste the sweetness and the alcohol in it. Dense, heavy, full of dried fruit and brandy.
Good, but not something I would bake for my family.
So, I wanted to come up with a lighter version of the classic fruit cake, lighter in any sense: lighter in texture, lighter in sugar, lighter in alcohol and lighter for the purse as well.
This non-alcoholic Christmas cake meets all my requirements. It has a much lighter crumb, it contains no alcohol at all, only a fair amount of sugar, less dried fruit than the original and due to the lack of alcohol and the use of less dried fruit, it is not as expensive anymore either.
And I should not forget to mention how delicious this easy fruit cake without alcohol is. Soft, sweet and spicy, the perfect cake for Christmas time.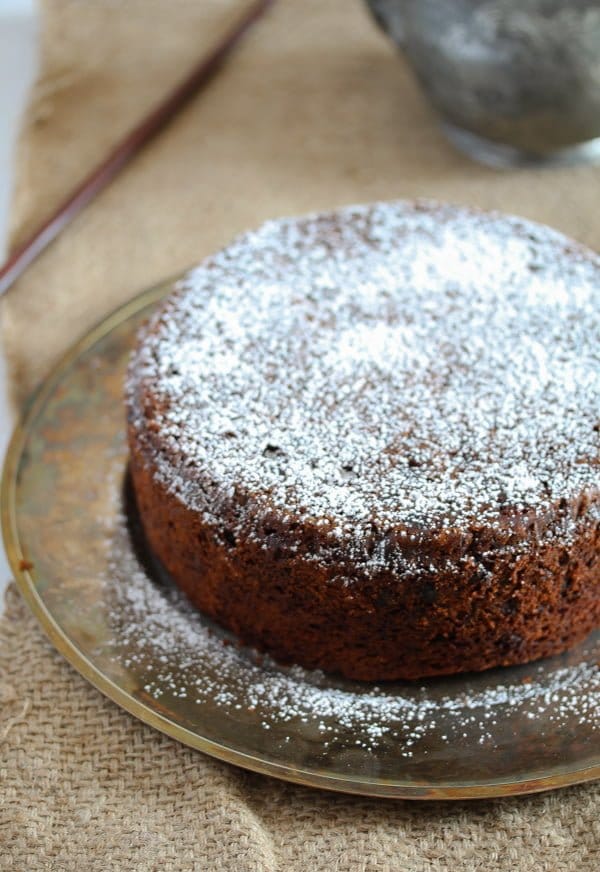 Ingredients for the easy fruit cake recipe
Dried fruit:
I used a mixture of cranberries, currants and raisins or sultanas to make the dried fruit cake. Keep the raisins or sultanas no matter what, they are mandatory and they are the cheapest dried fruit you could possibly buy for this fruit cake recipe.
Otherwise, you could play a little with the sorts of dried fruit you choose. I love to use cranberries and currants because they are tarter than other sorts of dried fruit, but you could replace them (or parts of them) with other dried fruit like apricots, a few prunes, dried cherries or whatever you like.
Some people add candied peel, but I am really never keen on that… however, that is personal taste, if you like it, you can add some candied peel to the non-alcoholic Christmas fruit cake as well. If you decide to add candied peel, reduce the number of glace cherries and replace that with the candied peel.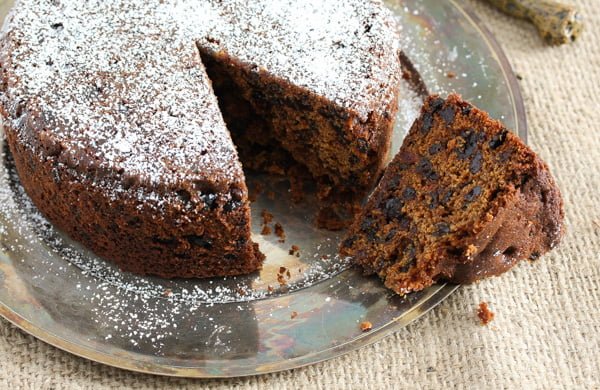 Sugar:
I used muscovado sugar to make this Christmas fruit cake, however, muscovado sugar is not easily found outside of the UK (you can find it online).
I've learned that muscovado sugar is sometimes known as Barbados sugar, so you might want to check that as well.
Muscovado is a brown, moist and somehow spicy tasting sugar (although there are no spices in it). It comes in light or dark brown apparently, but I have only ever been able to buy the dark brown sort.
When I don't have it, I replace it with regular brown sugar. I add one tablespoon less brown sugar to the batter, adding one tablespoon of molasses instead.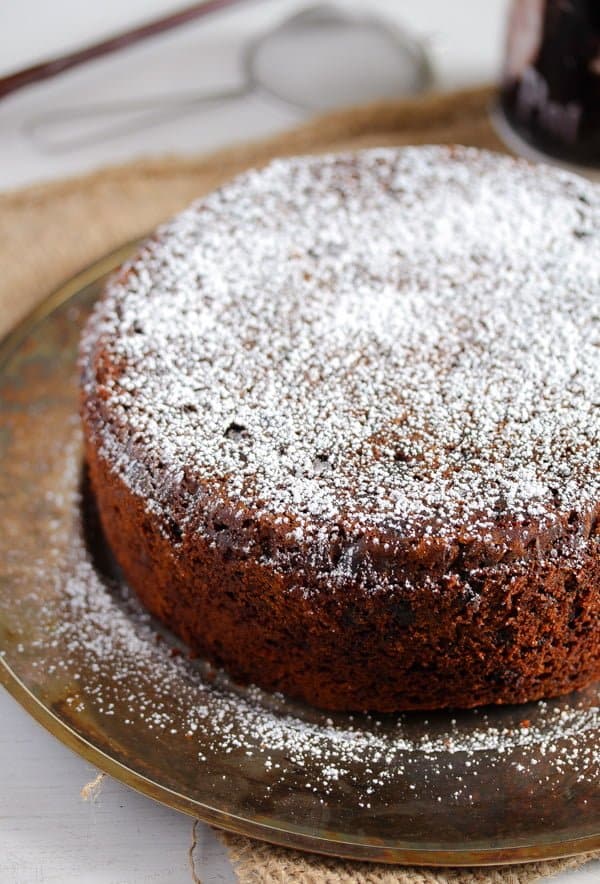 How to make a non-alcoholic Christmas fruit cake
This recipe is so much easier to make than the classic version of a Christmas fruit cake. Actually, all it takes is to mix the ingredients, pour them into the baking dish and bake.
I use a small springform (or cake tin) to make it, which is rather unusual for me. Normally, I would take the standard-sized springform, which has a diameter of 26 cm in Germany, but in this case, a 20 cm/ 8 cm springform or cake tin is enough for a regular family and a couple of guests.
Although being lighter, the fruit cake is still mightier than a regular pound or loaf cake.
Once baked, let the Christmas fruit cake without alcohol cool in the tin.
You can serve it immediately once it is cooled, but I prefer to make it one day in advance, wrap in aluminum foil once cooled and serve it the next day with a cup of coffee or tea.
I wish you a very Merry Christmas, a wonderful time with your family and friends.
PIN IT FOR LATER!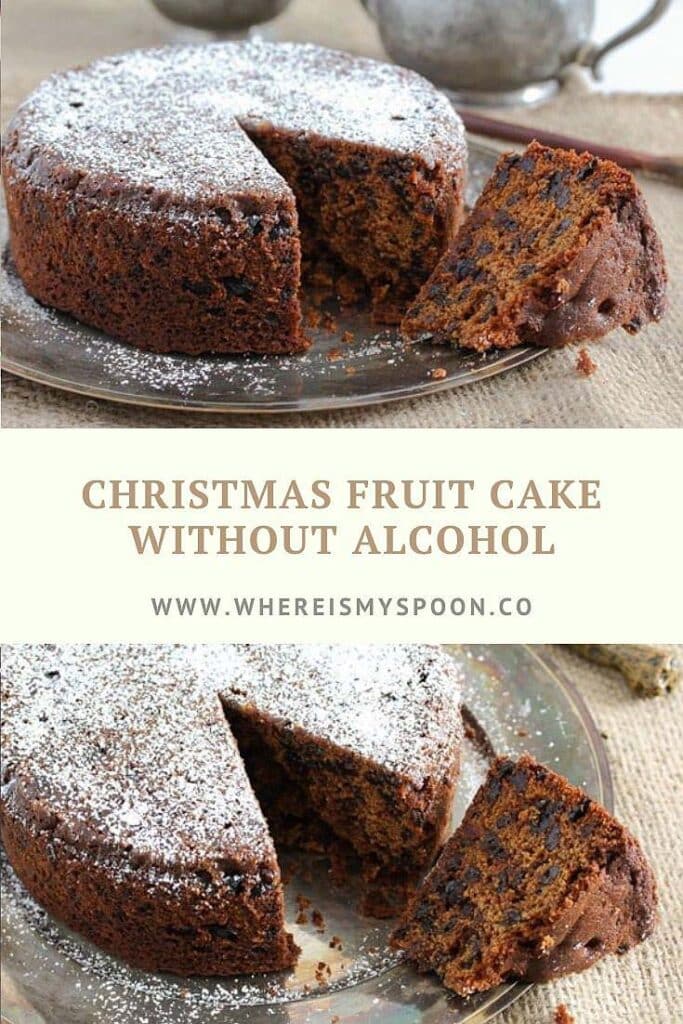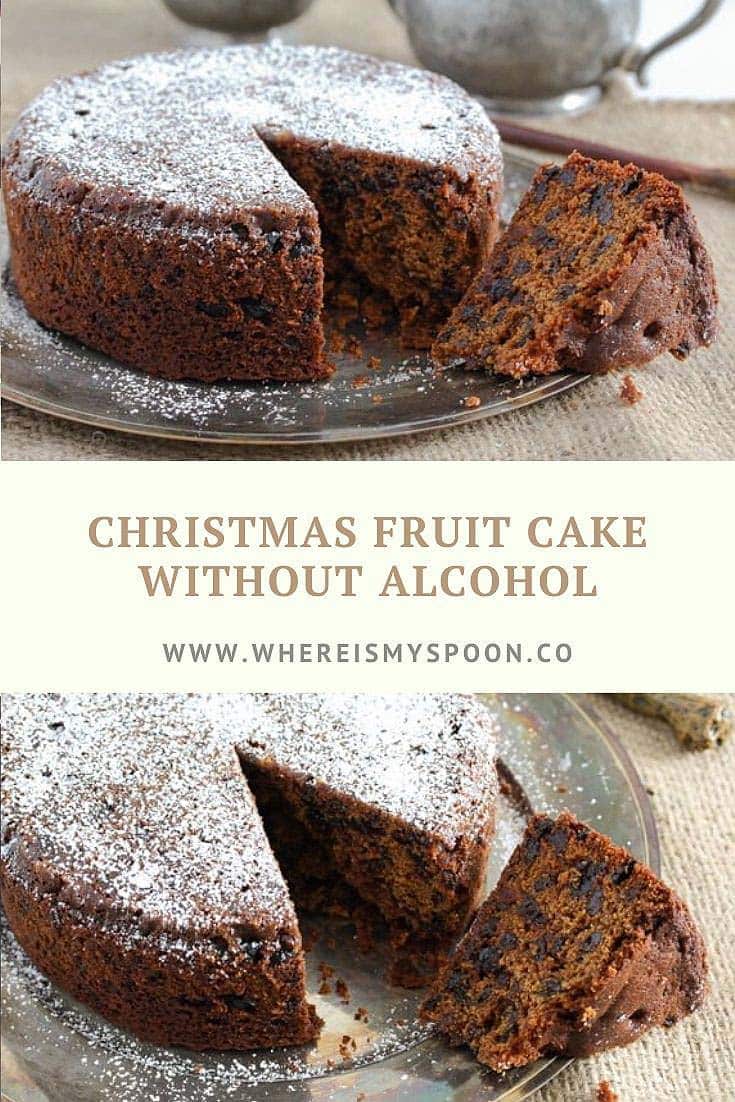 Other Christmas cakes:
Cappuccino Whiskey Cake with Cream Cheese Filling
Dobos Torte – Hungarian Cake with Chocolate Buttercream and Caramel
Romanian Chocolate Cake with Ganache – Boema
Fruit Mince Pies with Homemade Mince Pie Filling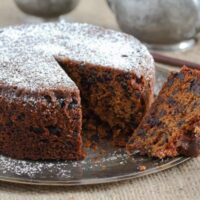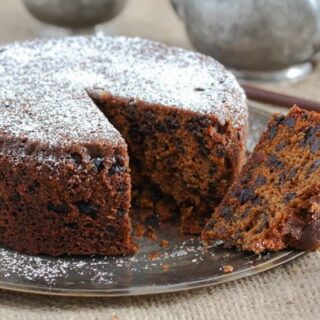 Easy Fruit Cake Recipe – Non-Alcoholic Christmas Fruit Cake
An easy fruit cake without alcohol for Christmas, you can put this recipe together in only 15 minutes (plus baking time).
Print
Pin
Rate
Ingredients
250

g

unsalted butter

8.8 oz/ 1 cup, soft

200

g

muscovado sugar

7 oz/ 1 cup, Note 2

4

eggs

250

g

all-purpose flour

8.8 oz/ 2 cups + 1 tablespoon

1 ¾

teaspoons

baking powder

¼

teaspoon

ground all-spice

¼

teaspoon

ground cardamom

¼

teaspoon

cinnamon

a few gratings of fresh nutmeg

100

g

dried cranberries

3.5 oz/ ½ cup

150

g

dried currants

5.5 oz/ ¾ cup

250

g

sultanas or raisins

8.8 oz/ 1 ¼ cups

100

g

chopped glacé cherries

3.5 oz/ ½ cup, Note 3

icing sugar

optional
Instructions
Preheat the oven to 140 degrees Celsius/ 285 degrees Fahrenheit. Butter a deep 20 cm/ 8 inch round cake tin or springform and line the bottom with baking paper.

Batter: Place the soft butter, muscovado sugar, eggs, flour, all-spice, cardamom, cinnamon, and nutmeg in a large bowl. Mix well.

Add cranberries, currants, sultanas or raisins, and glace cherries.

Bake: Pour the mixture into the prepared baking dish and bake for 2 to 2 ¼ hours or until the cake is firm to the touch and a toothpick inserted in the middle comes out clean.

Check the cake after one hour or so and loosely cover the top with a piece of aluminum foil to prevent it from getting too dark.

Let the cake cool in the baking dish, then turn it out.

Serve: You can serve the Christmas fruit cake immediately, but it is even better if served the next day. Sprinkle with icing sugar before serving, if desired.

If you make it one day in advance, let it cool completely, wrap it in aluminum foil and leave it at room temperature until the next day.
Notes
A digital kitchen scale will give you the most precise measure ensuring the best bake possible.
You can replace the muscovado sugar with brown sugar minus one tablespoon. If available, add one tablespoon molasses instead of the missing tablespoon of sugar.
You can replace one-third or half of the glace cherries with the candied peel of your choice.
Nutrition
Serving:
1
slice
|
Calories:
781
kcal
|
Carbohydrates:
145
g
|
Protein:
7
g
|
Fat:
23
g
|
Saturated Fat:
13
g
|
Polyunsaturated Fat:
8
g
|
Cholesterol:
128
mg
|
Sodium:
122
mg
|
Fiber:
3
g
|
Sugar:
118
g