The best ginger cookies or gingersnaps I have ever made: crispy, aromatic and loaded with spicy pieces of candied or crystallized ginger.
These Easy and Crispy Ginger Cookies with Candied Ginger were this year's revelation when it comes to cookies. Every December I make quite a few different sorts of cookies, but mostly the same ones, our traditional cookies so to say, like these Easy Five Ingredient Thumbprint Cookies with Jam, the Chewy German Hazelnut Macaroons – Nussmakronen, the Vanilla Crescents with Hazelnuts (my number ones forever), the German Chocolate Crossies (always for my husband) or the colorful sugar streusel cookies that I've been making with the kids (and godchildren and neighbor's children) since my son was three years old.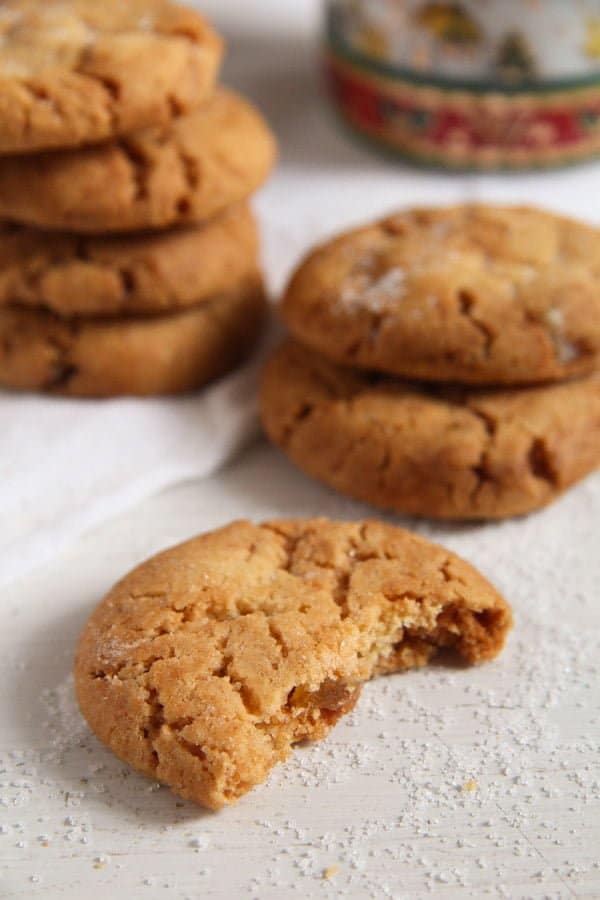 But every year I make a point in trying a few new cookie recipes and although we like most of them, it is seldom that I find such a recipe that awes us from the first bite. The case with these ginger cookies or gingersnaps, they are so good, you just cannot stop eating them and I am sure I will make them again and again for the years to come.
I call them gingersnaps although the recipe is not really a gingersnap one because they remind me very much of the gingersnaps we used to eat when living in England. We never had them since because ginger cookies are not very popular in Germany and because to tell you the truth, with so many other traditional and delicious German cookies, I kind of forgot about the gingersnaps, but after taking one bite of these cookies I was transported back to those younger days.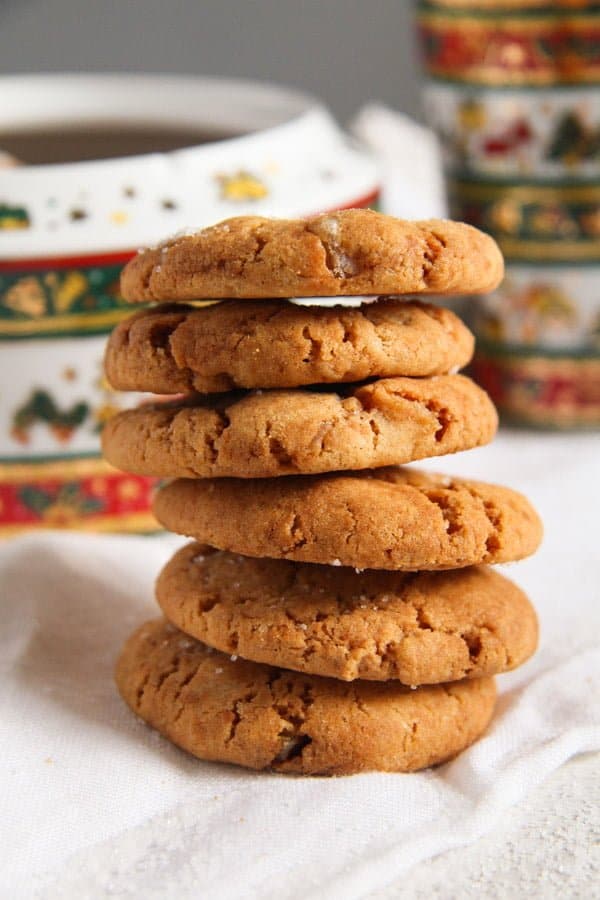 The Easy and Crispy Ginger Cookies with Candied Ginger were actually pretty much a happy accident. I had this old and thin Romanian recipe magazine, which my aunt sent me many years ago. I found a cookie recipe in there using dry fruit and because I still had an open packet of candied orange peel leftover after making this Orange Bundt Cake with Chocolate, Raisins and Almonds, I thought about making those cookies.
However, while searching for the orange peel in the cupboard, I found this other packet with leftover candied ginger and after taking a closer look, I noticed that it was about to expire. And because I didn't want it to go to waste I decided to use the ginger instead. What a great idea! Maybe I will make the cookies with orange peel just to get rid of the leftovers and with homemade Candied Watermelon Rind, but sincerely, I cannot imagine these cookies getting any better!
I changed the recipe pretty much and maybe that is why the cookies turned out so delicious and crispy, they looked nothing like the picture in the magazine. And I am glad, because I have tried two other recipes from the magazine and they were total disasters, I got so annoyed I threw the magazine away! 🙂
The only problem I have now is that I meant to make the Easy and Crispy Ginger Cookies with Candied Ginger again during the past two weeks or so, but I am not able to find the candied ginger anywhere. I looked in every larger supermarket in our vicinity and nothing… But I will keep looking!
In the meantime, I made the same cookies with candied cherries from a homemade jar. They were softer and juicier than the candied ginger and that made the cookies softer as well, they have also spread more in the oven due to that extra moisture, I suppose. The children loved them, it was at their request that I used the cherries, but for me, the ginger cookies remain the best.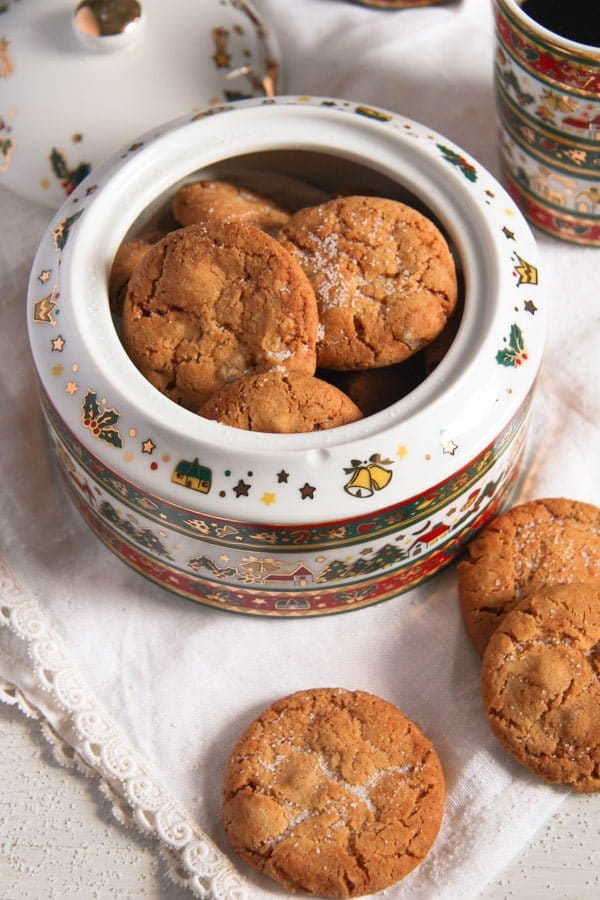 Other Christmas presents from the kitchen: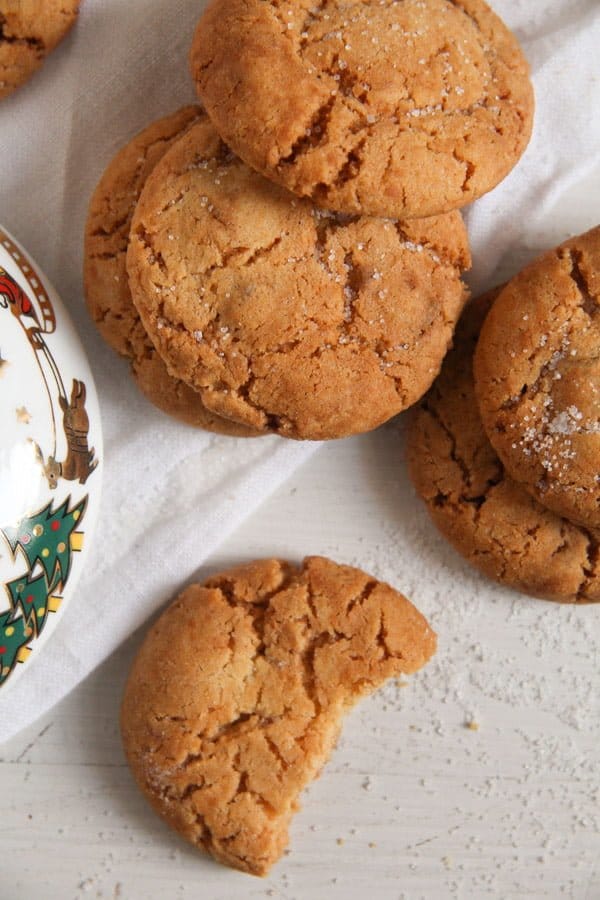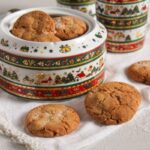 Ingredients
120 g/ 4.2 oz/ ½ cup + ½ tablespoon butter, soft

200 g/ 7 oz/ 1 cups sugar

1 tablespoon vanilla sugar

1 egg

250 g/ 8.8 oz/ 2 cups + 1 ½ tablespoons all-purpose flour

2 teaspoons baking powder

½ teaspoon baking soda

1 teaspoon ground ginger

150 g/ 5.3 oz candied ginger
Instructions
Preheat the oven to 180 degrees Celsius/ 360 degrees Fahrenheit. Line two baking trays with baking paper. If using a convection oven, which will allow you to bake two trays of cookies in the same time, preheat that to 160 degrees Celsius/ 320 degrees Fahrenheit.
Make sure the butter is soft. Chop the candied ginger into small pieces.
Give the butter, sugar and vanilla sugar to a bowl and beat until pale and fluffy, about 3-4 minutes, the sugar doesn't need to be dissolved, I think it staying a bit crunchy makes the cookies crunchier.
Give the egg to the mixture and incorporate.
In another bowl mix together the flour, baking powder, baking soda and ground ginger. Give the flour mixture to the butter mixture and incorporate carefully. Mix in the chopped candied ginger as well.
Break small pieces of the dough, about the size of a walnut, and form little balls. Press them lightly with your palm. Place them on the baking tray, leaving enough space between them, they will spread a little.
When the first baking tray is full with cookies, place it immediately in the oven and bake the cookies for about 20 to 25 minutes or until nicely golden.
Start forming the cookies for the second tray. If using it a convection oven place them immediately in the oven together with the other tray. If using a regular oven, place the tray in the fridge while the first batch of cookies is baking.
Let the baked cookies rest on the tray for about 5-10 minutes before transferring them to a wire rack to cool completely.
This post contains affiliate links. The price you pay as a consumer does not change, but if you make a purchase we will receive a commission which helps support the blog.