These amazing confit potatoes are crispy on the outside, meltingly tender on the inside, a very special potato side dish for the festive season.
WHAT ARE CONFIT POTATOES?
Confit is actually meat that is cooked in its own fat. Have a look at the duck confit from a few days ago, melt-in-your-mouth duck legs slowly cooked in goose fat (OK, not their own fat, but buying duck fat is impossible) and fried until golden and crispy. Perfection!
And it is the same with this potato confit! Absolutely perfectly cooked potatoes, crispy on the outside and so soft and comforting on the inside.
They are called confit potatoes because they are cooked in fat, some of the goose fat leftover from making confit de canard – duck confit.
A really special potato side dish, perfect for the duck confit or any other roast you are planning on serving for Christmas, for instance.
INGREDIENTS FOR CONFIT POTATOES
Potatoes:
I used very small potatoes. If you live in Germany, Drillinge are perfect.
Drillinge is the name for potatoes that are very small, no matter what sort they are. All you have to know is that they should be waxy or semi-waxy potatoes.
You can use fingerling or other smaller potatoes, cut them into pieces that are about 3-4 cm/ 1.2 – 1.6 inches.
To make the potato confit, I left the very small potatoes whole and halved the larger ones. All potato pieces should have more or less the same size.
Fat:
I used leftover goose fat from making duck confit.
Many people search for duck fat roast potatoes recipes, but duck fat is impossible to buy in a regular store around here, so I always use goose fat, which is more commonly available.
However, if you happen to have duck fat, you can use that instead. The end result will be the same.
Otherwise, you will need some fresh rosemary and a few garlic cloves for the flavor.
TIPS FOR MAKING POTATO CONFIT
Many recipes will instruct to roast the potatoes in the goose or duck fat directly. You can do that, of course, but I think that boiling the potatoes shortly before roasting them makes them even better.
Not to mention, that instead of cooking them for 1 to 1 ½ hour in the oven, you will only have to cook them for about 4 minutes in water and roast them for 30 minutes in the oven.
Another advantage of this method is that you can parboil the potatoes in advance and place them in the oven 30-40 minutes before you want to serve them.
Make sure that the potatoes are really dry before you place them in the roasting tin with the melted goose fat.
Add the garlic cloves about 5 minutes after you start roasting the potatoes. This way they will not get too dark and you can serve them with the potatoes as well. I just love to bite on one of those caramelized garlic cloves.
Use more garlic if you want to have at least one for each person at the table.
The rosemary should be fresh, I often use dried rosemary for making roast potatoes, but in the case of the confit potatoes, I prefer using large fresh rosemary sprigs.
Place the fat in the tin and melt it in the hot oven for about 10 minutes before adding the potatoes.
Place the potatoes in the fat very gently to avoid splatters and burning yourself with the goose fat.
Shake the roasting tin a couple of times during the cooking time to make sure that the potatoes are nicely browned all over.
Serve the potatoes immediately. Otherwise, the fat will congeal all over the potatoes and that is really not nice.
You can reheat the potatoes in the oven until the fat is liquid again and the potatoes are hot, but only do that with leftovers, don't make potato confit ahead of time and reheat it for serving.
WHAT TO SERVE WITH POTATO CONFIT?
The confit potatoes are actually roast potatoes which are brought to a whole new level due to the use of goose or duck fat.
So you can serve potato confit the way you would serve regular roast potatoes.
My first choice is always the duck confit. And a nice fresh salad to cut through the richness of both dishes.
You can have the goose fat potatoes with almost any meat dish you can think of.
I love to serve them with roast beef, pork roast, roast chicken or any kind of turkey roast.
NOTES ON THE NUTRITION CALCULATION
You will need 150 g/ 5.3 oz goose fat to make the potato confit. However, most of it will be left in the pan.
So, I only considered 2 tablespoons goose fat in the nutrition calculation. It is not entirely accurate, I suppose, but it is the best I can offer.
MORE POTATO SIDE DISHES
GARLIC SMASHED POTATOES – Perfectly crispy smashed potatoes with garlic, olive oil and rosemary – one of the best potato side dishes ever!
BEST GARLIC PARMESAN MASHED POTATOES – These amazing mashed potatoes are made with roasted garlic and Parmesan.
ROASTED BRUSSELS SPROUTS AND POTATOES – Crispy roasted Brussels sprouts and tender potatoes, this is an oven-roasted vegetable recipe you will keep making and making.
GERMAN POTATO SALAD – A delicious German potato salad with a broth, oil and vinegar dressing, this potato salad without mayo is the typical Swabian potato salad.
PAN FRIED SWEET POTATOES – Simple fried sweet potato recipe, a vegan sweet potato side dish recipe to accompany almost any dinner you can think of.
PIN IT FOR LATER!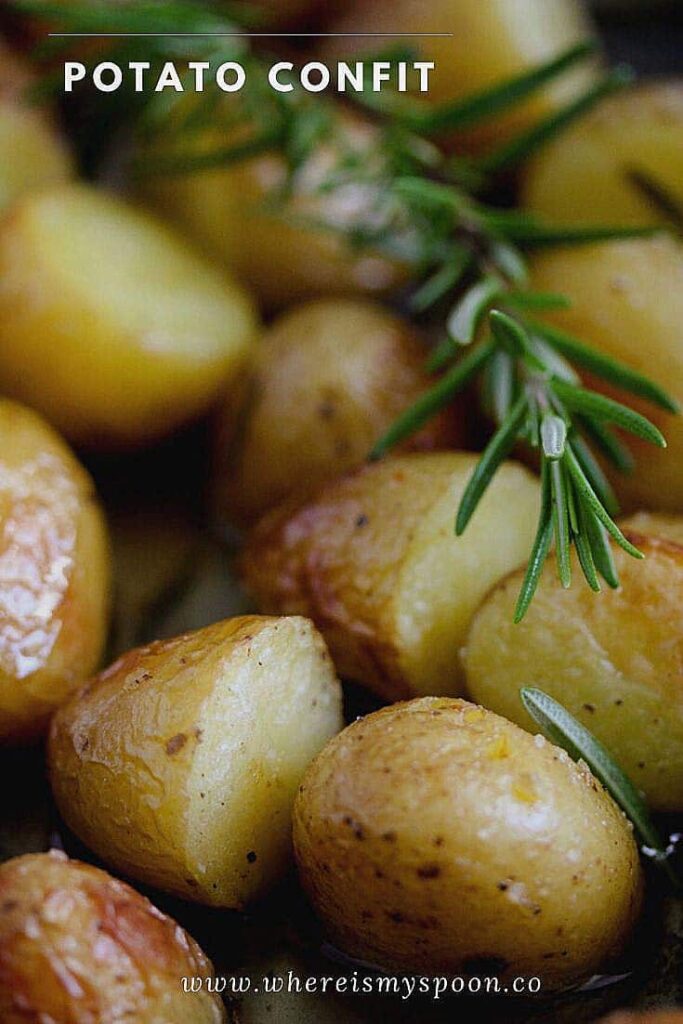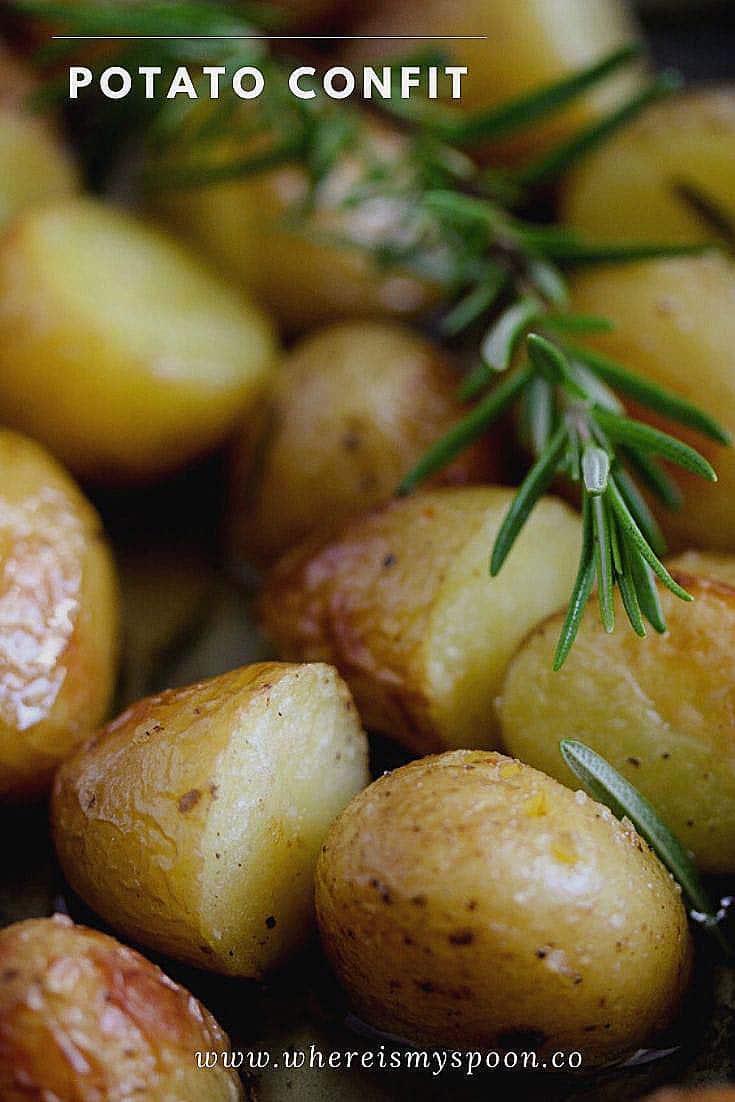 Confit Potatoes
These amazing confit potatoes are crispy on the outside, meltingly tender on the inside, a very special potato side dish for the festive season.
Ingredients
1 kg/ 2.2 lbs very small potatoes
150 g/ 5.3 oz goose fat (or duck fat)
2 large rosemary sprigs
2-4 garlic cloves, more to taste
coarse sea salt and freshly ground black pepper.
Instructions
Wash the potatoes. Leave the small potatoes whole and cut the larger ones, so that all potato pieces have a similar size, about 3-4 cm/ 1.2 – 1.6 inches. Place in a pot with salted water. Bring to a boil and let boil for 4 minutes. Drain well. Place on a large kitchen cloth and pat dry.
You can proceed with the recipe for confit potatoes now or refrigerate the parboiled potatoes until the next day.
In the meantime preheat the oven to 200 degrees Celsius/ 400 degrees Fahrenheit. Place the goose fat in a roasting tin large enough to hold all the potatoes in a single layer. Place in the oven and let the fat melt and get hot for about 10 minutes.
Remove from the oven and very carefully place the dried potatoes into the roasting pan. Turn them into the fat to coat all over.
Add the peeled garlic cloves and the rosemary sprigs. Sprinkle with a little salt and pepper.
Roast for about 30-40 minutes or until the potatoes are golden brown and crispy on the outside and very tender on the inside. Shake the pan a couple of times in between, to make sure that the potatoes are getting brown on all sides.
Serve immediately sprinkled with some more salt and pepper.
Nutrition Information:
Yield:

6
Serving Size:

1/6 of the dish
Amount Per Serving:
Calories:

169
Total Fat:

1g
Saturated Fat:

0g
Trans Fat:

0g
Unsaturated Fat:

1g
Cholesterol:

3mg
Sodium:

167mg
Carbohydrates:

36g
Fiber:

4g
Sugar:

2g
Protein:

5g
Nutrition information isn't always accurate.