Tender meat and crispy skin, a turkey leg slow-cooked in the oven, I can't think of a tastier and easier way of cooking turkey.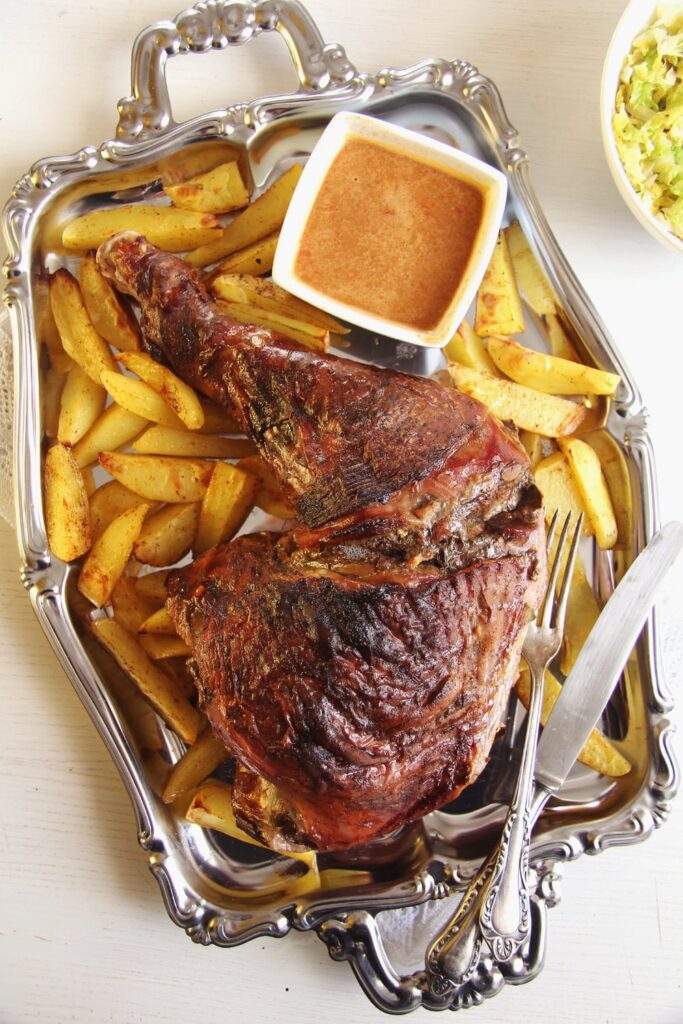 I don't know about you, but I have never cooked a whole turkey. They are quite expensive and soooo large and there is no Thanksgiving tradition in Germany, which might entice me to such an experiment. I do cook lots of chickens and even a duck from time to time, but I have never did a whole goose or a whole turkey. We do get to eat goose once a year, every year at Christmas at my mother-in-law's house, but I have never actually seen a cooked whole turkey live.
That doesn't mean we don't eat lots of turkey meat. We are so lucky to be able to buy our turkey and beef directly in the village, from farmers raising their birds and cows organically. The price is reasonable and the quality fantastic and it is so nice to know where your meat came from and that there are no antibiotics or weird stuff in the meat.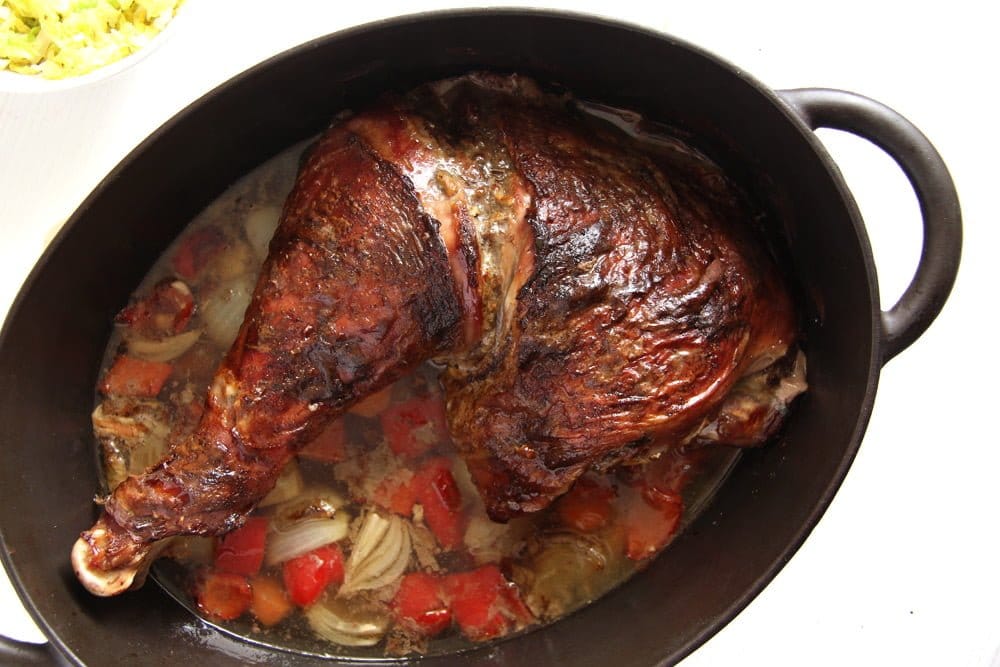 I recently got another turkey, this time a whole bird. Last year I only ordered half of a huge bird, but it was gone so quickly, I decided to get a whole one this year. Of course, not in one piece… We already ate both legs, both cooked the same way, the recipe was so good that I just didn't want to risk it and try something different. I don't have a slow cooker, they are not popular in Germany, but I like cooking meat in the oven at low temperature. The danger of overcooking the meat when slow cooking it is low, the work involved minimal, you just need to know exactly when you want to eat and take care to put the meat in the oven soon enough.
This makes this dish such a great fit for the Christmas dinner or lunch. Not much hassle, the preparations are done in less than 15 minutes and 3 ½ – 4 hours later, you have a delicious meal on the table. The only thing that will drive you crazy is the smell that will start filling the house about one hour after you shoved your bird in the oven…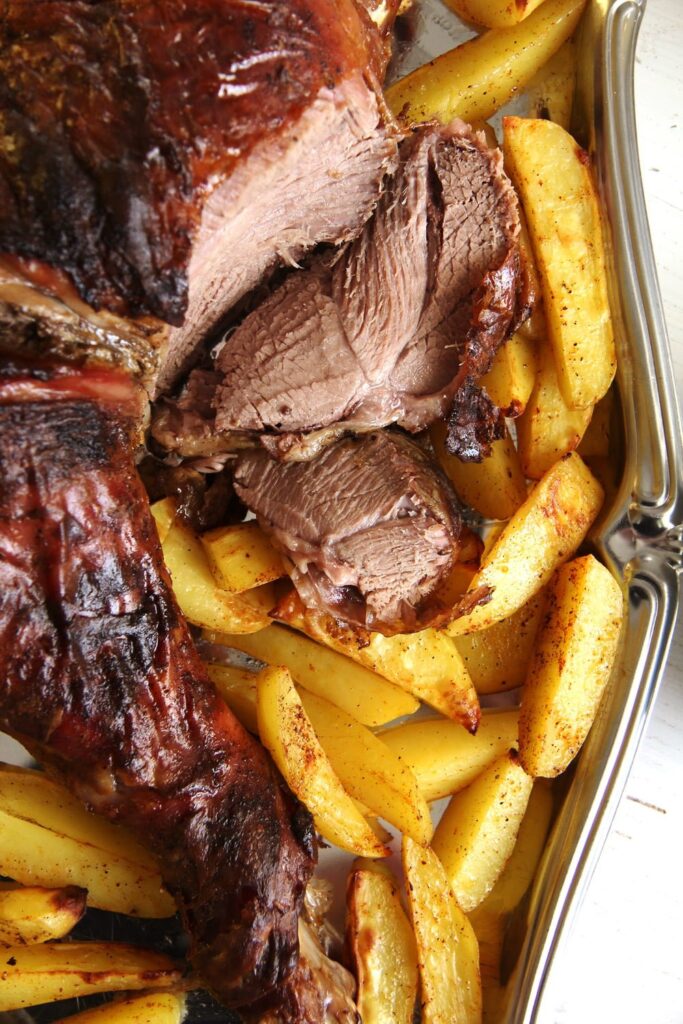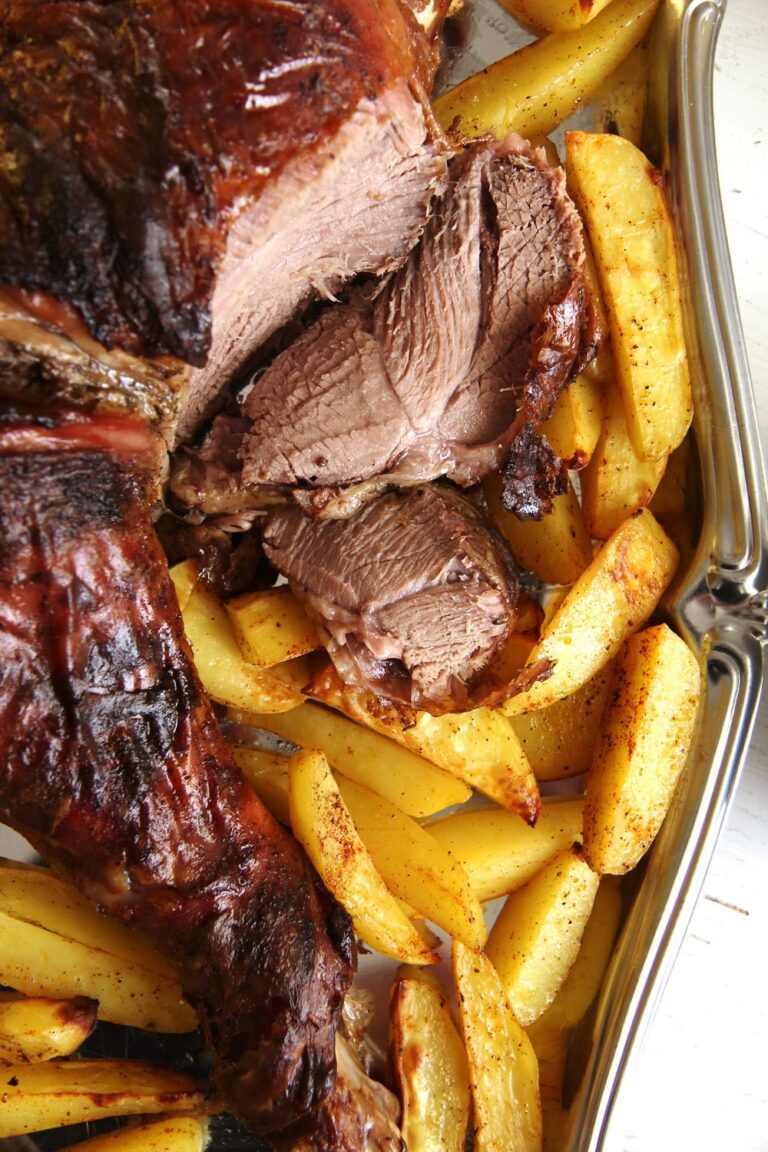 My turkey leg was huge, so I needed the whole 4 hours cooking time, if yours is a bit smaller, you will know is ready when the skin is crispy and deeply colored and the fork inserted in the flesh will encounter no resistance. The meat should be really really soft, almost falling off the bone. In case you are wondering why my turkey leg looks a bit weird at the joint: the problem was that it was too big to fit in the dish and I just didn't manage to divide the leg at the joint. So I just cut the meat around the joint and then I was able to push the two leg parts together and get them in the pot. 🙂
I served this dish with oven roasted potatoes and Brussels sprouts once and sautéed savoy cabbage the other time. And if you like turkey, you should really try two of my favorite turkey recipes: Pumpkin Turkey Curry and Turkey Meatballs in Turmeric Sauce.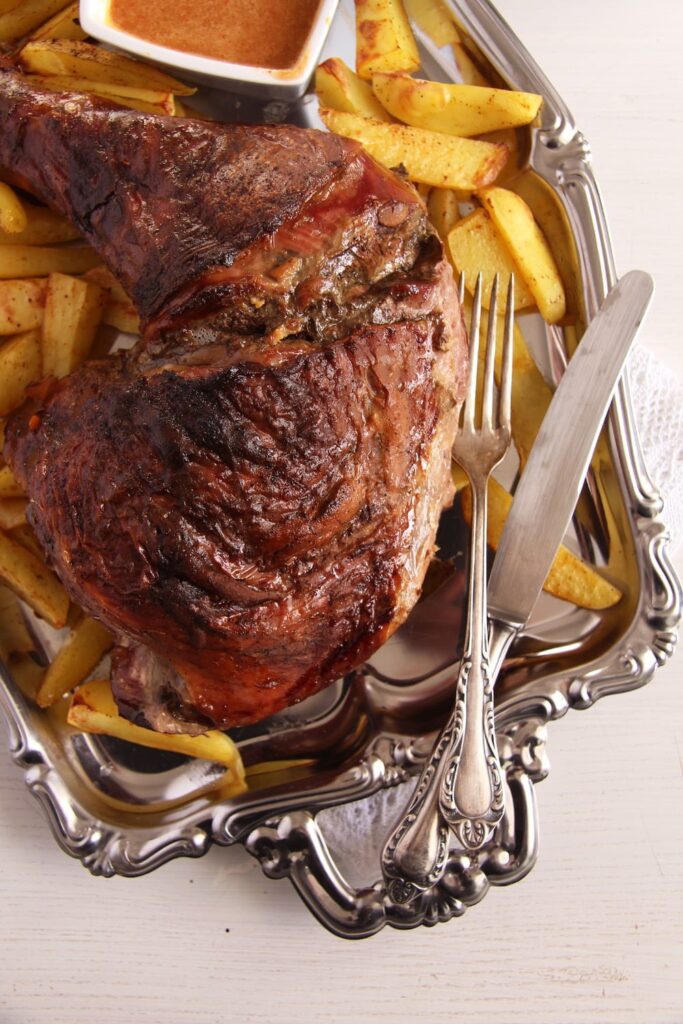 This post contains affiliate links. The price you pay as a consumer does not change, but if you make a purchase we will receive a commission which helps support the blog.
Other Christmas main dish ideas: