A different way of serving turkey this Thanksgiving or Christmas: turkey rolls stuffed with Gouda cheese and julienne vegetables in a delicious white wine and cream sauce.
So, in preparation for Thanksgiving or Christmas I decided to have a small series of turkey recipes here on the blog. We all love turkey in our family and that is why cooking (and eating) for this series has been particularly enjoyable for all of us. We are lucky enough to be able to buy our turkey here in the village from a farm raising turkeys, chickens and geese and I always think that the farm turkeys taste better than the turkey I buy when we run out of the farm poultry.
The turkeys we get to buy here are huge, so large that they could never fit in our freezer or in the oven in one piece. Even if I was able to get it in the oven to cook it, we would probably need one week to eat it all. So, when I am cooking with turkey it is always with smaller pieces of it and never an entire bird.
I would actually like to cook a whole turkey this Christmas, it is on my list of possible Christmas meals and I found some really nice recipes in some of the cookbooks and food magazines I owe… Well, we will see, I will have to find a bird of a more regular size first, maybe at the farm where my mother-in-law always buys her Christmas goose or Easter duck…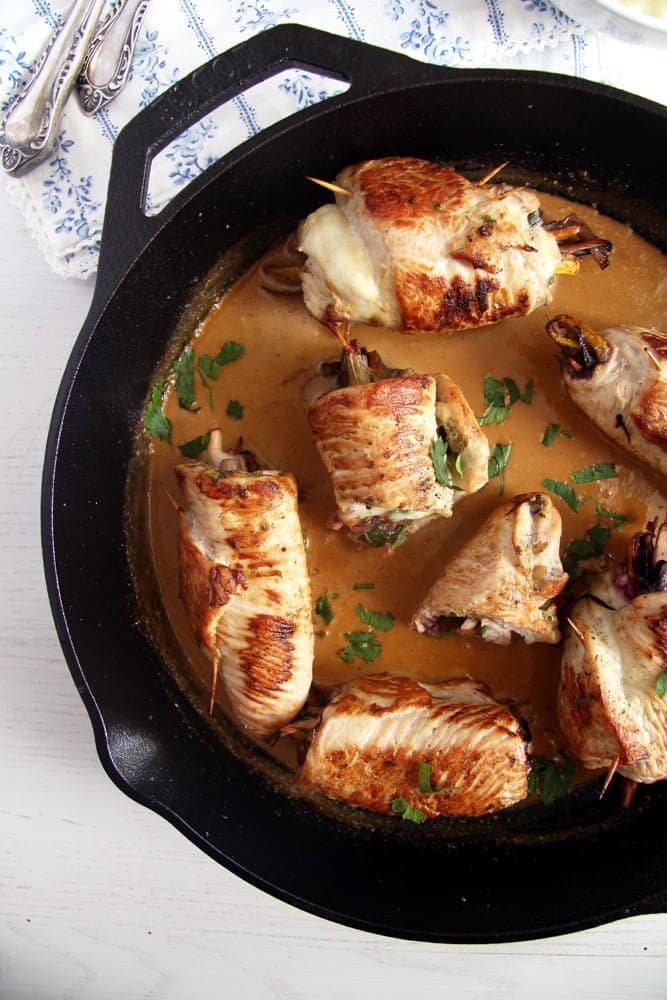 How to cut the turkey cutlets yourself:
To make this recipe I used some of the cutlets I cut from the turkey breast. I did my best to cut them rather thinly so that they are easily rolled and the rolls are not very thick. If you do cut your own cutlets it really helps if you either only half defrost the turkey breast before cutting it or, if your turkey breast is fresh, put it in the freezer until slightly frozen. This makes the slicing of the meat so much easier, if you ask me.
The easiest solution though is to buy ready cut turkey cutlets, I always do that if I don't happen to have a whole turkey breast in the freezer or if I cannot be bothered with slicing the meat myself.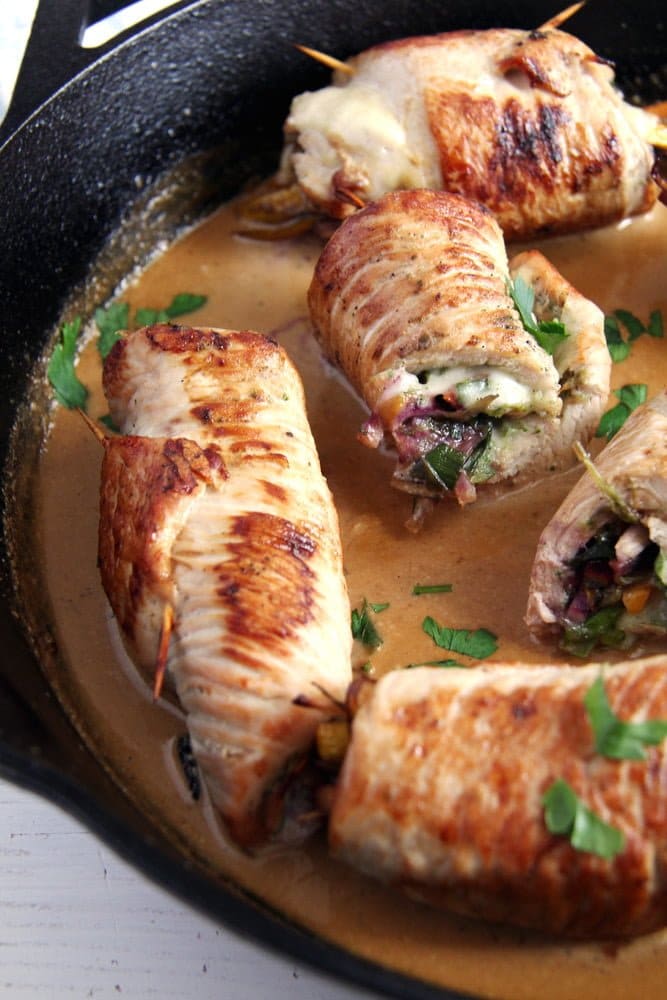 How to make the Stuffed Turkey Rolls:
I used my homemade herb garlic paste to smear on the turkey cutlets, I absolutely love that stuff, it is pretty addictive, I put it into most of the things I am cooking nowadays. If you have been reading my blog for a while, you might have noticed that I am a total garlic junkie… and I like salty things… so, that paste is the food of gods for me. 🙂 However, if you do make that paste and use it for this recipe (or any other recipe) be careful with the addition of salt afterward, the paste is a condiment and very salty, I rarely have to use extra salt to adjust the taste of a dish when using the garlic parsley paste.
If you don't make the paste, feel free to use any other herb-garlic paste you have or pesto, whatever kind of pesto you like. The kind of pesto you use will slightly change the taste of the Skillet Turkey Rolls Stuffed with Cheese and Vegetables, but as pesto is always delicious, it won't really matter if you use regular basil pesto, wild garlic pesto, parsley pesto or even mint pistachio pesto.
A word concerning the cheese as well. I used Gouda slices, but Cheddar will be just as good. And for a change you could even take some freshly grated Parmesan instead of the sliced cheese, I tried that as well, it is delicious. The sliced cheese will melt and start to ooze out of the rolls, I was a bit disappointed when seeing that the first time, but got happy again when I started eating and I just loved that melty cheese. Not to mention the kids, they particularly love the melting cheese.
If you don't want to use wine for the sauce, although it is particularly delicious and the alcohol cooks off anyway, you could replace it with good quality chicken stock.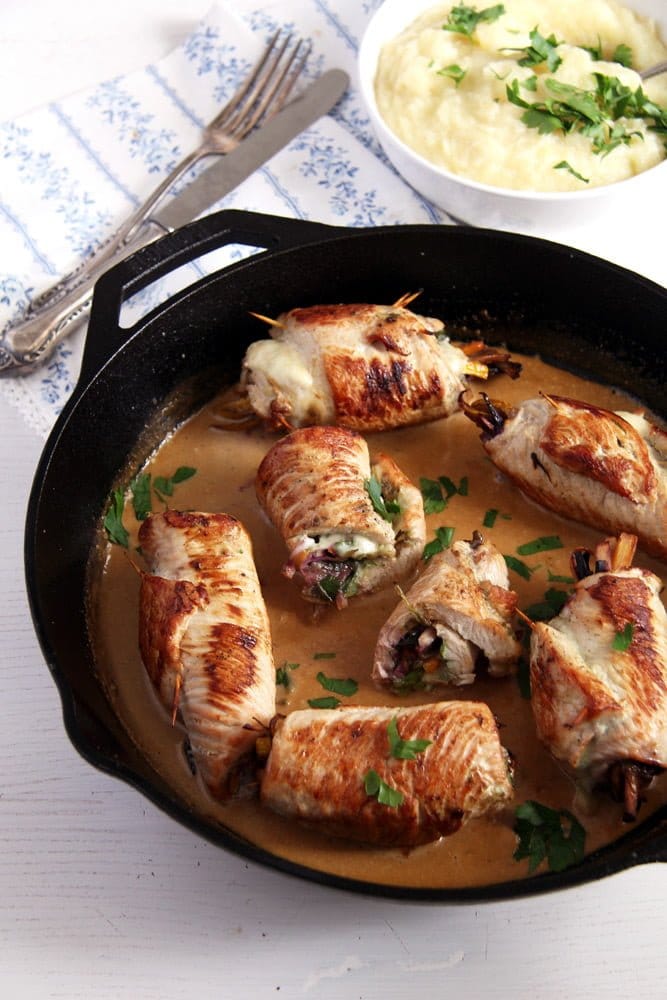 This post contains affiliate links. The price you pay as a consumer does not change, but if you make a purchase we will receive a commission which helps support the blog.