"Everything Green" is the name of this new series on Where Is My Spoon. My first idea was to make a series featuring only wild garlic, which I adore and which comes in plenty this time of the year. But then I realized that wild garlic might not be so readily available elsewhere and I forced myself to choose only two wild garlic recipes to post during the next two weeks. The rest of the recipes will include other delicious, more available herbs, that grow in my garden at the moment.
Herbs! What would we do without them? I love them with a passion, I have a pretty big herb patch in the garden and to tell you the truth, herbs are the only plants that don't immediately die in my presence. 🙁 I really don't have a green thumb, I tried to grow vegetables several times over the years, only to give up after one season. No plant seems to thrive in my presence except herbs. And I have the suspicion that the main reason for this is that herbs actually feel better when left alone….. A bit of watering in the summer, removing some weeds now and then and that's about it. Even I manage to do that!!!!
Sherry from Personal Creations sent me an illustrated herb and food pairing chart a couple of weeks ago. It was a great fit, although she had no idea at the moment that I was planning to make a herb series in May. I liked the chart, found it super-useful, so I decided to share it on my blog as well. I hope you will like it and be able to use it in your cooking. I know I will. Except the basil and the bay leaves (our region is too cold for them), I have everything growing in my garden, even the coriander, which I have to remember to plant anew every spring. So I am really excited about trying some of the combinations mentioned in the chart, things I never would have thought about otherwise, like for example pairing strawberries with oregano, watermelon with parsley or broccoli with sage.
Herb and Food Pairing
And what can I tell you about this herb garlic paste? It will knock you out!!!! It is so powerful and so amazingly delicious, you will end up putting it in everything you cook. It is meant to be used as a condiment to jazz up a soup or a stew, but I really have used in so many different ways, I find it difficult to remember them all. For instance, I mixed a teaspoon or two of it in scrambled eggs or omelette or any egg dish you could think of. Or I smear it on some chicken breast or pork chops, leave them to marinate for a while, then grill them. I have used it to make herb butter, or stirred it under some quark or cream cheese based spread or dip. Or stirred a bit of it with yogurt or oil and vinegar to make a salad dressing. Or just spread a little bit of it on toast and grilled the toast on the barbecue. Delicious, I am telling you! I would love to hear your ideas, how would you use this paste?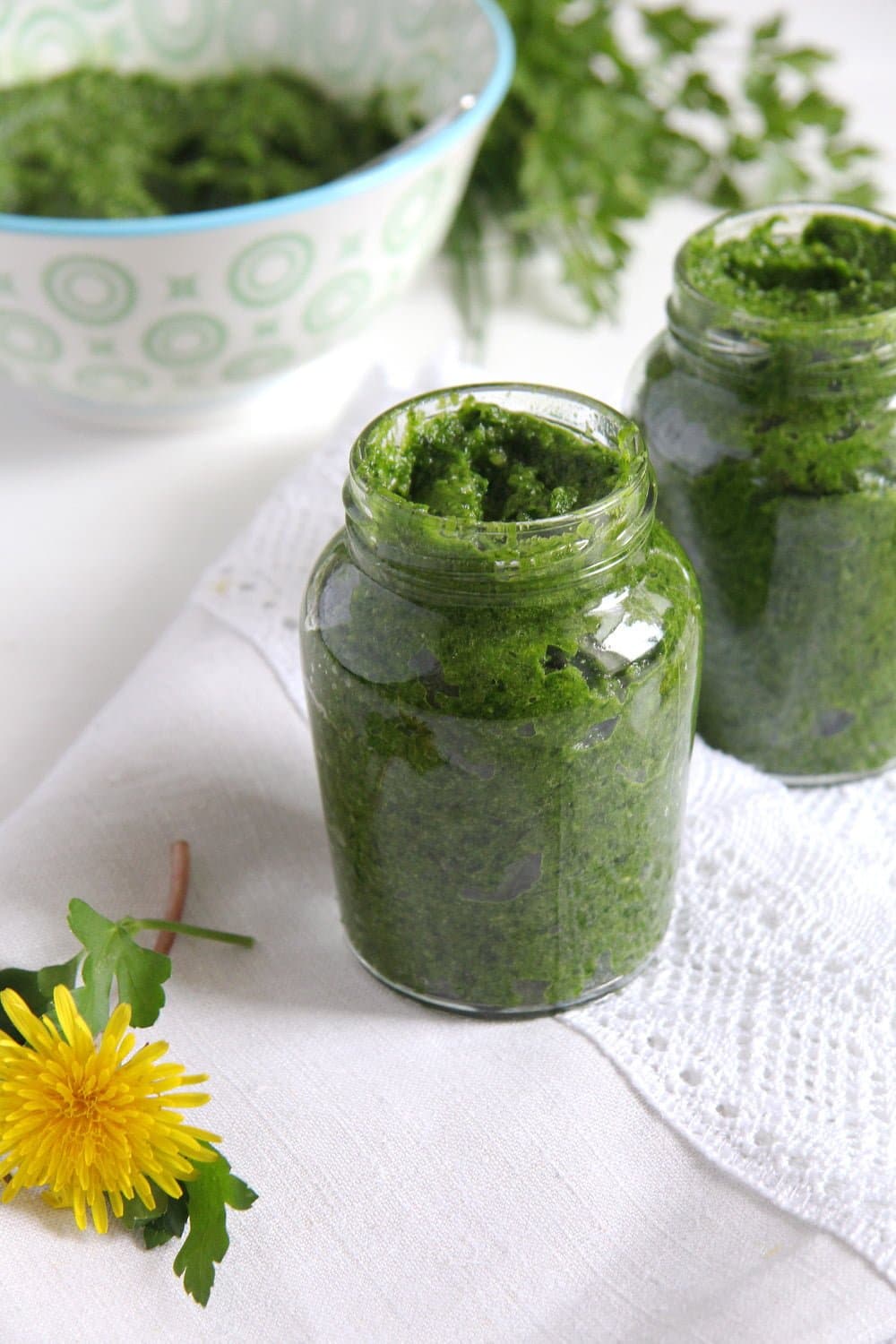 The only two things you have to consider when using the paste are: garlic – you might smell of it afterward (not a problem for me most of the times) and salt – remember the paste is salty, so you have to reduce the amount of salt you would otherwise need for a dish.
You should weigh the parsley after you picked the leaves from the stems. I needed two very large bunches of parsley to obtain 100 g/ 3.5 oz leaves in the end. As an alternative you could make the paste with frozen chopped parsley and chives. I prefer the fresh herbs, but the frozen ones are a good alternative, if you don't have the time to pick so many leaves.
The jars should keep refrigerated for about 1 year. I prefer to freeze the jars to make sure that the paste remains fresh and tasty.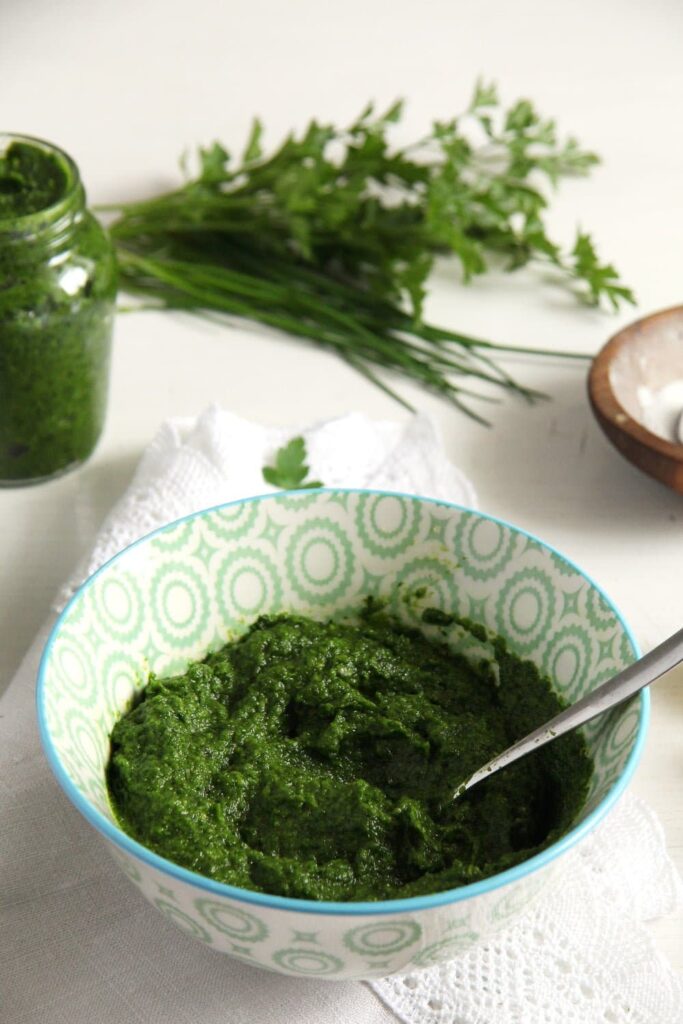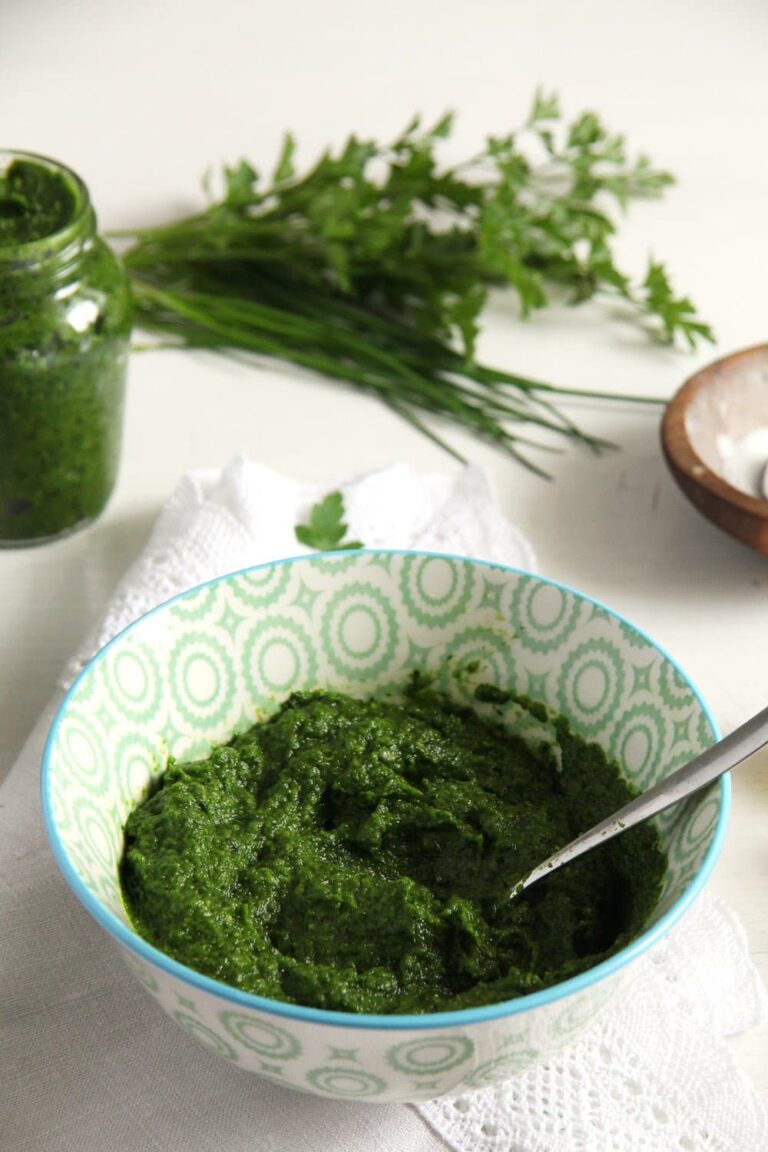 Rating 5.0 from 1 reviews
Prep time:
Total time:
Ingredients
100 g/ 3.5 oz parsley, weigh only the leaves
100 g/ 3.5 oz chives
500 g/ 17.6 oz garlic
100 g/ 3.5 oz fine sea salt
Instructions
Pick the parsley leaves from the stems and weigh 100 g/ 3.5 oz. Chop the parsley and the chives roughly. Peel the garlic cloves.
Place all the ingredients in a good food processor (I use my Thermomix) and blend until you obtain a fine paste. Transfer into small jars.
The jars should keep refrigerated for about 1 year. I prefer to freeze the jars to make sure that the paste remains fresh and tasty.
Uses: *
stir a few teaspoons of it in soups, stews or egg dishes, like scrambled eggs, omelettes etc
mix 2 teaspoons and some olive oil and marinate chicken breasts, steaks or pork chops
mix 2-3 teaspoons with 250 g/ 2 sticks soft butter to make herb butter
stir 1 teaspoon in salad dressings, either yogurt dressing or vinaigrette
stir a few teaspoons with cream cheese/quark/strained yogurt/feta to make a delicious spread or dip
smear a little bit on bread and toast the slices on the barbecue (pretty salty, but I like it)
* When stirring the paste into other dishes, remember that it is very salty and garlicky, so you will definitely have to reduce the required salt and garlic quantities.
Others you might like:
Homemade Orange Mustard
How To Roast Peanuts and Make Peanut Butter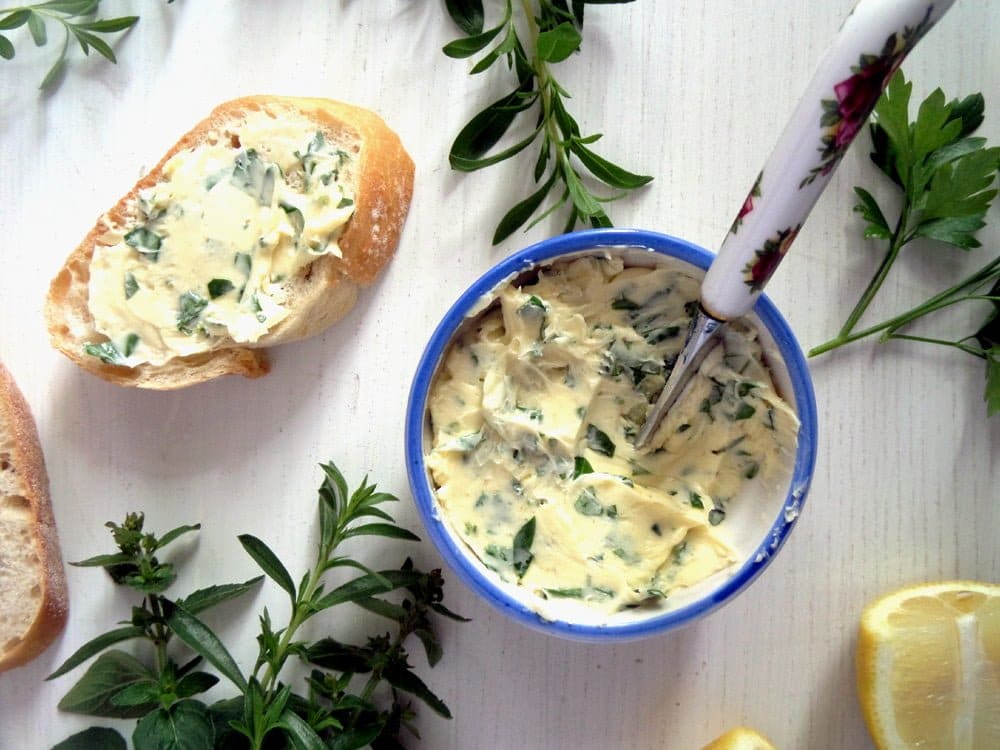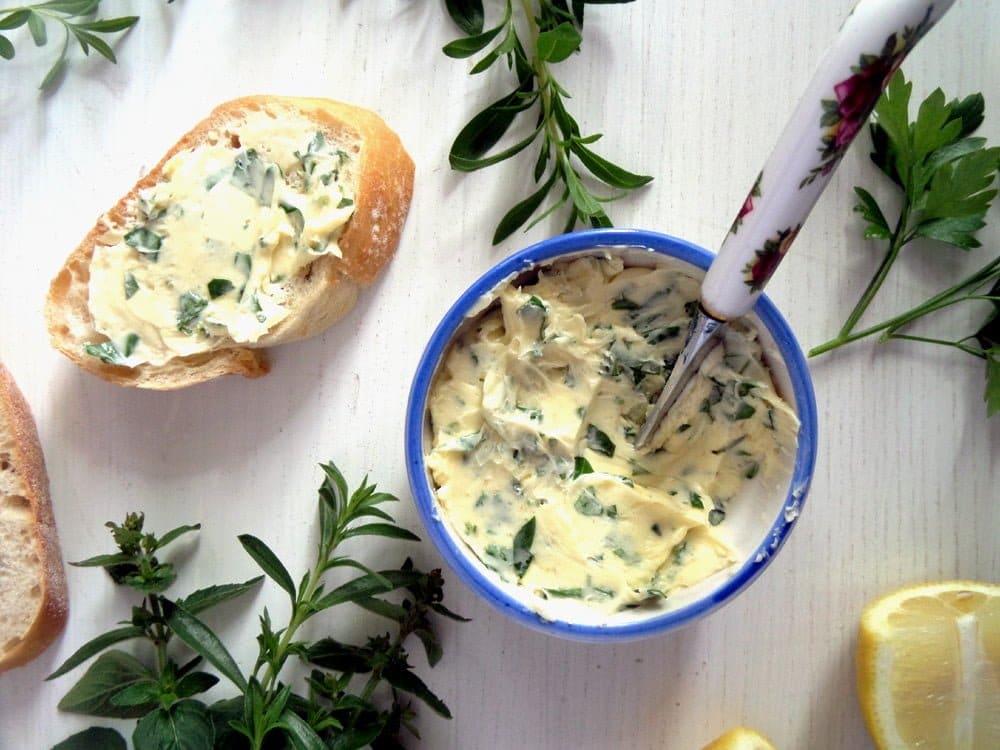 Herb Garlic Butter