Addictive parsley paste with garlic, chives and salt, this is the most delicious way of preserving parsley.
How to preserve parsley?
This parsley paste is so amazing! The absolute best way of preserving parsley and chives, you will find it really addictive and you will end up using it all the time.
Herbs! What would we do without them? I love them with a passion, I have a pretty big herb patch in the garden and to tell you the truth, herbs are the only plants that don't immediately die in my presence. 🙁
I really don't have a green thumb, I tried to build a vegetable garden several times over the years, only to give up after one season. No plant seems to thrive in my presence. Except for herbs.
And I have the feeling that the main reason for this is that herbs actually prosper when left alone….. So just a bit of watering in the summer, removing some weeds now and then and that's about it. Even I manage to do that!!!!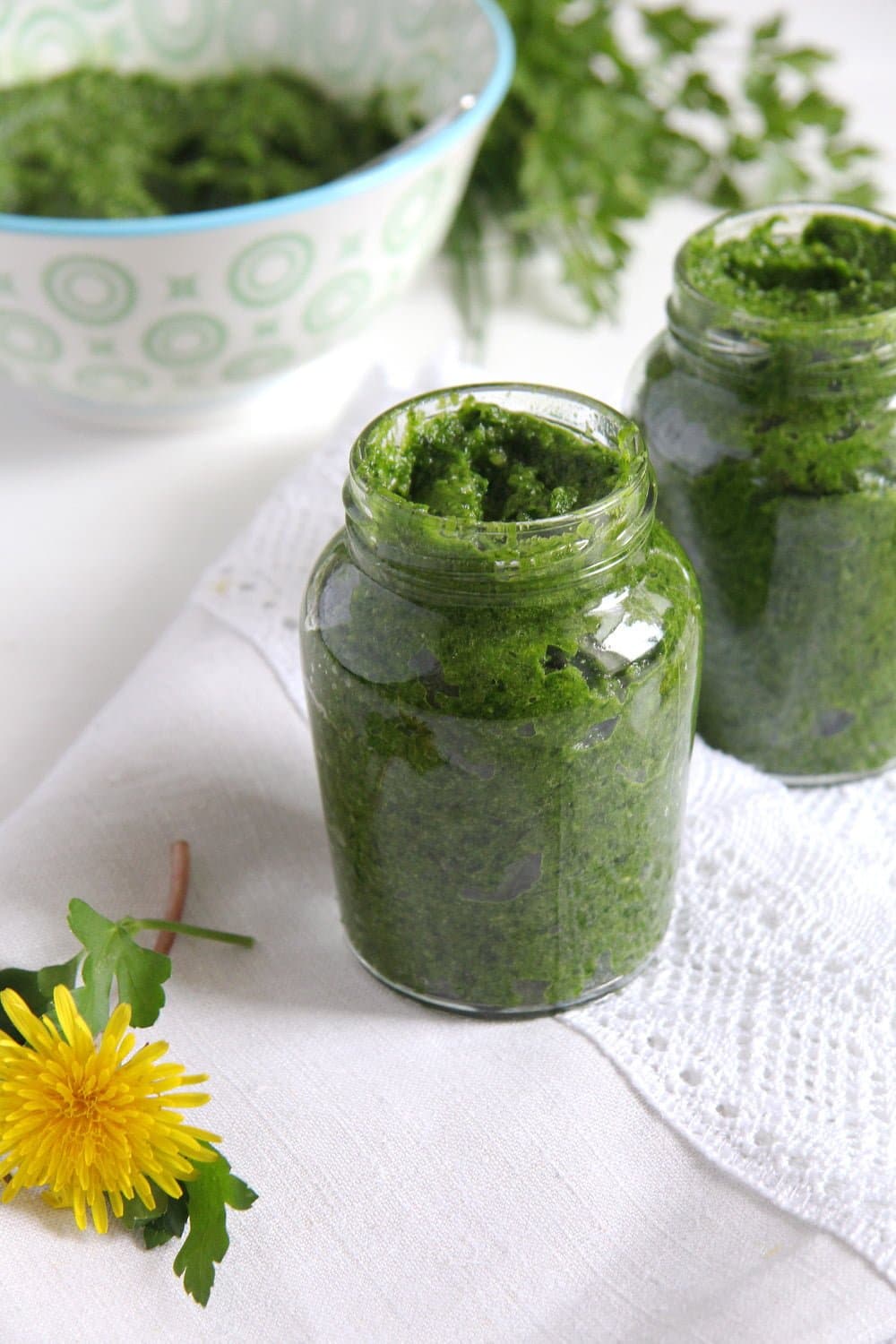 What to do with the parsley paste?
What can I tell you about this herb garlic paste? It will knock you out!!!! It is so powerful and so amazingly delicious, you will end up putting it in everything you cook. It is meant to be used as a condiment to jazz up a soup or a stew, but I really have used in so many different ways, I find it difficult to remember them all.
Mix a teaspoon or two of it in scrambled eggs or omelet or any egg dish you could think of.
Use to marinate chicken breast or pork chops for grilling or pan-frying.
Make herb butter.
Stir with some quark or cream cheese-based spread or dip.
Stir a small amount of it with yogurt or oil and vinegar to make a salad dressing.
Spread a little bit of it on toast bread and grill the toast on the barbecue or in a grill pan.
Remember!
The only two things you have to consider when using the paste are:
Garlic – you might smell of it afterward (not a problem for me most of the time).
Salt – remember the paste is salty, so you have to reduce the amount of salt you would otherwise need for a dish.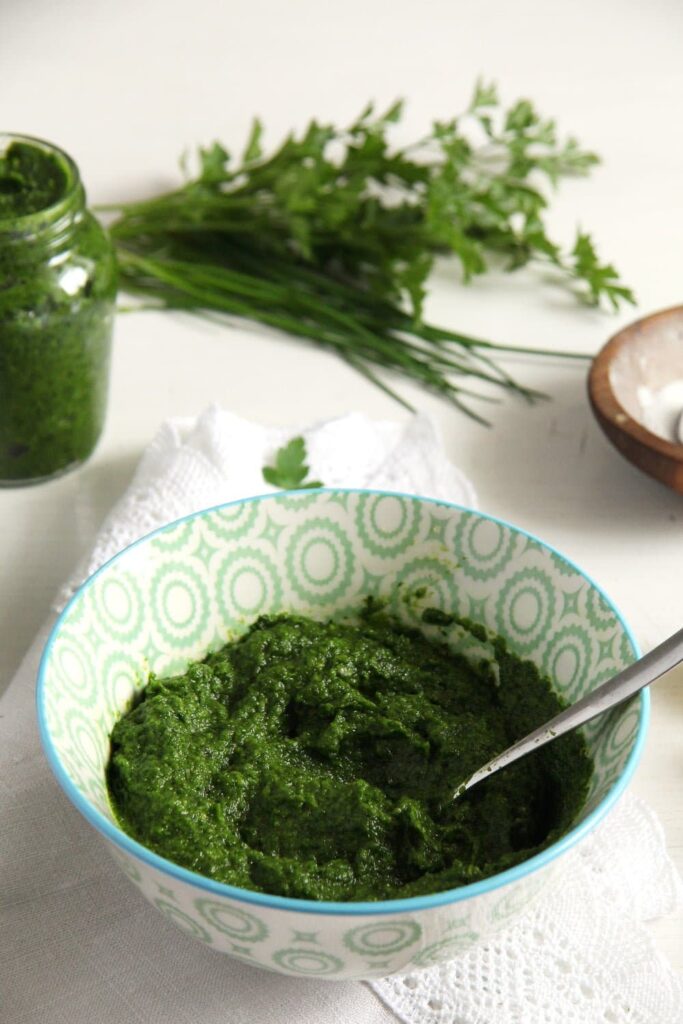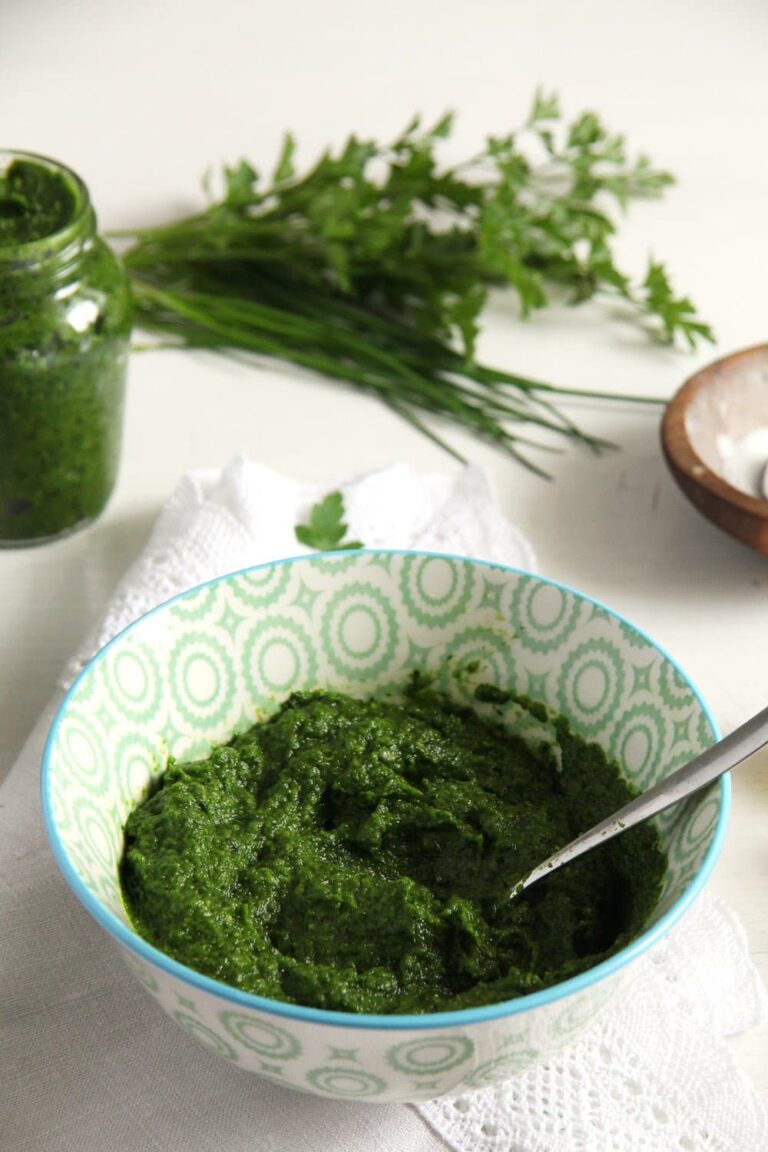 Tips for making herb paste
Flat-leaf parsley is the best sort.
I needed two very large bunches of parsley to obtain 100 g/ 3.5 oz leaves in the end.
You should weigh the parsley after you picked the leaves from the stems.
You can use the very thin parts of the stem as well, but remove the thicker parts of it.
Don't discard the stems, freeze them, and use for making homemade chicken stock or bone broth.
Store
The herb paste will keep in the refrigerator for at least 4-5 months.
I prefer to freeze the jars to make sure that the paste remains fresh and tasty.
More recipes using herbs?
Vegetarian Stuffed Mushrooms (with Herb Butter)
Pork Tenderloin with Herb Crust
German Green Sauce (Frankfurter Sauce)
Pin it for later!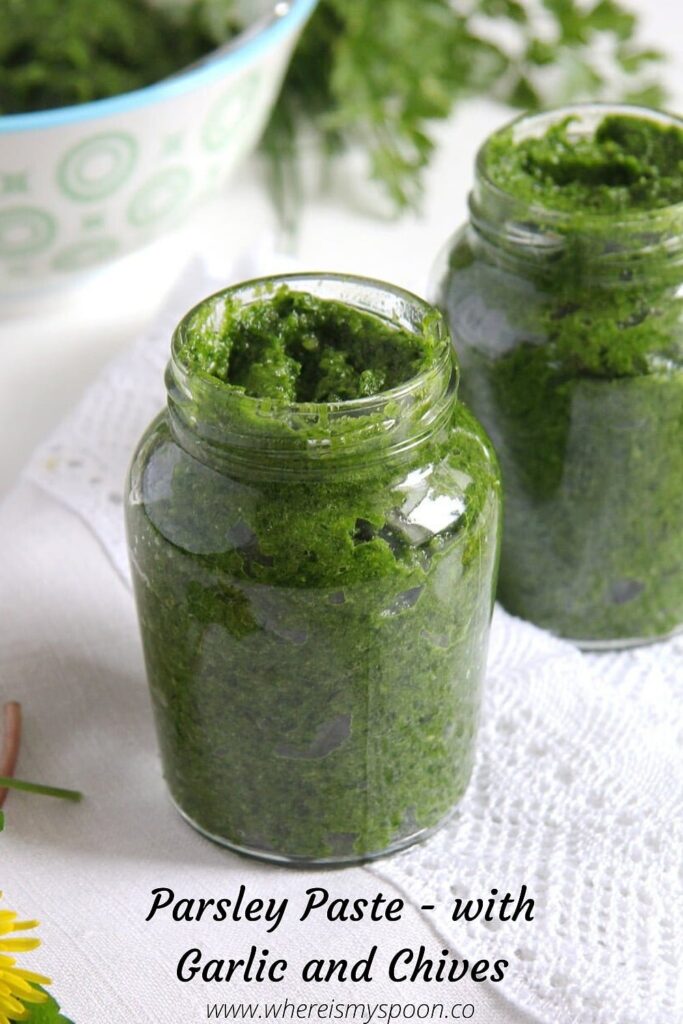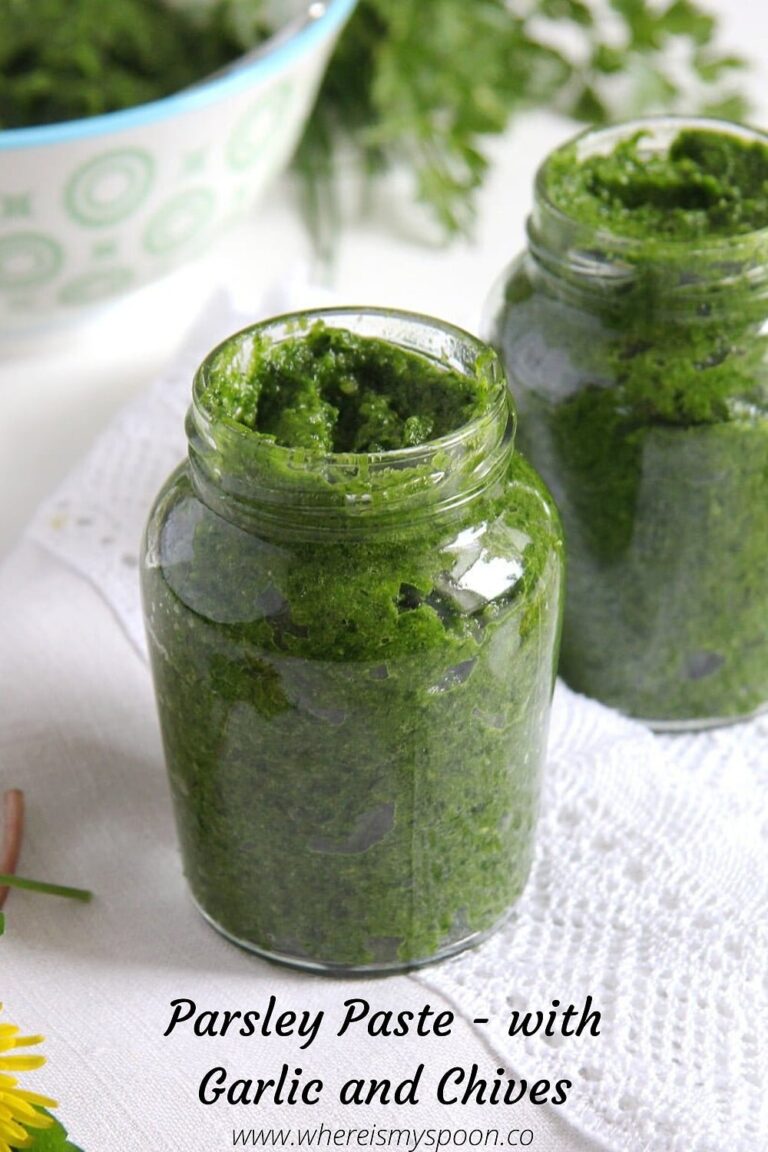 Parsley Paste (Herb Paste with Garlic)
Addictive parsley paste with garlic, chives and salt, this is the most delicious way of preserving parsley.
Ingredients
100 g/ 3.5 oz flat-leaf parsley, weigh only the leaves and the very thin top stems (See note)
100 g/ 3.5 oz chives
500 g/ 17.6 oz garlic
100 g/ 3.5 oz fine sea salt
Instructions
Parsley paste:
Pick the parsley leaves from the stems and weigh 100 g/ 3.5 oz.
Chop the parsley and the chives roughly. Peel the garlic cloves.
Place all the ingredients in a good food processor and blend until you obtain a fine paste. Transfer to small jars.
The jars should keep refrigerated for about 1 year. I prefer to freeze the jars to make sure that the paste remains fresh and tasty.


Uses:
When stirring the paste into other dishes, remember that it is very salty and garlicky, so you will definitely have to reduce the required salt and garlic quantities.
Stir a few teaspoons of it in soups, stews or egg dishes, like scrambled eggs, omelets, etc.
Mix 2 teaspoons and some olive oil and marinate chicken breasts, steaks or pork chops.
Mix 2-3 teaspoons with 250 g/ 2 sticks soft butter to make herb butter.
Stir 1 teaspoon in salad dressings, either yogurt dressing or vinaigrette.
Stir a few teaspoons with cream cheese/quark/strained yogurt/feta to make a delicious spread or dip.
Smear a little bit on bread and toast the slices on the barbecue (pretty salty, but I like it).

Notes
About two very large parsley bunches, preferably flat-leaf parsley.
Nutrition Information:
Yield:

4
Serving Size:

1 small jar
Amount Per Serving:
Calories:

202
Total Fat:

1g
Saturated Fat:

0g
Trans Fat:

0g
Unsaturated Fat:

1g
Cholesterol:

0mg
Sodium:

9650mg
Carbohydrates:

44g
Fiber:

4g
Sugar:

2g
Protein:

9g
Nutrition information isn't always accurate.