Last Updated on
One of my favorite white bean recipes: a comforting vegan stew with buttery white beans and vegetables, these are my grandmother's perfect Romanian beans.
Iahnie de fasole, Romanian bean stew, is what my grandmother used to make very often when I was a child. I always liked it but funnily enough I have rarely cooked it myself. This was only the second time for me, but I am sure I will definitely cook them more often now.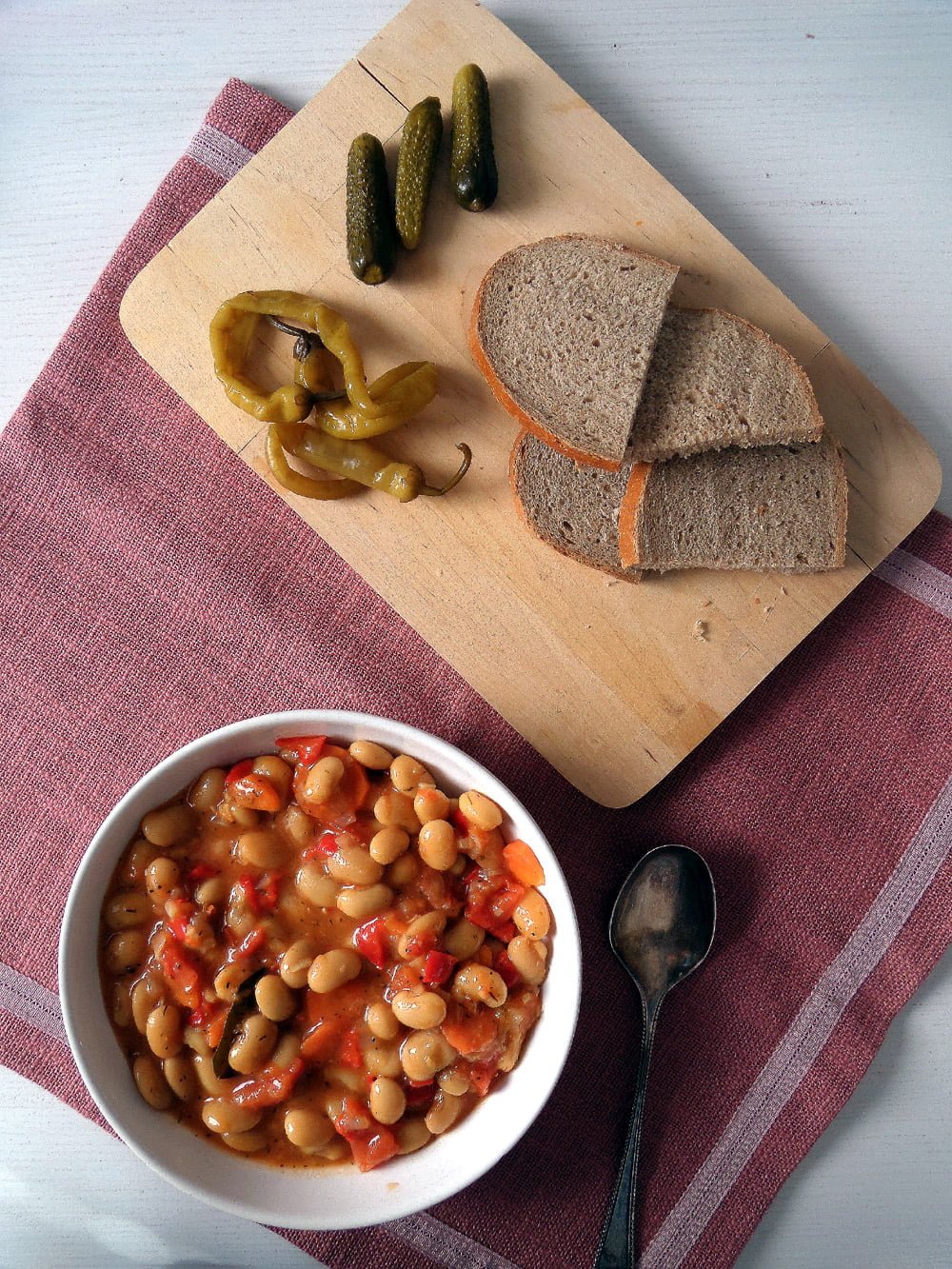 This is vegan as well, not that would have made a difference for my grandma, I am sure she never even heard the word vegan in her life. In Romania this was a fasting meal which you would normally eat in the fasting time before Easter or Christmas or in the two fasting days in the week: Wednesday and Friday.
We never really fasted ourselves but many people do keep this fasting times and leaving aside the religious aspect of it, I definitely think nowadays that fasting is indeed a great thing for our bodies and minds as well. I wish I'd be disciplined enough to do it properly. I am not but still am trying to fast or eat vegan at least 2 or ideally 3 times a week. Is not always working but I am doing my best.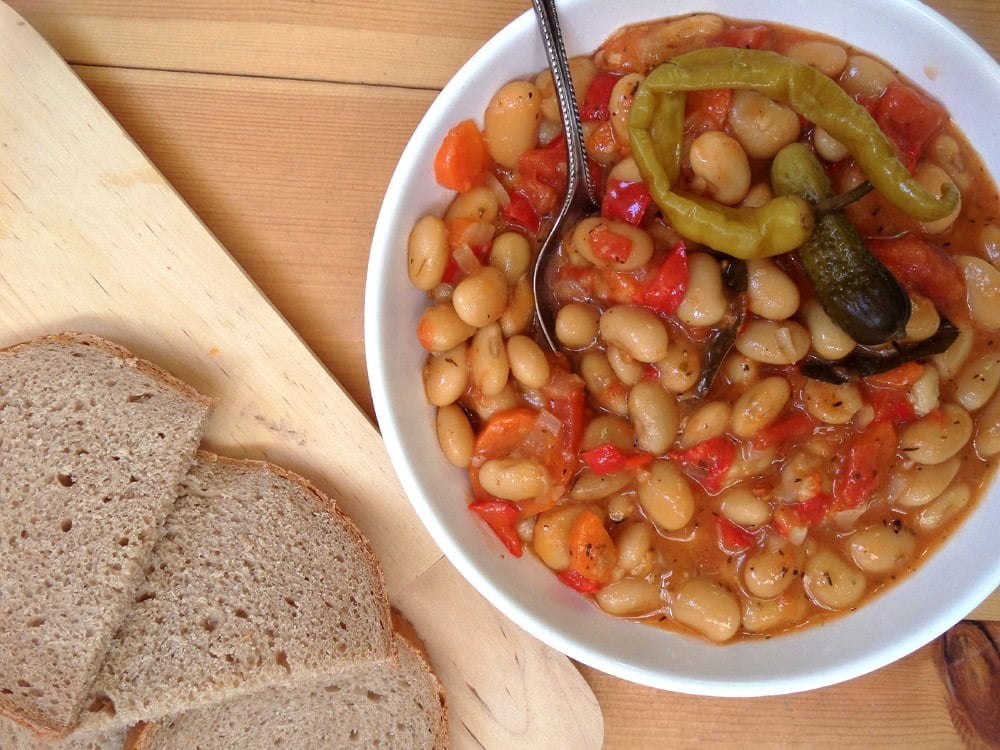 Anyway if you're looking for a delicious, healthy and totally satisfying meal, here it is, for me the best way of eating beans and I do love beans in every possible way, so this is not an overstatement.
I used some huge white beans this time, but you can make it with other-sized white beans as well. I don't know the exact name of this sort of beans, they're just beans growing in my aunt's garden in Romania, she sends me one or two batches every year, small or big but mostly white, and I think they taste better than any beans I have ever bought in a shop. I cook them in a pressure cooker, they need about 20-30 minutes, and at the end they are deliciously soft and buttery and have an unbeatable taste.
Other delicious bean recipes: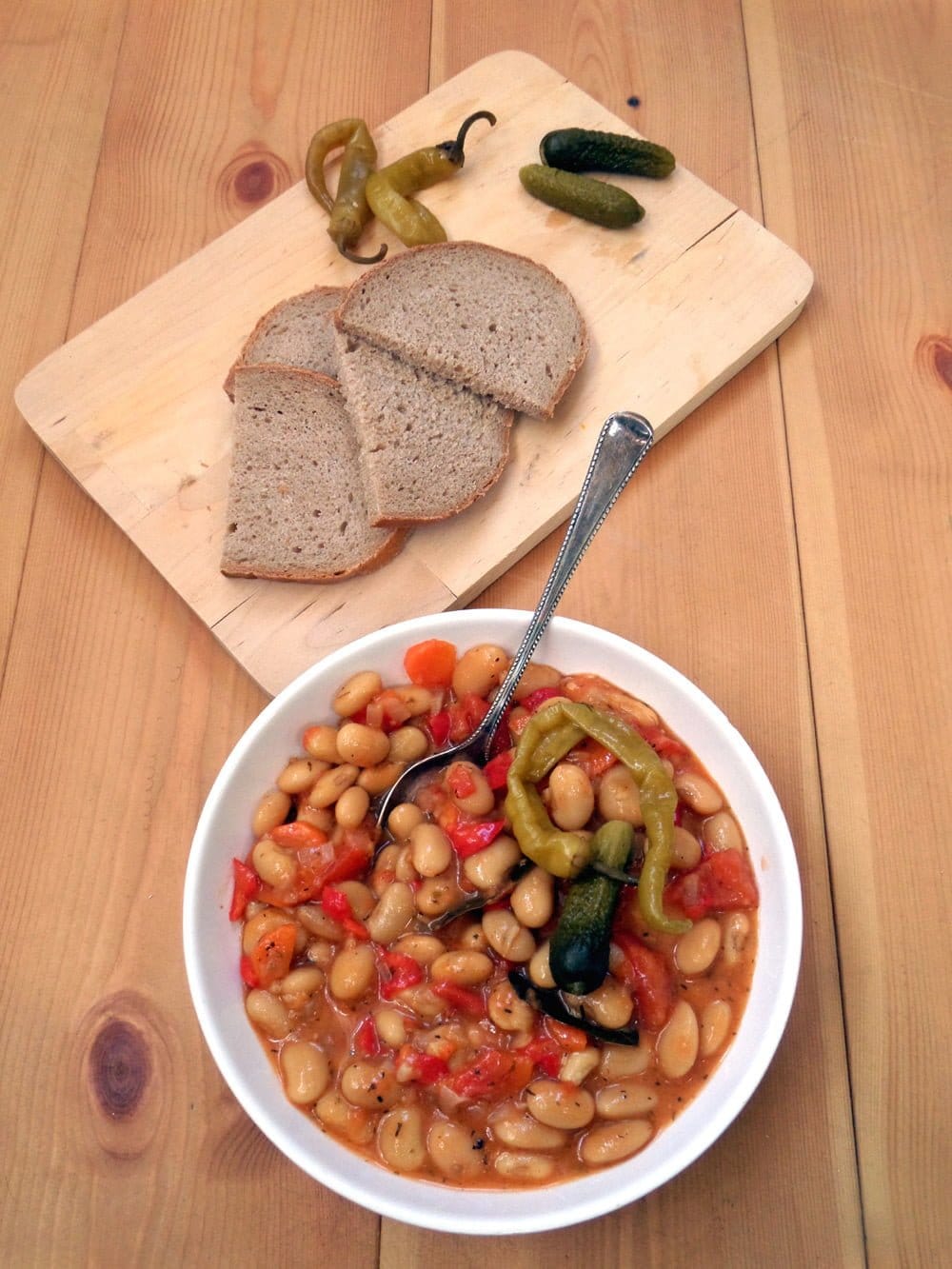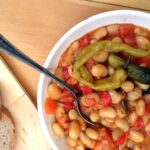 Ingredients
300 g white beans, large or small

2 large onions

1 large carrot

1 large red pepper

2 tablespoons oil

2-3 medium tomatoes

2 large garlic cloves

1 teaspoon powdered vegetable stock or ½ a cube (I only use organic brands)

3-4 level teaspoons all-purpose flour

1 large tablespoon tomato paste

salt and pepper
Instructions
Soak the beans in water overnight. The next day place the beans, 1 halved and unpeeled onion, the carrot and 1 bay leaf in a pressure cooker or in a normal pot and cook until the beans are soft. The cooking time will differ according to the size of the beans and the kind of pot you use. Drain the beans reserving the cooking liquid and discard the onion and the carrot.
Chop the second onion, the red pepper, the garlic and the tomatoes.
Heat the oil in a pan and braise the onion lightly adding a little bit of salt. Add the pepper, tomatoes, garlic and the cooked beans and stir well. Add some cooking liquid, enough to almost cover the beans and vegetables. Add the second bay leaf and the vegetable stock cube. Cook until the vegetables are soft.
In a small bowl mix together the flour, tomato paste and enough cooking liquid to form a runny paste. Slowly drizzle in the beans pot while whisking all the time. Whisk on the outer surface of the sauce and use a wooden spoon to mix everything well afterward. You might not need all the paste, incorporate it little by little in the sauce until getting the desired consistency. Stir thoroughly and bring everything again to a boil. Cook for a few more minutes, adjust the taste with salt and pepper and remove from the heat. You can thicken the sauce with starch instead of flour if you prefer it.
Serve with pickled vegetables like gherkins or hot peppers and bread. If you don't care about eating vegan, some fried or grilled sausages would make a perfect addition.