Pork rib soup with white beans and vegetables, hearty and filling, perfect for cold winter days.
Except for the Romanian Semolina Dumpling Soup, this pork rib soup was the one that my grandmother used to cook the most when I was a child. These two were my favorite soups, after all, they were cheap and filling, not to mention healthy and nourishing.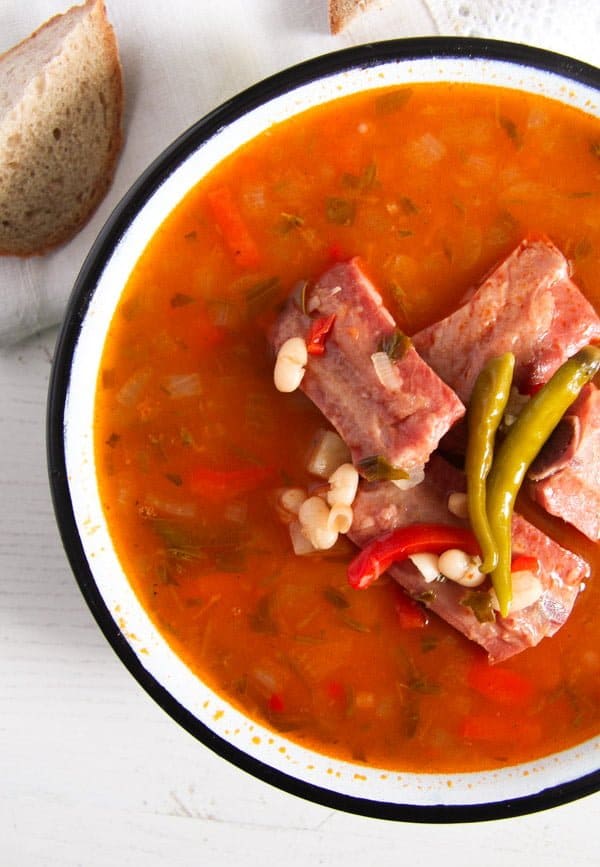 What do you need?
Pork ribs:
You don't necessarily need smoked ribs to make a good bean soup, I do love it either with unsmoked meat, vegetarian or vegan, but when I have that smoky taste and that tender, fall off the bone meat in there, well, it cannot get any better…
You will need about 500 g/ 1 lb ribs, either spare ribs or baby back ribs, they are smaller and thus more suitable for the recipe.
However, larger, meatier cuts are fine as well, cut them into smaller pieces. Just keep in mind that the larger pieces are usually fattier.
In Romania and Germany, we buy the smoked ribs at the butchers'. They are cured and not completely cooked, so you cannot eat them as they are, they have to be properly cooked in a dish.
Beans:
White beans.
The size is not very important, but you have to consider it when cooking them. The larger ones will need longer.
Vegetables:
I use the typical vegetables used in most Romanian soups: onions, carrots, celeriac, and red bell pepper.
Parsley roots are also very common, use one, if you can find it.
Herbs:
You can either spice the soup with fresh lovage or fresh celery leaves and fresh parsley OR with tarragon.
If you use tarragon leave the rest be. Tarragon has its own very distinct flavor and when you use it, you don't need any other herbs. Or at least that is what my grandmother used to say.
If you don't have pickled tarragon, you can replace it either with the herb combination mentioned above or with some fresh tarragon and 2-3 tablespoons vinegar to sour the soup.
How to pickle tarragon?
I almost always use pickled tarragon leaves for making pork rib soup and other Romanian recipes.
I have a huge tarragon bush in my garden, which I've planted for the sole purpose of pickling the leaves and putting them into soups, I don't use tarragon much otherwise.
To pickle tarragon, wash and dry the stalks. Pick the leaves from the stalks, stuff them into small jars, and cover them completely with vinegar. They will keep in the cellar or a colder place for at least one year. Once you've opened a jar, keep it in the fridge.
Pickled tarragon is also used to make the Romanian Meatball Soup (Ciorba de perisoare) or the Bone Broth Bean Soup.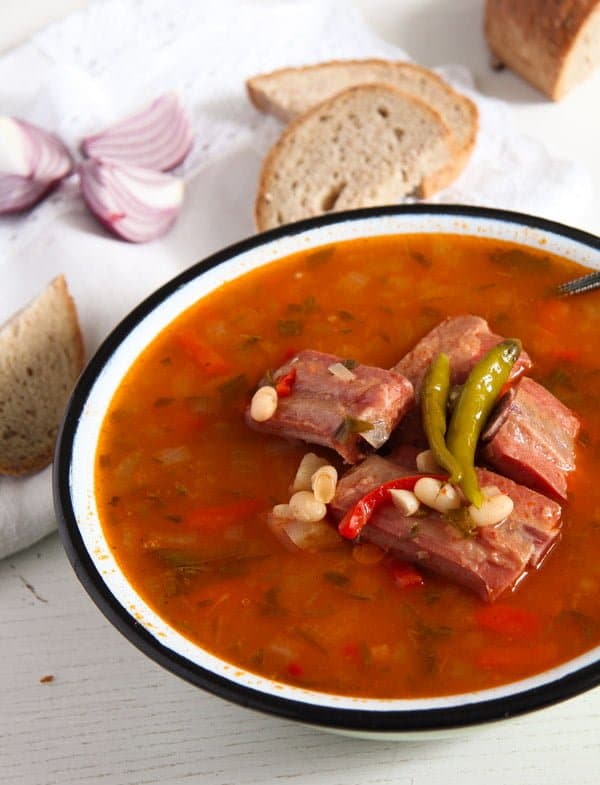 How to make bean soup with pork ribs?
Soak the beans overnight.
Cook in plenty of water together with the pork ribs. The cooking time will be of about 1 hour, but that really depends on the size and age of the beans. If they are not almost cooked through after this time, prolong the cooking time until they are almost done.
Add the chopped veggies and cook until soft.
Heat the oil in a small saucepan. Sprinkle the flour on top and let it get golden while stirring, it will take a minute or so.
Take some soup from the pot using a large ladle and slowly pour it over the flour mixture while whisking continuously. Let it be absorbed and add more hot liquid until you have a smooth pourable paste.
Slowly pour the paste into the soup while whisking. Cook gently for a few minutes more.
Adjust the taste with salt, pepper, herbs and vinegar (or pickled tarragon).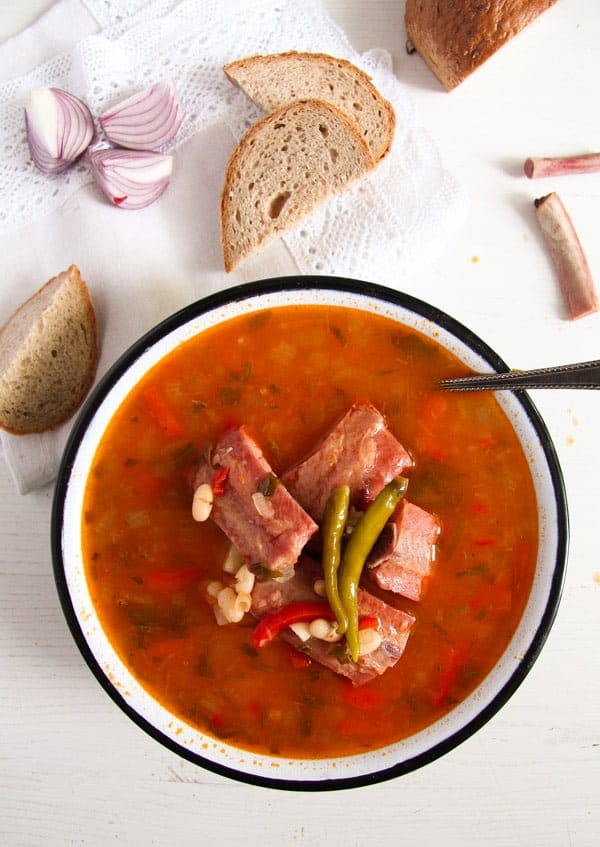 How to serve?
The white bean and pork soup can be served immediately and it can be reheated, it actually tastes even better each time you reheat it.
Traditionally, it is served with bread, raw red onions, and pickled hot peppers. For a special treat, slice the red onions, place them into a small bowl, sprinkle with salt, and cover lightly with sunflower oil (definitely not olive oil). Leave for about 20-30 minutes before serving with the pork rib soup.
Other hearty soups you might like:
German Savoy Cabbage Soup with Ground Meat
Turkey Meatball and Vegetable Soup
German Beef Soup with Dumplings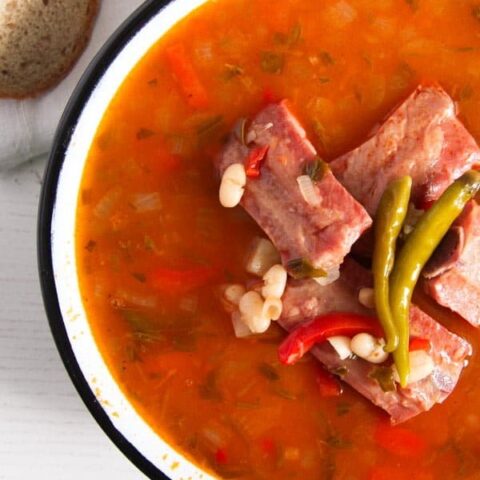 Pork Rib Soup
Cook Time:
1 hour
45 minutes
Total Time:
2 hours
5 minutes
Pork rib soup with white beans, spare ribs, and vegetables, hearty and filling, perfect for cold winter days.
Ingredients
250 g/ 8.8 oz/ 1 ¼ cups dried white beans
500 g/ 1.1 lbs pork ribs (Note 1)
100 g/ 3.5 oz celeriac (Note 2)
2 large carrots
1 large onion
1 red bell pepper
some organic vegetable stock powder (Note 3)
2 tablespoons vegetable oil
2 tablespoons all-purpose flour
2 tablespoons tomato paste
pickled tarragon and 1-2 tablespoons of its pickling vinegar or fresh tarragon + 2-3 tablespoons vinegar, to taste
OR, if not using tarragon
fresh lovage/celery leaves and fresh parsley + 2-3 tablespoons vinegar, to taste
fine sea salt and pepper
Instructions
Rinse the dry white beans, place them in a large bowl, and cover them with water. Leave to soak overnight.
Drain the beans and place them into a pot together with the smoked ribs, which you have cut into smaller pieces. Cover with water, about 2 ½ liter/ 10 ½ cups and bring to a boil. Turn the heat down and simmer for about one hour or until the beans are almost done. Prolong the cooking time if the beans are not almost soft, it really depends on the size and age of the beans.
In the meantime, chop all the vegetables. Add them to the pot and continue cooking for another half an hour or until the beans and the veggies are soft. Add the vegetable stock powder or cubes and stir well.
Heat the oil in a small pot. Add the flour and stir well for one minute. Add the tomato paste and stir well.
Take a soup ladle full of hot soup from the pot, trying to avoid the beans and vegetables, and slowly pour it over the flour mixture while whisking all the time. When the liquid is incorporated and the mixture has no clumps, add another one or two soup ladles, while whisking all the time.
When the mixture is pourable, slowly pour it into the soup while whisking all the time to avoid clumps. Simmer the soup for another 5 minutes.
In the meantime chop the herbs you are intending to use.
If using fresh lovage/celery leaves and parsley, chop and add them to the soup when you are done cooking. Add 2 or 3 tablespoons vinegar to sour the soup to taste and add salt and pepper.
If you are using pickled tarragon, chop it finely and add it to the soup together with 2 or 3 tablespoons of the pickling vinegar, to taste. Adjust the taste with salt and pepper.
Serve with bread and raw red onions.

Notes
Preferably smoked. Either spare ribs or baby back ribs, they are both perfect. Meatier, larger ribs are fine as well.
2-3 stalks of celery could be used instead, however, celeriac is traditionally used for this kind of soup. You can also add one small parsley root (cut into small cubes), if available.
My grandmother always used Vegeta, I use an organic brand of vegetable stock powder. Any brand you like should be fine.
Nutrition Information:
Yield:

6
Serving Size:

1/6 of the dish
Amount Per Serving:
Calories:

437
Total Fat:

31g
Saturated Fat:

8g
Trans Fat:

0g
Unsaturated Fat:

16g
Cholesterol:

88mg
Sodium:

102mg
Carbohydrates:

19g
Fiber:

4g
Sugar:

3g
Protein:

23g
Nutritional information is not always accurate.