A delicious tomato based soup with ground meat, corn, mushrooms and peppers: pizza in soup form! This is a good way of feeding lots of veggies to your kids without them even complaining.
I made this soup only yesterday, but we all liked it so much that I had to squeeze it in this week's series, which is recipes made with bone broth. It was an unplanned meal, I had actually intended to make a pumpkin chili with ground meat and that is why I had took a package of ground meat out of the freezer in the morning. But when the time came for me to cook, I realized I was missing one vital ingredient for the pumpkin chili and that was the pumpkin….
So I had to improvise because the ground meat was already unfrozen and I didn't want to leave it laying around until tomorrow. And like most of the times when I don't know what to cook: I made soup! Soup is something so versatile, just make sure you have a good broth like this amazing beef bone broth from Kettle and Fire (don't forget to give the promo code MYSPOON15 and you will get 15% off your first order) or my favorite homemade chicken bone broth and the rest is easy peasy. Throw in whatever you happen to have in the fridge, add some spices, let simmer for a while and you have a delicious, no-fuss, healthy and inexpensive meals.
The base of this soup, apart from the bone broth is tomato puree and lots of Italian dried herbs like oregano, marjoram and thyme and that makes it so pizza-like, I would say. Add the meat, some fresh or canned sliced mushrooms, some bell peppers and canned corn, top with a little grated cheese just before serving and you'll have some kind of carb free pizza delight, which will leave you satisfied but with a lighter conscience than after eating a real pizza.
What can I say? Both my kids are huge pizza fans and they absolutely loved this soup!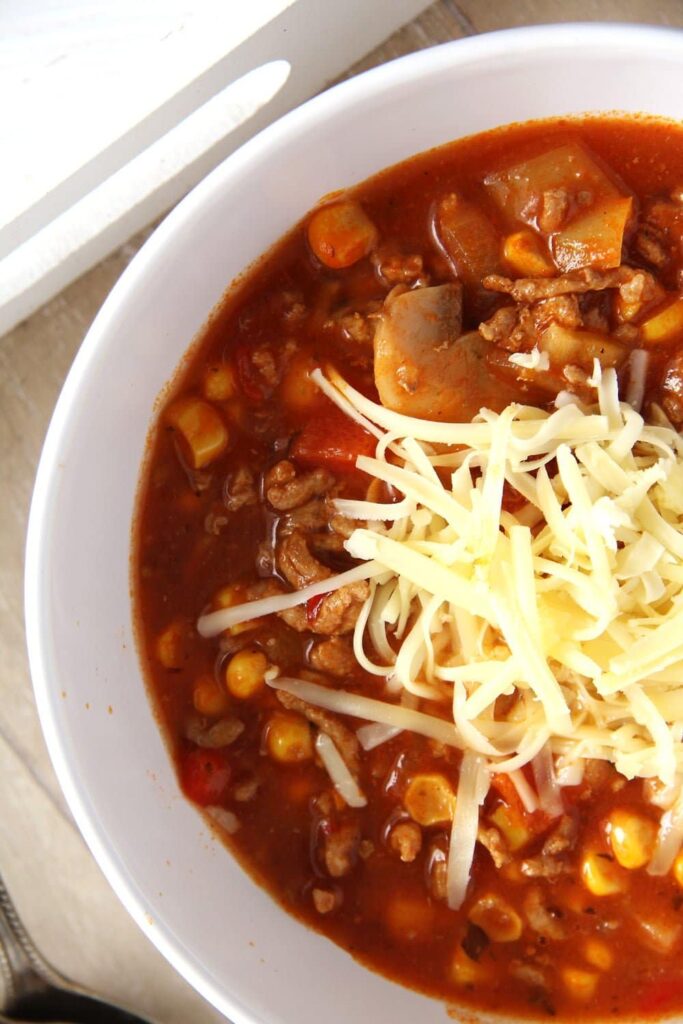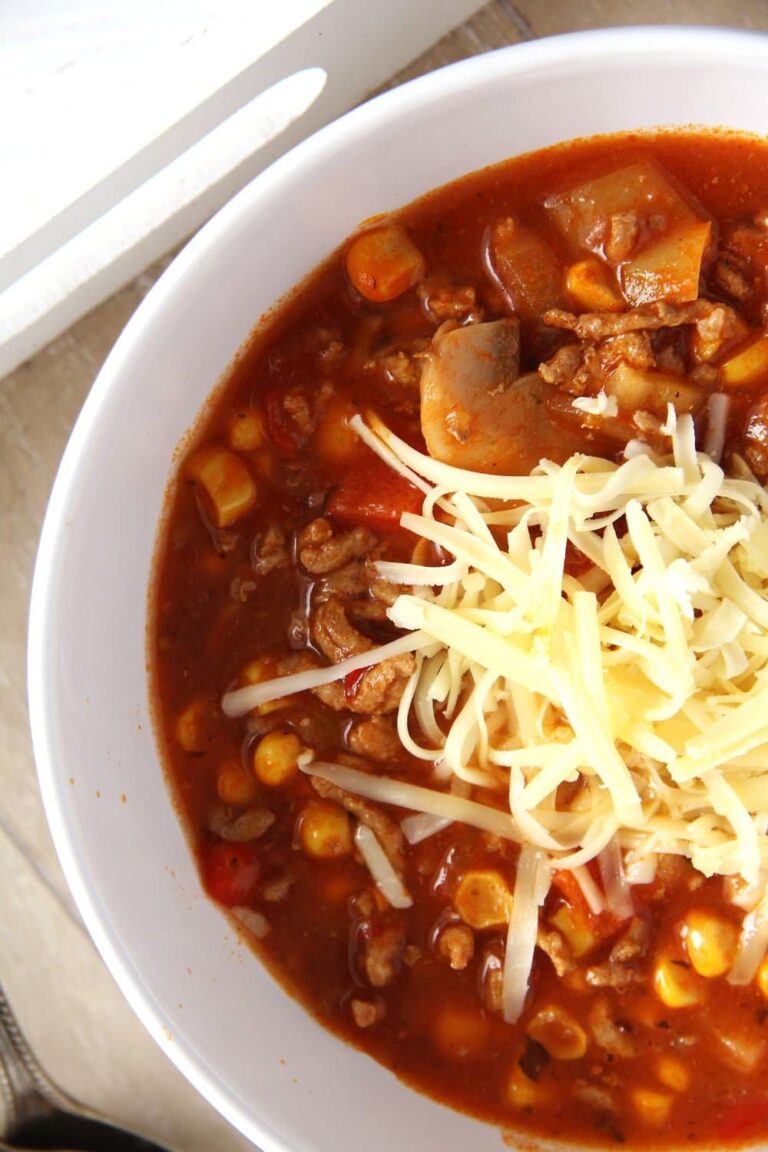 Rating 5.0 from 1 reviews
Prep time:
Cook time:
Total time:
Ingredients
2 tablespoons olive oil
500 g/ 1 lbs ground meat (a mixture of pork and beef)
2 medium onions
3 garlic cloves
1 red chili pepper (more or less depending on its heat and your taste)
2 bell peppers (red and yellow for instance)
1 tablespoon all-purpose flour
2 teaspoons sweet paprika
2 tablespoons tomato paste
1,2 liter/ 5 cups beef bone broth
500 g/ 1 lbs tomato puree
1 tablespoon red wine vinegar
2 teaspoons dried oregano
1 teaspoon dried marjoram
1 teaspoon dried thyme
1 teaspoon sugar
some celery salt (if you have it)
1 can corn, drained
1 can sliced mushrooms, drained
salt and black pepper to taste
grated cheese (Gouda or cheddar) to serve, optional
Instructions
Heat the oil in a soup pot. Add the ground meat and fry until brown, stirring from time to time and breaking all the lumps.
While the meat cooks, peel and halve the onions and cut the halves into fine slices. Chop the garlic and the chili very finely. Give them to the browned meat, stir well and let cook until you chop the peppers. Add them to the pot as well and keep cooking for a few more minutes.
Sprinkle the flour and the paprika on top, stir well and cook for further 2 minutes while stirring. Add the paprika paste, stir well, then add the broth (preferably hot), tomato puree, red wine vinegar, dried herbs, sugar and celery salt. Stir well and add some salt and pepper. Bring to a boil and let cook slowly for about 20 minutes.
Add the drained corn and mushrooms and continue cooking for another 20 minutes. Adjust the taste with salt and pepper and if necessary with a little bit more red wine vinegar or sugar. It should taste sweet-sour.
Serve with some grated cheese on top.
Others you might like: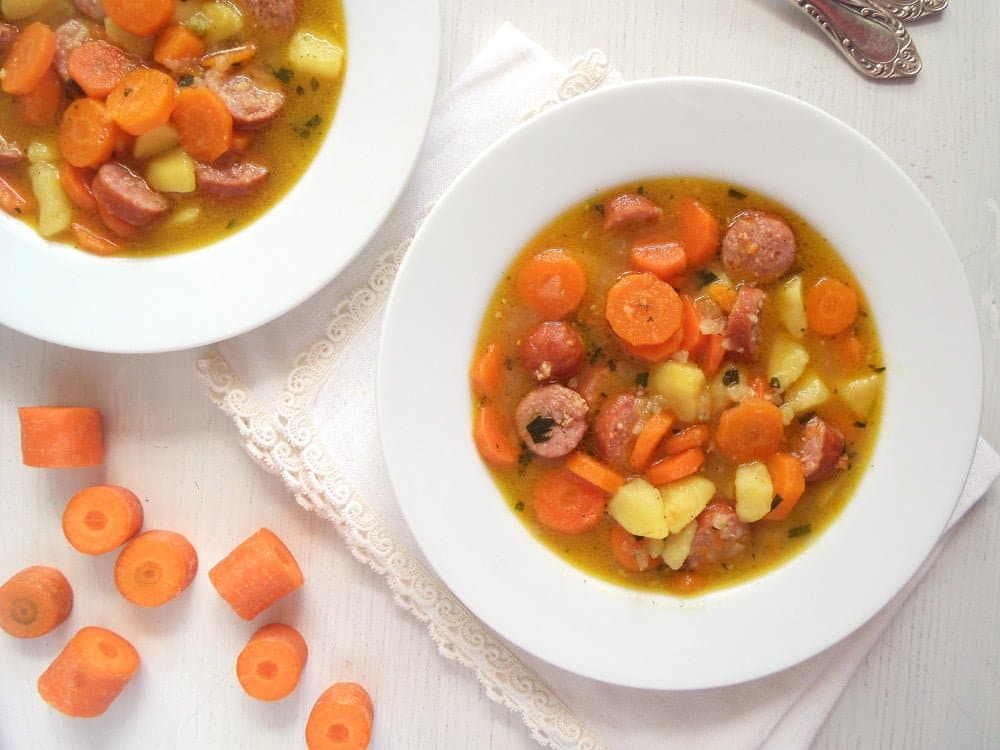 Sunchoke Soup with Bacon Topping