Traditional German lentil soup with potatoes, vegetables, and sausages, this Linsensuppe is one of the best German soups there is.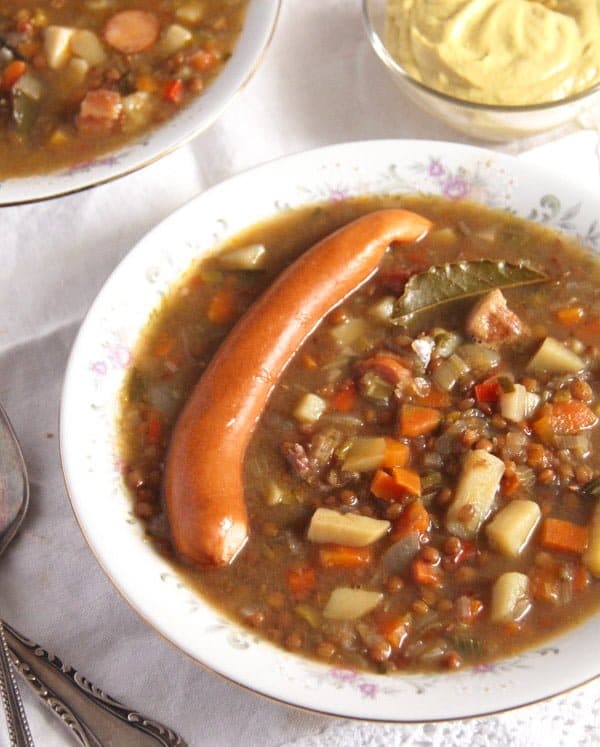 There is no other German soup that I have eaten more often than this lentil soup with potatoes and sausages.
It was one of the first soups I have eaten in Germany and the one German soup I have been cooking like a million times ever since.
Of course, there is always the Romanian Chicken Soup with Dumplings, which is our absolute number one and which I cook at least every two weeks or so, but otherwise, in terms of frequency, this potato lentil soup must be number two.
And why? Well, first of all, it is absolutely delicious, it is very easy to make, sooo cheap and one of my husband's favorite soups, I think his mother used to cook it even more often than I do when he was a child. And it was the first soup that I have ever cooked myself, so it holds a special place in my heart as well.
INGREDIENTS
I have cooked this potato lentil soup so often, I really don't need to follow a recipe anymore. I got the original recipe from my mother-in-law long ago, but over the years, I have changed that to fit our taste better, I lost the Maggi she used, added some vinegar and a bit more vegetables.
Stock:
Use very good quality beef or chicken stock.
I use chicken stock or turkey bone broth most of the time because I always seem to have those in the fridge or freezer, but sometimes I cook a hearty beef bone broth just to make this soup.
Pork belly:
The idea to use a whole (small) piece of smoked pork belly or bacon with rind/skin was given to me by a friend.
The fact that you keep the rind on the belly or bacon for the whole of the cooking process makes this German lentil soup even heartier and if you keep it in one piece, you will be able to remove the rind when the soup is done cooking.
Of course, you could eat the skin, if you like, but I would rather not, it does make the soup hearty and delicious, but I do not like biting on it.
Otherwise, it would be fine to make the soup with rindless chopped bacon or pork belly.
Sausages:
I use the typical Vienna sausages or Frankfurters, whatever I happen to get, I don't stress much about that. If you only have some sausages in the freezer, you can heat them up directly in the soup. Learn How to Cook Frozen Sausages.
Lentils:
Brown lentils are perfect for this potato lentil soup, they are probably the most commonly used type of lentils in Germany.
Red lentils are not suitable, they will disintegrate in the soup and that is not what you want in this case.
Green or black lentils could be substituted if that is all you have, but for a genuine taste, do try to get the brown lentils for this soup.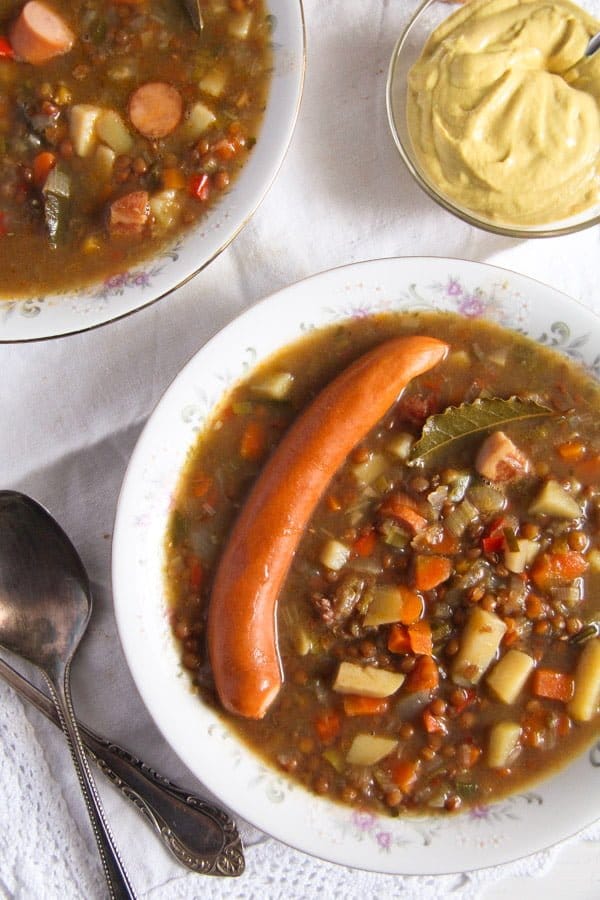 TIPS FOR MAKING GERMAN LENTIL SOUP
For a super hearty lentil soup, I have already suggested using a whole piece of smoked pork belly or bacon with rind/skin. It is not mandatory, but good!
Check the packet's instructions of the lentils when cooking the soup to avoid overcooking them.
The brown lentils I use need about 50 minutes cooking time, that is why I add the potatoes after about 30 minutes, when the lentils are softer, but not perfectly cooked yet.
By the time the potato cubes are soft (after another 20 -30 minutes or so), the lentils should be soft as well.
However, always check if they are properly cooked, the should be nice and soft, but not mushy.
The sausages can be cooked separately in a large pot. Do not let the water with the sausages come to a boil or the sausages will split. Bring the water to a boil, turn the heat off, add the sausages and let them get hot for about 10 minutes. They are already cooked, all you have to do is to heat them through.
You could also slice the sausages, add them to the finished soup and let them get hot in there. I do that often so that I don't have to wash an extra pot at the end.
HOW TO SERVE?
When heating the Vienna sausages or Frankfurters whole, always serve some good mustard on the side.
Serve the German lentil soup with good sourdough bread, preferably rye bread. It is not mandatory, but typical German and it tastes great.
The soup can also be served with German rolls - Brötchen, which are small, crusty white bread rolls.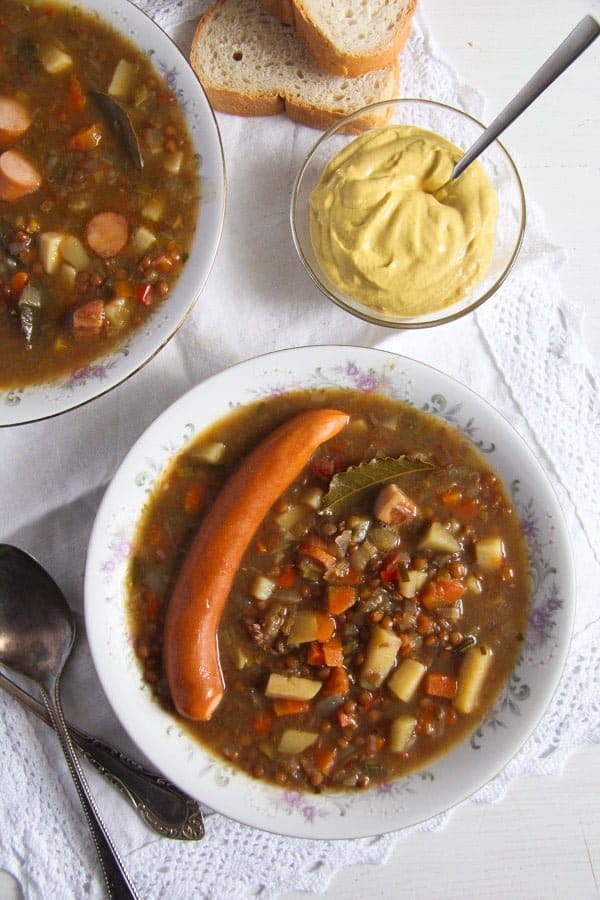 CAN YOU REHEAT THE GERMAN LENTIL SOUP?
The potato lentil soup can be easily reheated, it actually tastes even better the next day.
If you've already sliced the sausages and added them to the soup, leave them in there, it will not matter, they can be reheated as well. Otherwise, reheat fresh sausages separately before serving.
The German lentil soup makes a great party soup. The quantity can be very easily increased (I cooked this once for about 15 people), the soup can be made in advance and it can be easily reheated.
So, if you would like to try a really typical German soup, the perfect winter soup, do give this potato lentil soup with sausages a try, I am sure you will love it.
MORE HEARTY GERMAN SOUPS?
GERMAN CHEESE AND LEEK SOUP - a popular German cheese and leek soup with ground pork, a thick and savory soup everybody loves.
GERMAN SAVOY CABBAGE SOUP WITH GROUND MEAT - a typical German soup with savoy cabbage, ground meat, and potatoes, a comforting and delicious cabbage soup recipe, perfect for the cold winter days.
CREAMY KOHLRABI SOUP WITH POTATOES - perfectly creamy and delicious German kohlrabi soup recipe with potatoes and cream cheese.
GERMAN BEEF SOUP WITH MARROW DUMPLINGS - typical German beef soup with bone marrow dumplings, vegetables, noodles and egg custard, so comforting and delicious.
HOMEMADE CREAM OF MUSHROOM SOUP - homemade cream of mushroom soup without cream or lots of butter, just some cream cheese to make it really smooth and comforting.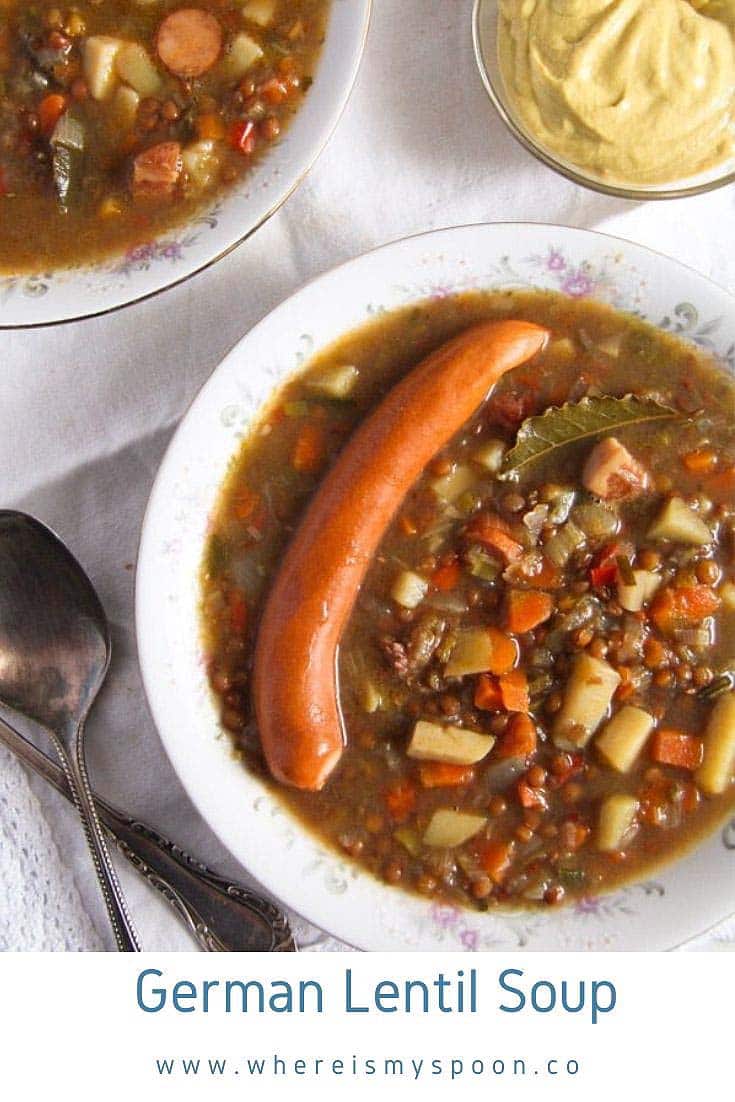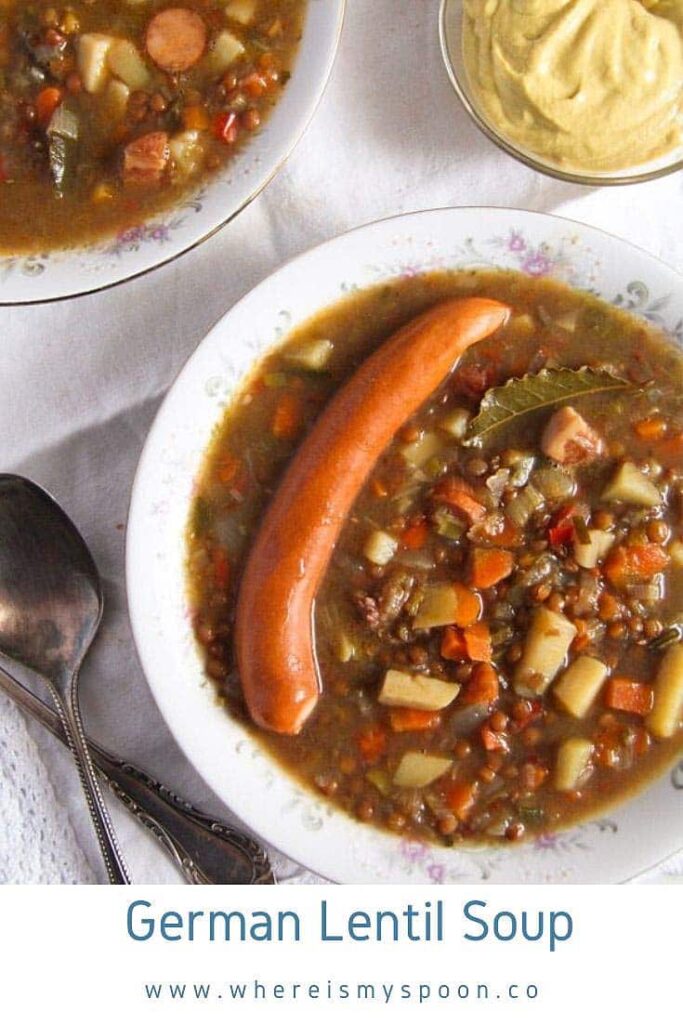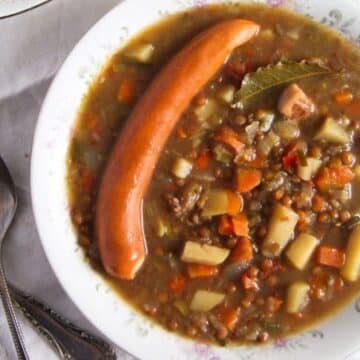 German Lentil Soup
Traditional German lentil soup with potatoes, vegetables, and sausages, this Linsensuppe is one of the best German soups there is.
Print
Pin
Share
Grow
Saved!
Rate
Ingredients
1

tablespoon

oil

125

g/ 4.4 oz smoked pork belly with rind or smoked bacon with rind

See note 1

1

large onion

2

carrots

1

piece

celeriac

about 50 g/ 1.7 oz

1

small leek

200

g/ 7 oz/ 1 cup brown lentils

300

g/ 10.5 oz potatoes

1,5

– 2 liter/ 3 – 4 ¼ pints/ 6 ½ – 8 ½ cups stock

See note 2

3

bay leaves

1

teaspoon

dry lovage

1

teaspoon

sugar

2-4

tablespoons

balsamic vinegar

to taste

fine sea salt and pepper

8

Vienna sausages or Frankfurters
Instructions
If you use smoked pork belly or bacon with rind, keep it in one piece. Rindless, chopped smoked bacon or pork belly can be used instead.

Heat the oil in a soup pan. Add the smoked pork belly with rind or the smoked bacon with rind in one piece and fry it well on both sides. If using already cubed bacon or pork belly without the rind, fry them all over as well.

In the meantime finely chop the onion, carrots, celeriac and leek. Add them to the pot and stir. Leave the pork belly in the pot. Add the rinsed lentils and about ¾ of the broth or stock to the pot. Add the bay leaves and the dry lovage. Stir, bring to a boil and let cook on low heat for about 30 minutes or until the brown lentils are quite soft, but not perfectly done yet.

In the meantime, peel and chop the potatoes into small cubes. Add them to the pot. The soup should be really thick, but if you find it too thick, you can add some or all of the remaining stock at this point.

Bring to a boil again and continue cooking the soup for about another 20 - 30 minutes or until the potatoes and lentils are soft.

Take out the whole piece of pork belly or bacon, if using. Remove and discard the rind. Chop the rest of the pork belly or bacon into small pieces. Return them to the soup.

Adjust the taste with salt, pepper, sugar and balsamic vinegar. Add only 2 tablespoons vinegar first and add more to taste.

Just before serving, heat the sausages in a large pot of water and serve 1 or 2 sausages per person. For a speedier version, slice the sausages thickly and heat the sausage pieces in the soup. Serve as suggested above.
Notes
Rindless chopped bacon or pork belly can be used instead.
Beef broth, chicken stock or bone broth.
Nutrition
Serving:
1
/6 of the dish
|
Calories:
409
kcal
|
Carbohydrates:
27
g
|
Protein:
17
g
|
Fat:
26
g
|
Saturated Fat:
9
g
|
Polyunsaturated Fat:
14
g
|
Cholesterol:
55
mg
|
Sodium:
786
mg
|
Fiber:
5
g
|
Sugar:
6
g