Healthy vegan lentil soup with pasta, vegetables and lots of herbs, this is the perfect soup for a cold winter day.
BLACK LENTIL SOUP
An easy to make, wholesome, vegan lentil soup with pasta that I am making quite often… mostly whenever I have no other idea what else to cook or don't have the time to go shopping for ingredients, I normally have all the required ingredients at home.
It is quick, it is healthy and it is delicious. I find it perfect for the weather we have right now. It warms you up from inside, it has a little heat to make it interesting, it is full of flavor and so comforting.
Lentil soups are some of my favorite kind of soups, I have made so many lentil soups over the years… I cannot even recall how many different types.
From the typical ham and lentil soup that everybody knows and loves, to the traditional German lentil soup with sausages, soups with red, yellow, brown or green lentils… you name it!
And this black lentil soup is one of my favorite versions. And definitely the healthiest of them all!
It is one of those recipes I discovered many years ago, in a small, thin cookbook advertising for some company. The kind of booklet I would not even touch nowadays. With all the thick and beautiful cookbooks I have, I don't bother picking up advertising cookbooks. But I used to back then.
It was the only recipe I have cooked from that book and I have changed it a lot during the years until the soup has become what it is today. I really hope you will give it a try! Even if you are not a vegan, you will absolutely love this lentil soup!
PANTRY INGREDIENTS
As mentioned above, I never ever have to go shopping just to make this lentil and vegetable soup. I have all the needed ingredients in the pantry at all times.
Lentils:
I use black Beluga lentils, which get their name from their resemblance to Beluga caviar. They are small, black and shiny, they really look like caviar or small black jewels. Have a look at this black lentil lasagna made with Beluga lentils as well.
If you cannot find them, you can substitute them with French lentils or lentils du Puy. They are also dark, but more brown, small and retain their shape when cooked.
However, French lentils are super expensive around here, so I definitely prefer using black Beluga lentils.
Whatever you do, don't use red lentils. Red lentils make wonderful, but completely different kinds of soups. They have a different taste and kind of disintegrate when cooked, resulting in thick and rather creamy soups.
Pasta:
I use whole wheat elbow macaroni.
Any kind of short pasta shapes can be used instead.
Try to stick to whole wheat, I find their special taste and consistency to be the best fit for this lentil soup.
However, if you don't have or don't like whole-wheat pasta at all, you can use regular pasta instead.
Herbs:
When I make this soup in winter, I tend to use dried herbs like marjoram and/or oregano.
In spring and summer, I always use fresh marjoram or oregano from the garden. Both versions are delicious!
Fresh chives are always available in the supermarket, so I always use fresh ones. If I don't have them, frozen chives are a perfect substitute. And I always have those in the freezer.
Never use dried chives for anything, they have no taste at all.
Vegetables:
For me, always tomatoes and scallions, I always have them and I love them in this soup.
You can change that according to your taste or whatever you have in the house.
Leeks, broccoli or kale, for instance, are great as well.
TIPS FOR MAKING THE SOUP
Always regard the packet's instructions when cooking both lentils and pasta.
The Beluga lentils I use only require between 20 and 30 minutes cooking time, but du Puy lentils need longer, about 45 -50 minutes.
Check the pasta's cooking time and add the pasta when the lentils are almost done.
Cook the pasta al dente, it will become softer during the few minutes you will need to bring the pot to the table.
The vegan lentil soup with pasta is best when served immediately.
The main reason for that is that the pasta will absorb most of the stock when standing, so the pasta will become softer and the liquid will kind of disappear.
If you have leftovers, keep them in the fridge and add more vegetable stock when reheating the soup.
SERVING SUGGESTIONS
To keep the meal completely vegan, serve the black lentil soup with bread, for instance, this quick spelt bread. The crispbread with oats and seeds or the wholegrain spelt crackers are great as well.
You can spread some hummus, muhammara or any other vegan spread on the bread as well.
MORE VEGAN SOUPS?
CARROT SOUP WITH GINGER – Full of flavor vegan carrot soup with ginger and coconut milk, this easy carrot ginger soup is one of the creamiest and healthiest soups you can think of.
SWEET POTATO SOUP WITH COCONUT MILK – A simple vegan sweet potato soup with coconut milk, ginger, and chili.
PEANUT SOUP WITH COCONUT MILK – A simple vegan peanut soup with vegetables and coconut milk.
CREAM OF BROCCOLI SOUP – Incredibly creamy and flavorful vegan broccoli soup with spinach, basil and coconut milk.
ROASTED PUMPKIN SOUP – The perfect way of dealing with roasted pumpkin, this vegan pumpkin soup makes a wonderful starter or a full meal when served with sandwiches or a salad.
PIN IT FOR LATER!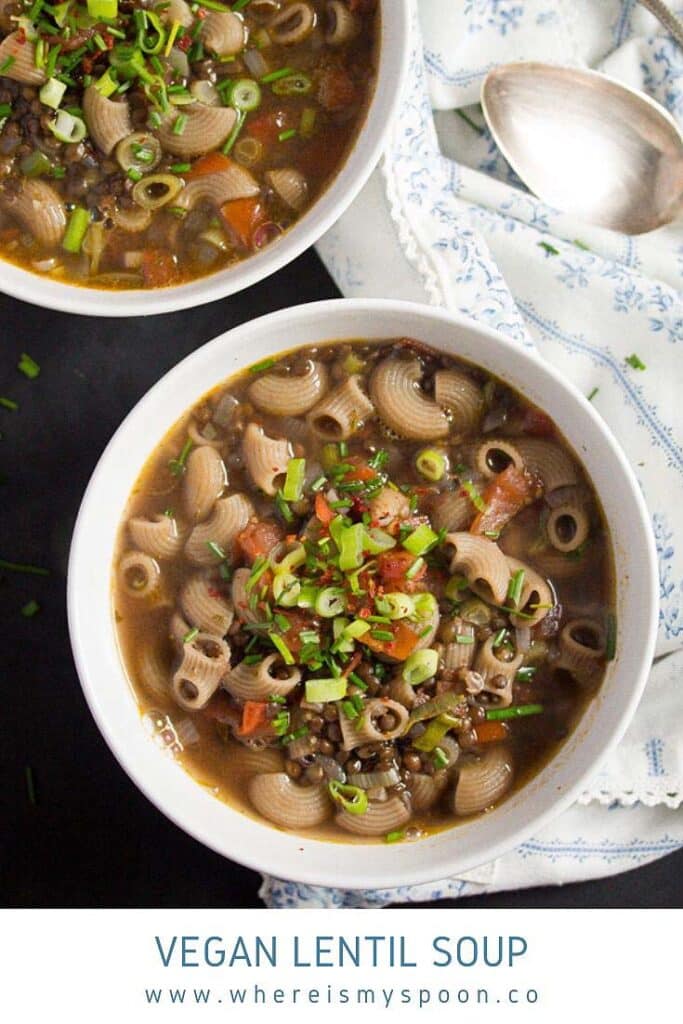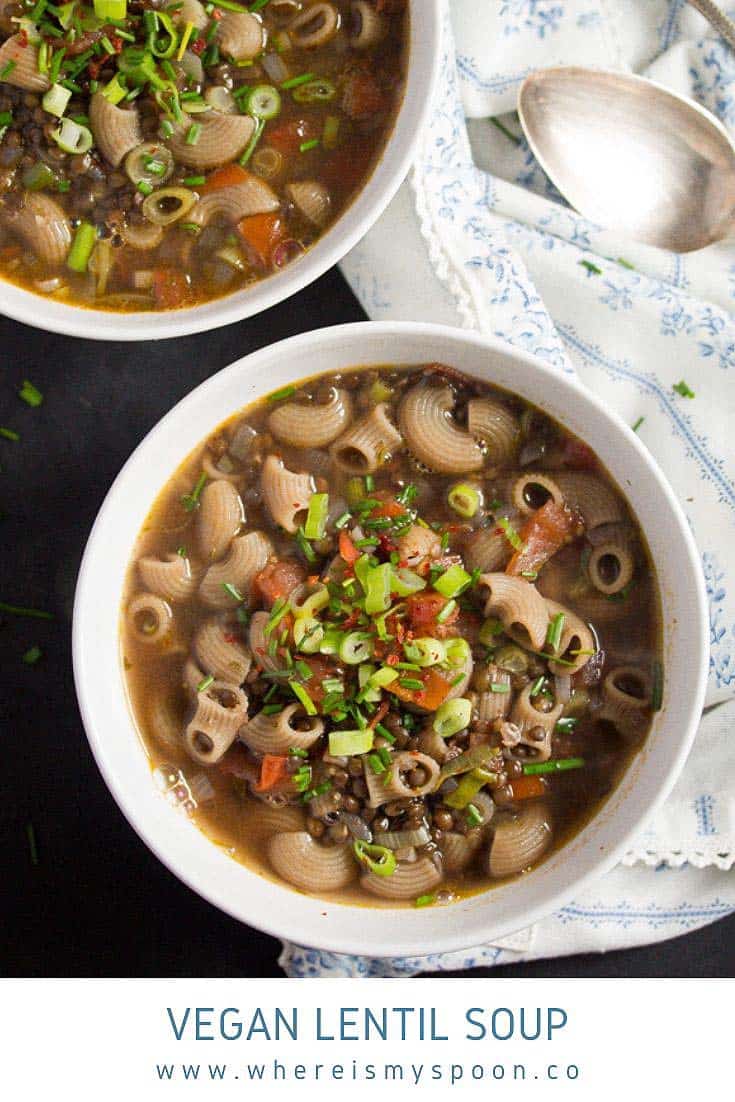 Vegan Lentil Soup
Healthy vegan lentil soup with pasta, vegetables herbs, this is the perfect soup for a cold winter day. A hearty soup that the whole family will enjoy.
Print
Pin
Share
Grow
Saved!
Rate
Ingredients
1

medium onion

2

garlic cloves

1

tablespoon

olive oil

3/4

cup

black lentils

Beluga lentils, see note 1

7

cups

vegetable stock

2

large tomatoes

1

bunch scallions

1

teaspoon

dried oregano or marjoram

See note 2

6

oz

whole wheat elbow macaroni

1/2

teaspoon

fine sea salt

or Kosher, to taste

1/8

teaspoon

ground white pepper

1-2

tablespoons

white wine vinegar

1

small bunch chives

red chili flakes

optional
Instructions
Chop the onion and the garlic cloves very finely.

Saute: Heat the oil in a soup pan and cook the onions and garlic for a few minutes until translucent. Add the lentils and stir for 1-2 minutes until the lentils are covered with a thin film of oil.

Cook: Add the vegetable stock, bring everything to a boil, and cook until the lentils are almost done, observing the instructions on the packet of lentils.

Chop: In the meantime, chop the tomatoes in small pieces and the scallions in small rings. Wash and finely chop the marjoram/oregano and the chives. Keep the herbs separated.

Add vegetables: When the lentils are almost done, add the tomatoes, scallions, marjoram, pasta, salt, pepper, and 1 tablespoon vinegar to the soup and cook until the pasta is al dente.

Adjust: Add the chives and adjust the taste with more vinegar, salt, and pepper if necessary. Sprinkle with some red chili flakes, if desired. Serve immediately.
Notes
French lentils du Puy can be used instead. They have a longer cooking time, check the packet's instructions.
Use a small bunch of fresh oregano or marjoram, if available.
Nutrition
Serving:
1
/4 of the dish
|
Calories:
336
kcal
|
Carbohydrates:
62
g
|
Protein:
15
g
|
Fat:
5
g
|
Saturated Fat:
1
g
|
Polyunsaturated Fat:
4
g
|
Sodium:
1594
mg
|
Fiber:
12
g
|
Sugar:
7
g