Last Updated on 24/03/2020 by Adina
A healthy, filling, spicy and delicious beef soup recipe with yellow split lentils, vegetables and lots of spices.
If you read the previous post or if you have taken the time to peruse the Recipe Index on Where Is My Spoon, you might have noticed that we dearly love our soups here. I make lots and lots of soups from simple creamy vegetable soups like this Creamy Mushroom Soup with Cream Cheese to more elaborate, time intensive soups like the German Beef Soup with Egg Custard and Marrow Dumplings.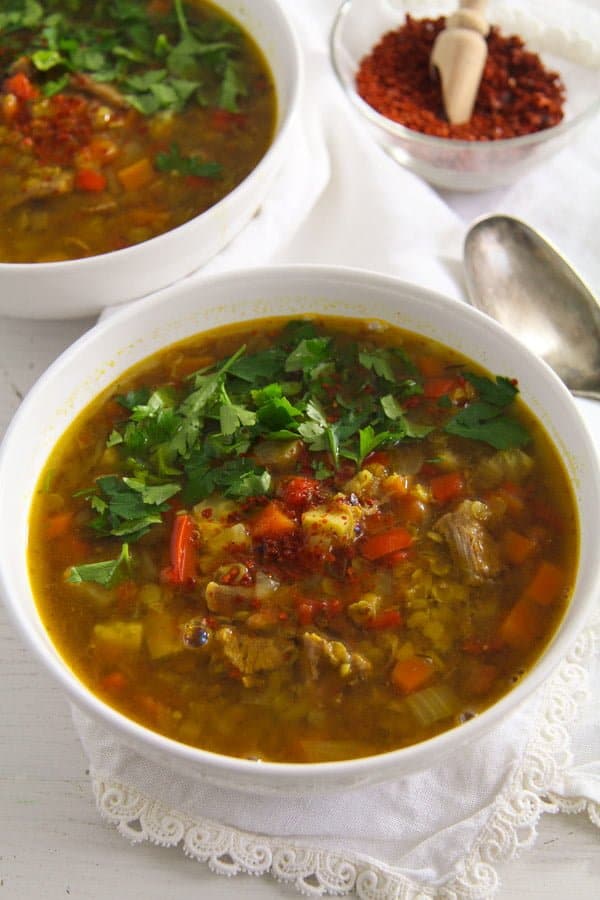 As a proof of my undying love for soups: my husband had his birthday yesterday and like every year, we did have quite a lot of guests. We always celebrate birthdays in a typical German fashion, starting with coffee and cake in the afternoon (I've made a lemon raspberry cake, a Polish coffee-almond cake and a blueberry tart this year), followed by dinner in the evening and by beer, wine, schnapps after dinner.
I cook something different every year and this year I've decided to make soup. Maybe an unorthodox choice for a party in some people's eyes, but I am telling you, it is a great idea for a party. You can make all the soups in advance and reheat them just before serving, you don't have to set the table, especially when you have more guests than room to sit them all at one table. The guests ate in batches so to say, some earlier, some later, some at the kitchen table, some in the living room. It was uncomplicated, I did not have to serve or clean up much after the guests, they all brought their plates and the spoons in the kitchen when they had finished and most importantly all of them loved the soups.
I've made three soups for my husband's birthday yesterday: this delicious Romanian Turkey Meatball and Vegetable Soup only with beef and pork meatballs this time, a traditional German beef and lentil soup with frankfurters and a Vegan Sweet Potato Soup with Coconut Milk and Ginger. I will post the recipes for these last two soups during this soup series as well. To accompany the soup we had white bread with three different spreads: a tomato and garlic butter, a feta spread with wild garlic pesto and my personal favorite, a Camembert green onion spread with paprika powder.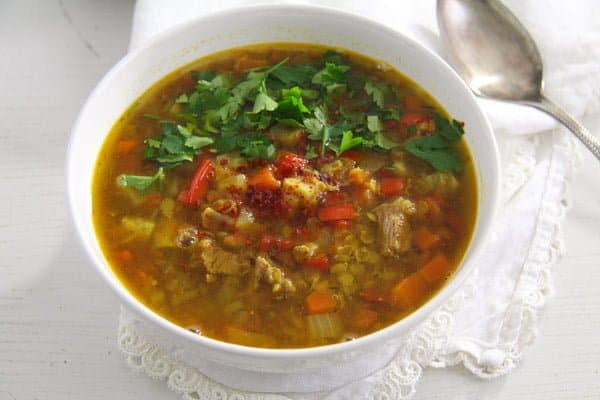 I almost always make my own stock, from plain chicken stock or beef broth to bone broth made of turkey or beef bones or leftover chicken or turkey bones from a roast. I make vegetable broth and fish stock as well and it is rarely that I make a soup using stock cubes or stock powder. I do use them sometimes when I am out of stock or when the broth is not as powerful as I want it to be or when I just want to make a very quick soup for lunch or dinner, but except in very few cases, we always notice the difference, even the children say that the soup tastes different.
Actually, I think the only times I can get away with using only stock cubes for making soup is when I make a creamed vegetable soup with milk, cream or coconut milk for instance. The dairy seems to be able to cover the stock cube's after taste better than anything…
Today's Spicy Yellow Split Lentils and Beef Soup with Vegetables is a very easy to make and very delicious soup. You can make it from scratch, making your beef stock with a piece of stewing beef and some bones or you can make it with bought good quality beef broth or bone broth for a speedier version. I used Indian spices to give the soup a different flavor, to make it different than our usual German spiced beef and lentil soup. I hope you enjoy it!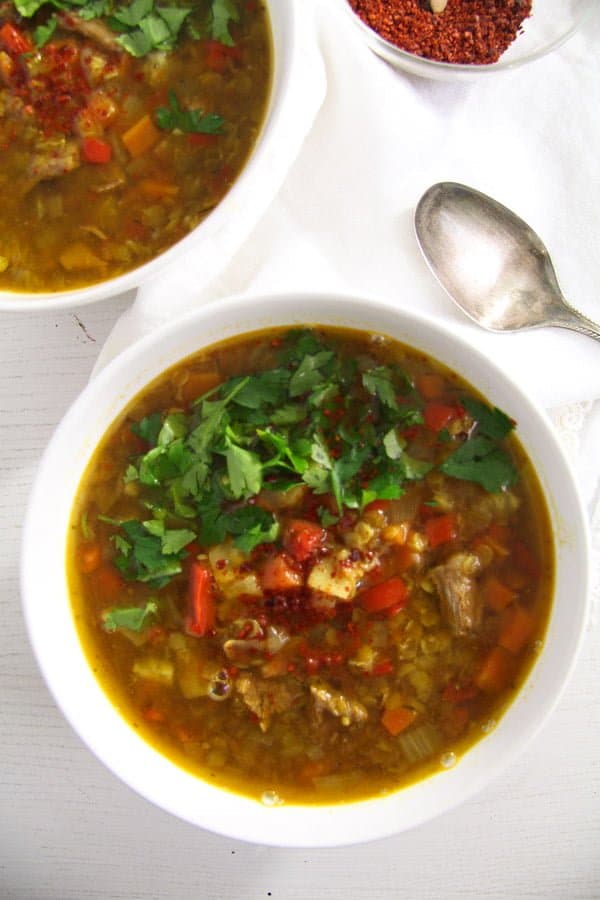 Other recipes made with beef broth or beef bone broth: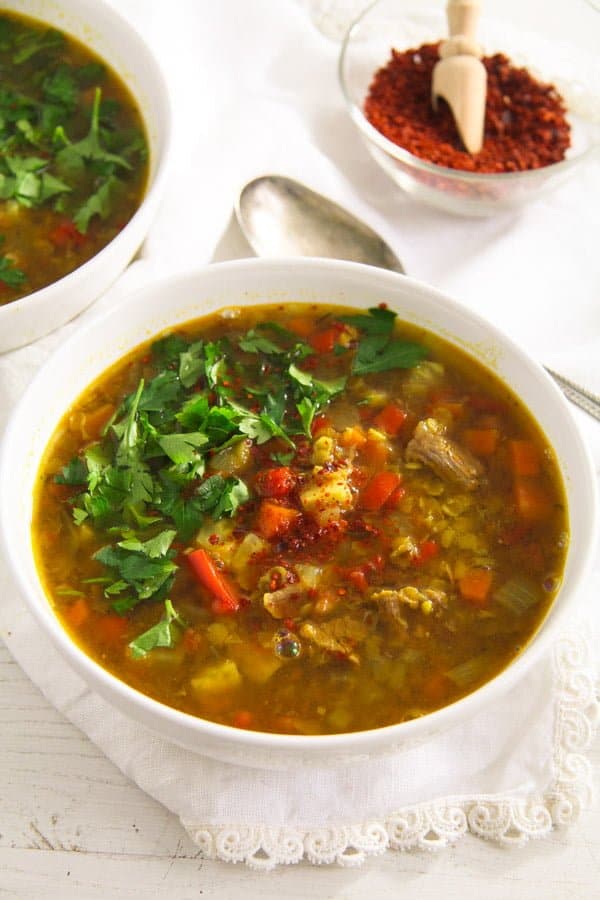 Ingredients
1 piece stewing/boiling beef, about 500 g/ 1.1 lbs

2-3 beef bones (See note)

3-4 bay leaves

10 peppercorns

5 cloves

5 all spices corns

100 g/ 3.5 oz celeriac

1 large carrot

1 red bell pepper

1 large onion

1 teaspoon turmeric

½ teaspoon ground ginger

1 teaspoon cumin

1 teaspoon coriander

½ teaspoon chili

½ teaspoon ground all spice

150 g/ 5.3 oz yellow split lentils

2 tablespoons red wine vinegar

salt and pepper

some parsley
Instructions
If you don't want to make your own stock, you can use about 2 liter/8 ½ cups good quality beef stock for the soup.
Give the stewing/ boiling beef, the bones, bay leaves, peppercorns, cloves and all spice corns to a large soup pot. Cover with water, about 2,5 liter/ 10 ½ cups and slowly bring to a boil. Turn the heat to very low and simmer uncovered for about two hours. Discard the bones, set the meat aside and strain the stock into another pot or bowl.
Give the stock and the meat back to the soup pot.
Chop the celeriac, carrot, red bell pepper and onion into small cubes. Give them to the soup and add the spices. Continue cooking for another 10 minutes.
Add the washed yellow split lentils and cook them until soft, about 20 minutes or according to the packet's instructions.
Take the meat out of the soup (it should be very soft by now) and chop it into small pieces. Give it back to the pot.
Add the red wine vinegar and salt and pepper to taste. Sprinkle with chopped parsley and serve with bread.
This post contains affiliate links. The price you pay as a consumer does not change, but if you make a purchase we will receive a commission which helps support the blog.