Cheesy garlic stuffed bread with mozzarella and herbs. Delicious pull-apart bread suitable as a side for any barbecue or a light main course with a salad on the side.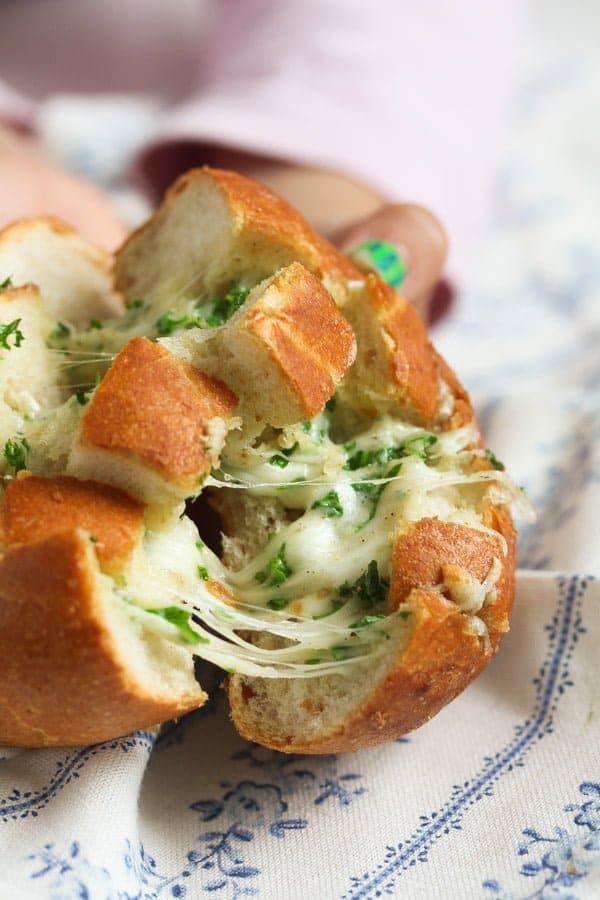 So goood! This garlic stuffed bread is really addictive! We liked the mozzarella rolls so much, I managed to make them four times in a relatively short period of time.
I just stuffed and baked the garlic bread rolls, made a green salad and we couldn't have been more satisfied. Especially, my daughter, she goes crazy for this cheesy stuffed garlic bread. Any kid actually, this is a real children party food, if you ask me.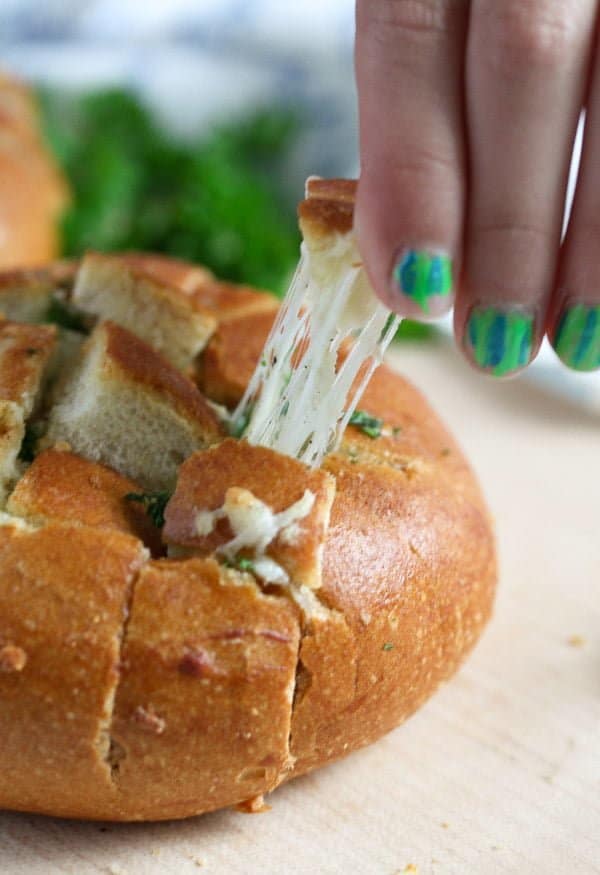 We do like our stuffed loaves of bread, crusty things full of herbs and garlic, like this Herb Garlic Baguette or this Pizza Pull-Apart Bread. And I've made sweet pull-apart bread even more often, for instance, our favorite Plum Bread or the Apple Pull-Apart Bread.
But it was the first time it had occurred to me to make pull-apart bread using bread rolls. And they are really fun to make and I find it good that they come in smaller portions. Not to mention that I find it a bit easier to calculate how many of them I need to make than when making pull-apart bread.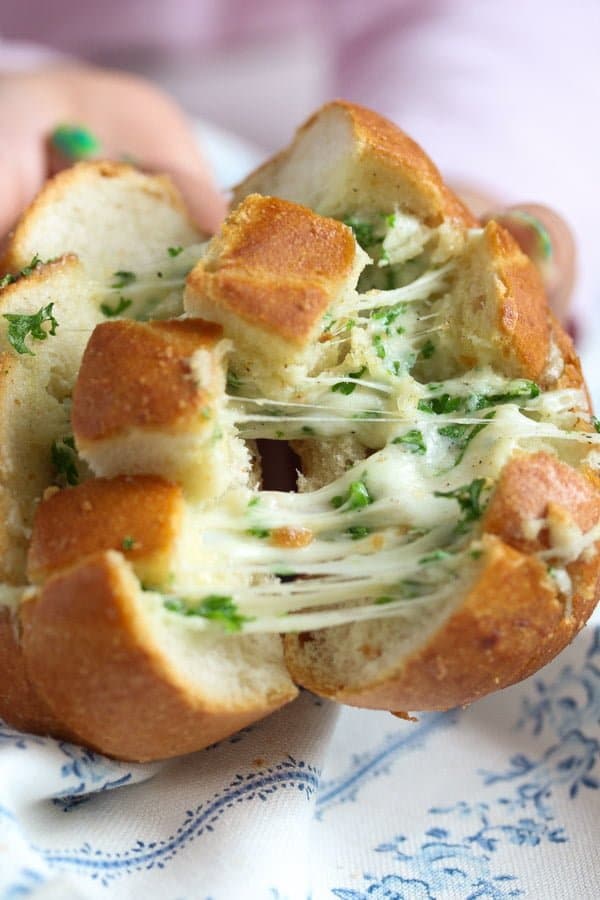 What do you need?
Bread:
Start by choosing the bread. I live in Germany and for this recipe, I use our plainest Brötchen – rolls, which you can buy just about anywhere.
As I have seen many American rolls recipes that are quite different from our rolls, I feel I have to point out that the rolls needed for this recipe are not the soft American dinner rolls made with butter and a little sugar. They are so delicious, but they are not what you need for this recipe.
What you need are crusty, white bread rolls, made with only flour, yeast, water, and salt. If you can find some sourdough ones, I can imagine how delicious those would be as well. In any case, crusty and plain rolls, nothing too soft or fancy.
This recipe is also great for using leftover rolls, if you happen to have them, they don't necessarily have to be fresh. They will be baked again anyway and, in my experience, cutting the diamond shapes in the rolls is easier when the rolls are not extremely fresh.
You can also use ciabatta bread or French baguette. In this case, slice the bread at regular intervals without cutting all the way through. Stuff the cheese garlic mixture between the slices. Bake for a total of 20 minutes.
Stuffing:
Cheese: mozzarella. Or Cheddar, Gouda, or a mixture of Parmesan and mozzarella. Actually any good melting cheese you like would do nicely.
Garlic
Parsley
Olive oil
How to make garlic stuffed bread?
Cut the diamond shapes into the rolls, make sure you don't cut all the way through.
Pour 2 tablespoons of the olive oil in a small bowl and brush between the cuts as well as you can.
Grate the cheese (rough grater) and the garlic (fine grater).
Chop the parsley very finely and mix everything together with some salt and pepper.
You could use a teaspoon to fill the cuts with the filling. Or you can make things easier and just use your fingers.
Make sure that you divide the mixture equally between the six pieces. I feel it helps if I roughly divide the mixture into six parts before I start filling the buns.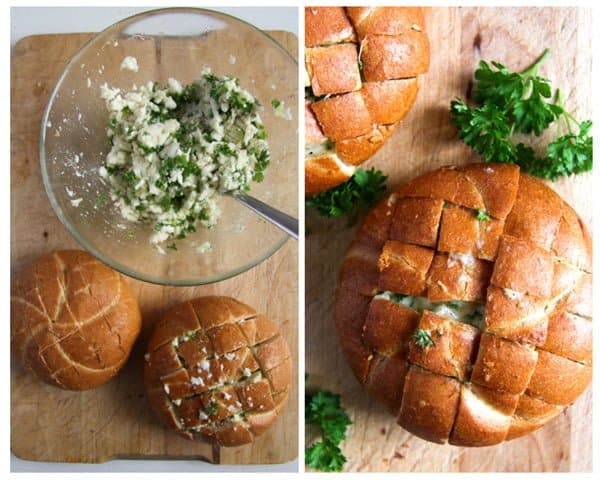 Bake for about 10 minutes, loosely wrapped in aluminum foil, this way they will not get too brown before they have a chance to really heat through.
When wrapping them in foil make sure that the aluminum foil is really loose on top, it should not be open, but the foil should not touch the top of the buns, otherwise, the cheese will stick to the foil.
Remove the foil after 10 minutes and continue baking for further 5 minutes until the cheese has melted and the garlic bread is really golden.
If you are making the garlic stuffed bread with ciabatta or French baguette bake it for 15 minutes wrapped in foil, remove the foil and bake for further 5 minutes or until golden.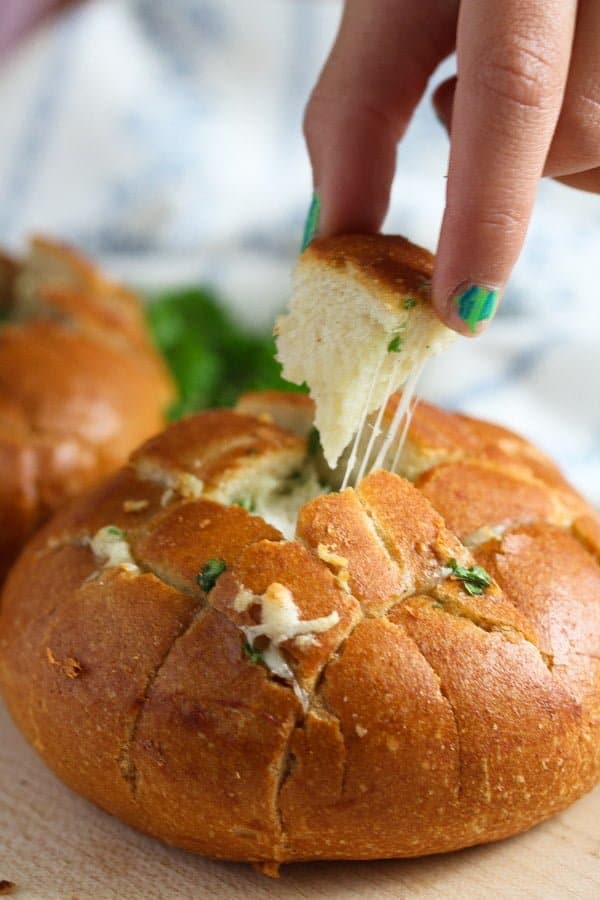 How to serve?
Serve immediately with some green salad with yogurt dressing or this broccoli salad with peas, for instance
The garlic stuffed bread is perfect to serve as a side dish with grilled meats or vegetables.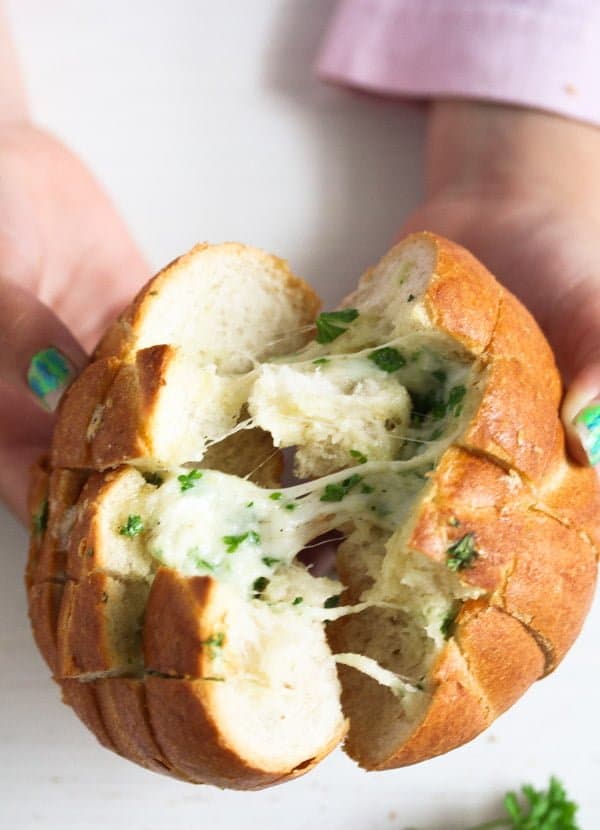 More bread and rolls:
Stuffed Bread Rolls (with Ham and Cheese)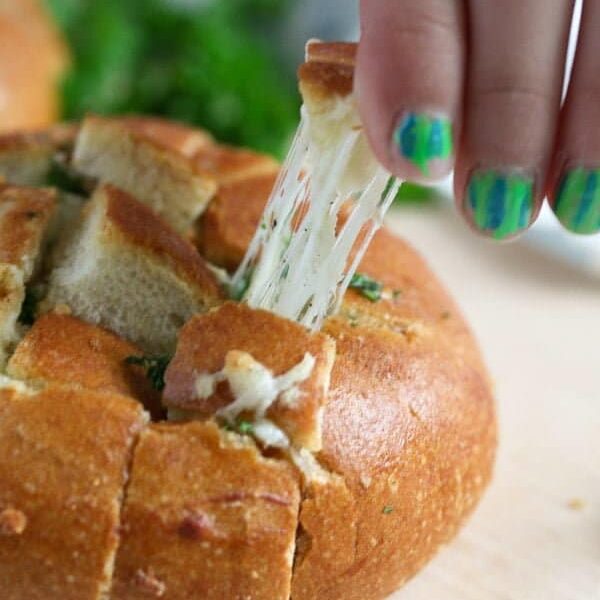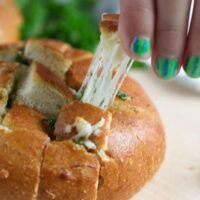 Garlic Stuffed Bread
Cheesy garlic stuffed bread with mozzarella and herbs. Delicious pull-apart bread suitable as a side for any barbecue or a light main course with a salad on the side.
Print
Pin
Share
Grow
Saved!
Rate
Ingredients
6

crusty bread rolls

Note

6

tablespoons

olive oil

divided

2

mozzarella balls

4

garlic cloves

5

tablespoons

chopped parsley

fine salt and pepper
Instructions
Preheat the oven to 200 degrees Celsius/ 400 degrees Fahrenheit. Cut 6 pieces of aluminum foil large enough for you to be able to loosely pack the bread rolls in the foil.

Cut diamond shapes into the bread rolls, but do not cut them all the way through.

Pour 2 tablespoons of the olive oil into a small bowl and lightly brush between the cuts in the rolls. They don't have to be soaked in oil, just a few fine strokes between the cuts should be enough.

Grate the mozzarella on the rough grater and add it to a bowl. Grate the garlic cloves through a fine grater and add them to the bowl as well. Chop the fresh parsley finely. Add to the cheese bowl together with the remaining 4 tablespoons olive oil, salt, and pepper to taste. Mix well.

Divide the mixture into 6 heaps, I feel that helps when deciding how much filling comes into each bread roll. Stuff the rolls with the help of a teaspoon or with your fingers.

Wrap each bread roll in a piece of aluminum foil. Make sure that the rolls are only loosely wrapped, meaning that the foil doesn't touch the top of the rolls where the cheese is. Otherwise, the melting cheese will stick to the foil.

Place on a baking tray and bake for 10 minutes. Remove the foil from the rolls and bake them for further 5 minutes or until the cheese is nicely melted and the tops of the rolls are crispy and golden brown.

Serve immediately with a salad or as a side dish for grilled meats and vegetables.
Notes
Brötchen – the German bread rolls are plain crusty white bread rolls. They weigh between 60-80 g/ 2-3 oz.
Nutrition
Serving:
1
roll
|
Calories:
312
kcal
|
Carbohydrates:
31
g
|
Protein:
8
g
|
Fat:
18
g
|
Saturated Fat:
4
g
|
Polyunsaturated Fat:
13
g
|
Cholesterol:
7
mg
|
Sodium:
454
mg
|
Fiber:
2
g
|
Sugar:
4
g