A delicious German kohlrabi soup recipe with potatoes and cream cheese. A creamy, steamy, healthy dish that's ready in about 45 minutes.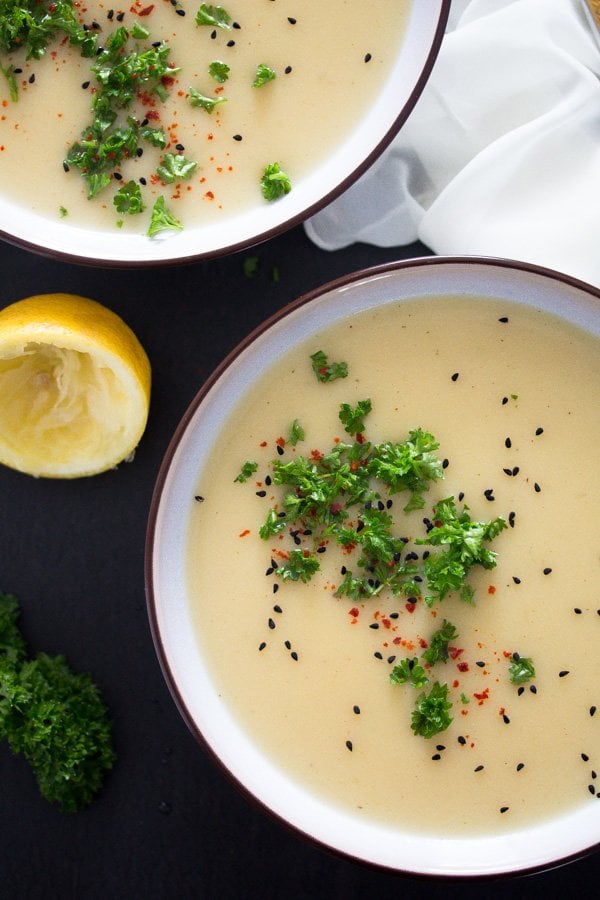 This German kohlrabi soup is the kind of creamy soup or cream of "something" soup I make very often. Kohlrabi is always a good choice of vegetable for a soup and potatoes are often part of the equation as they add a lot of creaminess without the need for lots of cream.
A creamy vegetable soup recipe is great for a quick and light lunch or dinner during the week, especially at times when you don't have much left in the fridge and don't have the time to go shopping.
There are always some half-forgotten veggies in the fridge, stuff like carrots, leeks, peppers, or zucchini. And if the fridge is empty there is always the freezer with the frozen broccoli or cauliflower. Add a couple of potatoes to those vegetables, some cream/milk/cream cheese or even sour cream, a good vegetable or chicken stock, and there you have it: a creamy, steaming hot soup that will make everybody happy.
What is kohlrabi?
Kohlrabi is one of the most popular vegetables in Germany, yet very much unknown in most parts of the world. Here, in Germany, you can buy it anywhere and at any time of the year, but although I lived in several countries and traveled some more I have rarely seen it anywhere else.
Such a shame because it is an extremely delicious and healthy vegetable. It grows easily as well, I was never a keen gardener, but even I managed to harvest kohlrabi from my own garden.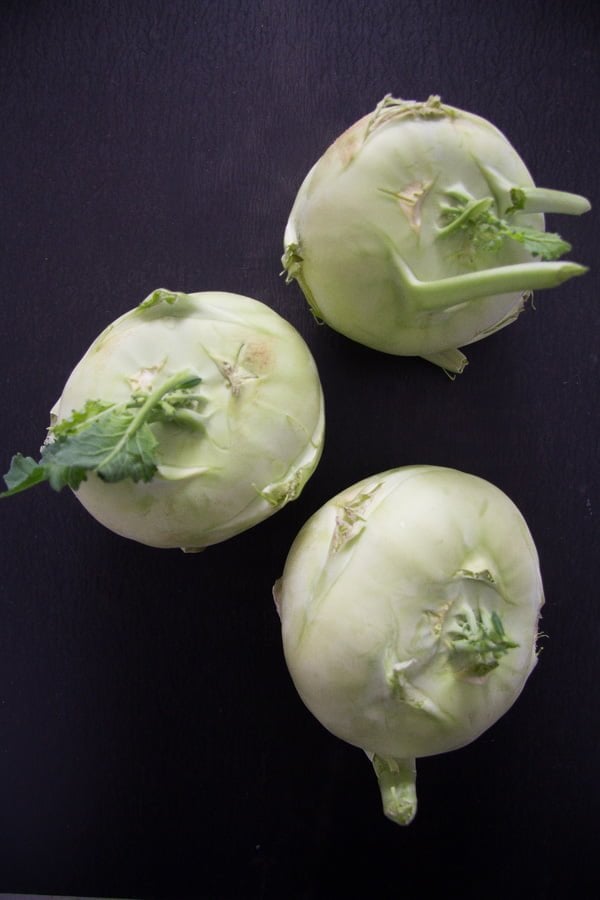 Species: also known as German cabbage it belongs to the same species as cabbage, broccoli, cauliflower, kale, Brussels sprouts, and so on. So, a sort of cabbage. The name comes from the German Kohl – cabbage and Rübe/Rabi – turnip.
Looks: It can be white, pale green and purple. The sort most commonly found is the white/green one, the purple sort – although it looks beautiful and tastes the same – is something you would rather buy at a farmer's market or plant yourself in the garden.
Texture: very similar to that of a very crisp radish.
The taste reminds me of a mixture of radish and broccoli stem, but sweeter and juicier.
How to buy it?
Look for small to medium bulbs, as their taste is more intensive. Although the larger ones are quite OK for this

kohlrabi soup

recipe as well.

Make sure that the leaves look nice, if they are wilted or yellow it means that the bulbs have been lying around for quite a while.
The skin should be firm and make sure that there is no mold on it, that can happen if the kohlrabi hasn't been stored properly. It can also happen in your fridge if you keep it for too long or if the fridge is too humid.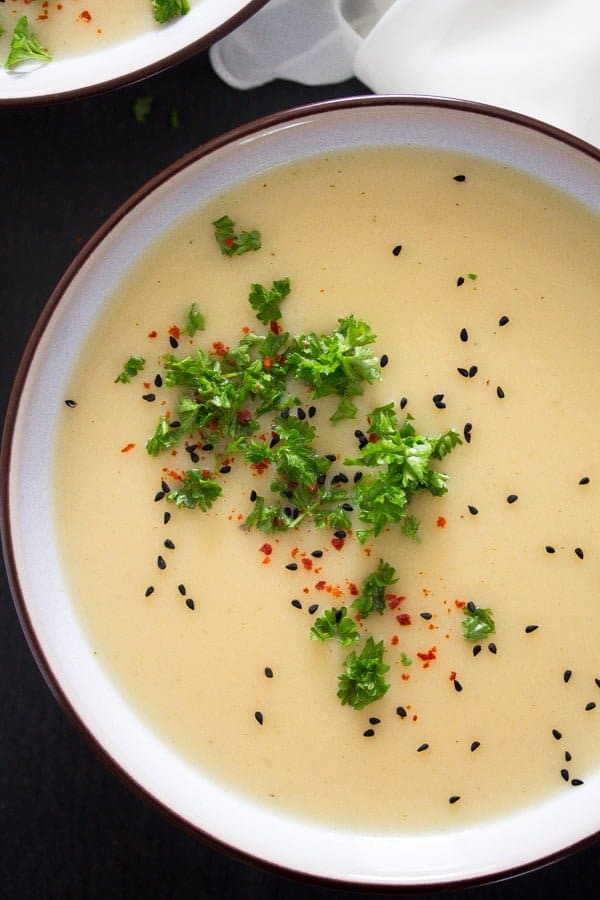 How to peel kohlrabi?
The peel is the only inedible part of the plant as it is rather tough. You could eat that as well if you really want to, but it doesn't soften either when cooked, so better just remove it. Otherwise, you can even eat the leaves and the tender stems.
Steps:
Remove the tender stems with the leaves. They can be used in salads, kohlrabi soup, can be stewed like any other greens and, if larger, can be stuffed the way you would stuff cabbage or vine leaves.
Place the bulb on a cutting board and slice off the top and the bottom. There is a small amount of woodier part at the bottom, really not much, cut that away as well.
Peel the rest like you would peel an apple, either using a small knife or a vegetable peeler.
Now you can halve and slice it using a knife or a mandolin or you can cut it into small cubes, chunks or strips. Whatever you need.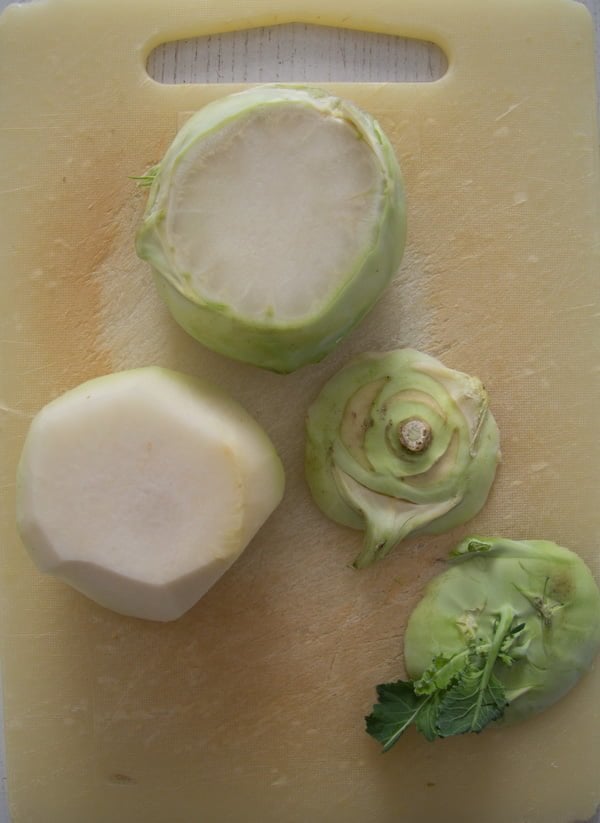 How to cook kohlrabi?
Raw:
We eat one or two kohlrabies every week and most of the time we eat them raw. I peel and slice one and eat it with bread and cheese like you would eat a tomato, radish, or bell pepper.
I often make raw salads of kohlrabi or a mixture of grated kohlrabi and carrots. Or i mix it with red cabbage, a wonderful and very festive combination. Not to mention super healthy.
Cooked:
When it comes to cooked kohlrabi, my first choice is always a kohlrabi soup, either a creamy vegetable soup recipe like today's kohlrabi soup or a clear soup with cubed bulbs, semolina or flour dumplings/noodles and finely shredded kohlrabi leaves.
A very common way of eating this plant in Germany is to have them as a side dish for meats – Kohlrabi-Gemüse. The peeled bulbs are cut into chunks or thicker strips, cooked in vegetable broth until soft but still retaining a bite (about 10-15 minutes) and stirred into a quick white or Bechamel sauce spiced with salt, pepper and nutmeg.
Stuffed: Check out these delicious recipes for Stuffed Kohlrabi (Two Ways), once with bacon and once with cream cheese.
Or try some Kohlrabi Fries with Curry Ketchup!
Recipe ingredients
Vegetables: Kohlrabi, floury or all-purpose potatoes, onion.
Cream cheese: It makes the kohlrabi soup creamy and you will not need heavy cream.
Stock: Vegetable or chicken stock. I use vegetable stock most of the time to keep the soup vegetarian.
Spices: Fine sea salt, black pepper, nutmeg, chili flakes, parsley, nigella seeds (optional for garnishing).
Other ingredients: Olive oil, sugar, lemon juice.
Step-by-step instructions
Clean and peel the plant as instructed above. Chop the bulbs and the stems. Either finely chop the leaves for adding to the soup later or use them for making something else.
Peel the potatoes and cut them into cubes as well.
Chop the onion and cook it in the oil for about 2-3 minutes or until translucent. Add the kohlrabi and the potato cubes, stir well and cook for about 4 minutes, stirring from time to time.
Add the vegetable (or chicken) stock.
Simmer: Bring to a boil, reduce the heat and simmer for about 20 minutes or until the vegetables are tender. Add the leaves for the last 4-5 minutes, if using.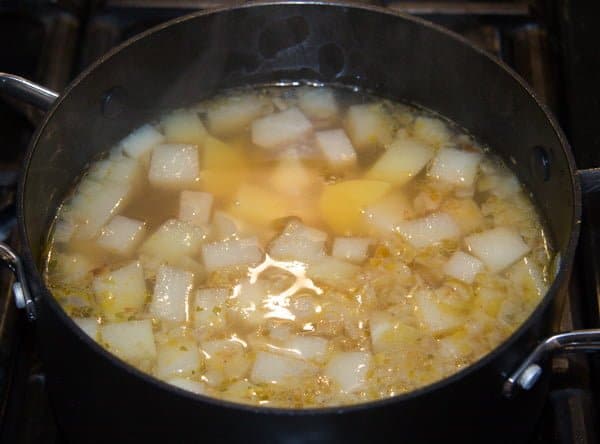 Add cream cheese to the soup and blend with an immersion blender. Let the German kohlrabi soup get hot again for a couple of minutes, but don't bring it to a boil again.
Season: Add fine sea salt, pepper, nutmeg, sugar and lemon juice. Stir well and adjust the taste again.
Expert tip
When blending any soup containing potatoes, don't over-blend it, otherwise, the potatoes and the soup will turn gluey.
Recipe FAQ
Can I replace the cream cheese?
You can use heavy cream instead.
Can I make the soup vegan?
Yes, leave out the cream cheese and use vegan cream instead, something like soy or oat cream.
I've never used vegan cream cheese, so I can't say if that will work.
How to serve?
The German kohlrabi soup can be served immediately or it can be reheated. Serve with crusty sourdough bread for a light and healthy lunch or dinner.
How to store?
Refrigerate in an airtight container for 3-4 days and reheat on the stovetop or in the microwave before serving.
The kohlrabi soup is not very suitable for freezing because it contains potatoes. Frozen and defrosted potato dishes have a weird texture.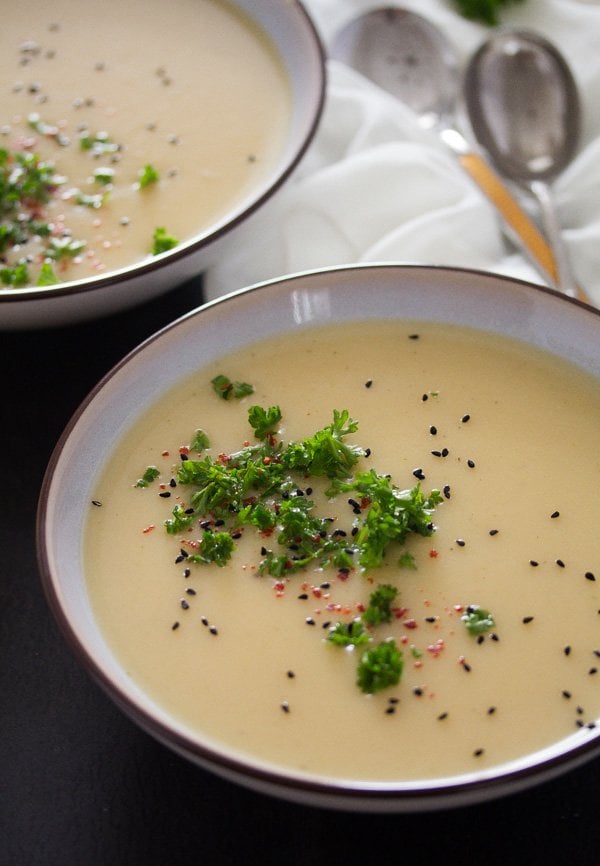 More creamy soups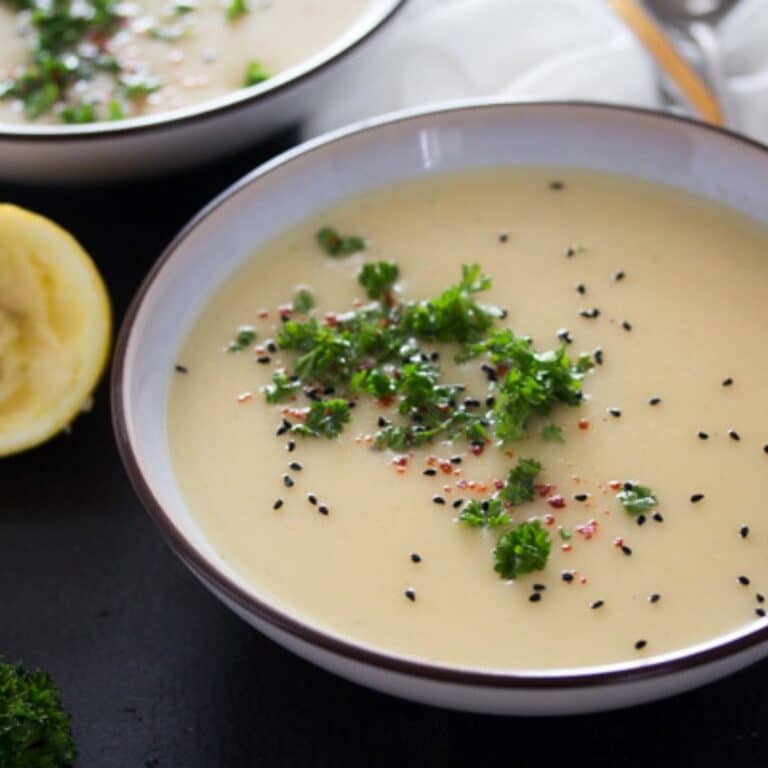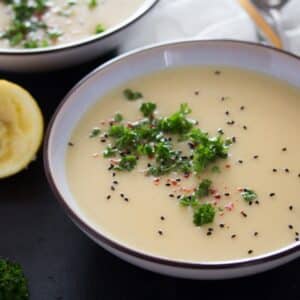 Creamy Kohlrabi Soup with Potatoes (German Recipe)
A perfectly creamy and delicious German kohlrabi soup recipe with potatoes and cream cheese.
Print
Pin
Share
Grow
Saved!
Rate
Ingredients
1.5

lbs

kohlrabi

700 g, about 2-3 depending on size

1

lb

potatoes

450 g, floury or all-purpose potatoes

1

medium onion

1

tablespoon

olive oil

3¼

cups

vegetable or chicken stock

750 ml/ 25 fl.oz

3

heaped tablespoons cream cheese

Philadelphia style

2

tablespoons

freshly squeezed lemon juice

more or less to taste

1

teaspoon

sugar

a few gratings of nutmeg

fine sea salt and ground black pepper

small bunch of parsley

a pinch of red chili flakes

optional

a pinch of nigella seeds

optional
Instructions
Clean kohlrabi: Remove the stems and the leaves of the kohlrabi. Keep the leaves separated as they will be only added to the soup towards the end of the cooking process.

Chop: Place the kohlrabi bulb on a cutting board and slice off the top and bottom, removing the small woody part at the bottom of the kohlrabi bulb. Peel the skin with a knife or vegetable peeler like you would peel an apple. Discard the skin. Cut the kohlrabi bulb and the stems into cubes.

Chop vegetables: Peel and cube the potatoes as well. Finely chop the onion.

Saute vegetables: Heat the oil in a soup pan and cook the onion for about 2-3 minutes or until translucent. Add the cubed vegetables and cook for about another 4 minutes, stirring a few times in between.

Simmer: Add the vegetable or chicken stock, bring to a boil, turn down the heat and simmer the kohlrabi soup for about 20 minutes or until the vegetables are tender. Add the chopped kohlrabi leaves during the last 5 minutes of the cooking time.

Add the cream cheese to the soup and blend the soup with an immersion blender (Note 2). Reheat the soup gently without bringing it to a boil again.

Season: Add salt, pepper, sugar, nutmeg, and one tablespoon of lemon juice. Taste again and adjust the taste with more lemon juice and more spices.

Serve: Sprinkle with the chopped parsley and maybe some red chili flakes and nigella seeds.
Notes
Vegan soup: Use vegetable stock and replace the cream cheese with vegan cream, like soy or oat cream.
Don't over-blend the soup, it contains potatoes and potatoes turn gluey if you blend them too much.
Nutrition
Serving:
1
/4 of the soup
|
Calories:
267
kcal
|
Carbohydrates:
44
g
|
Protein:
8
g
|
Fat:
9
g
|
Saturated Fat:
3
g
|
Polyunsaturated Fat:
4
g
|
Cholesterol:
14
mg
|
Sodium:
1150
mg
|
Fiber:
9
g
|
Sugar:
10
g