Creamy pumpkin orange soup topped with feta and thyme, this is the perfect hearty yet light autumn soup. It can also be made with butternut squash.
There is nothing like a hot pumpkin orange soup to really put you in the mood for embracing the cold days and the long evenings. I was never much of an autumn/winter person, I love to feel the sun on my skin and the long long days but during the past few years, this is starting to change slowly. I mean, I still love summer more than autumn or winter, but at least now, I can appreciate these seasons' charms as well.
And one of autumn/winter's serious charms are the pumpkins or squashes. You can buy them most of the time nowadays, but I actually never do buy them except during the autumn and winter months. This way they remain special to me, they are not just something to eat, they manage to create an entire atmosphere.
And soup remains the best thing you could do to a pumpkin or butternut squash. I love everything else as well: casseroles, pasta, sauces, salads etc, everything made with pumpkin or squash tastes awesome to me, but soup is the best. The simplicity of it, the creaminess, the amazing taste, the coziness, all these and many other things work together to create a perfect dish.
What do you need?
I've been making and loving my usual Hokkaido ginger soup for years now, but last week I decided to try a new version. The procedure is, of course, similar, but the spices differ and that makes the soup different.
Topping:
The main reason to try this new butternut or pumpkin orange soup was the topping: feta cheese marinated with herbs and olive oil. Love, love, love!
I am a big fan of really good feta cheese, I love its saltiness and creaminess and how it makes just about any dish better, so this was a must-try for me. I hope you try it too, I am sure you would like it.
You will need a little good-quality feta cheese, 100 g/ 3.5 oz should be enough, but I often make the double amount, I just love it!
Leftovers keep well in the fridge for several days and they can be used to top other soup or they can be eaten with some bread and veggies.
Pumpkin or squash:
I make this soup either with Hokkaido pumpkin (also known as red Kuri squash) or with butternut squash.
Other sorts of flavorful pumpkin or squash are fine as well, just make sure it is a tasty kind.
Other ingredients: freshly squeezed orange juice, thyme (preferably fresh but dried is fine as well), onion, green onions, garlic, vegetable broth, and olive oil.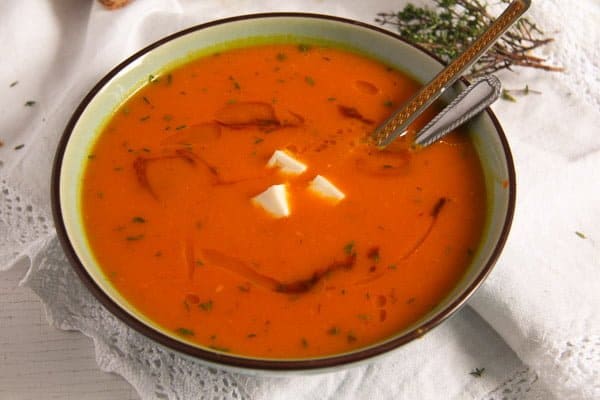 How to make?
Soup:
If using Hokkaido there is no need to peel it. Anything else needs to be peeled.
Halve, remove the seeds and peel the pumpkin or squash.
Cook the onions and squash cubes. Add garlic and sautee shortly.
Add broth, orange juice and thyme. Simmer for 30 minutes or until tender.
Blend, adjust the taste and serve with the feta on top.
Feta topping:
Make while the soup is cooking. It can also be made in advance, it keeps well in the fridge for a few days.
Cube the feta, mix with thyme, black pepper and olive oil. Leave to marinate shortly.
How to serve?
More pumpkin soups:
Pumpkin Orange Soup (with Feta Topping)
Creamy pumpkin orange soup topped with feta and thyme, this is the perfect hearty yet light autumn soup. It can also be made with butternut squash.
Print
Pin
Rate
Ingredients
1

small pumpkin or butternut squash

about 650 g/23 oz weighed after peeling and removing the seeds

4

tablespoons

olive oil

divided

1

medium onion

2

garlic cloves

1,2

liter/ 5 cups good vegetable broth

120

ml/ ½ cup freshly squeezed orange juice

100

g/ 3.5 oz feta

5

thyme sprigs

divided

2

thin scallions/ green onions

fine sea salt

freshly ground black pepper
Instructions
If using Hokkaido (red Kuri squash) there is no need to peel it. All other pumpkin or squash sorts need to be peeled. Halve the pumpkin or squash, remove the seeds, and cut the halves into 2 or 3 larger pieces. Use a vegetable peeler to remove the peel. Cut into cubes.

Finely chop the onion and the garlic cloves, keep them separated.

Heat 2 tablespoons of the oil and cook the pumpkin and onions for about 4 minutes. Add the garlic and continue cooking for another minute or two. Add vegetable broth, freshly squeezed orange juice, and 2 of the thyme sprigs.

Bring to a boil, cover, and cook on low heat for about 30 minutes or until pumpkin or squash cubes are soft.

In the meantime, cut the feta cheese into small cubes and the scallions into fine rings. Place both in a small bowl and add the remaining olive oil and the finely chopped leaves of the remaining thyme. Mix very carefully and add some pepper. Leave to marinate until the soup is ready.

Remove the thyme sprigs from the soup and blend the soup. Adjust the taste with salt and pepper. Serve with marinated feta on top.
Notes
I use Hokkaido pumpkin or butternut squash most of the time. Another sort of flavorful pumpkin can be used instead.
Nutrition
Serving:
1
/4 of the soup
|
Calories:
249
kcal
|
Carbohydrates:
16
g
|
Protein:
6
g
|
Fat:
19
g
|
Saturated Fat:
6
g
|
Polyunsaturated Fat:
13
g
|
Cholesterol:
22
mg
|
Sodium:
763
mg
|
Fiber:
3
g
|
Sugar:
8
g