Velvety and aromatic Pumpkin Soup with Ginger, a comforting dish for the autumn and winter months.
Food blog number 1.000.000? Maybe. The Internet doesn't really have an answer to that question. Anyway, here is my food blog now. Let's see what I can make with it. And more importantly maybe: for how long?
My first recipe, Easy Pumpkin Soup with Ginger, is simple and seasonal. Now that autumn is officially here, I'll just have to make the best of it. Whining that we didn't have any summer in the first place, just one long long autumn with very few summer interruptions, won't get me anywhere.
I first made this soup a couple of years ago and fell in love with it. I've been making it at least 2-3 times every autumn/winter ever since.
Easy Pumpkin Soup with Ginger
I used quite a lot of fresh ginger to make this soup, but the amount of ginger can be changed according to your taste. The soup is quite spicy and you can definitely taste the ginger in it. I like ginger and my husband is a big fan of it, so I am not worried about using a larger amount.
However, if you feel that to be too much, take less and make a milder soup, it is probably a good idea if children are eating the soup as well. But whatever you do, do not use powdered ginger, it would just not do, it can definitely not replace the fresh ginger in this soup.
For a vegan version of this soup, you can replace the regular milk with whatever vegan milk you like: almond, soy, coconut etc.
And when it comes to pumpkin I actually only use two kinds, either Hokkaido or butternut squash. When it comes to flavor I find them to be the best. Plus, the Hokkaido doesn't have to be peeled, which is a huge bonus. But, of course, you can use any sort you like.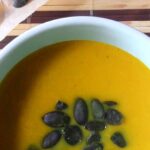 Ingredients
1 small Hokkaido pumpkin or 1 small butternut squash

1 tablespoon vegetable oil

1 onion, finely chopped

1/2 teaspoon salt

ca 750 ml/ 1.6 pints/ 3 1/4 cups vegetable stock

60 g/ 2.1 oz ginger, finely chopped

1/2 teaspoon curry powder

1/2 teaspoon cumin

1 tablespoon sugar

200 ml/ 6.7 fl.oz/ a bit less than 1 cup milk or almond/soy milk

some roasted pumpkin seeds
Instructions
Clean the pumpkin, remove the seeds and peel if necessary. Cut into small cubes.
Heat the oil and cook the onion until translucent. Add the pumpkin cubes, salt, stock, ginger, curry, cumin and sugar.
Bring everything to a boil and let cook gently for about 20-25 minutes or until the pumpkin pieces are soft. Puree the soup, than add the milk. Heat again for a couple of minutes.
Season to taste, sprinkle with some roasted pumpkin seeds and serve.