Super easy to make oat bread without yeast, just mix together a few ingredients and bake. No need to let the dough rise either.
No Yeast Bread
This oat bread recipe is one of the easiest bread recipes you could possibly make. Just as easy to make as my beloved spelt bread (or whole wheat), but so different. While the one made with spelt is dark, seedy and it's made with yeast, this oatmeal loaf is made without yeast, it uses white wheat flour and oats, yogurt, baking soda, and baking powder, and an egg.
The result is a dense, crusty loaf, which goes perfectly with almost anything, from stews and soups to cheese and especially jams.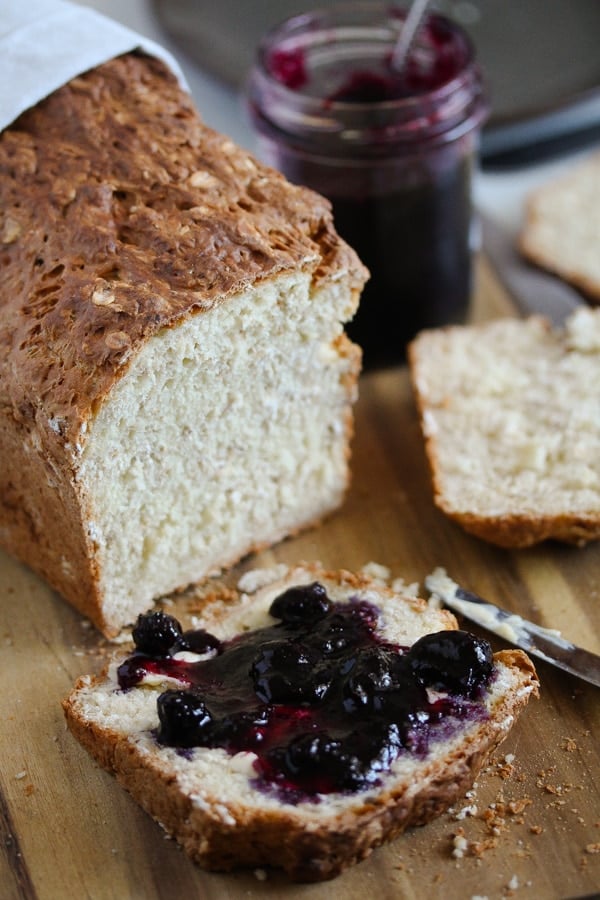 I say, especially jam because I always find this yeast-free bread with oats to be slightly cakey, which is probably due to the fact that it contains yogurt and an egg. That is why, a sweet topping (or cheese) is much more suitable for serving with oatmeal bread than sliced ham, salami, or any other kind of deli meats.
When it comes to taste and consistency, I find it to be very similar to an Irish soda bread, which is also made with baking soda, it's crusty and has a very specific taste. But unlike the typical soda loaf, it contains oats and yogurt, it is baked in a baking tin.
Another bonus is that you can make it whenever you want, even if you don't have any yeast, whole flour, or bread flour. Just some plain flour and a few cupboard ingredients, 5 minutes (or less) of your time, and a relatively short baking time.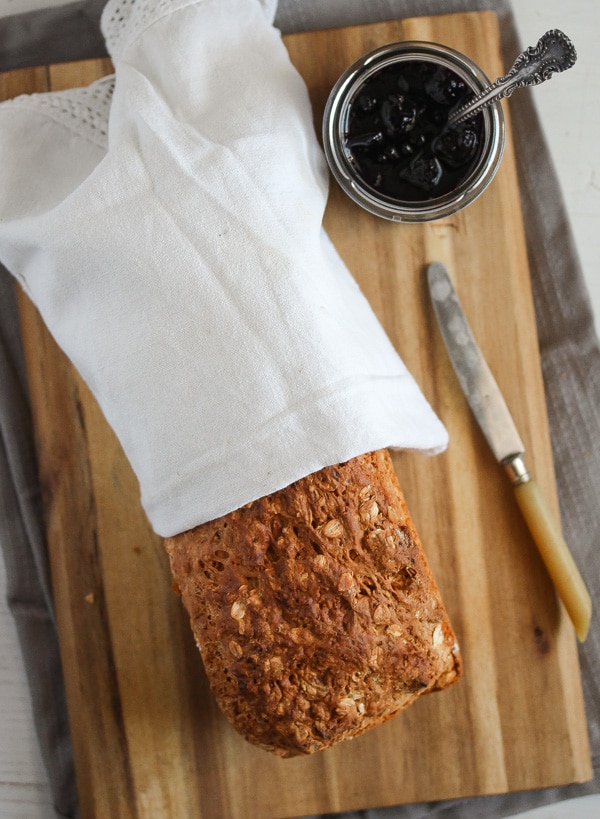 What do you need?
Flour: regular all-purpose flour.
Oats:
Regular rolled oats, not instant and not steel-cut oats.
Rolled oats come in two varieties in Germany: finely cut (zarte Haferflocken) and not so fine (kernige Haferflocken).
You can use whatever you happen to have in the house. Just keep in mind that when using the not so fine oats, you will be able to see and feel them. You can probably spot them in the pictures as well if you look carefully.
Using fine oats makes for a finer texture while using not so fine oats makes a chewier, heartier loaf. You can decide what you like best, I've tried both sorts and I love them both.
Baking soda and baking powder:
The recipe is yeast-free, but it still needs something to help the dough rise, in this case baking soda and baking powder.
Baking soda is also known as the bicarbonate soda and it is more powerful than baking powder, don't think about leaving it out and only using baking powder.
The fact that it is made without yeast and only with baking soda and baking powder makes it denser than regular sandwich bread, it is less airy and slightly crumblier.
But the taste is just wonderful and another plus point when it comes to denser loaves of bread is that you will feel fuller while actually eating less. One slice for breakfast, smeared with some butter and jam or a slice of cheese and I will need nothing more.
Yogurt:
The yogurt activates the baking soda.
Plain, creamy yogurt similar to Greek yogurt.
I use low-fat yogurt most of the time, in Germany, it has a fat content of 1.8% fat. I would not go lower than that.
Egg:
It is not something you would use when making a loaf of typical soda bread, however, the egg makes it moister, less crumbly than soda. I like that!
Otherwise, you will need a pinch of sugar and some salt.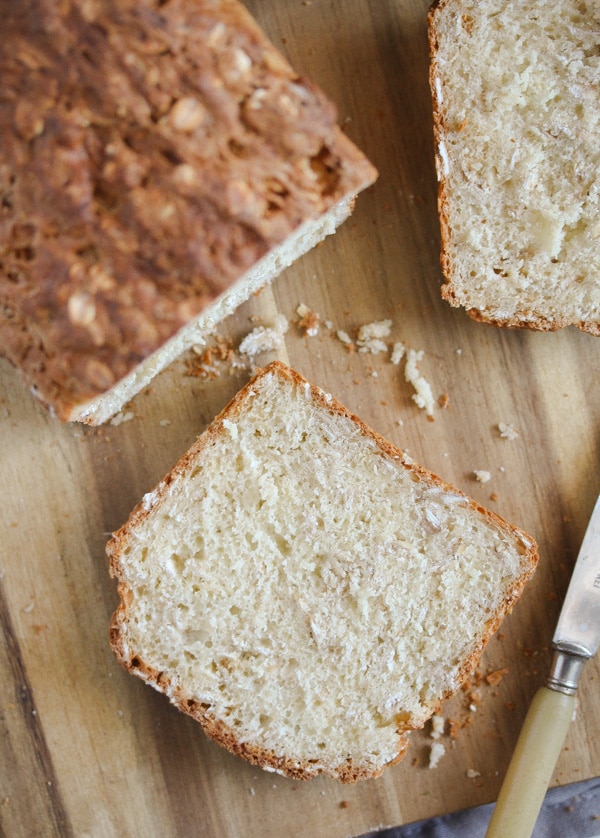 Tips
Making this oatmeal bread without yeast is super easy. Actually, all you have to do is to mix the ingredients and bake in a loaf pan. Nothing more and nothing less!
Use a kitchen scale when baking, it is more reliable. (Amazon affiliate link). Kitchen scales are super cheap and make baking preciser thus better, easier, and cleaner. Cup measuring is very inaccurate and too much flour will make the loaf tough. Too much yogurt will make it too wet.
Make sure you preheat the oven properly and prepare the baking tin before you start mixing the ingredients, the bread should be baked immediately and not wait on the counter.
Place the dough in the oven as soon as you are finished mixing the ingredients. The yogurt activates the baking soda, so if you don't bake immediately, the baking soda will lose its power and the bread will be too tough.
Don't over mix the ingredients or the loaf will be too tough. Stop as soon as the ingredients are incorporated.
The dough is a little sticky, don't be tempted to add more flour, which will make the loaf too dense.
Once it's baked, let it cool on a wire rack.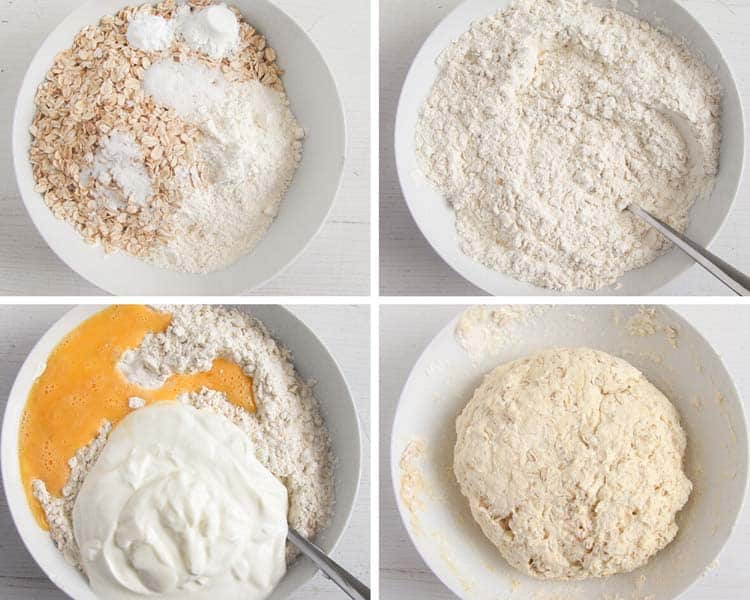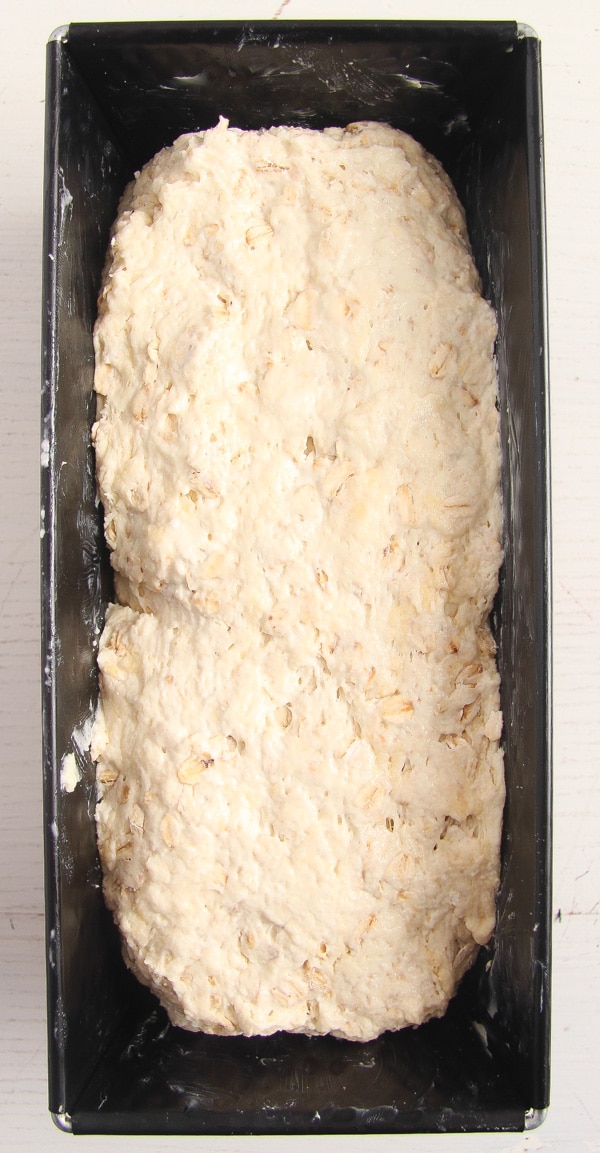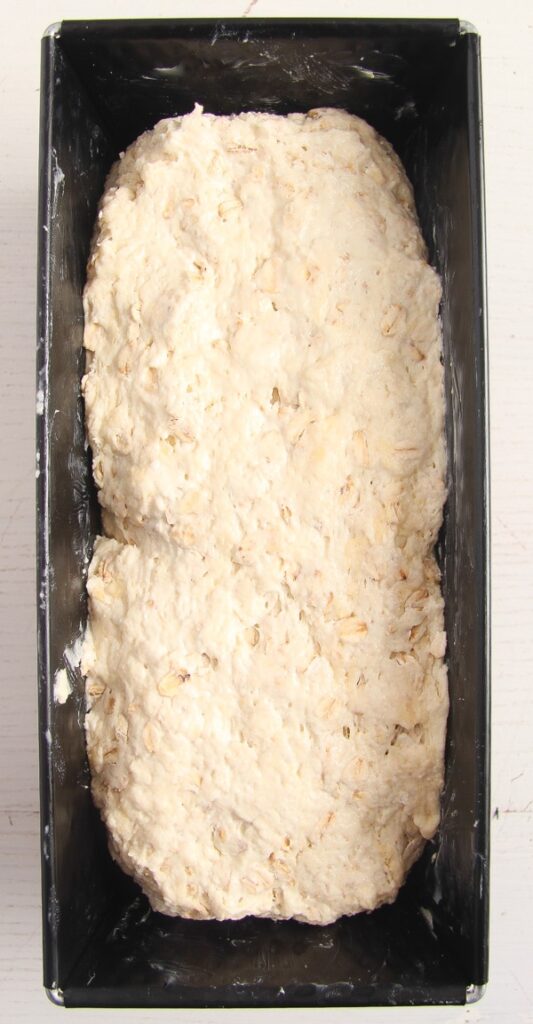 How to serve and store?
The oat bread will keep well for 2-3 days.
You can serve it while still warm or at room temperature. When warm, all you need is a little butter and a sprinkle of salt. Heaven! You can eat it fresh or you can toast it. I tend to toast it after a couple of days when it is not that fresh anymore.
I love to have it smeared with butter and any kind of jam. You can also make sandwiches. I would recommend cheese sandwiches, enriched with some kind of sweet chili sauce or chutneys. So good! Or egg sandwiches.
It's also the perfect accompaniment for any kind of soup or stew. Try it with this delicious Irish stew with lamb, with the red wine beef stew, with this pork stew, or with a vegan bean stew. It is just perfect to mop up the sauce.
And don't forget the soups, this no yeast bread is also great with a hearty bean soup or with any kind of creamy soup like this butternut squash soup or this carrot soup.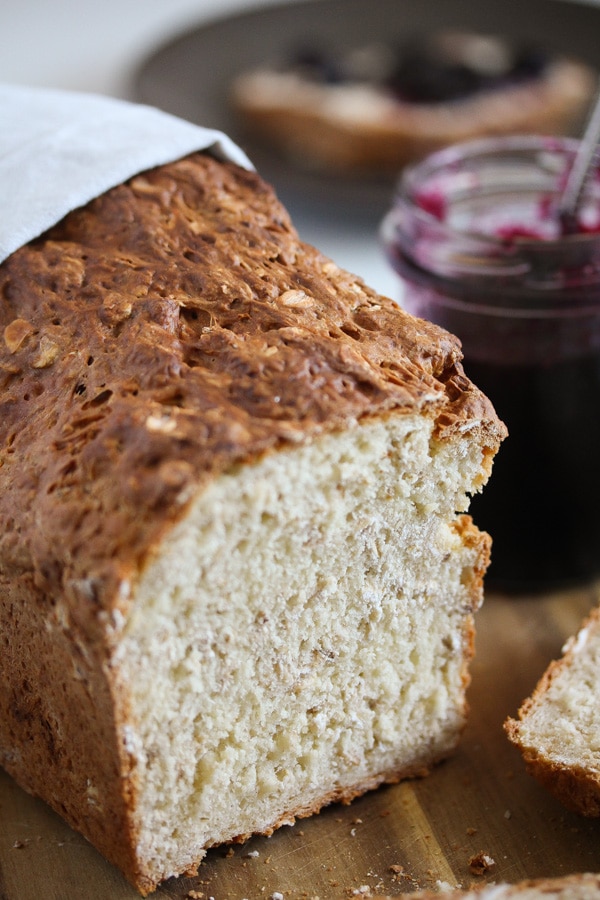 More recipes: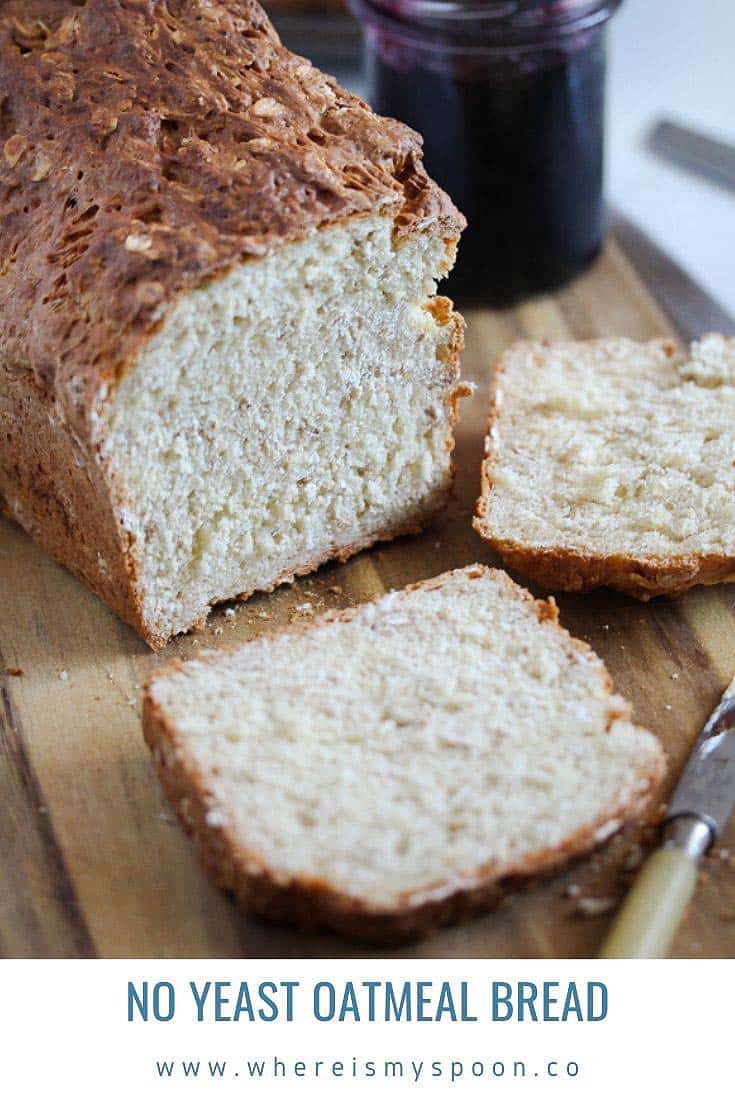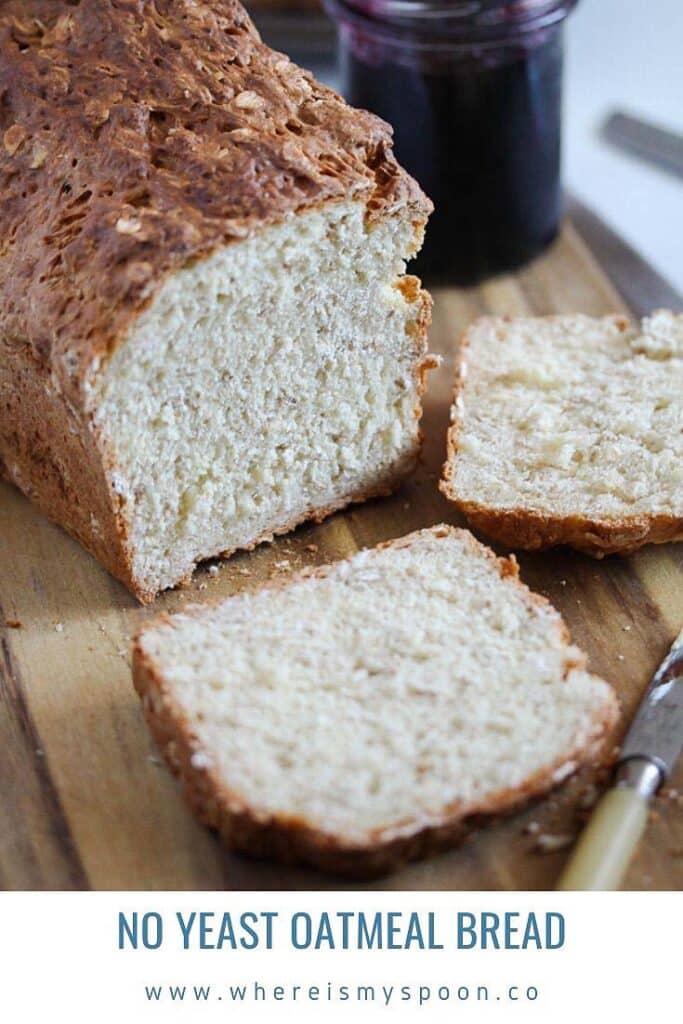 Oat Bread without Yeast
Super easy to make oat bread without yeast, just mix together a few ingredients and bake. No need to let the dough rise either.
Print
Pin
Share
Grow
Saved!
Rate
Ingredients
450

g/ 1 lb/ 3 ¾ cups all-purpose flour

150

g/ 5.3 oz/ 1 ⅔ cup rolled oats

2

teaspoons

baking powder

1

teaspoon

baking soda

1

teaspoon

fine sea salt

1 ½

tablespoon

granulated sugar

400

g/ 14 oz/ 1 ¾ cup creamy yogurt

See note

1

egg

medium Germany, large US
Instructions
Preheat the oven to 200 degrees Celsius/ 400 degrees Fahrenheit. Butter a loaf pan of about 20x10 cm/ 8x4 inches.

In a large bowl, mix together the flour, oats, baking powder, baking soda, salt, sugar, yogurt and lightly beaten egg. Use a spoon to mix the ingredients. Don't over mix. The dough will be slightly sticky.

Place the dough into the prepared tin, smooth the surface and bake immediately for 30 to 40 minutes or until golden.

Check if the bread is baked by tapping it on the underside, it should sound hollow.

Serve warm or leave to cool on a wire rack.
Notes
I use creamy yogurt (Greek style) with 1.8 % fat.
Nutrition
Serving:
1
slice
|
Calories:
138
kcal
|
Carbohydrates:
27
g
|
Protein:
4
g
|
Fat:
1
g
|
Polyunsaturated Fat:
1
g
|
Cholesterol:
10
mg
|
Sodium:
232
mg
|
Fiber:
1
g
|
Sugar:
5
g