This is an amazing recipe for sweet Irish soda bread. Moist and aromatic, filled with raisins and caraway seeds.
I remember the first time I baked this sweet Irish soda bread. I was so delighted by it, I couldn't stop talking about it for days… I think I was quite annoying, most people don't get so enthusiastic about a good recipe as I tend to do…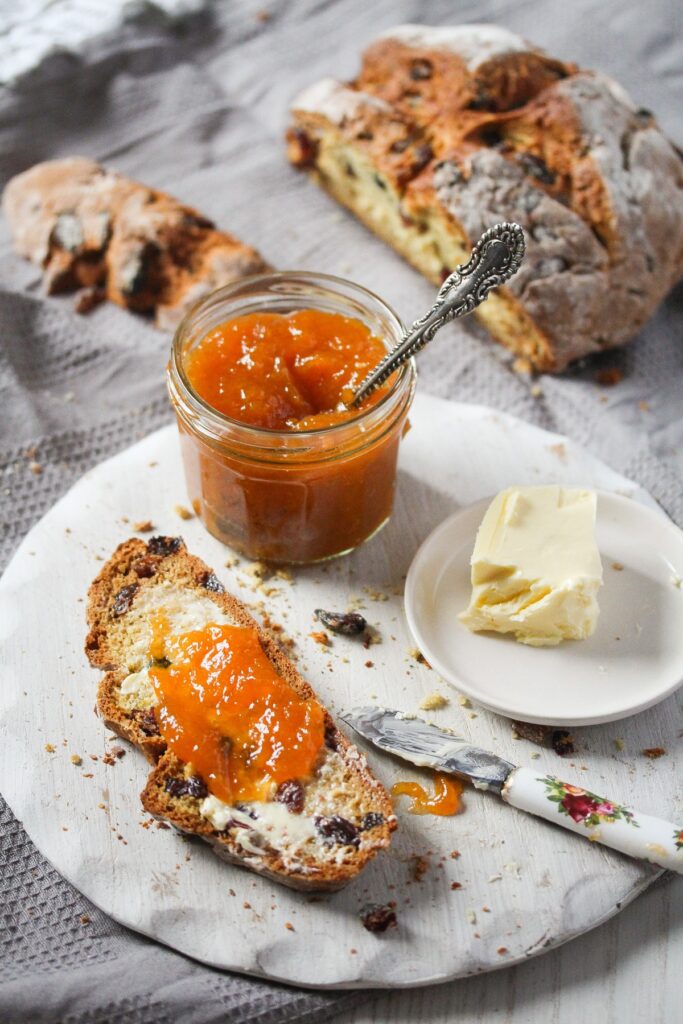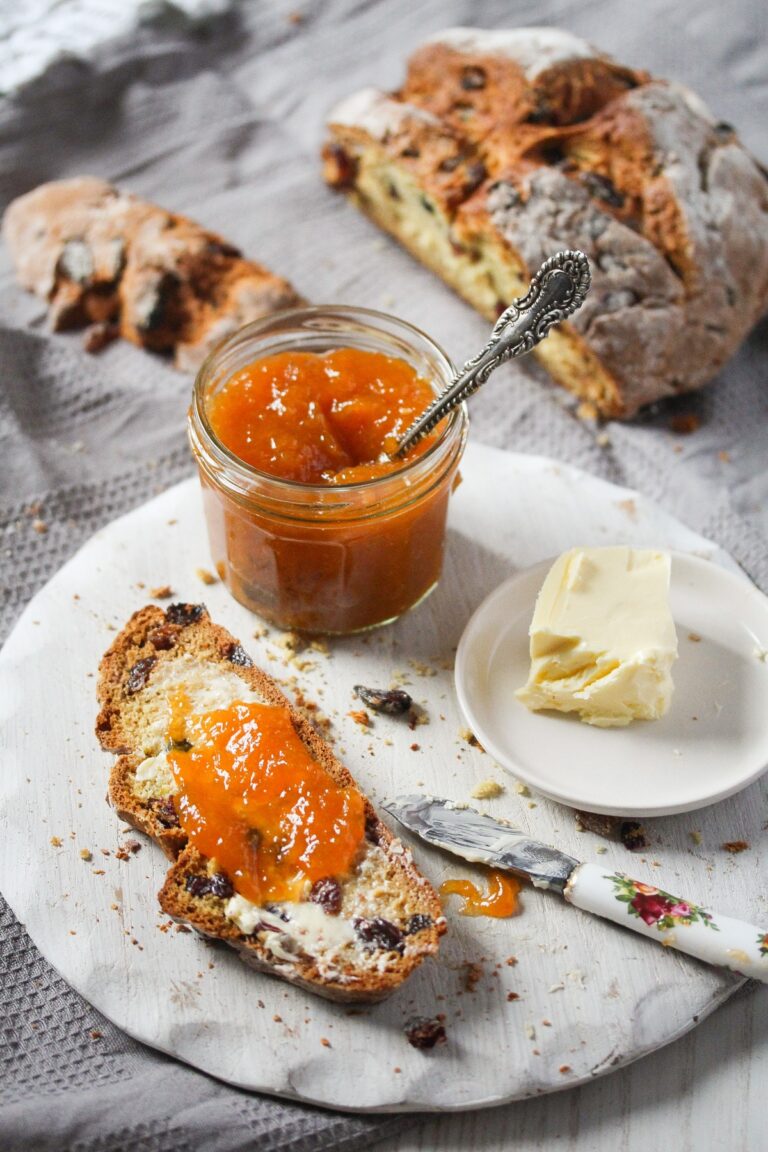 It was love at first bite. Soft and not overly sweet, with those little juicy raisins, and the best of all, the slight caraway flavor, which is just amazing! Please, even if you think you are not much into caraway, don't leave it out, it really belongs here!
What is soda bread?
A quick bread made without yeast. Baking soda or sodium bicarbonate is used as a leavening agent instead.
There are countless versions of it out there, but the true original is only made with four ingredients: flour, salt, baking soda, and buttermilk.
You can make it with wholemeal or white flour or with a combination of both. The wholemeal version is sometimes known as wheaten or brown bread, depending on the region.
The shape of the bread seems to be region-specific as well. Depending on where you bake it, it could be a loaf, it could be round, it could be a flattened piece or a triangle.
I did bake quite a few loaves of soda bread, Irish or not, but I have to say that today's slightly sweet version made with raisins, and caraway seeds is my absolute favorite.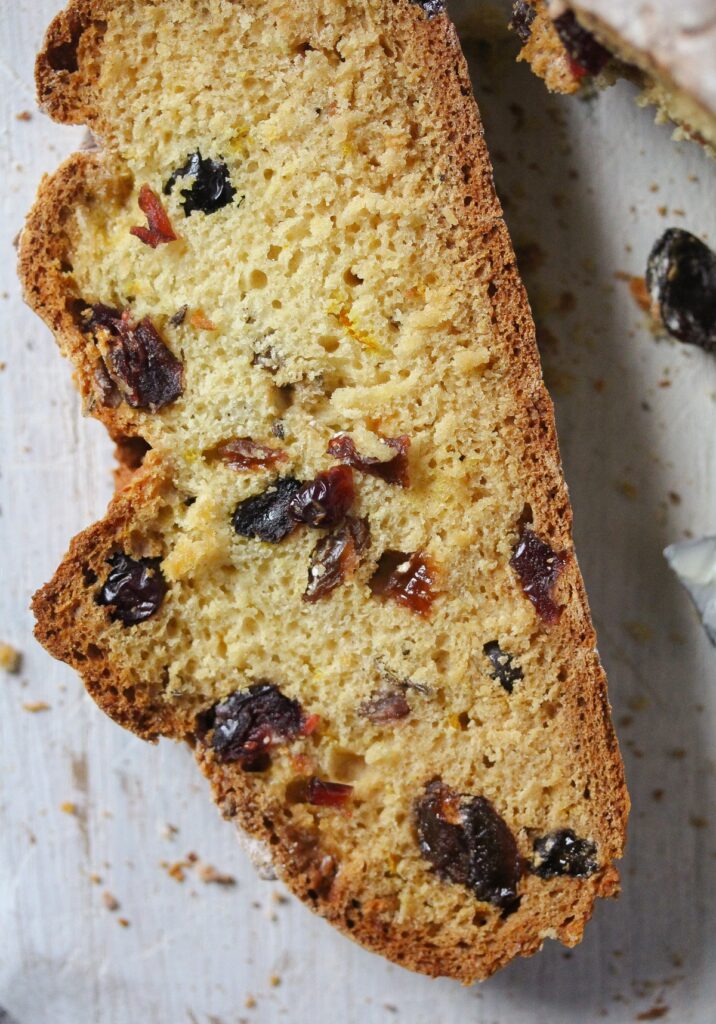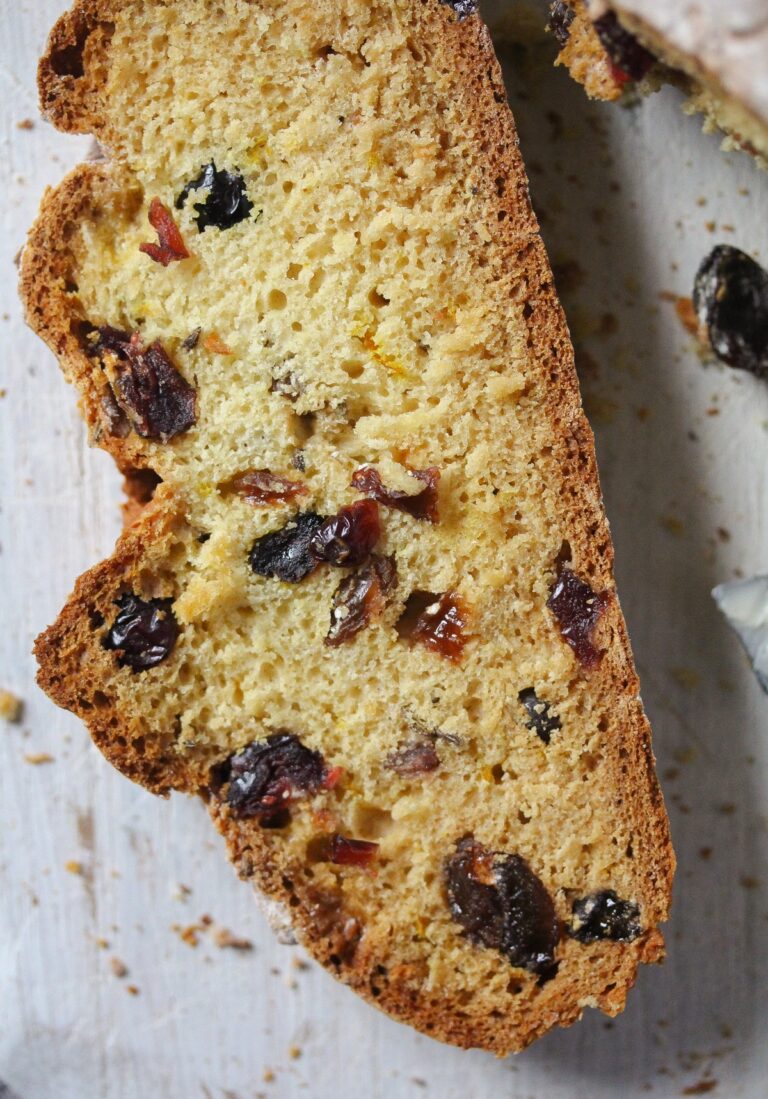 Why make this sweet soda bread?
It is delicious!
It's easier than making any other kind of bread.
And another bonus: it is 100 % made with pantry ingredients. You can even make the buttermilk yourself by mixing milk with lemon juice or vinegar.
You will not need any yeast, and that means that the dough will not need time to rise either.
There is also no kneading involved at all and that is always good.
All you have to do is to stir the ingredients, shape, and bake.
And don't forget to slash the shaped dough before putting it into the oven, the slash prevents cracking and it helps the center of the bread to bake through.
Ingredients
Buttermilk:
Buttermilk is very important as it reacts with the baking soda to provide the bread's leavening.
What if I don't have buttermilk?
As buttermilk is not something you always have in the house and as you need such a small amount, you can make your own buttermilk by adding 1 ½ teaspoon lemon juice or white vinegar to 150 ml/ 45 fl. oz/ 2/3 cup milk.
Leave to stand for 5-10 minutes and use as required.
Orange:
Orange zest and some orange juice (especially the zest) add a wonderful flavor.
Omit if you don't like orange zest and replace the orange juice with more buttermilk.
Dried fruit:
I used a mixture of raisins and cranberries. I love the tarter cranberry taste, that is why I often combine them with very sweet raisins.
However, the cranberries are optional, you can replace them with more raisins if you wish.
Caraway:
My favorite thing about this loaf is the caraway flavor, I wouldn't leave it out.
It is not mandatory for the success of the baking process, but flavor-wise it is incredible.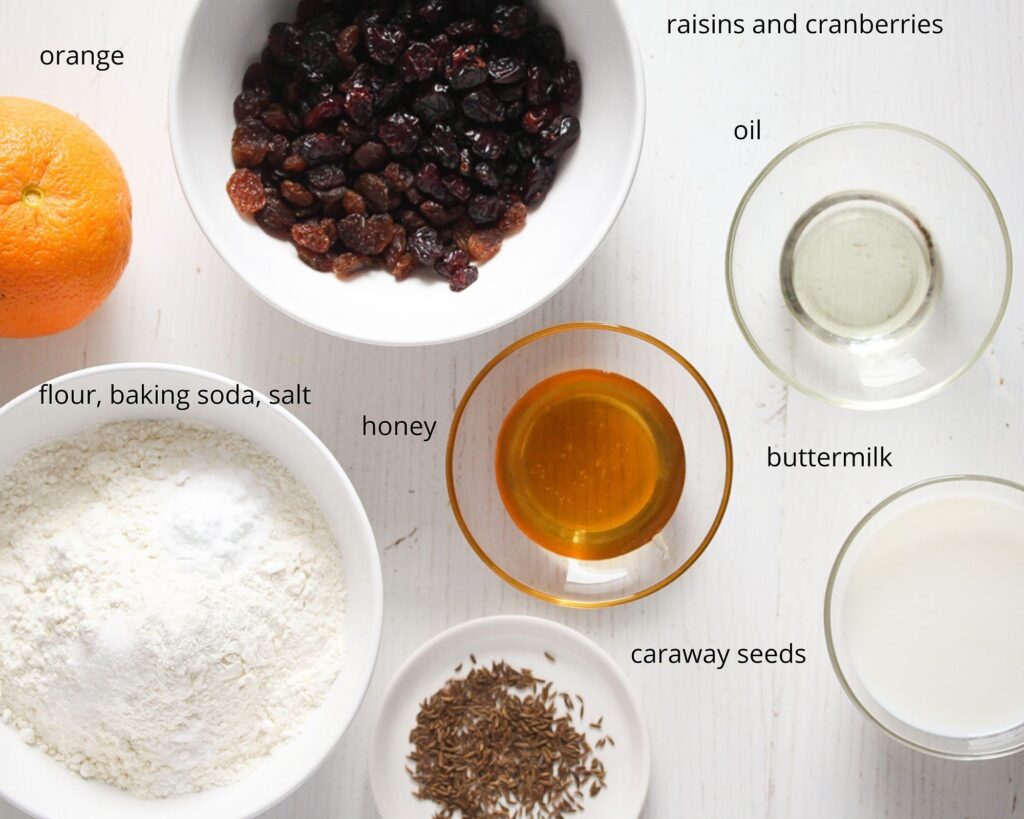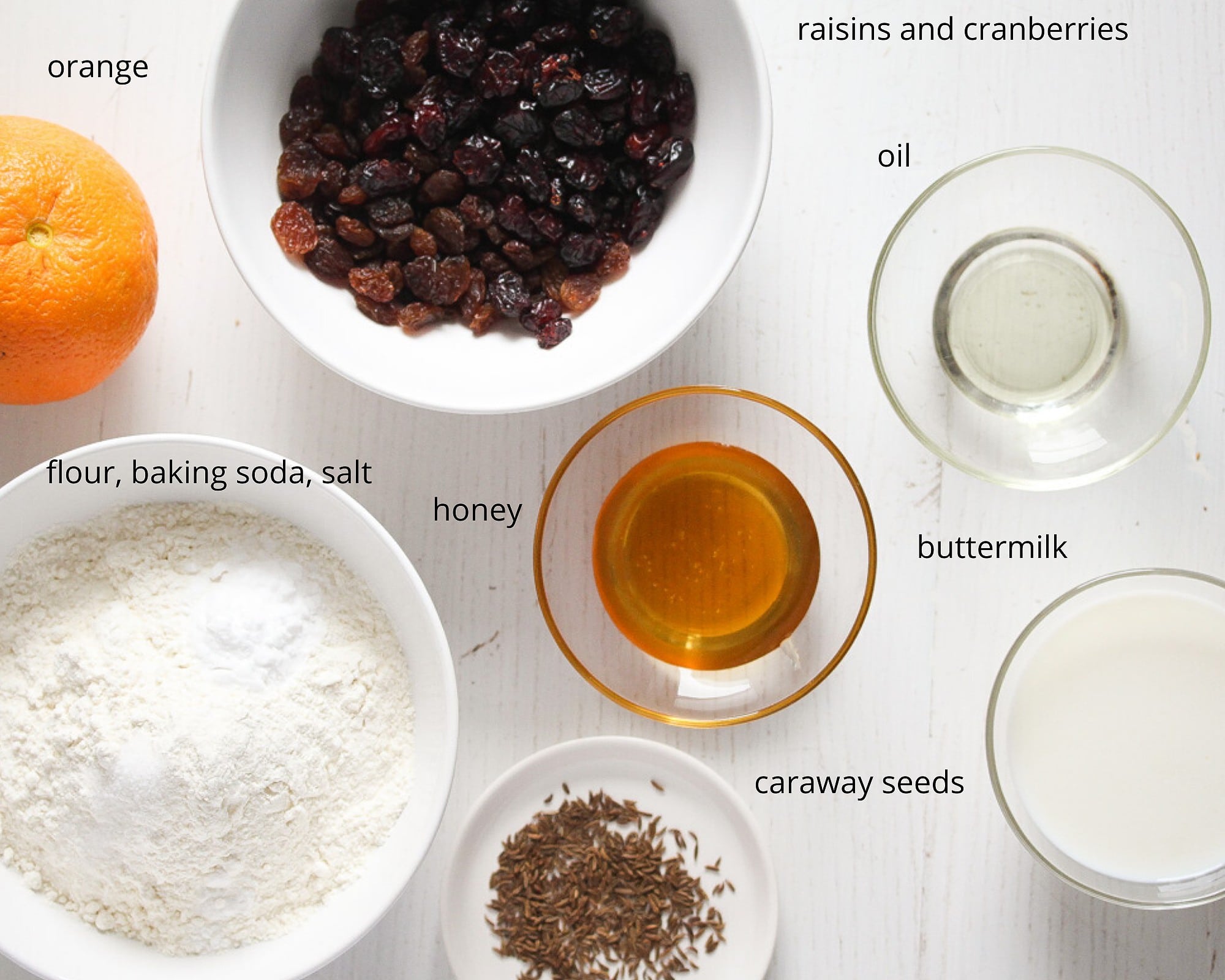 Store and freeze
The sweet Irish soda bread keeps well for several days. I usually keep it at room temperature, wrapped in a clean kitchen towel.
If kept in the refrigerator, it will keep well for 5-6 days.
It is fluffier and softer on the day you baked it, and it gets slightly firmer and chewier during the next days. However, that is not a bad thing: it tastes just as delicious!
You can freeze it for up to 3 months.
To freeze, let cool completely, wrap in plastic wrap/ cling film, place in freezer bags and freeze.
You can also slice it, place it in freezer bags and freeze it. This way you can only thaw a few slices if you wish.
Let thaw in the fridge overnight or on the counter, it will take a few hours, less if it's already sliced.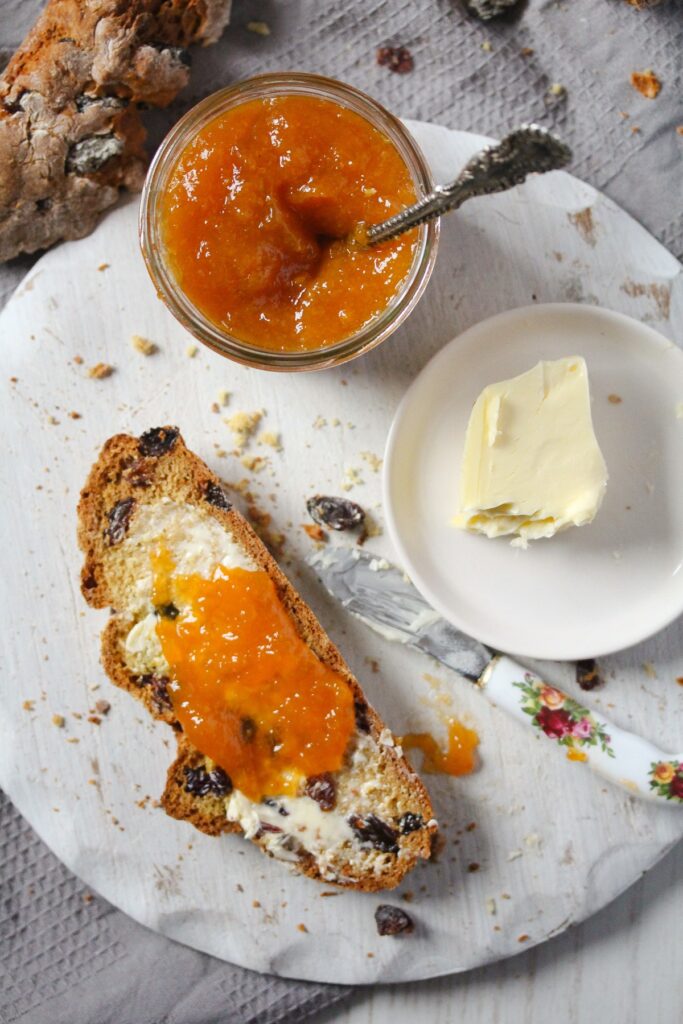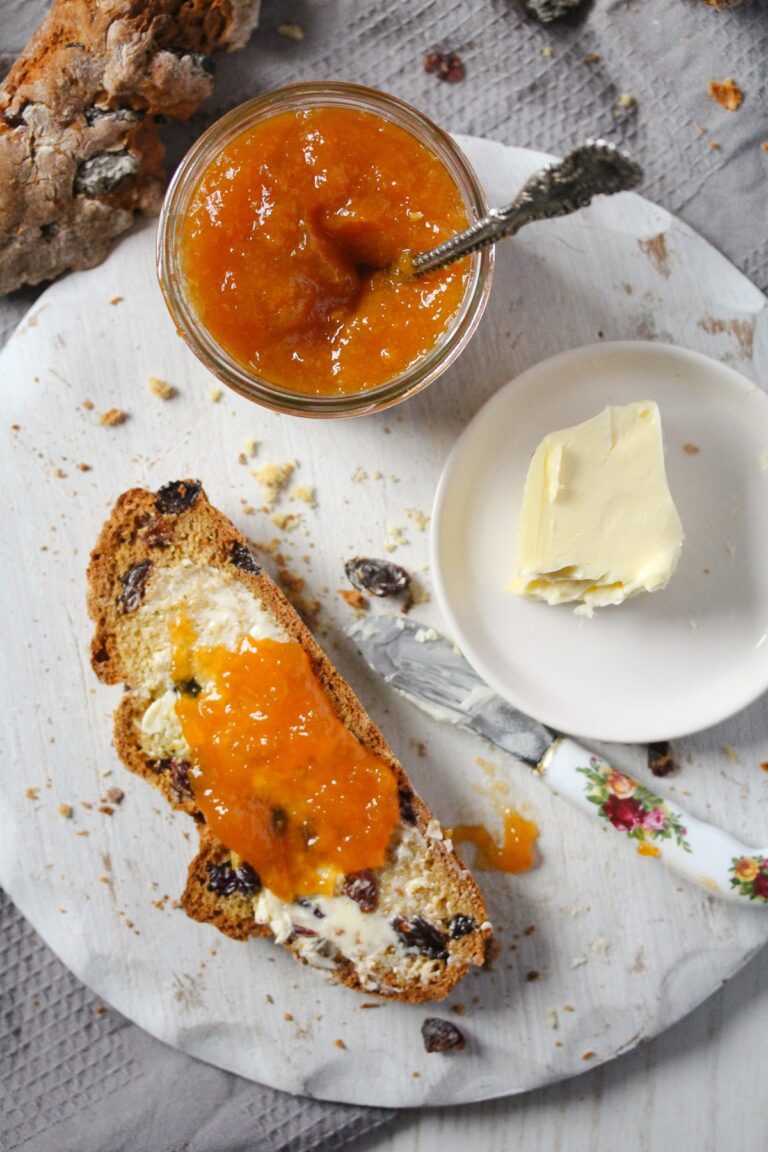 Serve
Freshly baked sweet Irish soda bread with a little butter is more than amazing.
You can also spread some jam, honey, or nut butter on top for a super indulgent, delicious breakfast (or snack).
I've read about serving it with corned beef and cabbage, but honestly, I am not very tempted to try it. To me, this is more like breakfast or dessert, not really something to serve with a savory meal. But I might be wrong, so do let me know if you try that!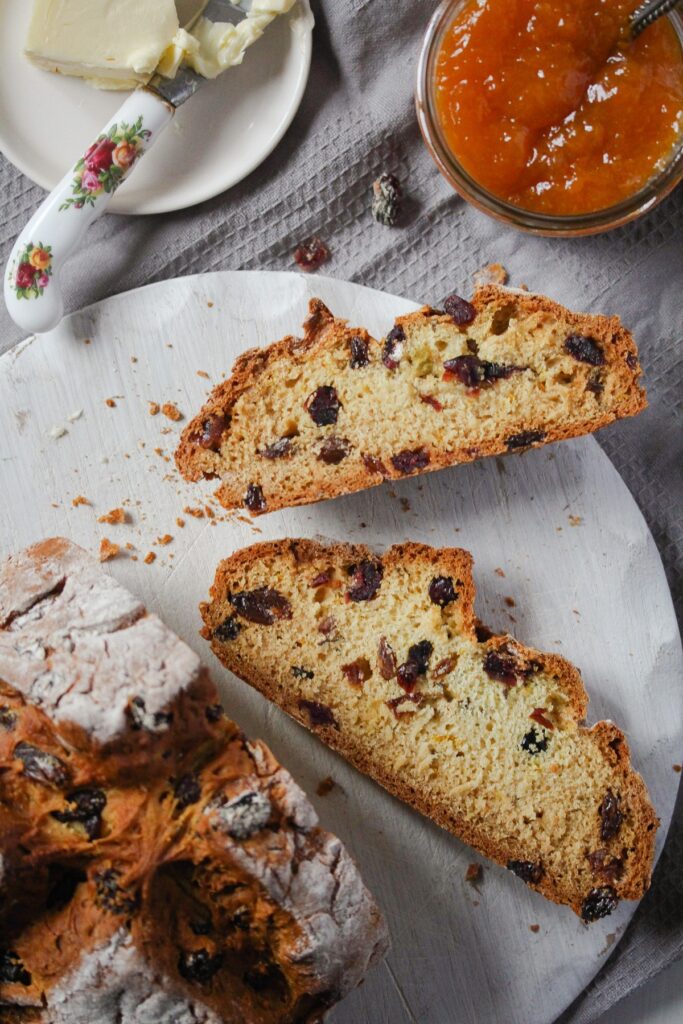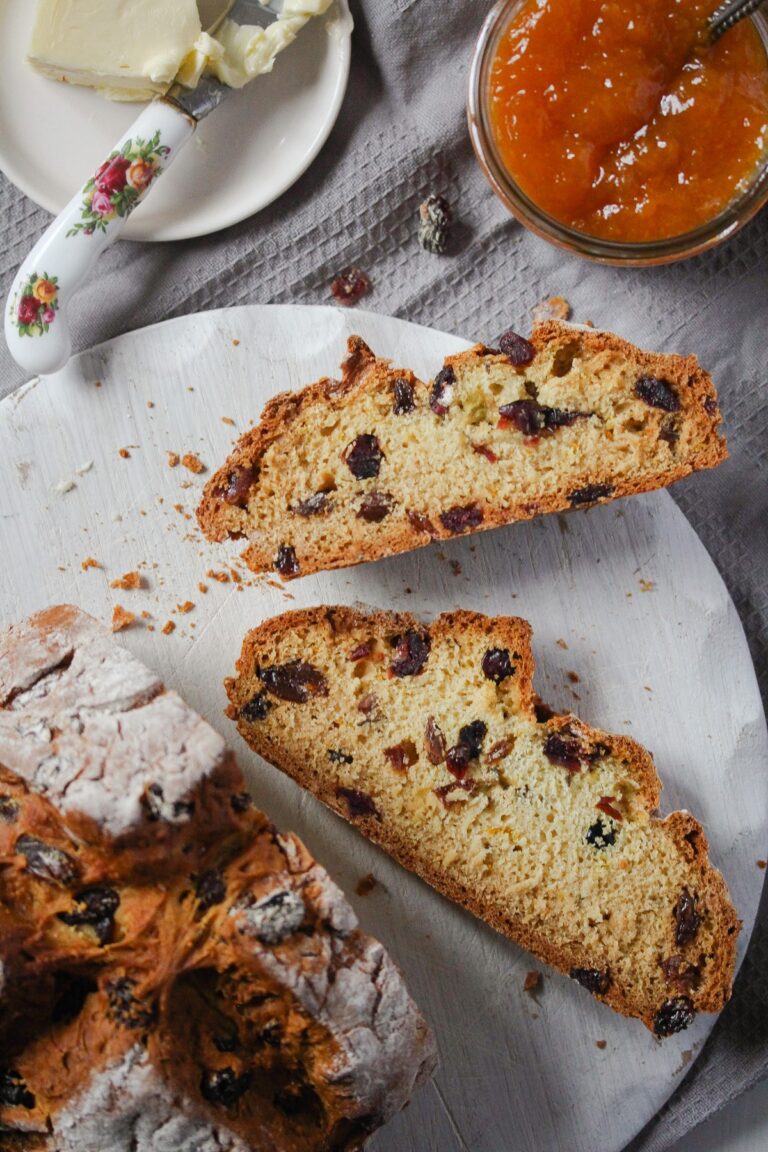 Interested in a newspaper soda bread recipe from 1836?
"put a pound and a half of good wheaten meal into a large bowl, mix with it two teaspoonfuls of finely-powdered salt, then take a large teaspoonful of super-carbonate of soda, dissolve it in half a teacupful of cold water, and add it to the meal; rub up all intimately together, then pour into the bowl as much very sour buttermilk as will make the whole into soft dough (it should be as soft as could possibly be handled, and the softer the better,) form it into a cake of about an inch thickness, and put it into a flat Dutch oven or frying-pan, with some metallic cover, such as an oven-lid or griddle, apply a moderate heat underneath for twenty minutes, then lay some clear live coals upon the lid, and keep it so for half an hour longer (the under heat being allowed to fall off gradually for the last fifteen minutes,) taking off the cover occasionally to see that it does not burn."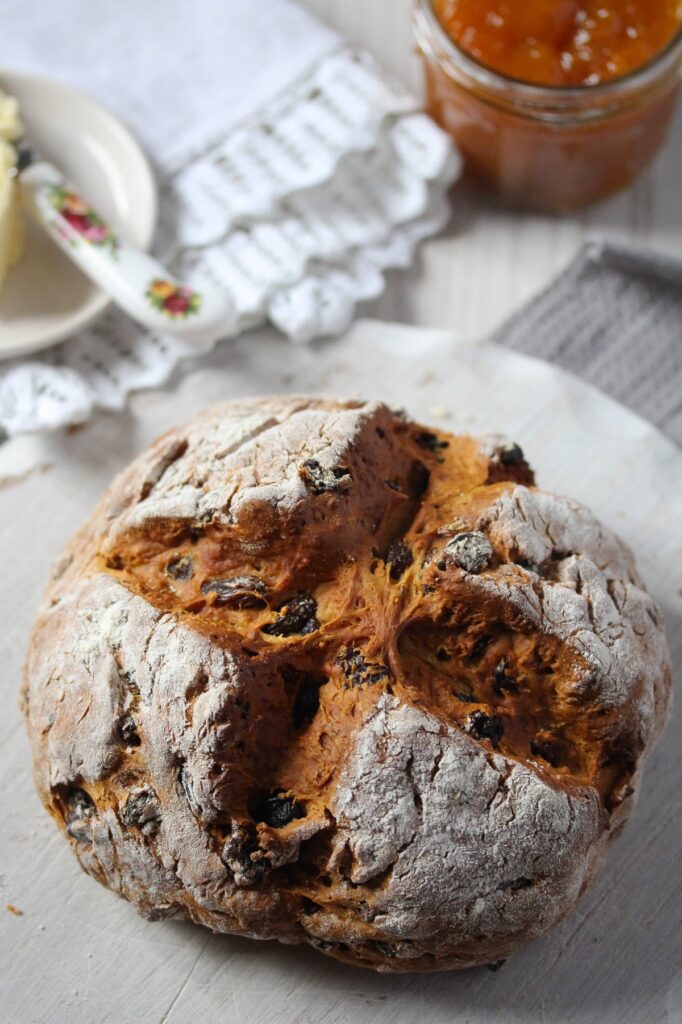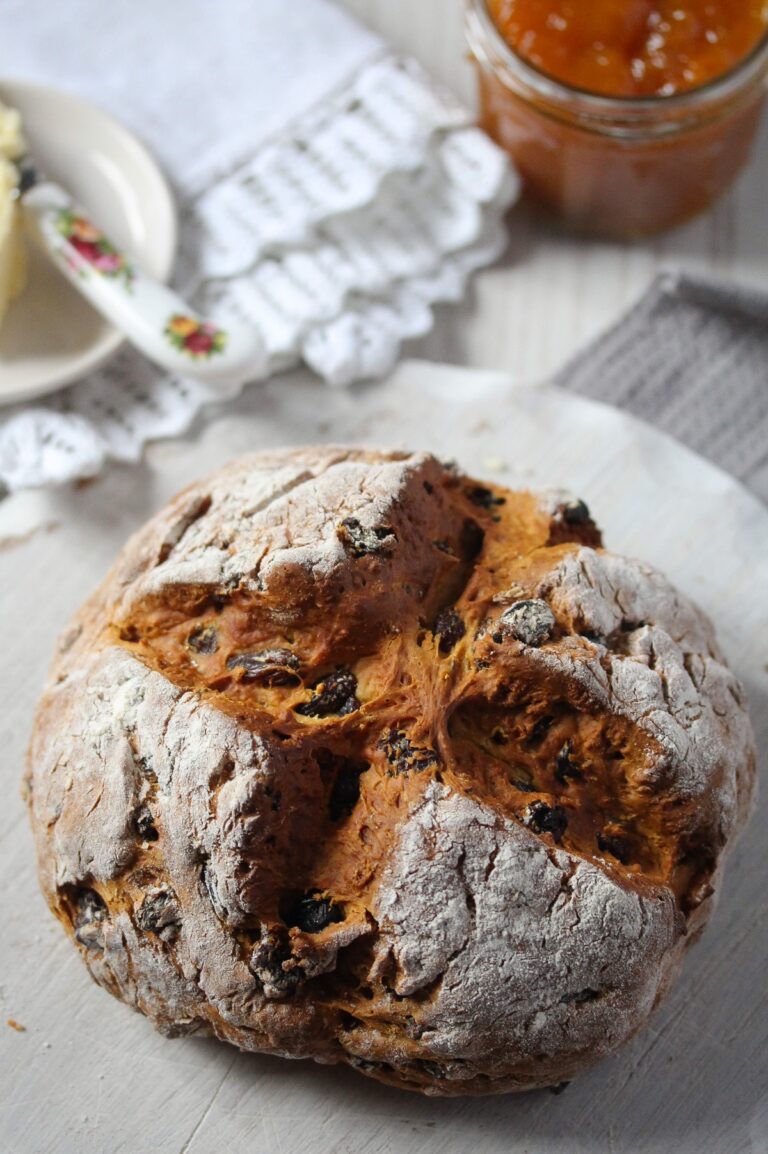 More sweet bread recipes?
Beigli – Traditional Hungarian Nut Rolls – Hungarian pastry roll filled with walnuts, a real treat for Christmas or Easter.
Yeast Cake – Soft and delicious pull-apart yeast cake with almonds. Also known as Hungarian coffee cake.
Romanian Cozonac – This is the most traditional sweet thing you will find in every Romanian family at Easter and Christmas.
Yeast Pastries with Honey – Soft and fluffy Moldavian Yeast Pastries soaked in syrup and topped with honey and walnuts.
Pin it for later!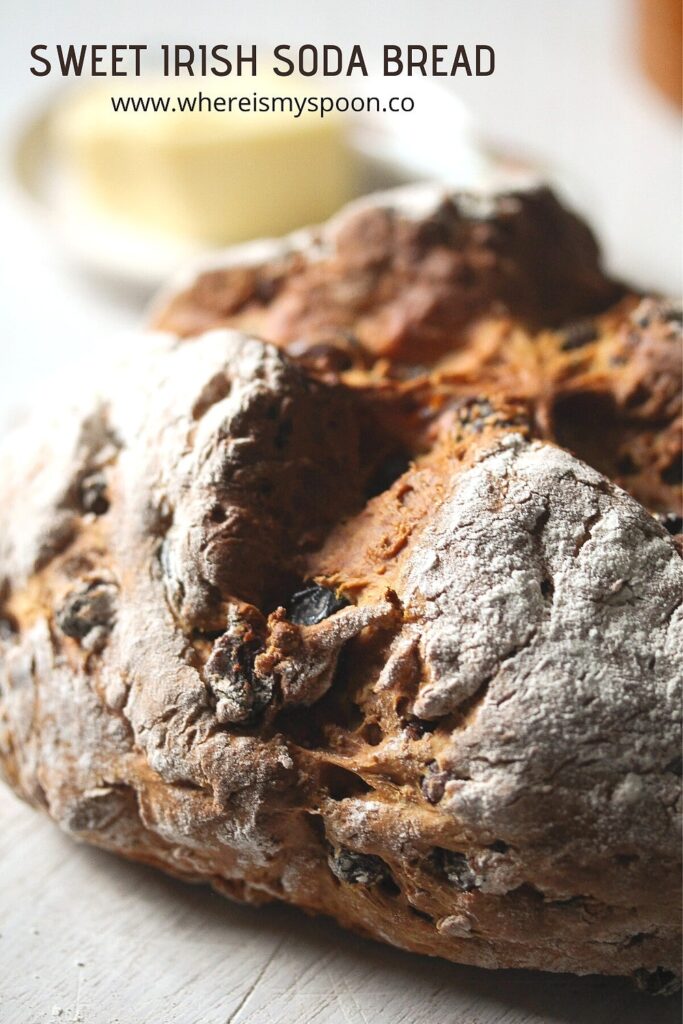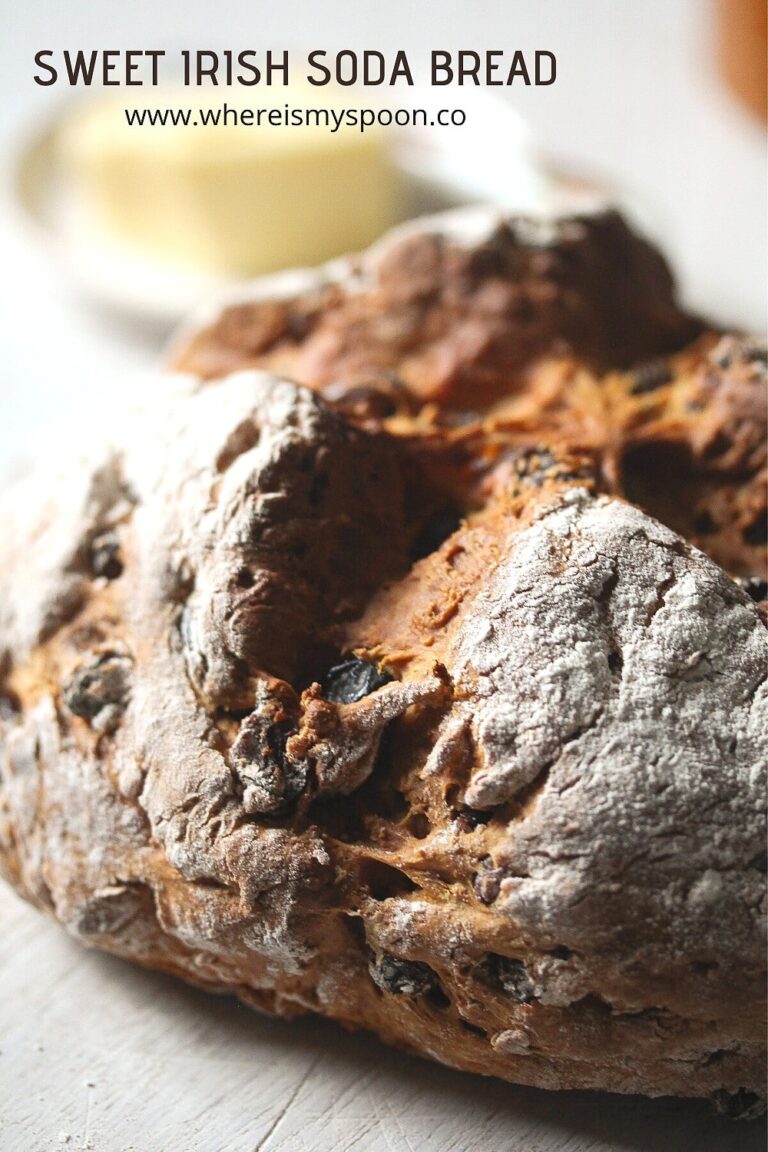 Sweet Irish Soda Bread
This is an amazing recipe for sweet Irish soda bread. A moist, aromatic bread with raisins and caraway seeds.
Ingredients
250 g/ 8.8 oz/ 2 cups all-purpose flour
pinch of salt
1 ½ teaspoons baking soda (bicarbonate of soda)
75 g/ 2.5 oz/ scant ½ cup raisins
75 g/ 2.5 oz/ scant ½ cup cranberries
1 teaspoon caraway seeds
zest 1 orange
50 ml/ 1.7 fl.oz/ ¼ cup orange juice
100 ml/ 3.4 fl.oz/ 1/3 cup + 2 tablespoons buttermilk
3 tablespoons runny honey
2 tablespoons vegetable oil (like rapeseed or sunflower)
Instructions
Preheat the oven to 200 degrees Celsius/ 400 degrees Fahrenheit. Line a baking tray with baking paper.
Mix together the flour, salt, baking soda. Add the raisins, cranberries, caraway seeds, and orange zest.
Mix together the orange juice, buttermilk, honey and oil in a jug and stir until the honey dissolves. Pour this mixture to the dry ingredients and mix quickly until just combined. Do not overmix.
Turn the rather sticky dough onto a floured surface and knead a few times to form a round loaf. Again, do not overwork the dough, just bring it into shape.
Place the dough on the prepared baking tray and lightly dust with a little flour. Slash a cross on top, about halfway through the bread.
Bake for about 30 minutes until deeply brown. Let cool on a wire rack.

Nutrition Information:
Yield:

8
Serving Size:

2 slices
Amount Per Serving:
Calories:

214
Total Fat:

4g
Saturated Fat:

0g
Trans Fat:

0g
Unsaturated Fat:

3g
Cholesterol:

0mg
Sodium:

262mg
Carbohydrates:

42g
Fiber:

2g
Sugar:

15g
Protein:

4g
Nutrition information isn't always accurate.